Hello everyone, my name is Goma from Okinawa Holiday Hackers and I have enjoyed Ishigaki island!
Sorry to be sudden, but do you know that the area of Iriomote-Ishigaki National Park spreading from Ishigaki city to Taketomi on Yayama islands of Okinawa prefecture was designated as starry heavens sanctuary the first time in Japan?
What is starry heavens sanctuary?
If various conditions to save and protect beautiful dark night sky without light pollution are not fulfilled this rank can not be obtained, so this is a precious and valuable area.
This time we introduce a spot of "Ishigaki Yaimamura ・ Hoshizora village" with 3 main parts of "Play! Learn! See!" gathered together under starry sky Ishigaki city is protecting ☆
Access
Ishigaki Yaimamura is located in about 20 minutes by car or scooter from Ishigaki airport or Ishigaki port.
By the way, the main way of transportation on Ishigaki island is rental car or Gogoro scooter, so we recommend you to check how to reserve and availability in advance!
About cautions during using a rental car or Gogoro, there are some articles written by us so it would be nice if you could refer! A-ha-ha
Must read before visiting Japan! OTS RENT-A-CAR teaches 10 must-obey rules while renting a car in Japan.
The Best Choice for Traveling Ishigaki Island by Renting the Next Generation Scooter–Gogoro!
What is Hoshizora village?
This is a limited time starry sky theme park available on limited days (in case of winter) that opens in evening in Ishigaki Yaimamura on Ishigaki island ☆
To provide more enjoyment in the natural planetarium for children and adults we have a lot of activities like Rakugaki planetarium experience, Starry sky classroom, illumination and many other!
You will definitely feel the sensation of love from the villagers (staff) that would like to entertain our guests~!
Therefore address to the gentle staff as to villagers,
Let's go to the reception quickly~♪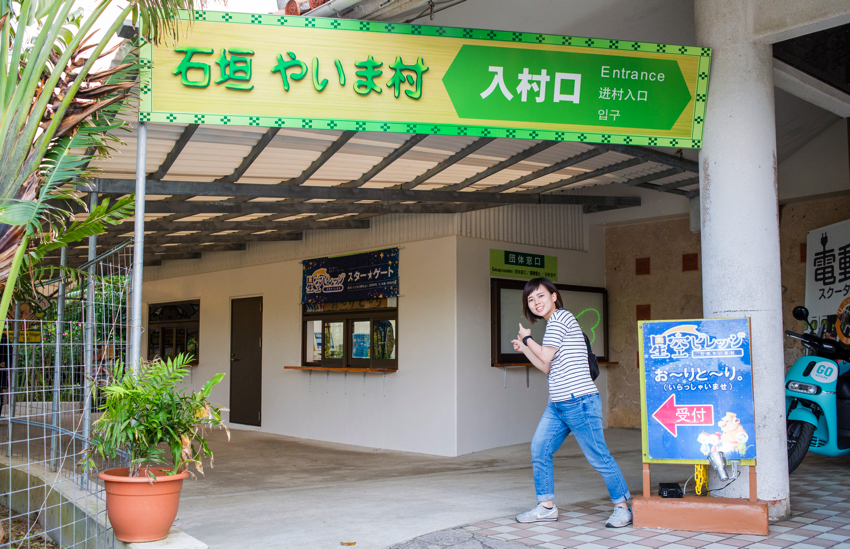 →Arrived to the counter near the Star☆Gates as a sign. Oritori♪(Ishigaki dialect: "welcome")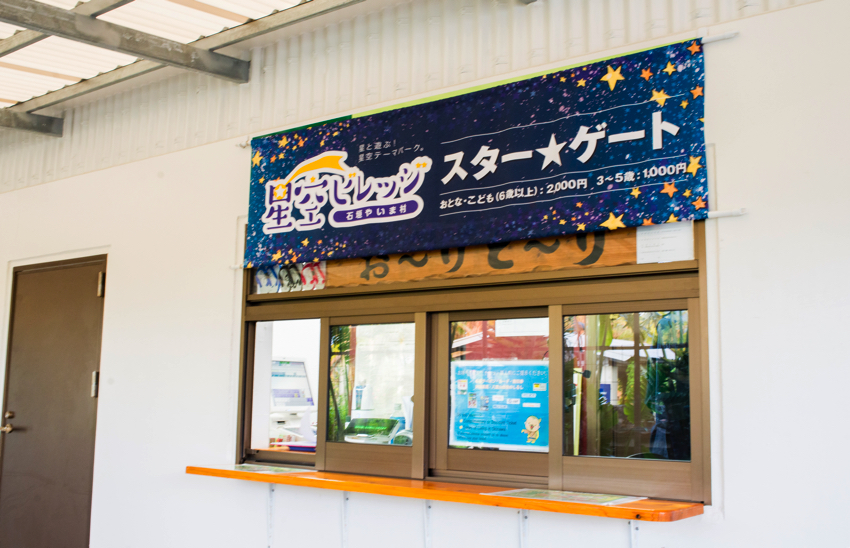 Here and now, the person of charge of the interview and villager Sawaki Nagatome ~Applause~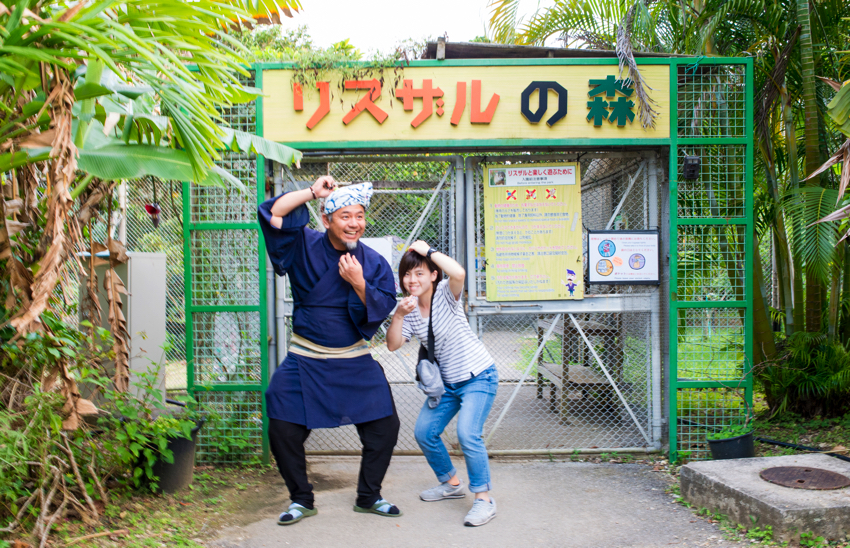 →Here is easygoing Nagatome who is making this monkey pose with me☆
So why monkey? What do you think?
Look forward to the next article to know the details~♪
Kind villagers are here so everything from Rakugaki planetarium experience to the guidance on pitch-dark streets are safe!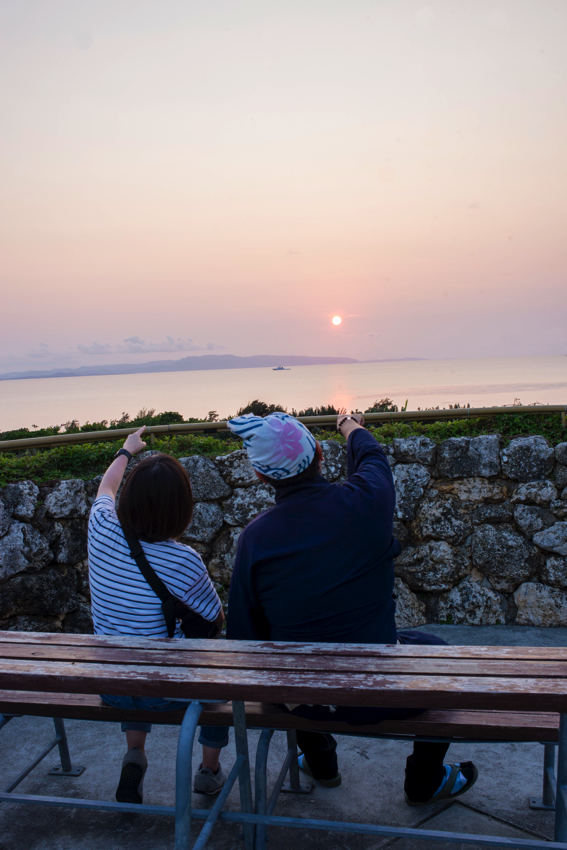 When the Sun sets ☆Hoshizora village☆ starts~!
Period of the event
Winter season: November ~ May (limited dates)

Summer period: July ~ September (the event is being held every day)
Program to enjoy Hoshizora ("starry sky")
There are pre-event and main event in Hoshizora village.
※Please take into consideration that explanation about all events will be in Japanese.
Pre-event
Hoshi no kakerasagashi (searching for "stars" on premises outdoors)
18:30~19:30
Find 7 balls hidden in the park in this activity.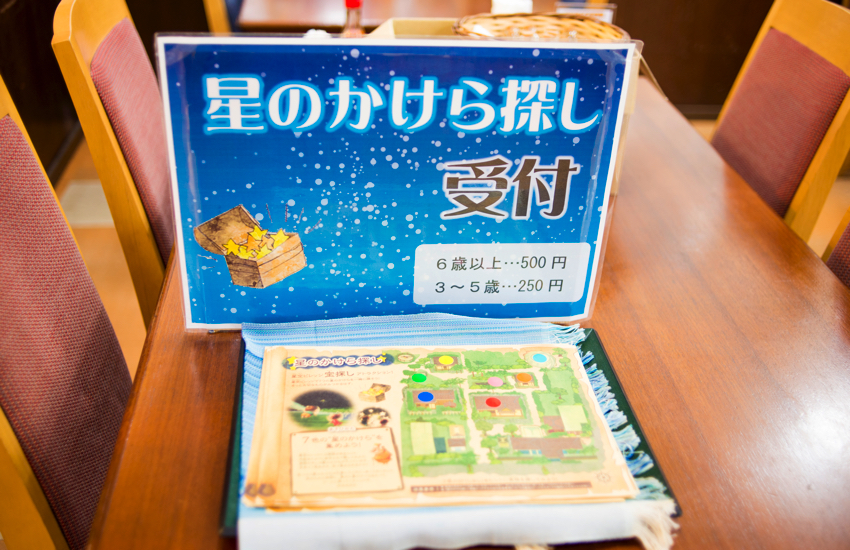 Persons who gather all of them will get star-related goods so try it actively~!
Participation is free with application onsite.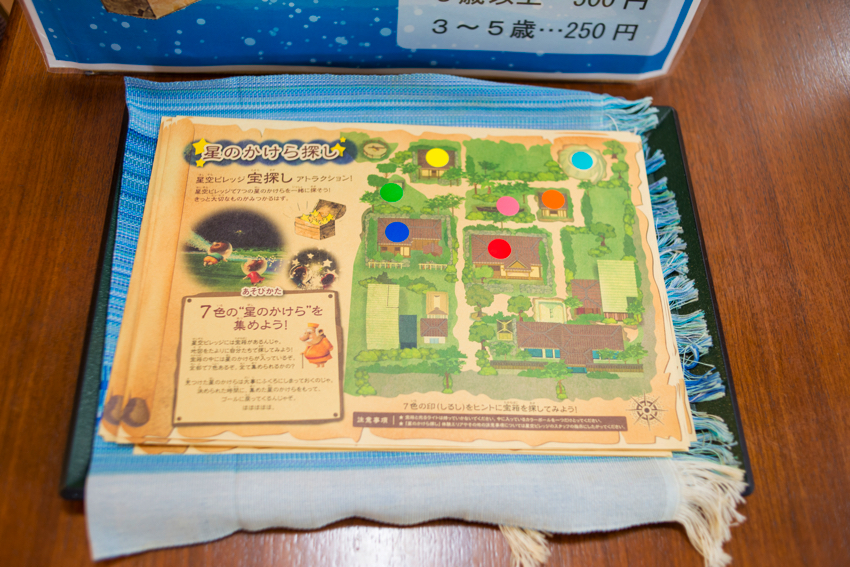 Recommended for visitors with children! Do you want to participate if you are interested in?
Rakugaki planetarium (indoor activity)
(Winter season) 18:30 ~ 20:15
(Summer season) 18:30 ~ 20:45   
The picture you draw yourself will become a part of the planetarium using projector♪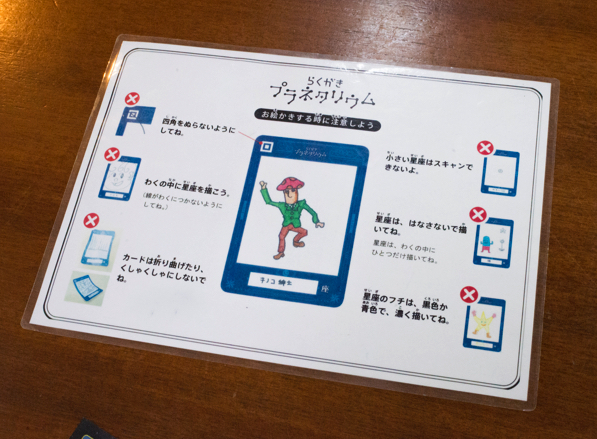 In a manner of speaking, you can experience the feeling of parents giving a name to a baby ☆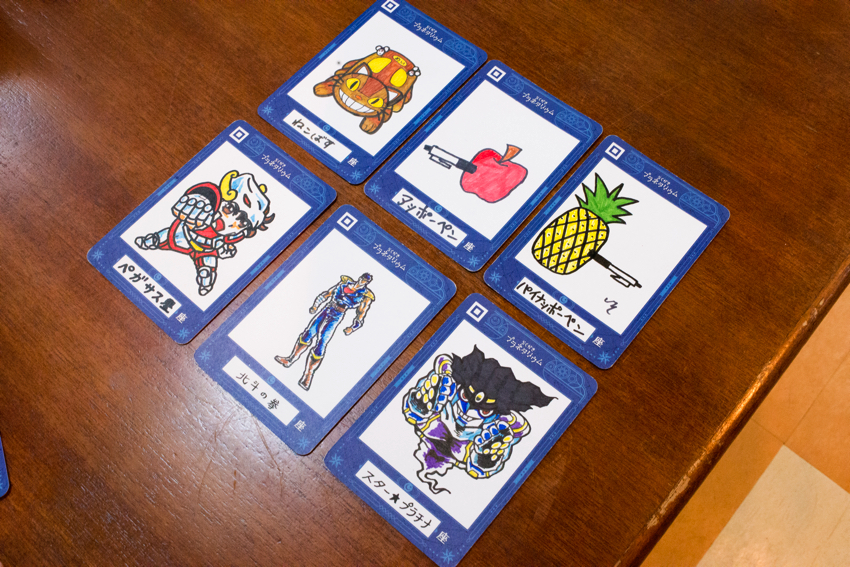 It's cool, isn't? Goma has written this! Well it's a joke.
This is a picture of a customer visited us before and a villager!
The level is quite high.
But the real thing is,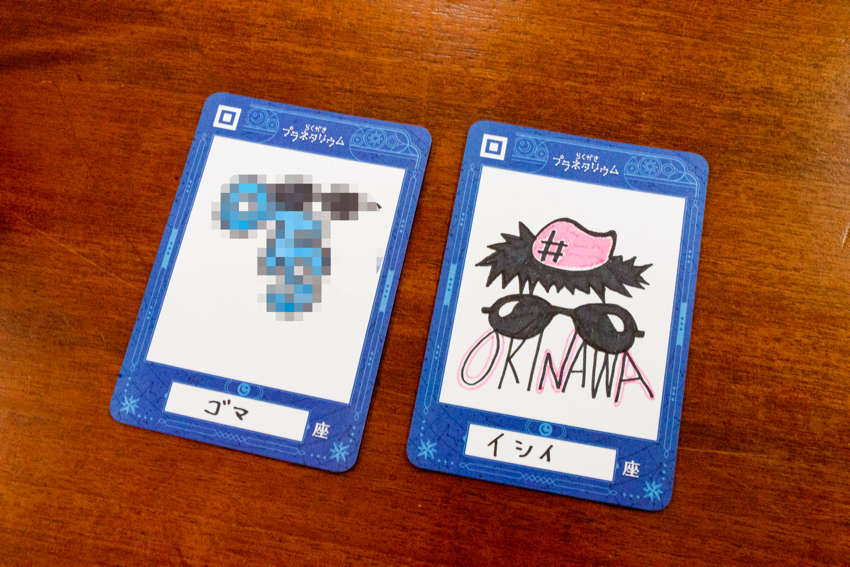 → This is "Ishii constellation" by Fiona Ishii.
Goma has no artistic taste so from my point of view it is not good for showing~ So hide it with mosaic with your permission.
So this one from Fiona Ishii, let's project it now♪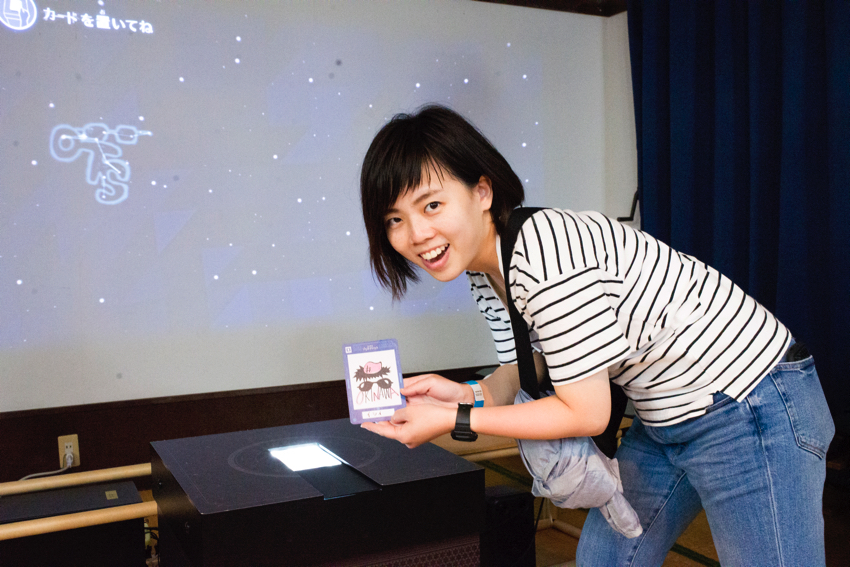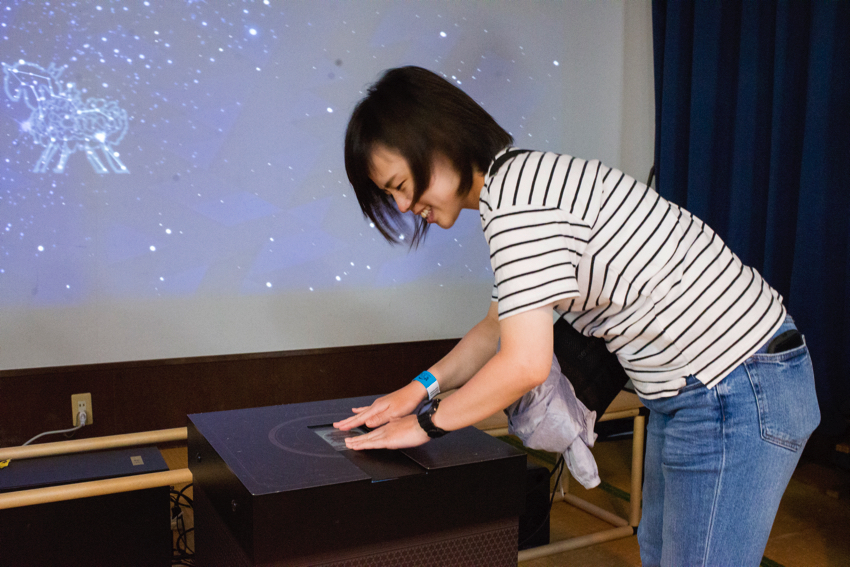 → It is thrilling, it is only a picture drawn by man but also it is like an own child~.
With sound effect it is here, it has come!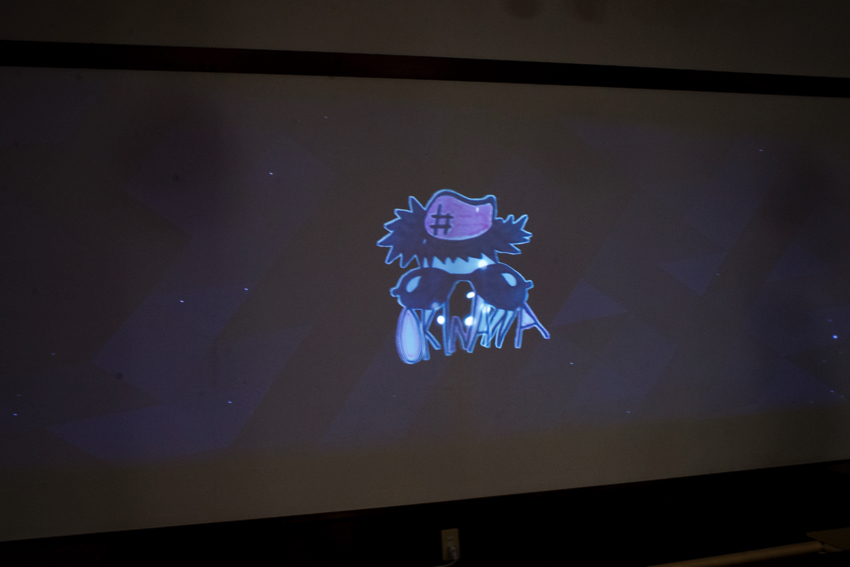 → Wow! Like sort of dancing♪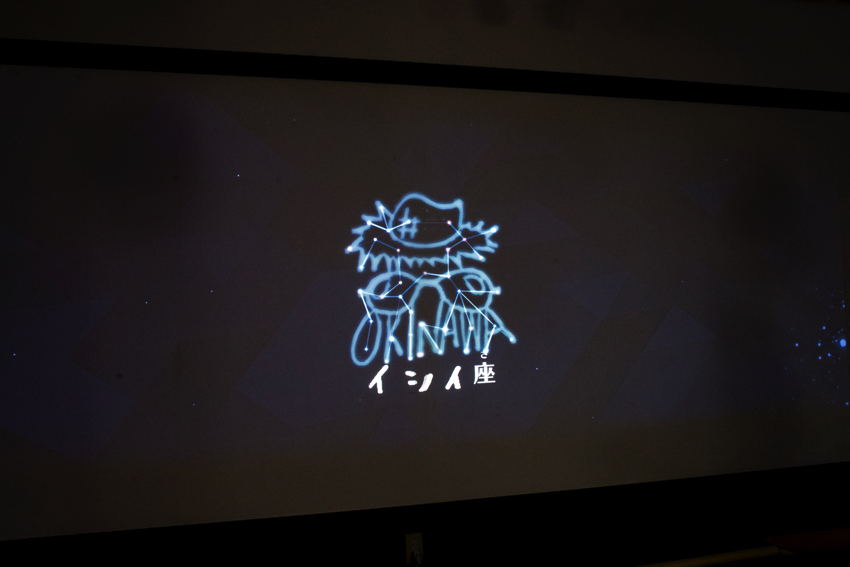 Shining brightly, to the wide starry sky~ Quite cheerful.
Eventually despite the fact of being skilled on not the enjoyment of exciting feeling healed our hearts also♪
Now we can see constellations created by visitors and this is also interesting~☆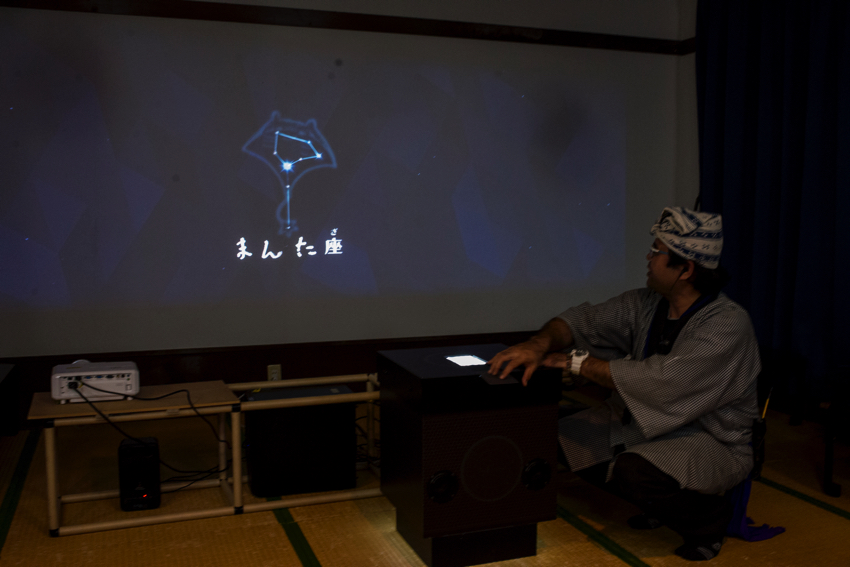 → They different from ours, they are kind of cute ♡
So we enjoyed Rakugaki planetarium and let's go to the Starry Sky classroom~
One more star appears out when we walk!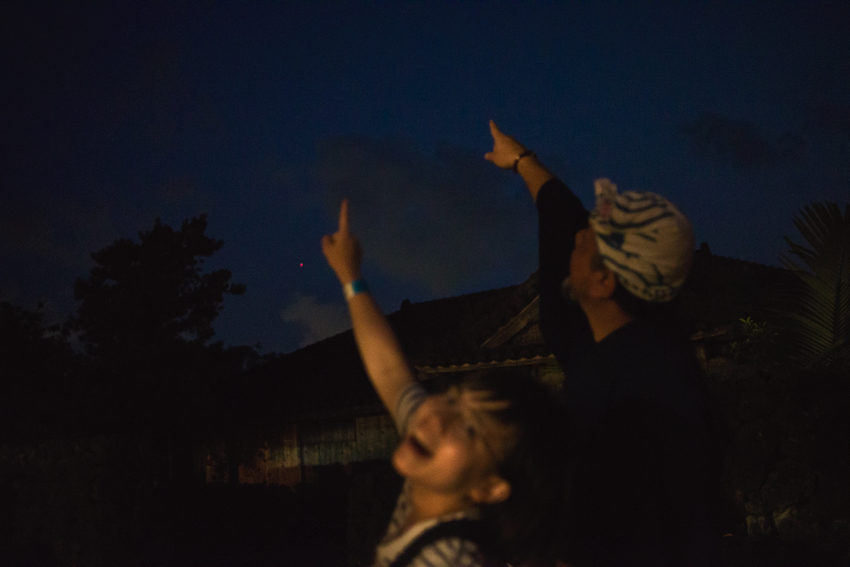 → I see it~~~!(the finger pointing position and the position of the red star is not the same though)
On the top you can find an astronomical telescope.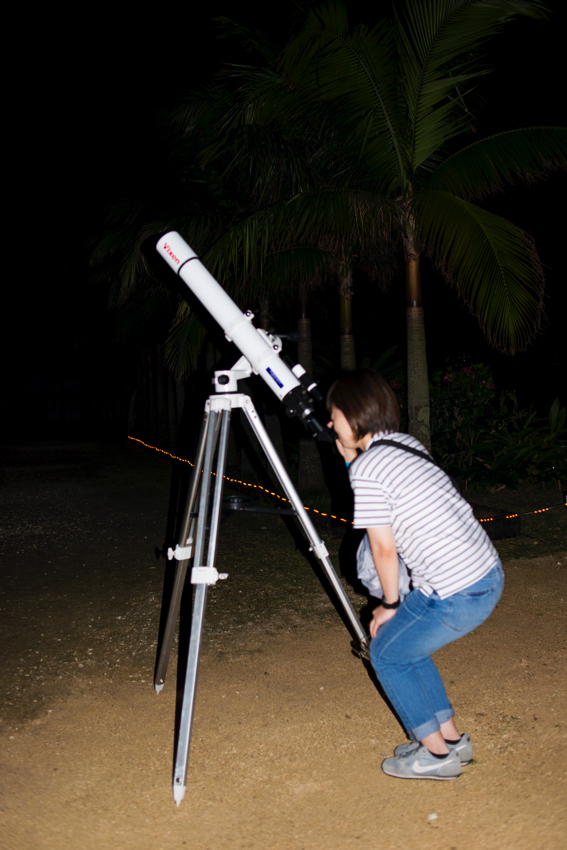 → You can see a red star (Venus)!
The guide of Hoshizora is also here and this person will speak about Venus.
※The content is different depending on the situation.
Previously it was like an appetizer and finally here is the main one ☆
Anticipating the main thing which has to be the same level as the plot feeling of excitement is rising up!
Main event
 (It is possible to participate from the main event)
Starry sky classroom (indoors)
(Winter season) 19:30 ~ 19:45
(Summer season) 20:00 ~ 20:15
The guides of Hoshizora made a theater and they will tell you stories about stars and seasonal constellations!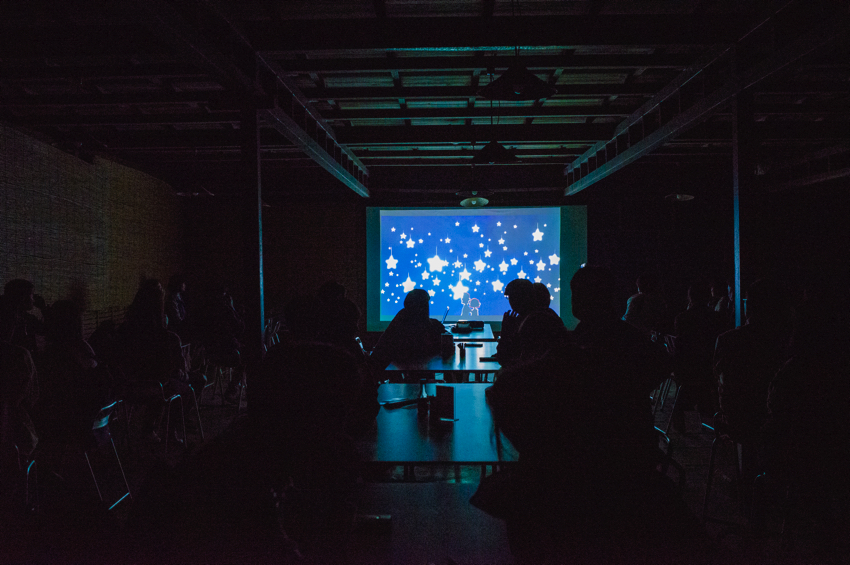 It is perfect to deepen the knowledge about stars!
Animation was also very adorable ☆
After learning the profoundness of stars let's move outside~☆
Light message board (outdoors)
(Winter season) 19:45 ~ 20:15
(Summer season) 20:15 ~ 20:45
If you write a message on the board with the special pen it will emit light, this message board is only for night time.
So what if we try to write,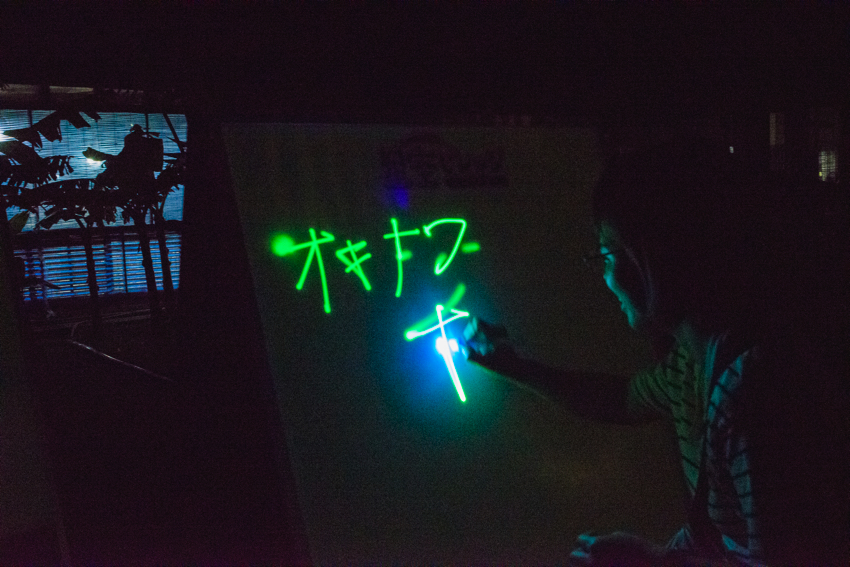 → What is this? It looks like from horror movies ♡
Please do not worry! It can be written as usual.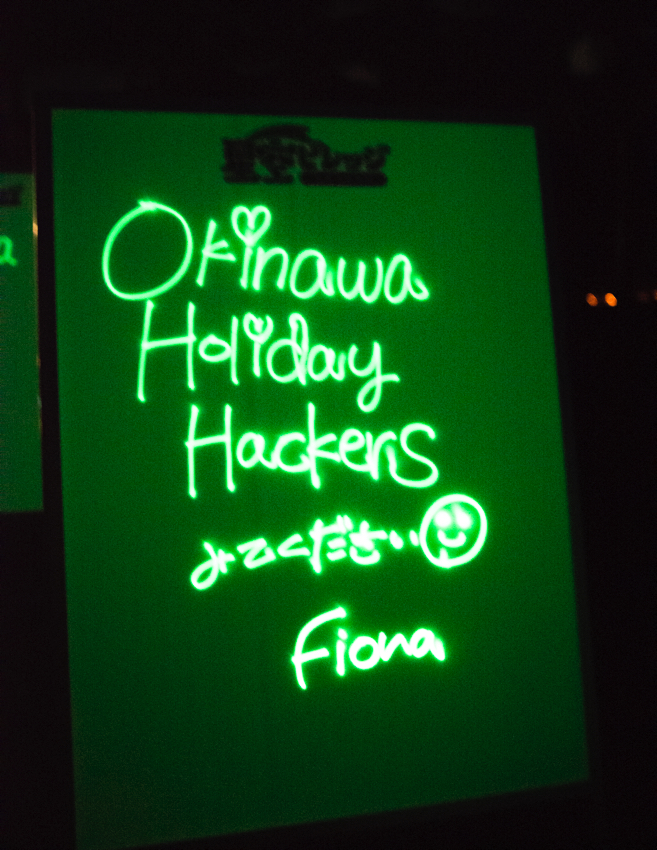 → Just as expected from Fiona Ishii.
This is similar to Rakugaki planetarium, because it doesn't matter whether can you write good-looking letters or not this is fun so how about writing a message about your current thoughts?
"Mirror ball" illumination (outdoors)
(Winter season) 19:45 ~ 20:15
(Summer season) 20:15 ~ 20:45
Illuminated light softly reflects in the "Mirror ball" so you can feel like being situated in a mysterious world ☆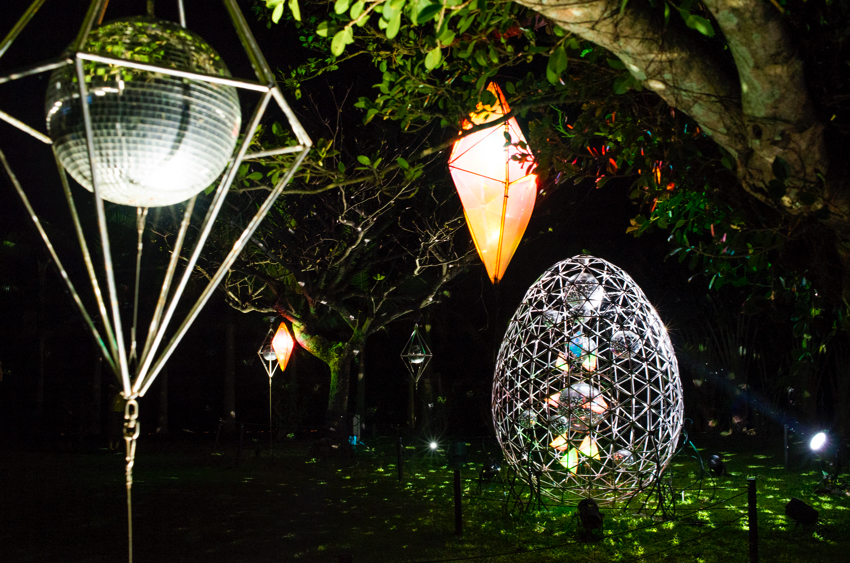 Goma: Beautiful~
Fiona Ishii: Wow, how beautiful. Speaking of marriage, I want to hold wedding ceremony here♪
Goma: What? What did you say? 🙂
Fuzuki Ishii: Nagatome, please!
Nagatome: Er, uh… it would be nice if you could call me~ 🙂
※After all this is a joke! Please do not believe it.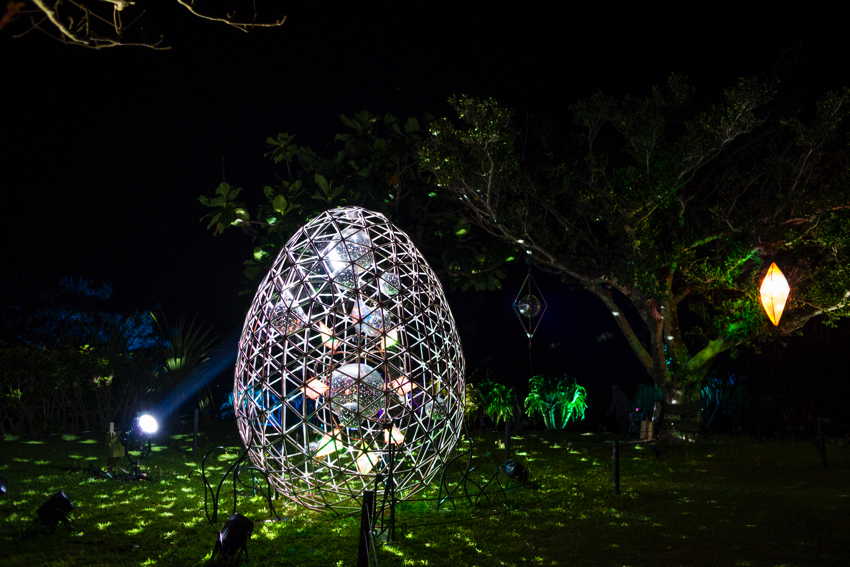 But eventually it was so beautiful so Fiona Ishii lost her mind.
Watching of starry sky (outdoors)
(Winter season) 20:15 ~ 21:00
(Summer season) 20:45 ~ 21:30
Since beds for facing up and enjoy watching of starry sky and binoculars are prepared in the square,
so even if you do not like lying on the ground you can just watch starry sky and please do not worry that your neck will be tired ☆
The best highlights are also here♪
→ Wow! It is bright around but I can see~♪
And then lights on the whole sight will be switched off and it will become dark ☆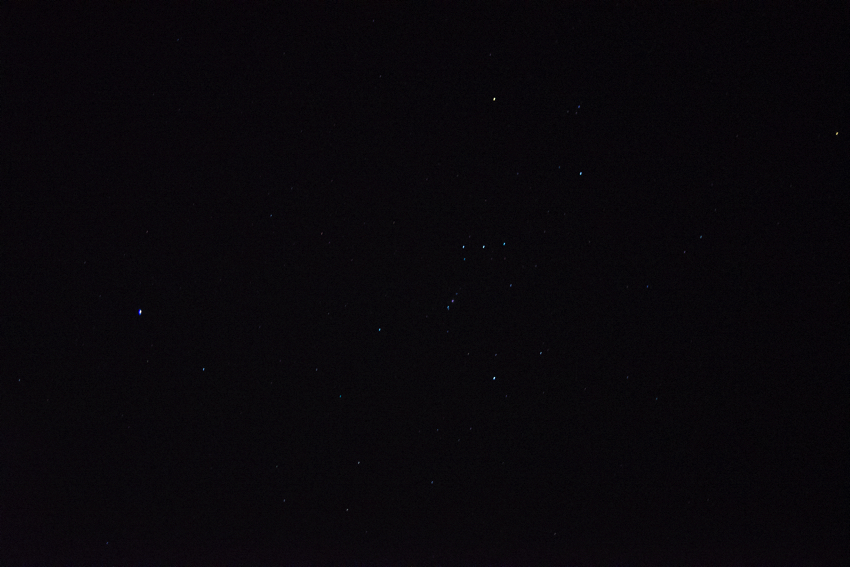 → It looks bright even if you shoot them on camera!
But if watch with naked eye there are much more stars~!
Here is not only the spot where you can watch the most, but also where guide from Hoshizora will provide explanation with laser pointer!
Here is the "Natural planetarium"! Magnificent ☆
And the final
The number of stars is overwhelmingly large, like the increased number of choices in life that can make a child!
Under this valuable starry sky that can be called as a noted place for enjoying night activities, so how about trying new experience in unusual place as a family, friends or couples?
Though all explanations in Hoshizora village is in Japanese language, guests from abroad are also welcome!
Persons who want to see a beautiful night sky definitely must participate~
Nevertheless, it was really fun~ Let';s participate the next time too ☆
< Ishigaki Yaimamura ・ Hoshizora village >※Advance reservation is necessary
The dates of the event
Winter season: (limited dates)

  2019 November 2 ~ 2020 May 6
Summer period: Adjusting 

Time of the event
・Hoshizora village

(Winter season) 18:30 ~ 21:00 (reception is until 19:20)

(Summer season) Adjusting

・Hoshizora cafe (outdoors)
(Winter season) 18:00 ~ 19:30 (last order at 19:00)

(Summer season) Adjusting

Parking area
Free parking available
MapCode
366242076*2
Address
沖縄県石垣市名蔵967-1
Notes
The number of participating people is limited so application in advance is necessary.
Reservation is as follows↓
By the way…
\ Okinawa Holiday Hackers is updating information on SNS /
We will update the information about new articles in each SNS♪ Please follow us ♡