Hello, I'm Jessica from the Editorial department of Okinawa Holiday Hackers! 
Even if you are confident with your driving skills, it's still uneasy to rent a car and drive on an unfamiliar road abroad.
It may sound a bit frustrating when you heard of car rental in a foreign country, the unfamiliarity with local traffic rules and car navigation system often becomes the biggest concern for tourists.
During each annual trip in the past ten years, my family and I rented a car each time.
I became an intern and lived in Okinawa since Sep. 2017. After staying here for a period of time, I realized that the activity range enhances a lot if I owned a car.
Personally, self-drive has given me opportunities to explore the wonders of farther scenic areas and enhanced convenience in commuting.  
For those who are planning to travel Okinawa or even to those who have made a visit here,
My extensive car rental experiences in Japan enable me to share with you on the merits of self-drive option for travelling in Okinawa, which has beautiful sceneries, coastal water sports resorts, cultural heritage sites and oceanic aquarium scattering over the vast territory of the island.
For those who have hesitation to reserve a car with OTS for the coming trips due to their non-exposure to car rental…
I am here in Rinku-Toyosaki Main Office of OTS Rent-a-Car (With FREE pick up service between Naha Airport and branch), a car rental company  which has gained tremendous trust and popularity from overseas customers.
Let's learn more about some common driving issues and tips for getting the safest and nicest driving trip in Okinawa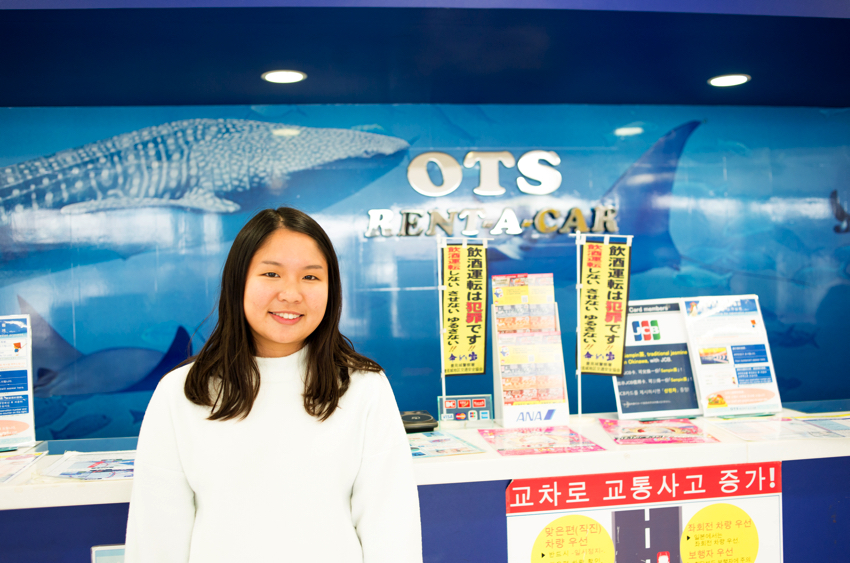 →There are 4 branches of OTS Rent-a-Car in Okinawa main island・ 1 branch of OTS Rent-a-Car in Ishigaki Island・1 branch of OTS Rent-a-Car in Miyako Island.
① Left Hand Traffic
In Japan, all vehicles usually drive on the left-hand side of the road.
Tourists who are used to right hand traffic such as Korea and Taiwan need swift adjustment to avoid common instances of of hitting the left car mirror in minor collision during overtaking cars stopping or parking in the left hand side, and of damaging the passenger car door in the right hand side during alighting.
In Japan, it is illegal to drive a car with a broken mirror.  Also, staying alert on road condition avoids head-on collision.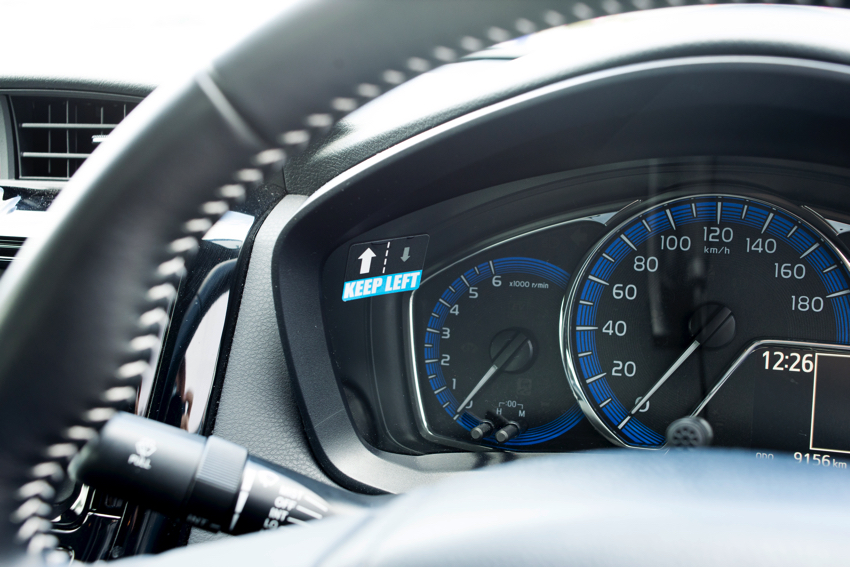 →Stickers with "KEEP LEFT" written are posted inside all vehicles of OTS Rent-a-Car.
As you know all the vehicles in Japan are with right steering wheel, occassionally there are drivers from overseas may accidentally hit other's car that passed by while opening the door. Please make sure there are no cars beside yours when you close the door.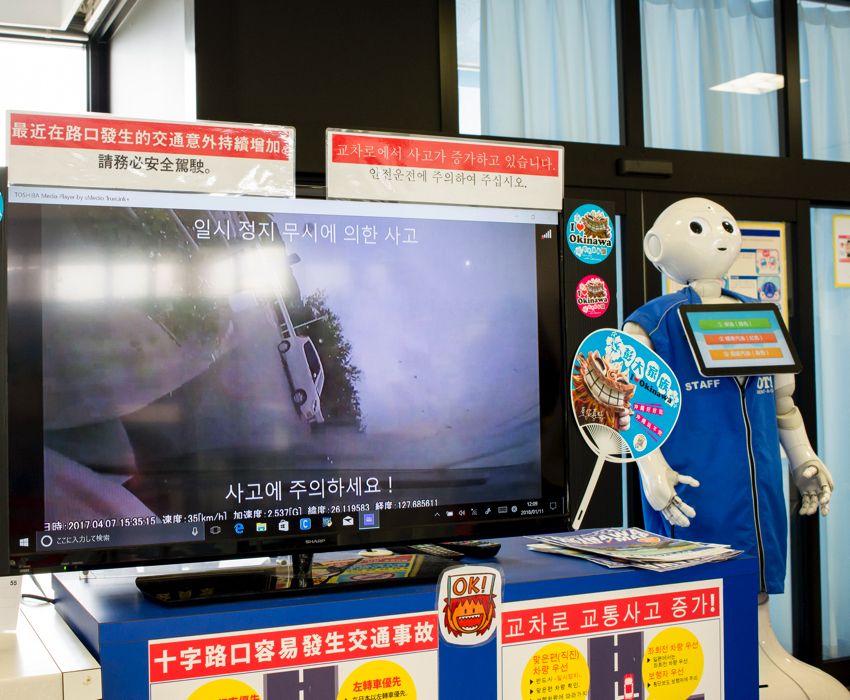 →Please take a look at the monitor to check the accident-prone sites when you are waiting for the reception procedure.
② Right turn・Left turn at the crossroads
The pedestrian has the priority going first even when there is a green arrow sign on the traffic light. Make sure there is no one in front of the crossroads before making the left turn. 
Make sure there are no cars oncoming forehead while turning right. Even if there are no cars coming in front, please check if there are pedestrian passes by and turn right slowly under the green arrow light.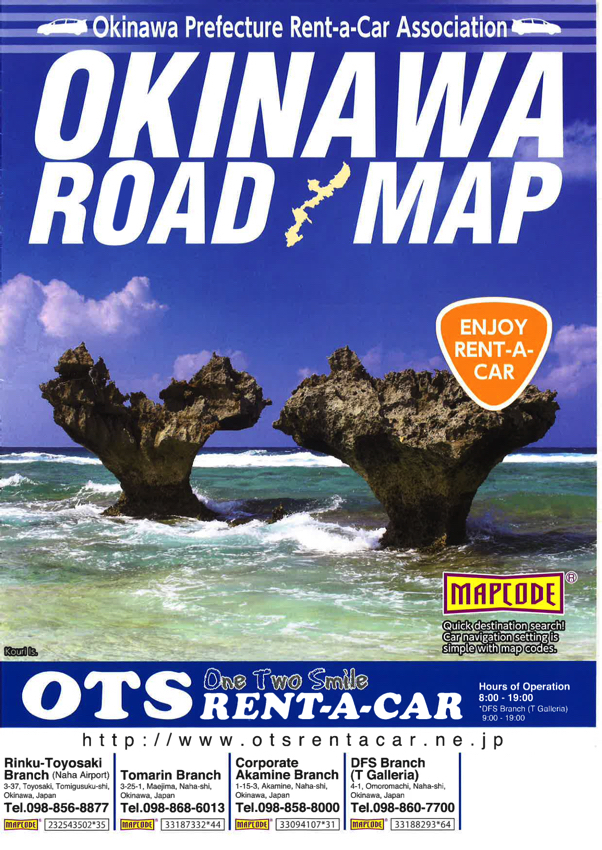 →This is the "Road Map" you can get at the reception counter of OTS Rent-a-Car.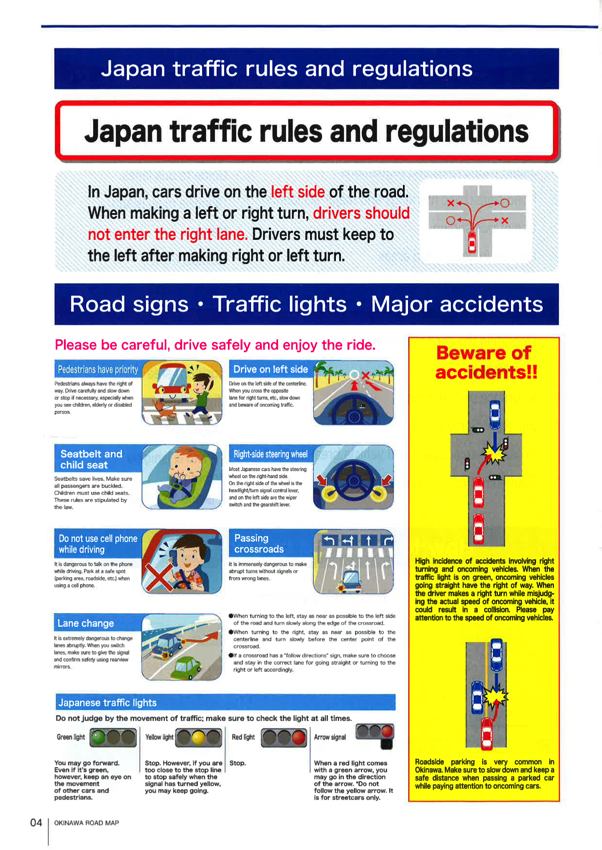 There are Japanese・English・Korean・Traditional Chinese Character versions of road map provided here. With the contents of traffic rules and signs, emergency contacts, and facility map codes, it's definitely necessary when you travel Okinawa!
(This is an original map which can only get in OTS Rent-a-Car ☆彡)
By the way, the drive recorder is installed inside the car. If there is a car accident, the drive recorder will be really helpful. ※Some models are excluded.
③ STOP
The "Stop Sign" is really important when you drive in Japan. 
There were many collision accidents happened due to ignoring the "stop sign" when the customers oversea started to increase. It seems that they didn't stop because they didn't understand the sign written by Japanese….  
Right now, the new stop sign with the combination of "STOP" and "止まれ" is being created. However, it doesn't apply to all area. Please be sure that you know "止まれ" means "STOP" in Japanese before you drive.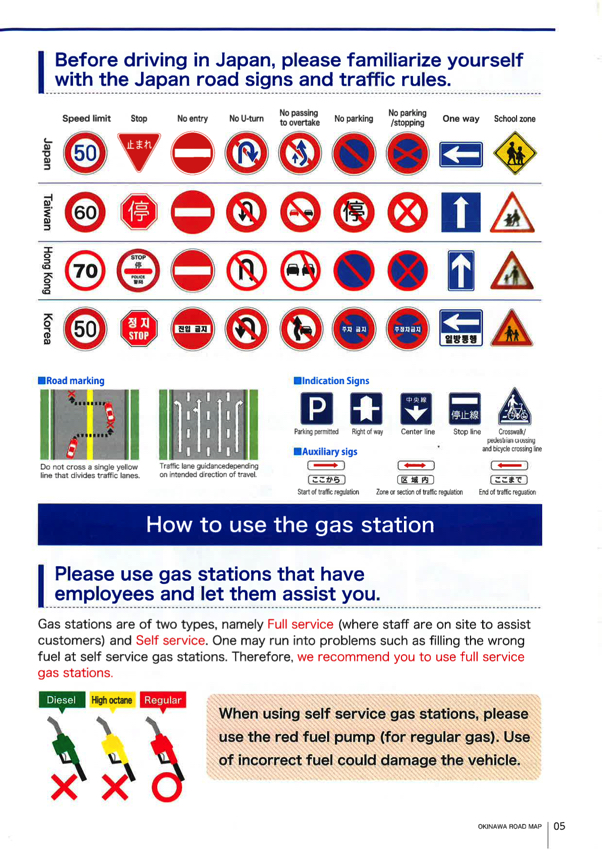 →List of signs by country listed in the "road map" introduced earlier.
The top level is the traffic signs in Japan. The second one from the left is a sign of "Stop"
④ The functionality of MapCode and car navigation 
The "MapCode" is a code consisting of latitude and longitude in Japan. It's convenient because you can reach the destination you're willing to go by only input the MapCode into the car navigation.
What can I do if i know neither the MapCode of the place I want to go nor the absence of MapCode on the roadmap?
In this case, it's recommended to use the App "NaviCon" (Japanese) / "NaviBridge" (languages other than Japanese).
This App can show the MapCode of the place if you know the name of it. Besides, you can also check the Convenience Store・Coin Parking Lot・Gasoline Station・Restaurant, etc. nearby by this App. Moreover, this App is applicable to Japanese・English・Korean・Traditional Chinese Character・Simplified Chinese Character・Thai・Malay・Spanish, etc. in total 17 languages. You should have a try!◎

---
The car navigation of OTS Rent-a-Car is possible to switch to the following languages. 
Japanese・English・Korean・Chinese (Traditional Character・Simplified Character) Cantonese (Traditional Character)
※Please note that some vehicles are not compatible.
Operation of the car navigation system is restricted during driving. It's not allowed to change the destination while driving. What should the driver do is not to focus on the car navigation but to concentrate on the traffic signs and road conditions.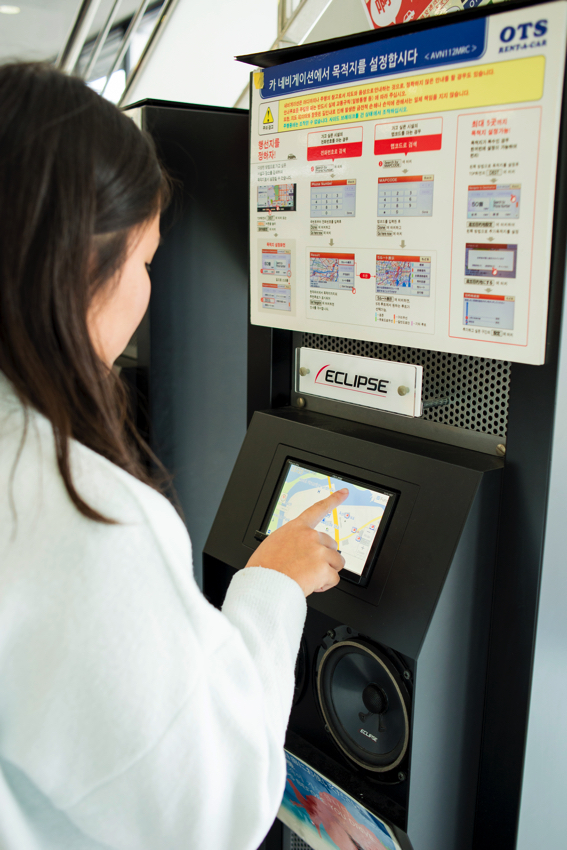 →There is a machine for practicing the navigation before departure at Rinku-Toyosaki Main Office.
⑤ Parking Violation
The "Parking Violation" sign is as important as the "STOP" sign which should be known by all drivers.
Although there are many parking lots in the convenience store・shopping mall, there are still many cases of parking violation such as parallel parking or parking on the private land happened.Even if you say that you don't not know the rule, please be careful as it will still be illegal.
Let's use a public parking lot / parking meter in order not to gain a parking violation ticket and not to disturb local residents.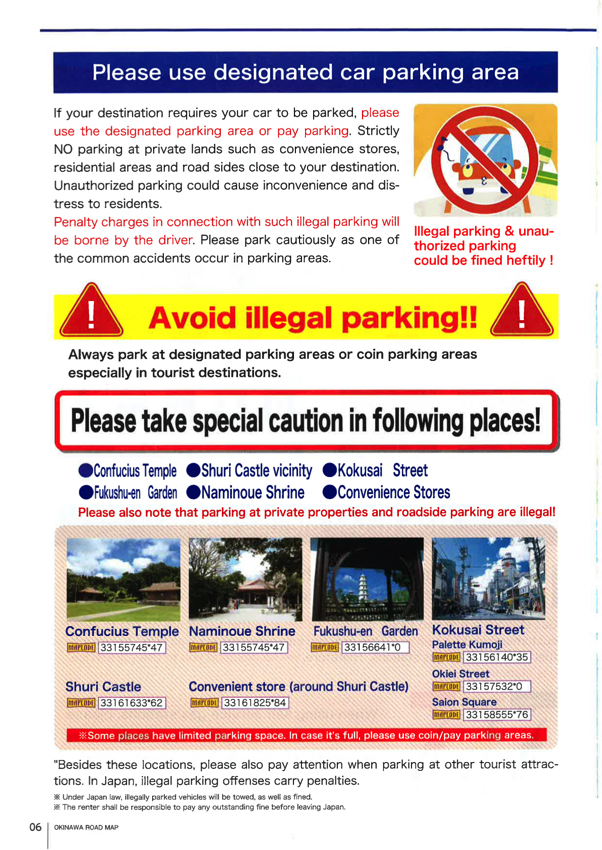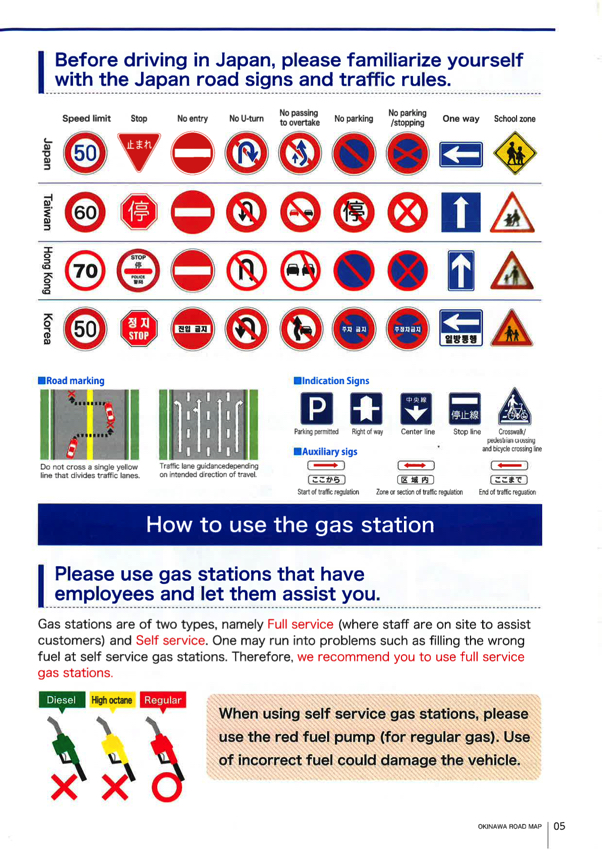 →List of signs by country listed in the "road map" introduced earlier.
The top level is the traffic sign of Japan. The fourth one from the right means "No Parking"; the third one means "No Parking/Stopping .
⑥ Required License
To rent a car in Japan, you need to have one of the following documents ⑴ ~ ⑶.
Without the required documents, you will not be able to drive in Japan as being treated as "Driving without license". For example, even if you have a local driving license and a passport with you, you will still be judged as unlicensed unless you have an international driving license.  Please be careful.
⑴ International Driving License (based on Geneva Convention)    +Local Driving License (issued in the issuing country of international driving license)    +Passport (the nationality of the passport doesn't matter)
⑵ Foreign Driver's License of Respective Countries(License of Taiwan・Switzerland・Germany・France・Belgium・Slovenia and Monaco.)
   +Official Japanese Translation (Only translations obtained from the Japan Automobile Federation (JAF) or from the respective countries' embassies/consulates in Japan are acknowledged as official. )  ※For Taiwan driver's license, only Japanese translation issued by East Asia Relations Commission or Japan Automobile Federation (JAF) are acknowledged.
   +Passport (the nationality of the passport doesn't matter)
⑶ Driving With License Issued in Japan (Japanese Driving License)
There are expiration dates for the official Japanese translation as well as for each type of driving license.
Should you wish to rent a vehicle with OTS Rent-a-car, your documents must be all VALID and ORIGINAL. 
Above page is easy to understand with photos, before "Visiting Japan" and prepare what you need.
⑦ Parking
Rental car means a car different from what you are used to drive normally. There are many examples of hitting the back of the car because of the lack of sense of size toward the car / functionality.
In order to reduce such accidents as much as possible, vehicles of OTS Rent-a-Car are equipped with back camera. ※Some models exclude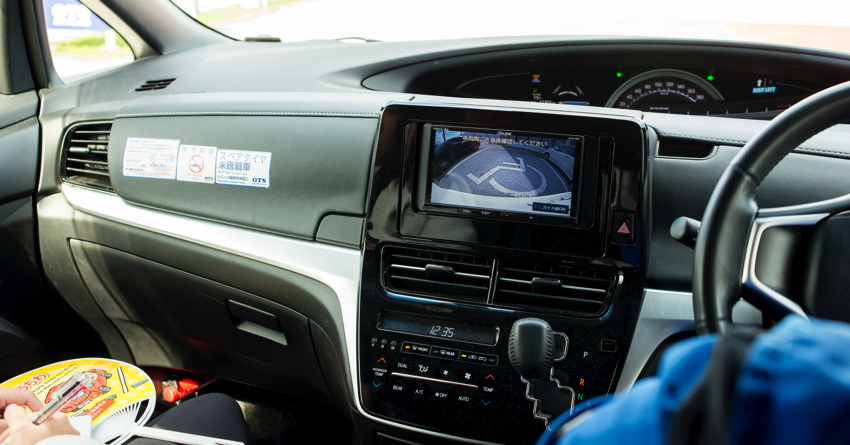 →It's able to check the state of the back with navigation.
However, there are frequent cases of accidents caused by excessive confidence in this navigation.
People riding in the passenger seat are recommended to descend from the car and use the "Nikoniko Guidance Uchiwa" given at the reception counter of OTS Renta-Car to help the driver with parking.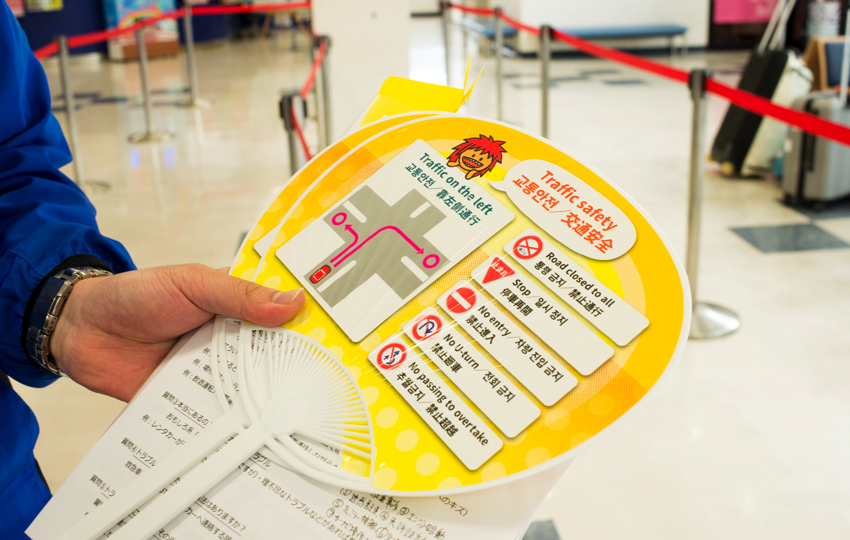 →There are some important Traffic rules  written on the Uchiwa.
⑧ Smart Key
All vehicles in OTS Rent-a-Car are using the smart keys with two buttons, "lock" and "unlock". There is no need to insert a key to the door. What you have to do is to press the button on the key nearby the car, then you can lock/unlock the door.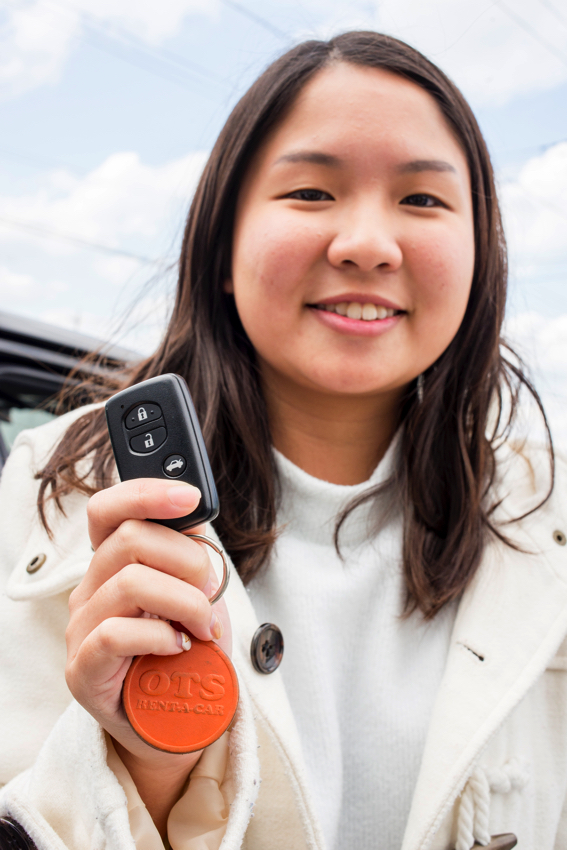 →A simple and compact key.
There is no need to insert a key when you run the engine as well. Hold the brake strongly and press the "Power" button for 3 seconds or more to start the engine.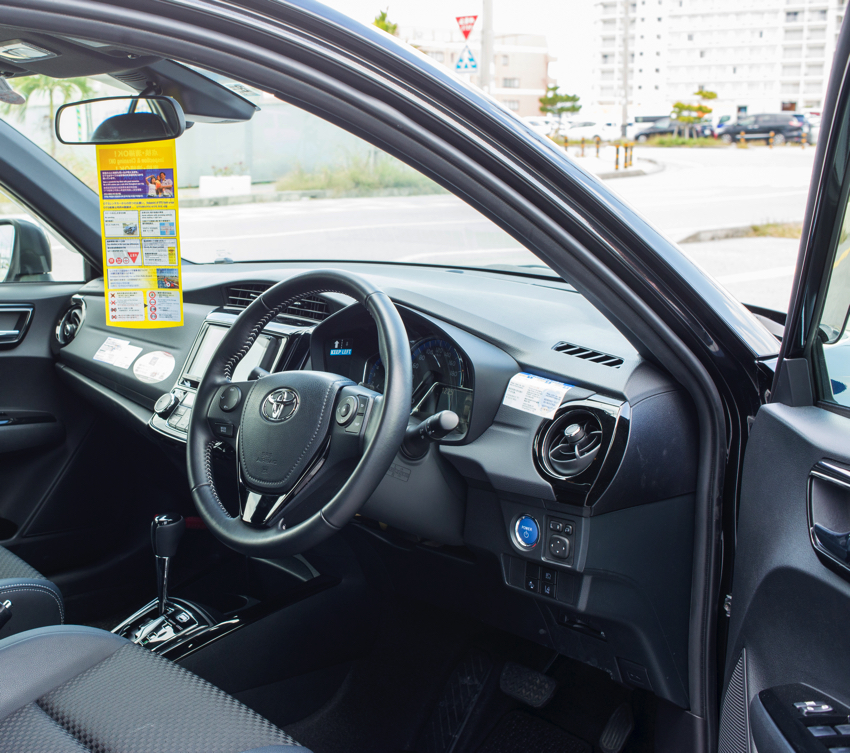 →The blue button at the lower right of the steering wheel is the "Power" button. ※The location varies depending on the model.
→There is description of starting method inside the hybrid car.
⑨ The initiative in Japan
Since November 2015, OTS Rent-a-Car have concluded a cooperative arrangements with Okinawa Prefectural Police Headquarters and Japan Automobile Federation (JAF) to support the  "Translation service related to the calling of 110  from foreign tourists." 
It is the first case in Japan that the police headquarters and private enterprises collaborate to advance countermeasures for foreigners' accidents. 
As a result, foreign customers of OTS Rent-a-Car is available for the translation service from both Hokkaido Translation Center and JAF if they encounter a car accident. 
Although it is safe even in case of emergency, it is best to not cause an accident.
⑩ Veer from the lane
There is a Lane Departure Alert installed in OTS Rent-a-Car's vehicle that will alert you when it senses that you've veered from your lane. ※Some models exclude.
When changing the lane, check the surrounding road conditions and move with a proper timing.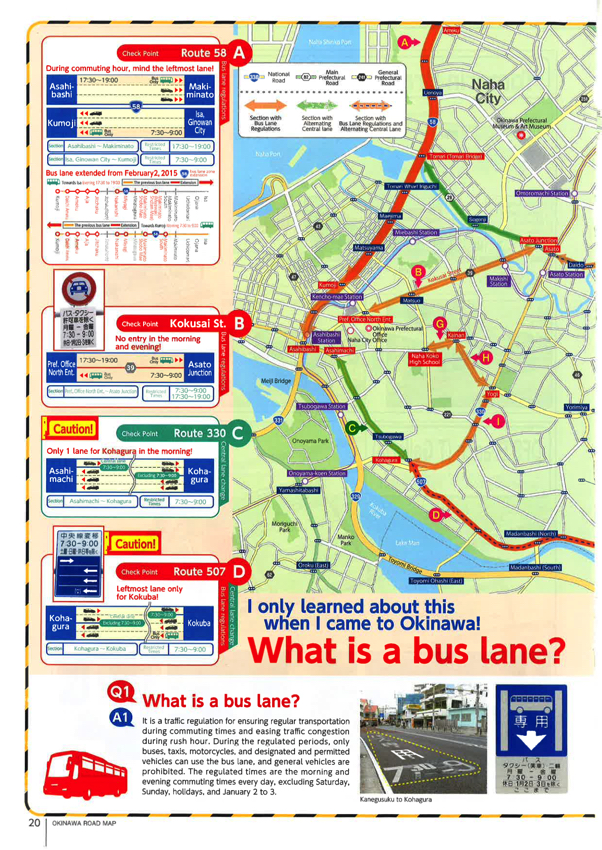 →Check Okinawa's special rules of bus lane in the Road Map!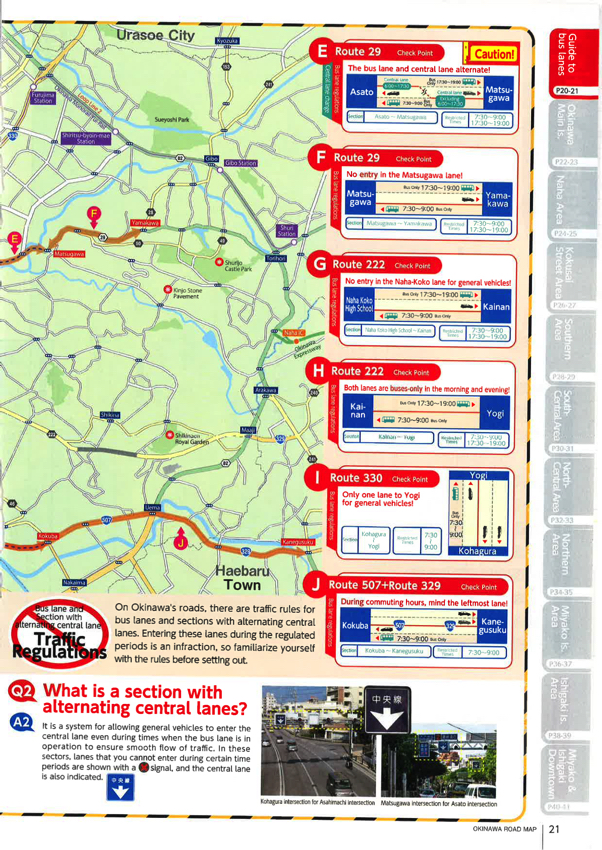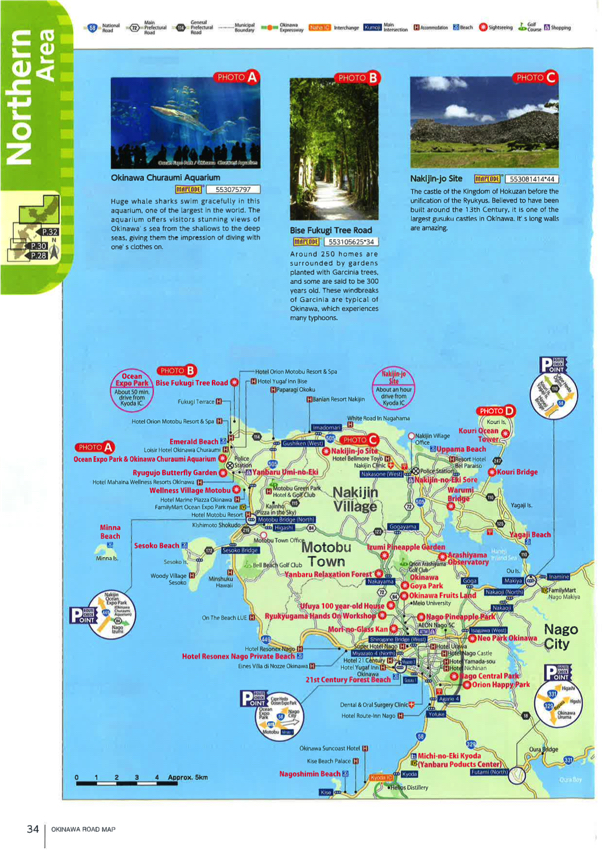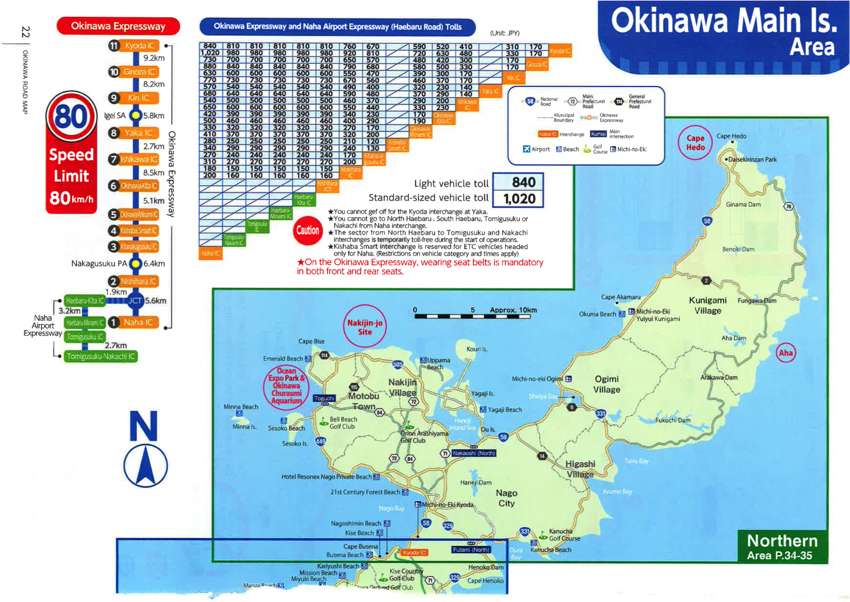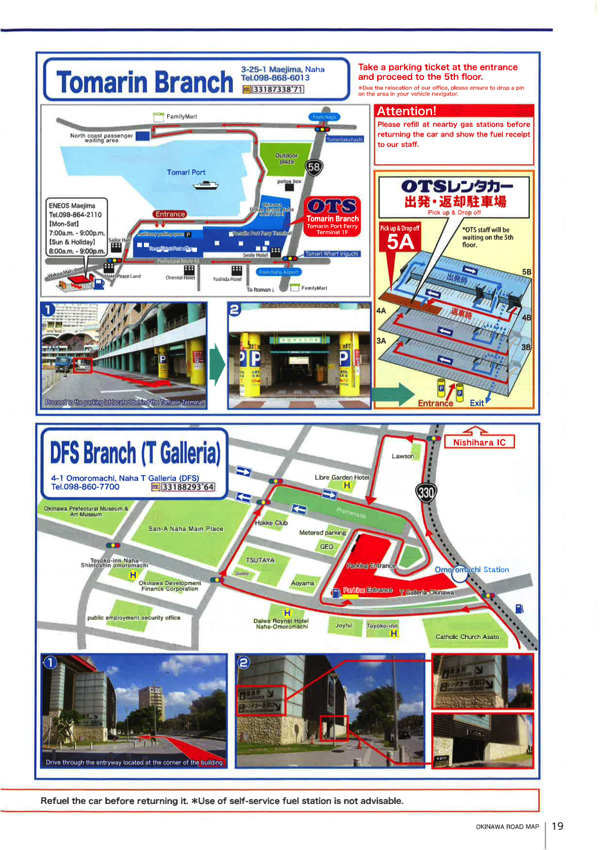 →All excerpts from the Road Map。
Enjoy a safe and nice trip in Okinawa with OTS Rent-a-Car!