Greetings from the tropical paradise! This is Jessica from the Okinawa Holiday Hackers.
As an outdoor lover, I have been constantly reading stories of adventurous bloggers staying in their trailer homes and travel to exotic locations. It gives me an imaginary of having the chance to commune with nature and enjoy the serenity of the woodlands. While this has been on my bucket list for years, yet the absence of a driving license makes it difficult to rent any type of camping cars.
LUCKILY…
last month I discovered somewhere that could provide a similar experience…
!Woodpecker Nakijin♡!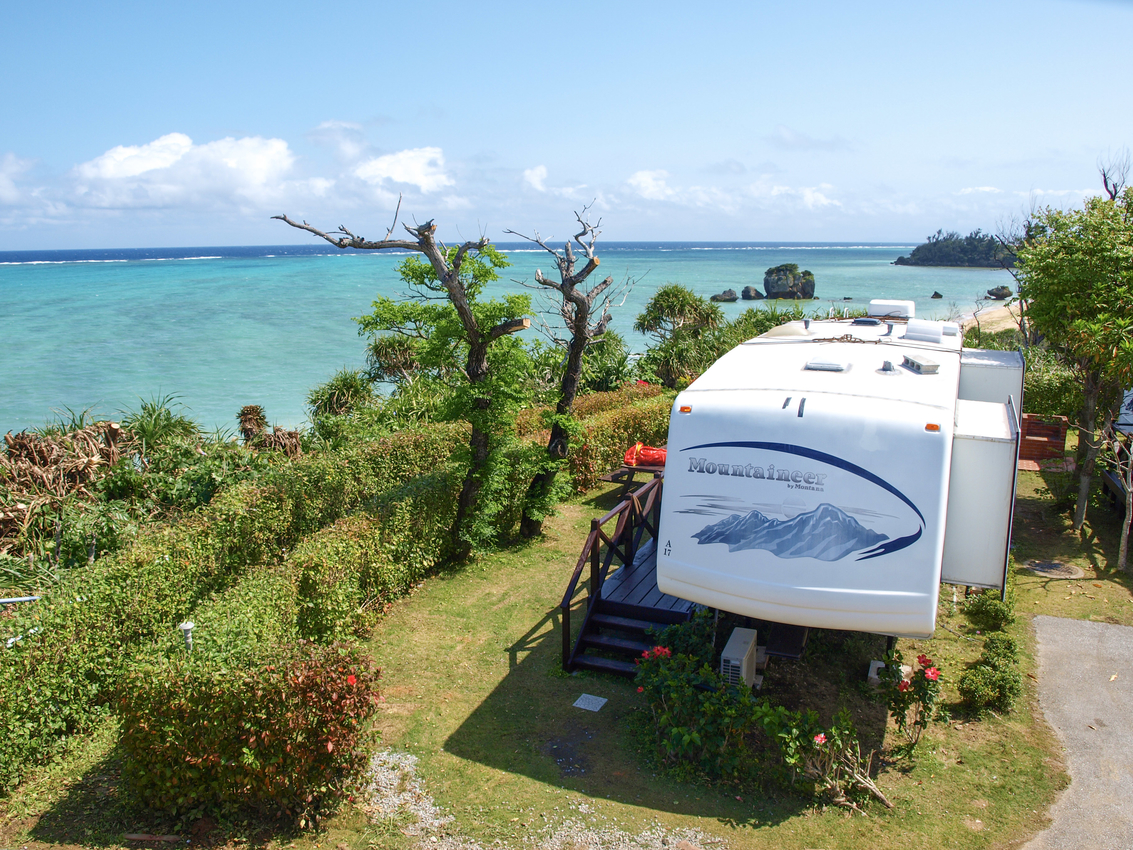 A trailer house type of accommodation where I can fully enjoy the Okinawan wilderness.
This time, I've decided not to miss the opportunity and have one of my best nights there! If you are looking for a little further afield than a beach resort getaway, this place is perfect to fulfill your desire for a renewed nature spirit~
Let's set off to the venue!
10 Mins Drive from the Churaumi Aquarium
The Nakijin area is on the northern part of the island, close to the renowned Churaumi Aquarium. As there are a lot of scenic attractions in that area, it became an excellent choice for people who want something new outside Naha.
(About 1 hour 30 mins' drive from Naha ・Around 1 hour 15 mins' drive from American Village・Approximately 20 mins' drive from Nago Pineapple Park & 30 mins from Kouri Island, time varies depending on road traffic)
I went to the place with my professional photographer Maria, Fiona and her beloved dogs ChaChi♡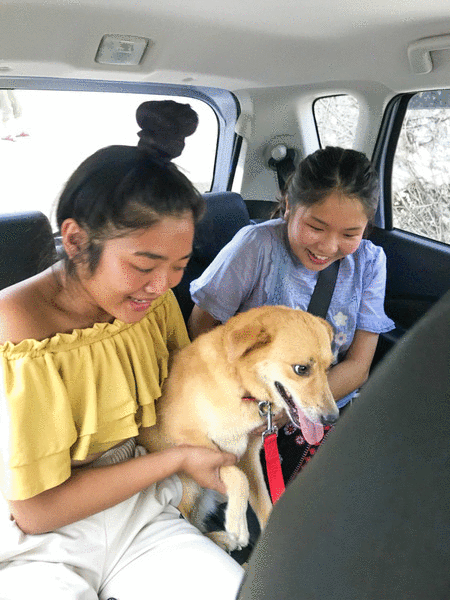 Our struggle with the dogs…the picture shows it all!
Check out ChaChi's previous adventure at the Coldio Onna Hills too!
We made it after a long drive!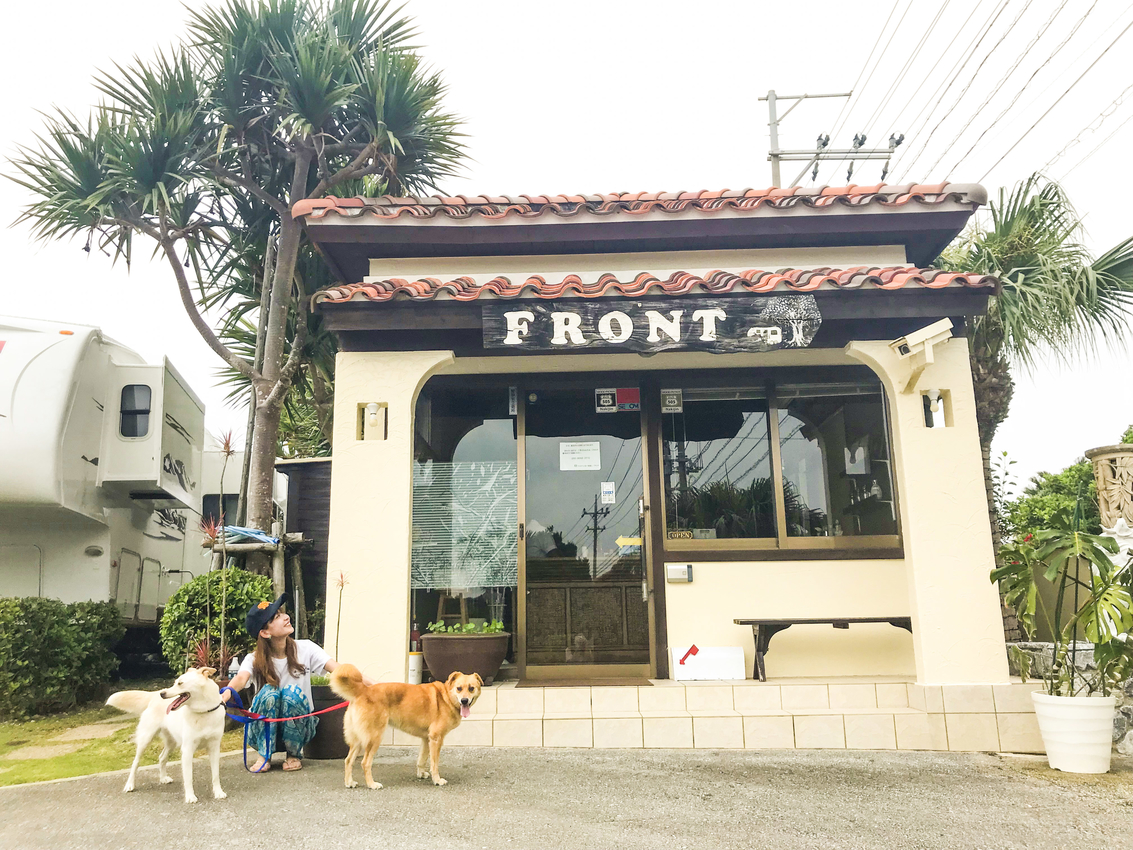 Upon arrival, we did the check-in at the front office as pictured above. The Japanese staff could speak a little English so the process went quite smooth and quick♪
Check-in time 1500~2200・Check-out time before 1100
A Blend of American Style with Okinawan Beauty of Nature
Opened 11 years ago, the property is quite popular among the Japanese but less known to overseas visitors probably due to its location. The rise of the American culture in Okinawa eventually inspired the owner to import American trailer homes and developed a small relaxing resort. The place has undergone renovation just 6 months ago and it consists of many heartening amenities including a pool and sauna♪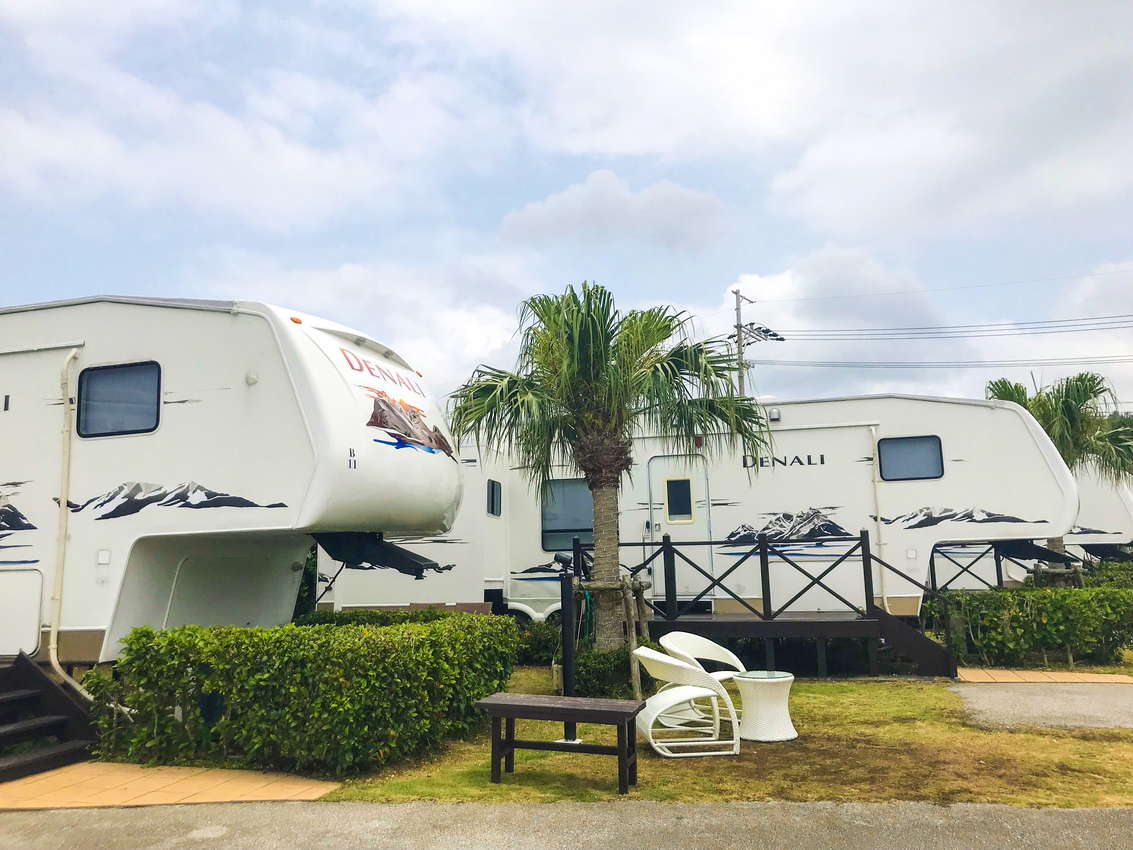 →Spreading out in front of us are the verdant palm trees and a village-like ambience
→Warm weathers are approaching…wanted to dive into the pool…but I forgot my swim suit 🙁
The Afternoon with the Welcoming Rays of Sunlight
Despite the hot and humid weather, the heat didn't stop us from exploring the lush surroundings. ChaChi, the venturers, couldn't help but pulled us to the nearby Nakijin Beach…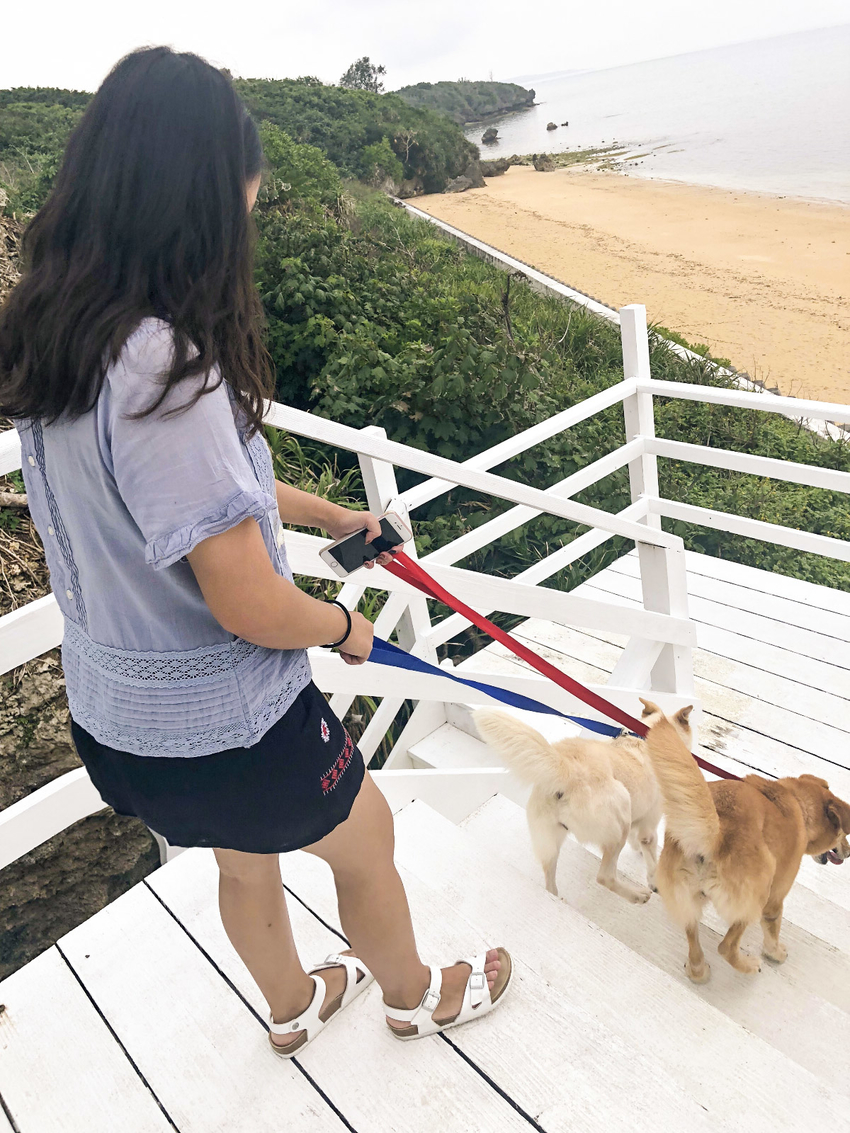 →ChaChi are so thrilled!Please slow down…
A Moment of Solitude with the Private Beach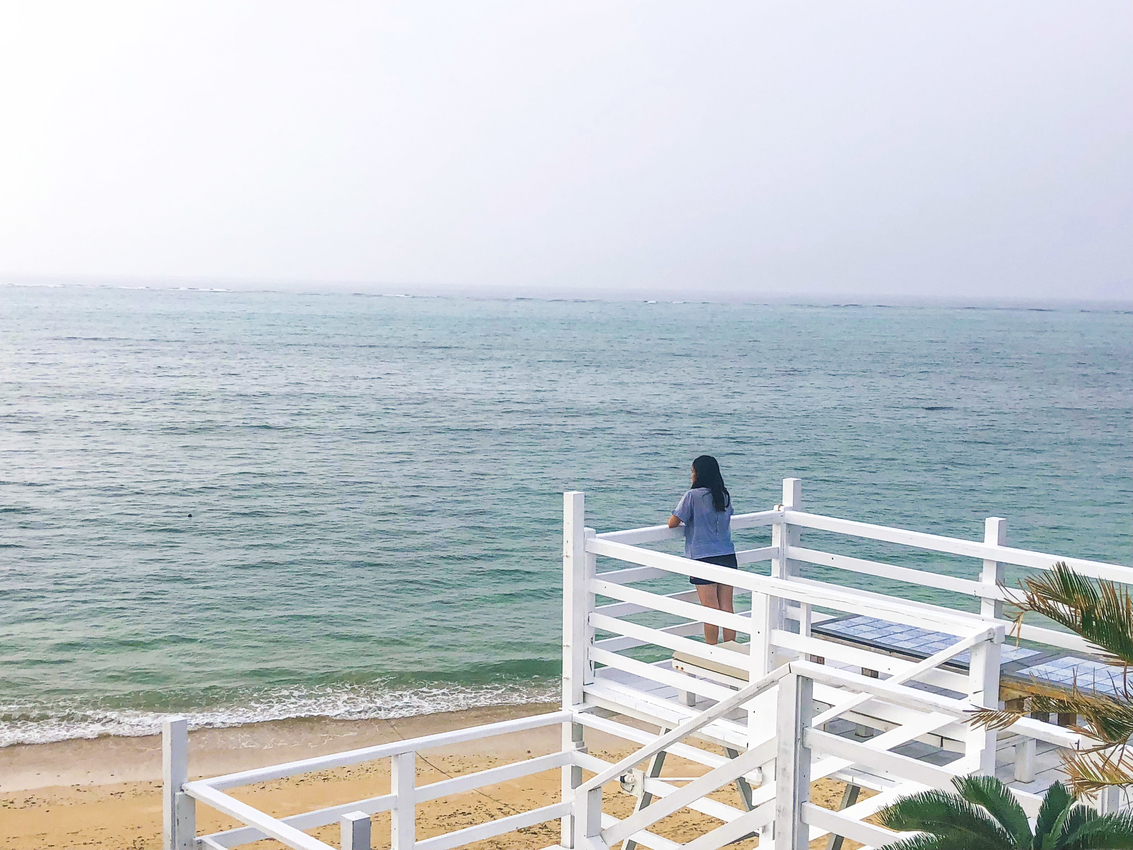 →A cute little balcony ♡ what stretches beneath my feet is the stunning coastline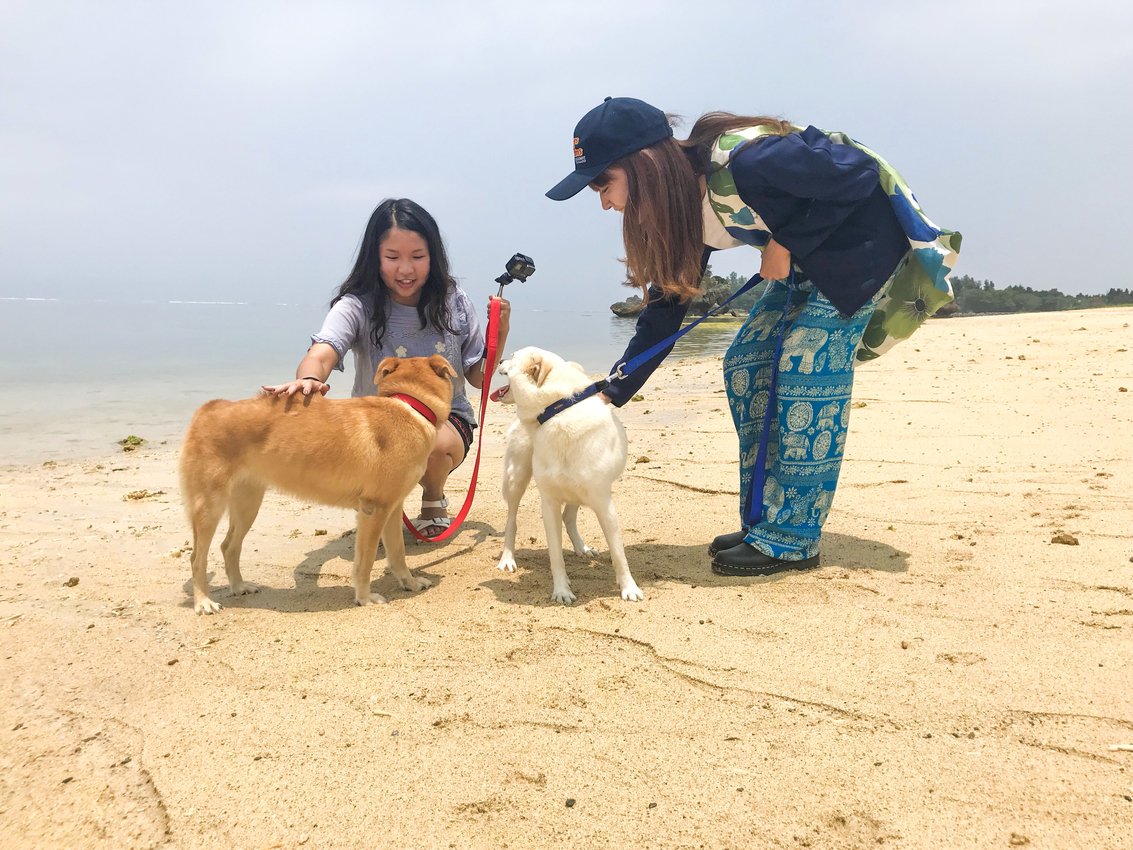 →Trying hard to get their attention…with the help of Fiona
Tuning in on sea waves whilst taking a walk with the dogs had certainly melted down my stress from the bustling life. That said, one could easily get sunburnt without having proper protection under the exposure of intense sunlight (Okinawa recent daily temperature is around 27°C to 29°C)…Unluckily, it was me!! So don't forget to bring a sunscreen before you set out~
The beach is also not a typical tourist spot, a plus for those who wants more privacy!
Cool Down from the Humidity
It felt like all of my energy leak out after running with ChaChi… my time to rest inside the trailer house!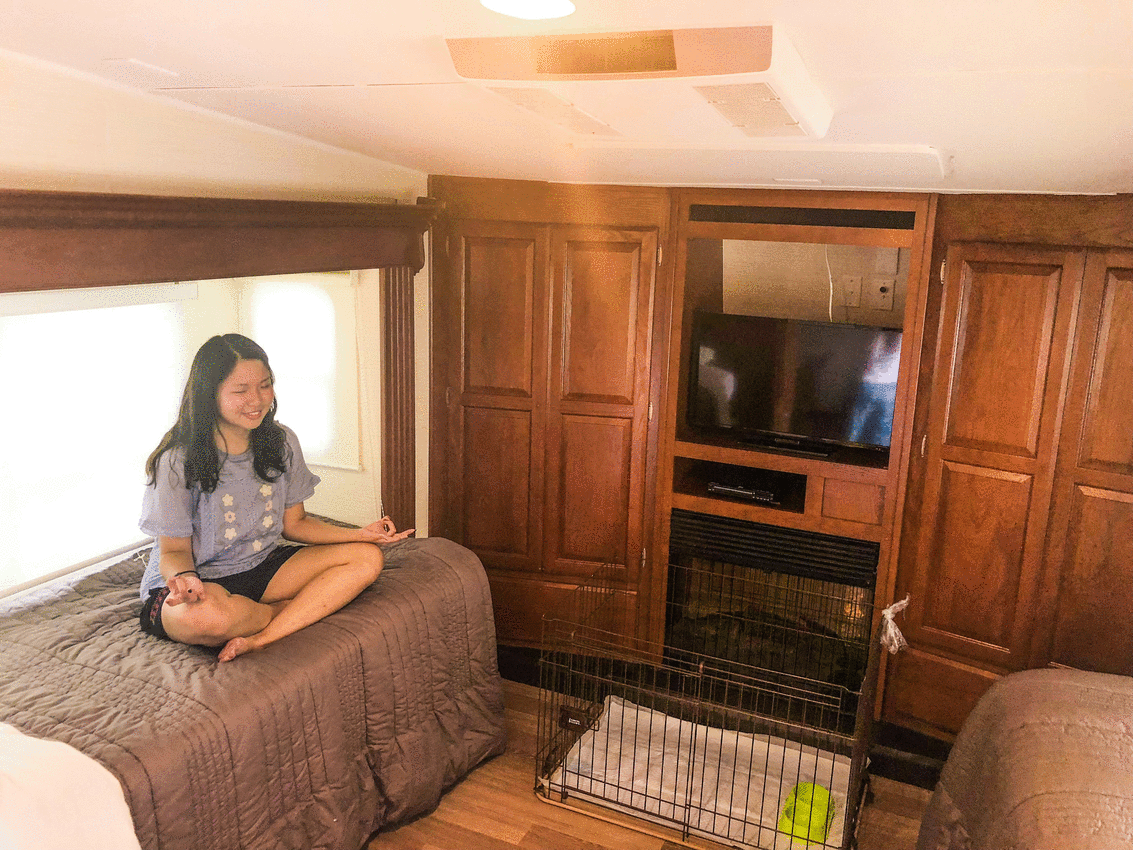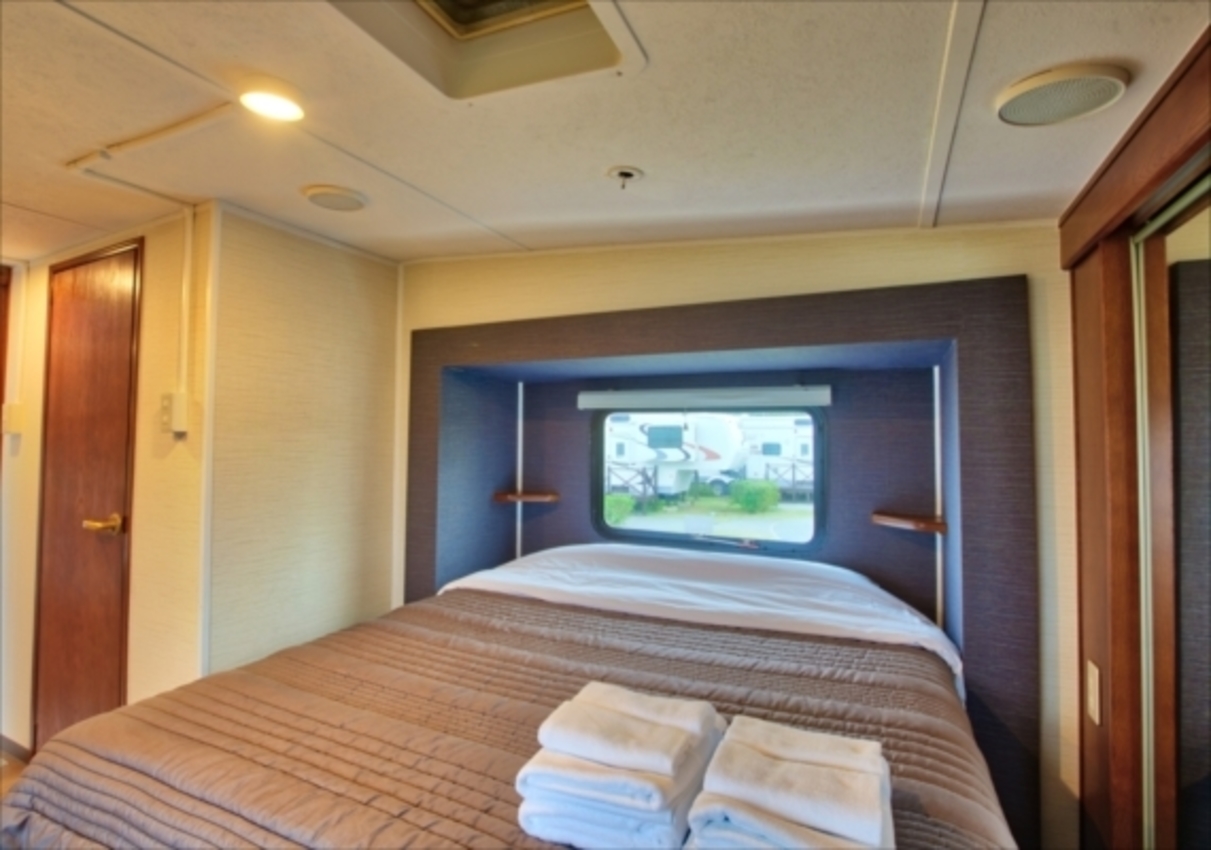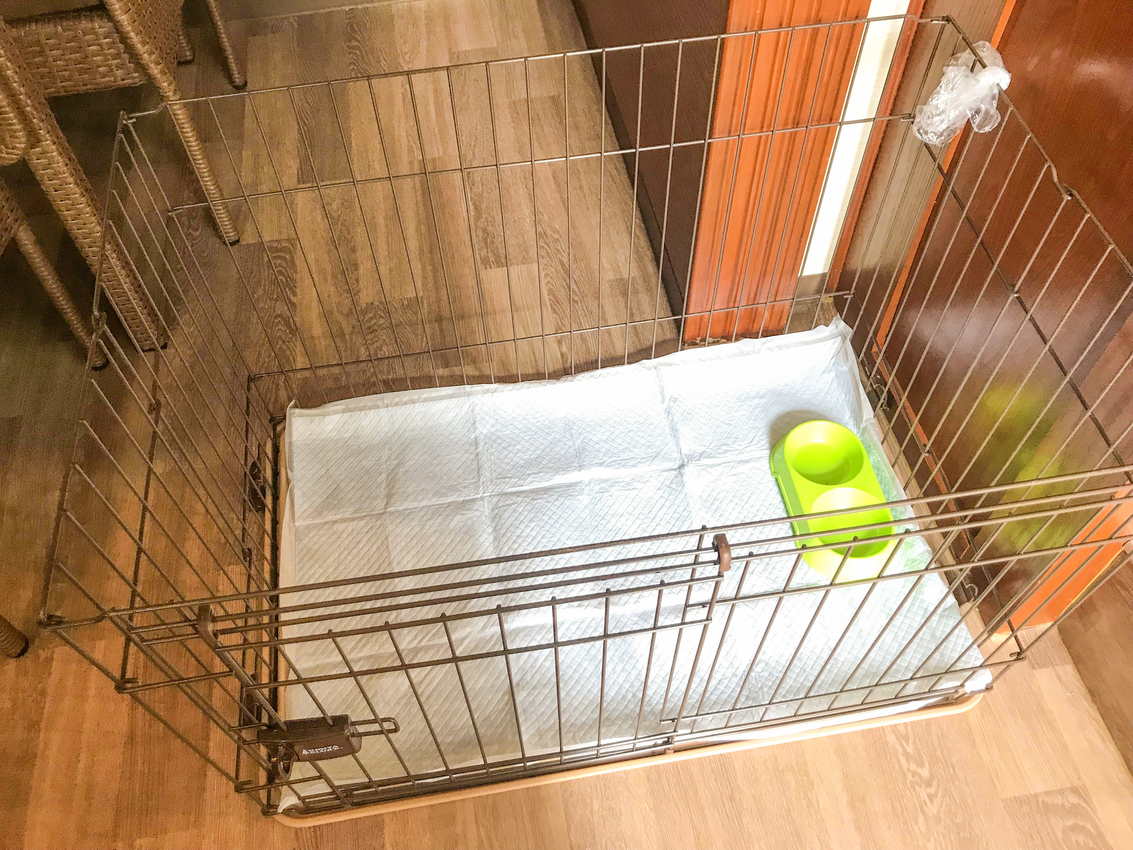 →Pet-friendly pen with food plate (wet tissue for pets is also provided in the room)
Pets Fee: 1 pet 3,000 yen, 2 pets 5,000 yen, 3 pets 6,000 yen (tax not included)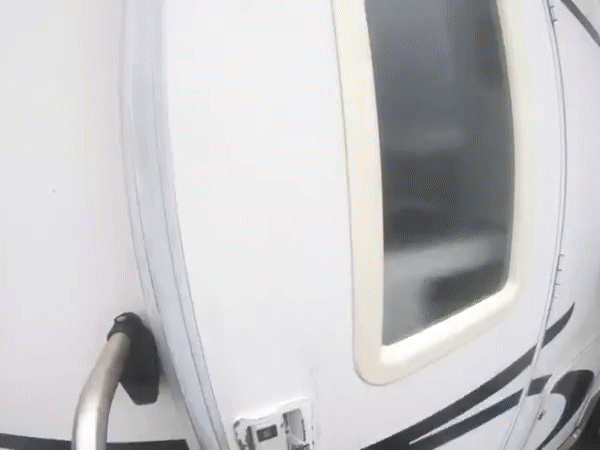 A Sneak Peak of our trailer house~♪
Our accommodation has 3 beds; two single ones and one double, as well as a separate shower and washroom. It is still pretty spacious for a family of four. Slippers and toiletries such as toothbrush and toothpaste are also provided.  
Refreshments at the Cafe
Feeling peckish, I wanted to go to the nearby convenience store to get some snacks…But the cafe inside Woodpecker also offers a varied menu, therefore I picked up the fried potato set with a delightful drink♪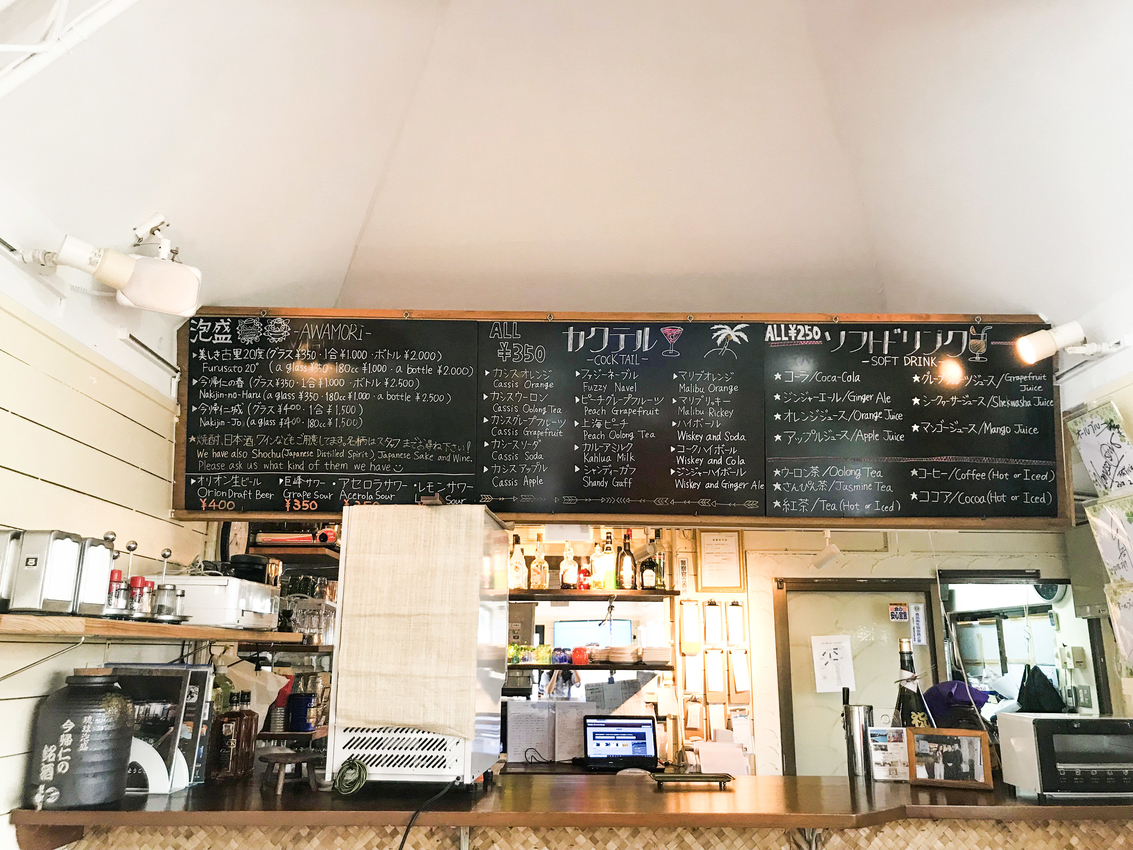 →Which drink should I go for?☆
→Hmm…potatoes are my favourite!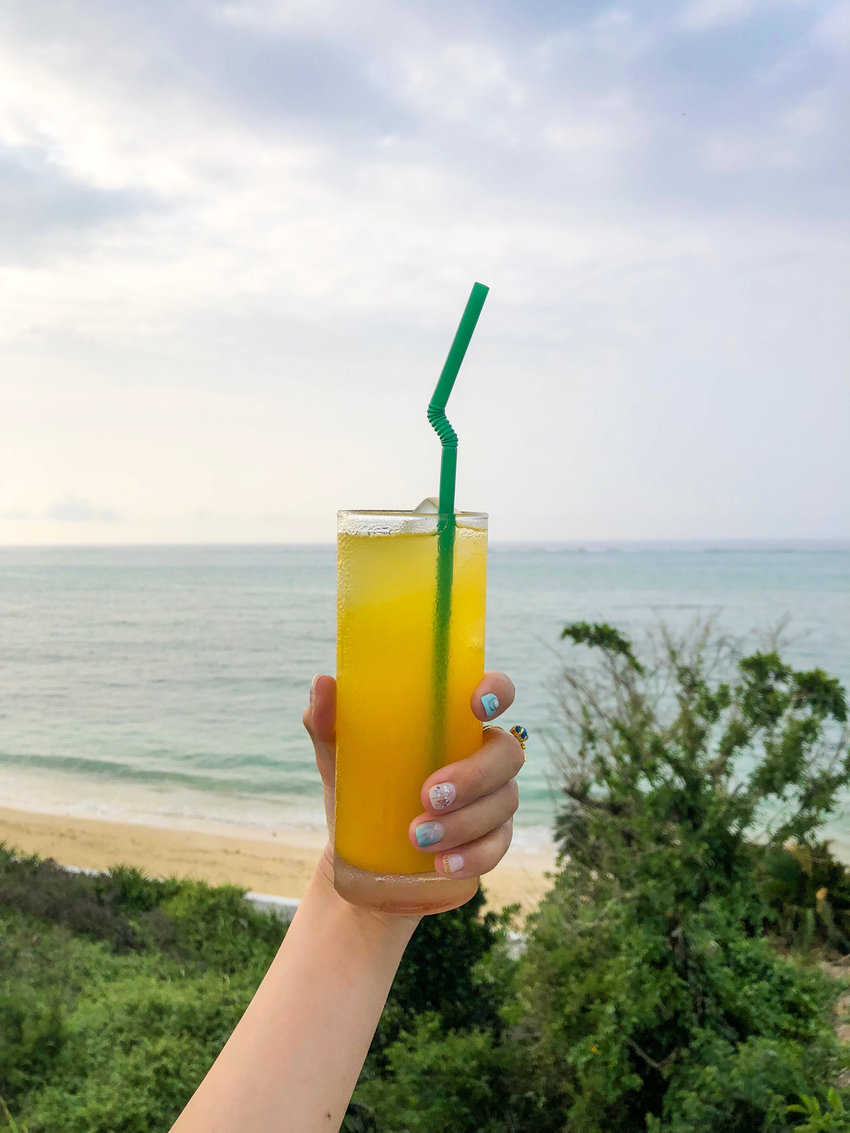 →Enjoying Mango juice by the sea~
There's nothing better than sitting on the balcony collecting your thoughts whilst enjoying the nature wonders. As the waves gently drenched the sand, I realised that it was these moments which brought me such inner peace and left me revitalized.  
I realised that it was these moments which brought me such inner peace and left me revitalized.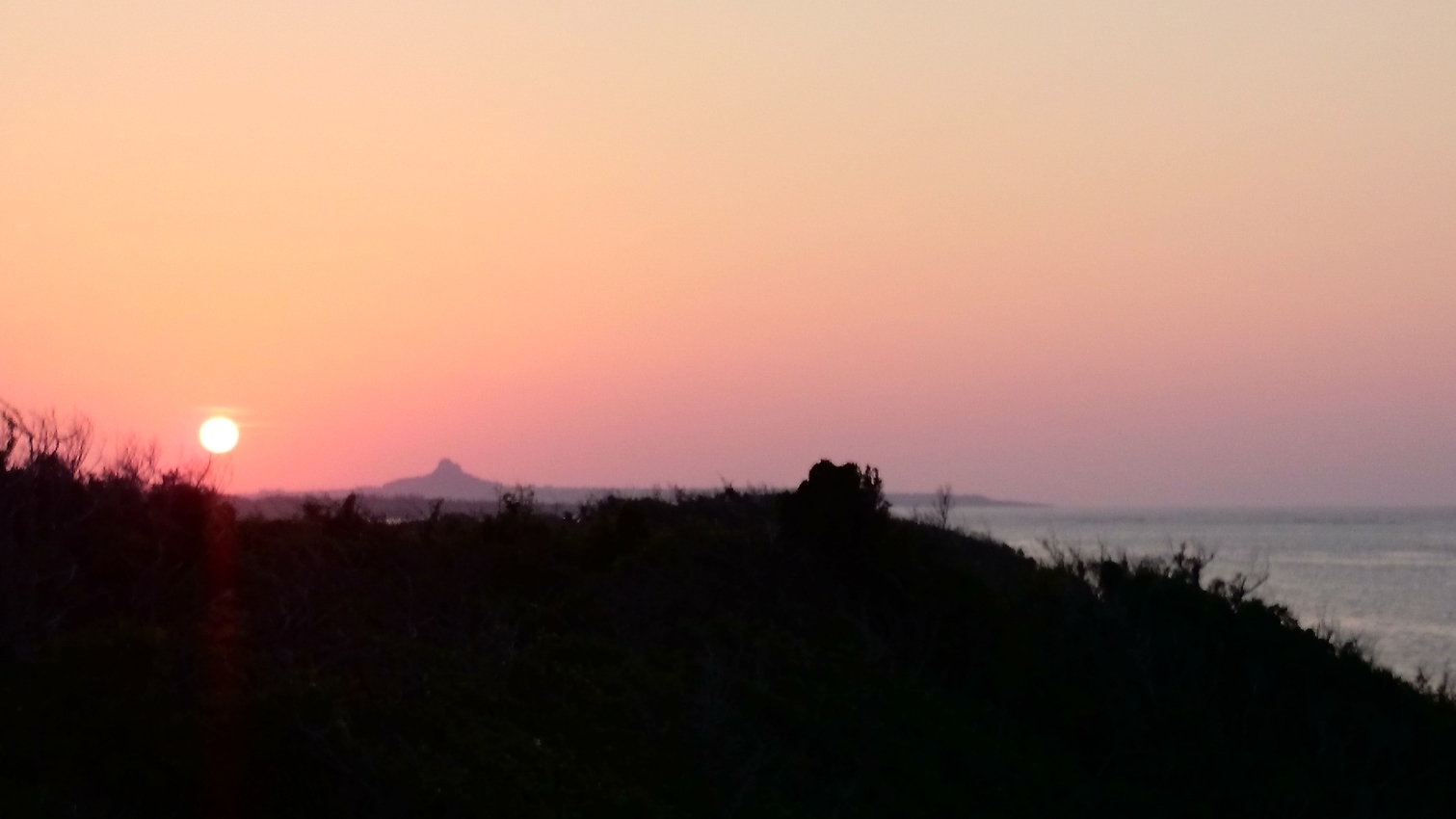 →Beautiful sunset as the sun cascades down the ocean♡
The Starry Night
While we were craving for dinner, we came across a nearby restaurant highly favoured by Taiwanese tourists called 北山食堂. It was just a 5 minutes' drive from Woodpecker. It offers a variety of Okinawan food as well as other typical Japanese cuisine options such as sashimi. We were too hungry so we stuffed all the food and forgot to take pictures but they tasted scrumptious nonetheless! 
English/Chinese/Korean menu are also available!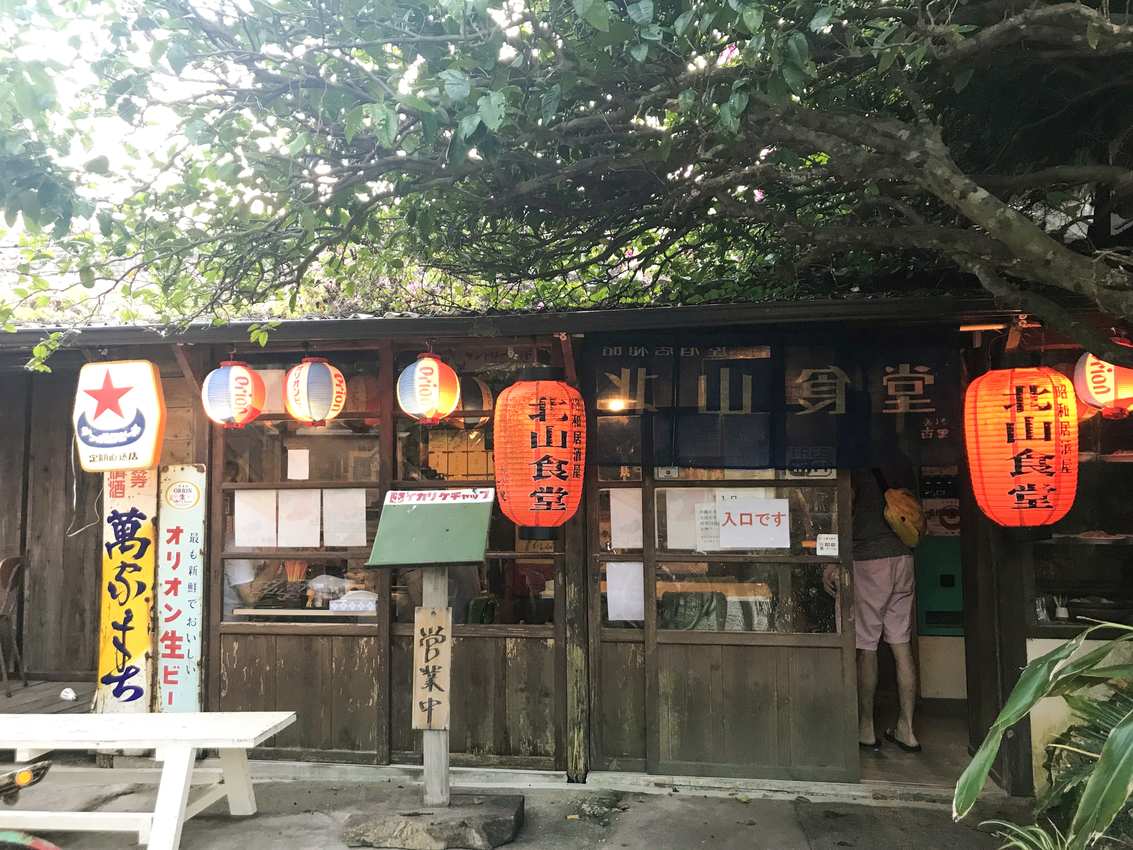 →Entrance of the place looks nostalgic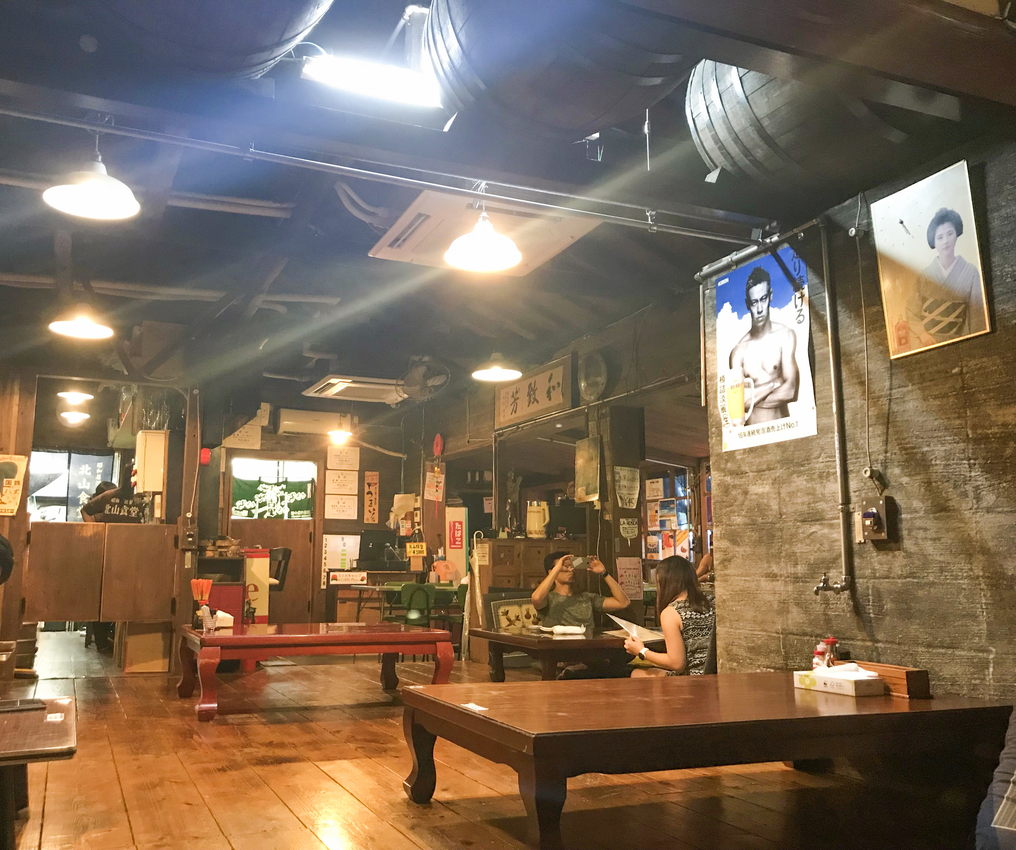 →Food order pad with English menu
Restaurant
昭和居酒屋 北山食堂
Opening Hours
5PM-1AM
Closing Days
No
Address
〒905-0428

Okinawa-ken, Kunigami-gun, Nakijin-son, Imadomari, 3570

Mapcode
553 112 665*71 (5 minutes drive from Woodpecker)
If you don't want to eat out, the cafe in Woodpecker has a lot of dinner offerings as well.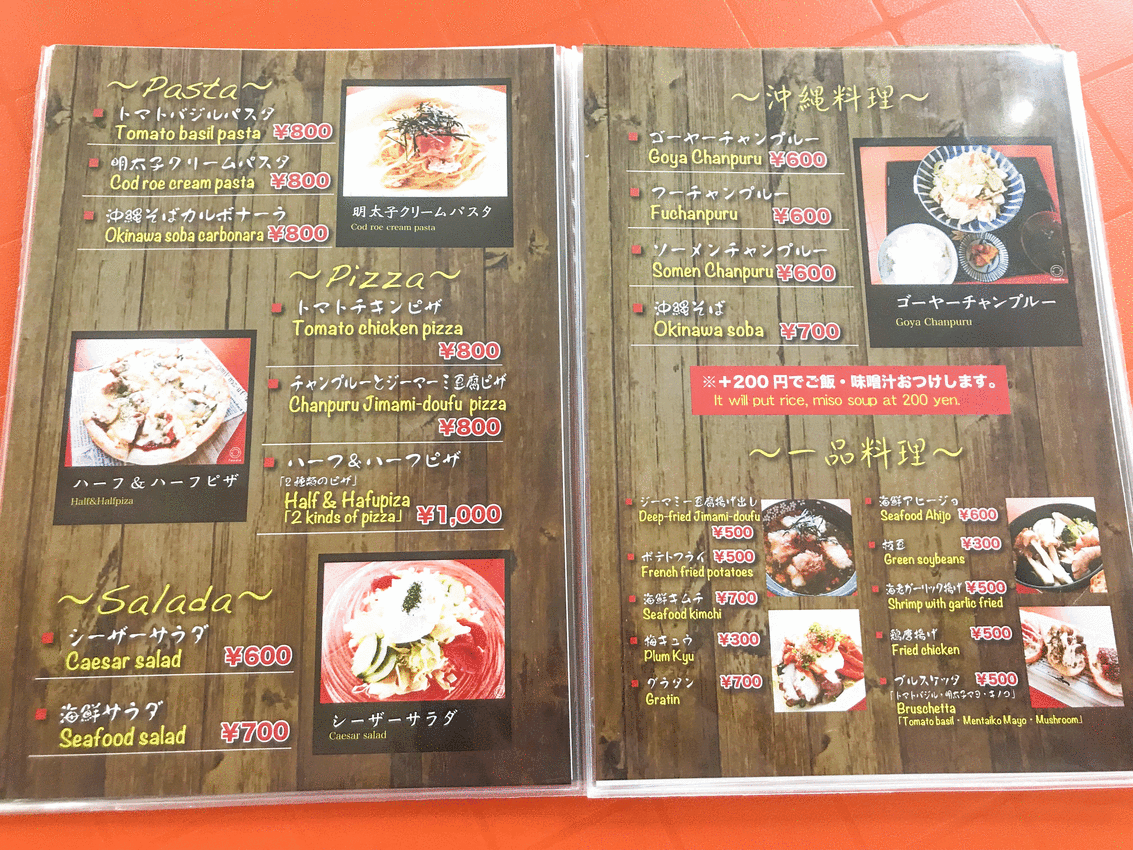 Dinner time till 10PM (last order 930PM)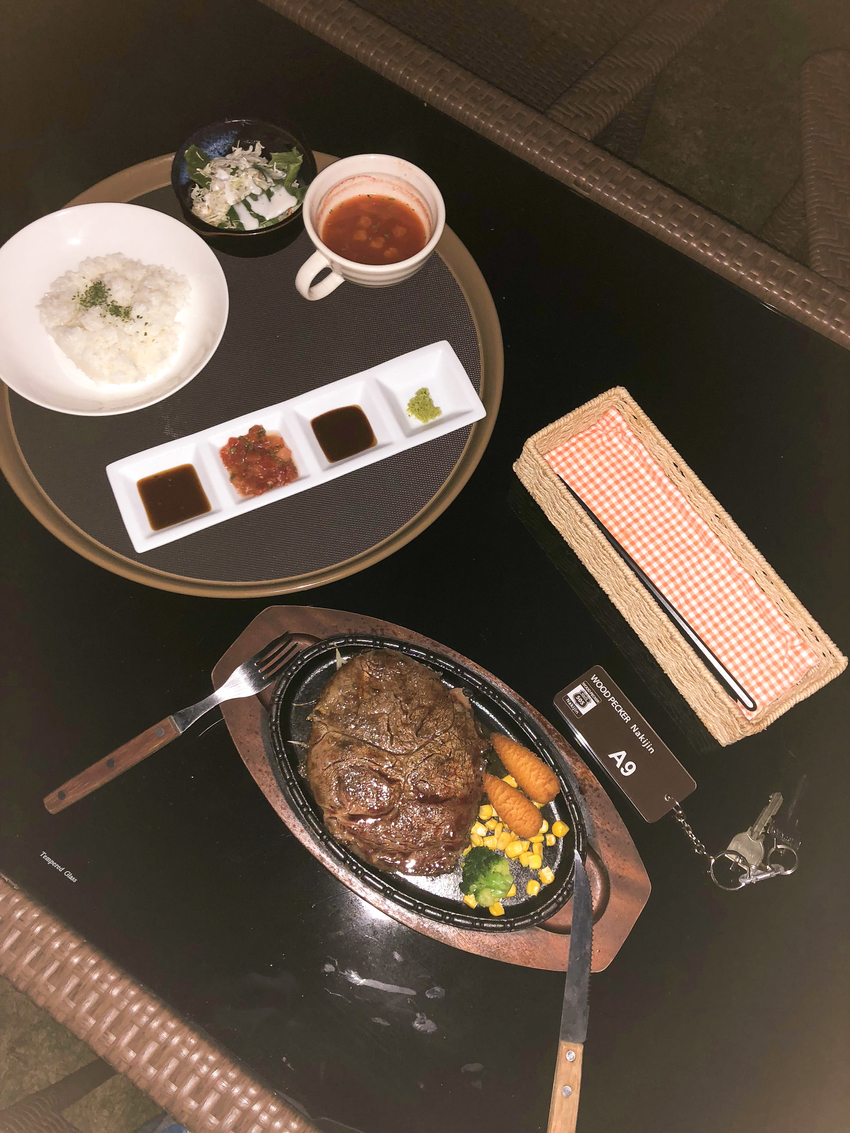 →Steak rice set♪Oishii (Yummy in Japanese)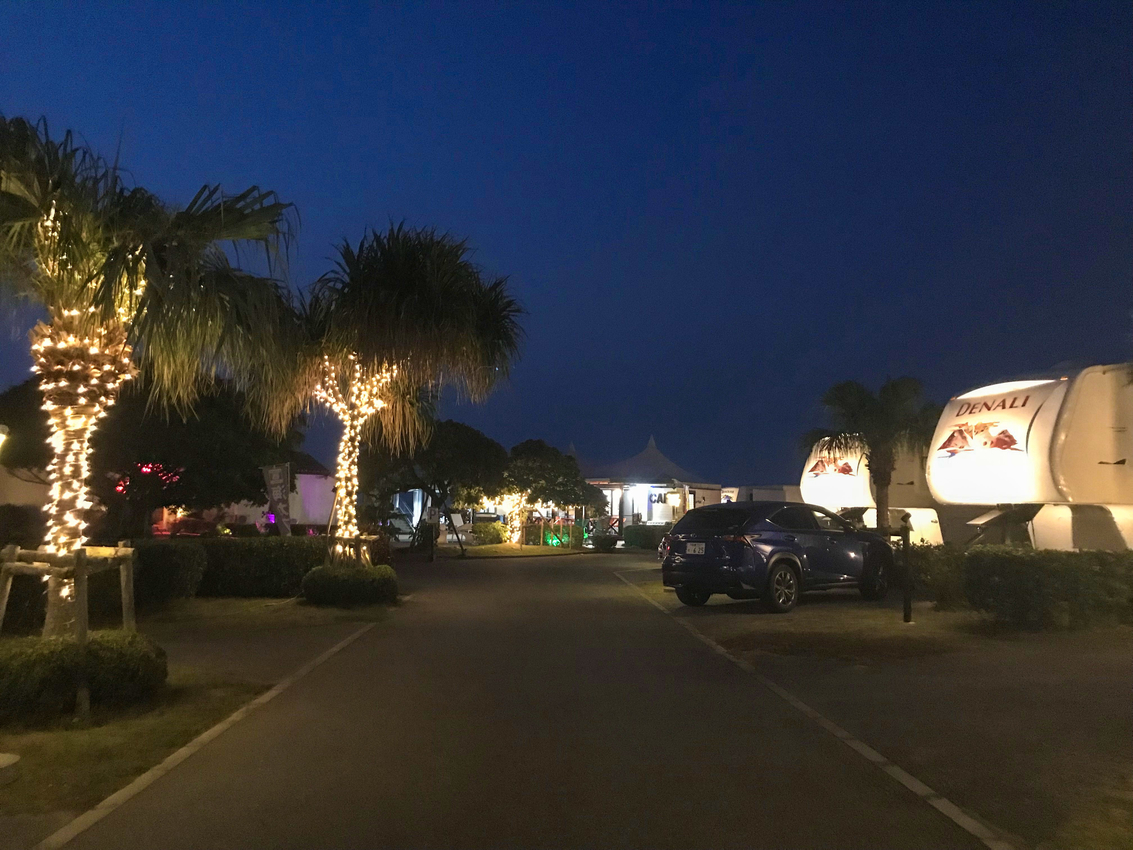 The string lights were up at night and the place looked absolutely romantic~
Even after a pretty tiring day, I couldn't fall asleep quickly and so I glanced towards the sky. The stars were flickering and it was a privileged moment for someone like me who had always been covered by thousands of city lights.
Watching the twinkling stars from the endless arch of void-black was the highlight of the stay ♡
It was a privileged moment for someone like me who had always been covered by thousands of city lights.
The Blissful Morning
We had to get up early as ChaChi were desperate for a walk. The temperature cooled down a bit but gradually the sunrise threw on us a layer of warmth. We wandered a bit around the beach and the campground, just to simply embrace the wilderness.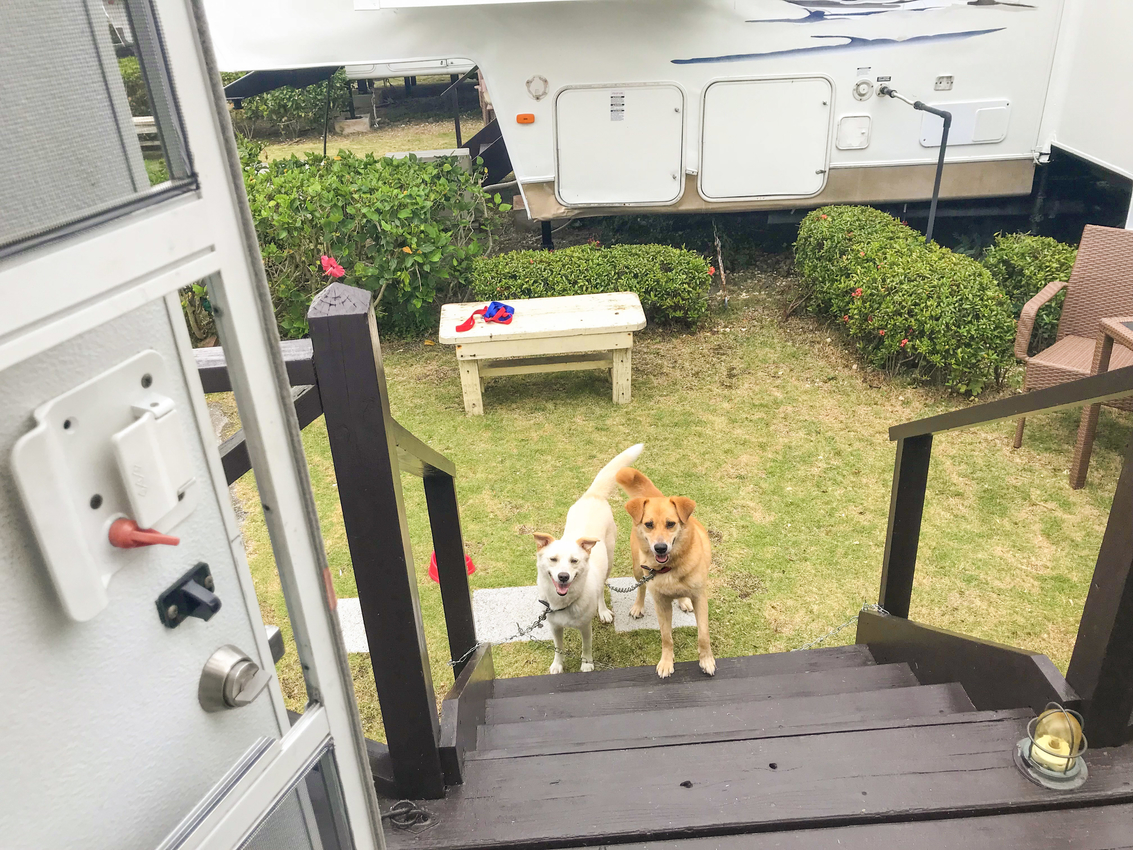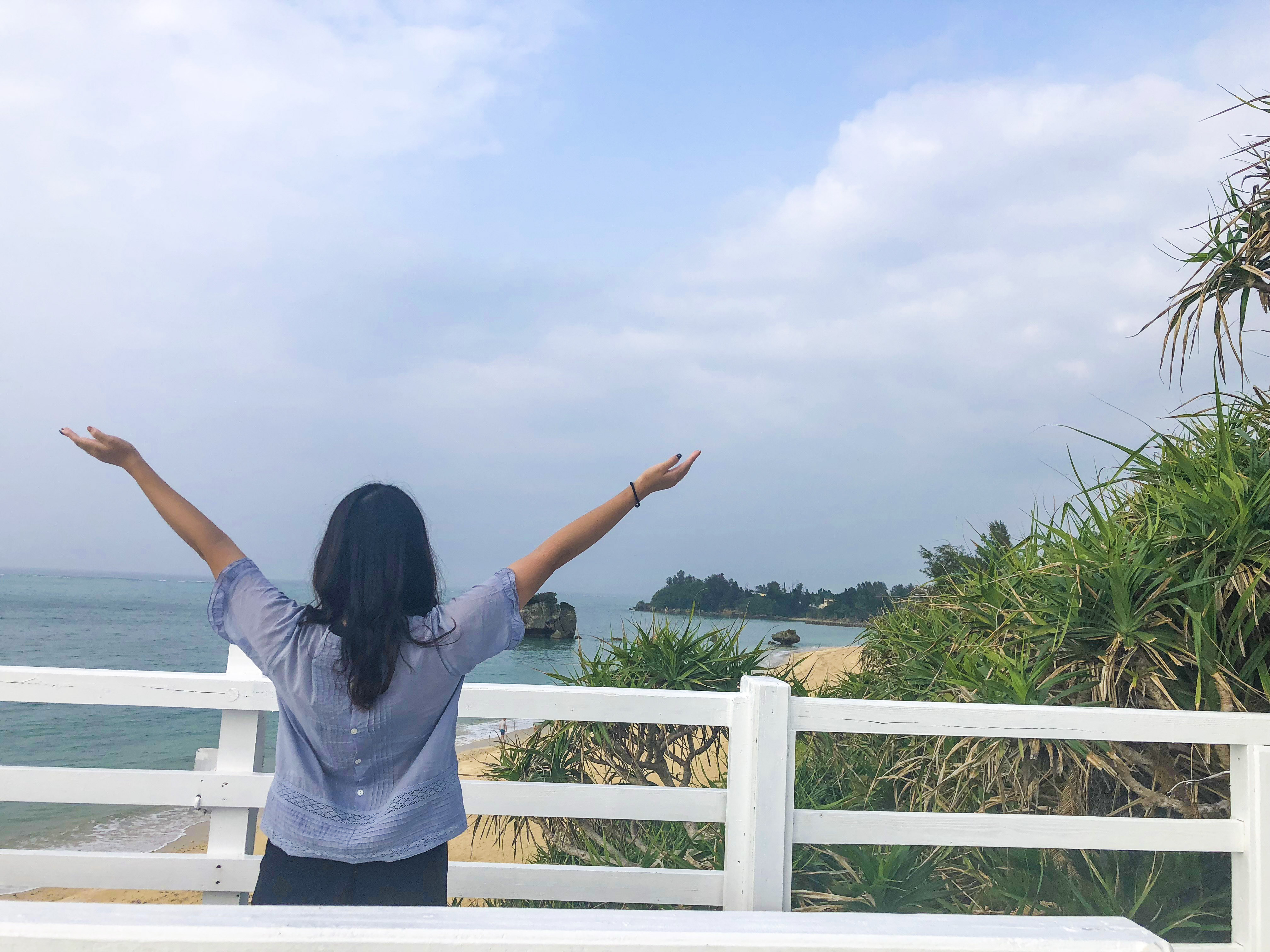 We made our way to the cafe and had a nice breakfast to fill up ourselves.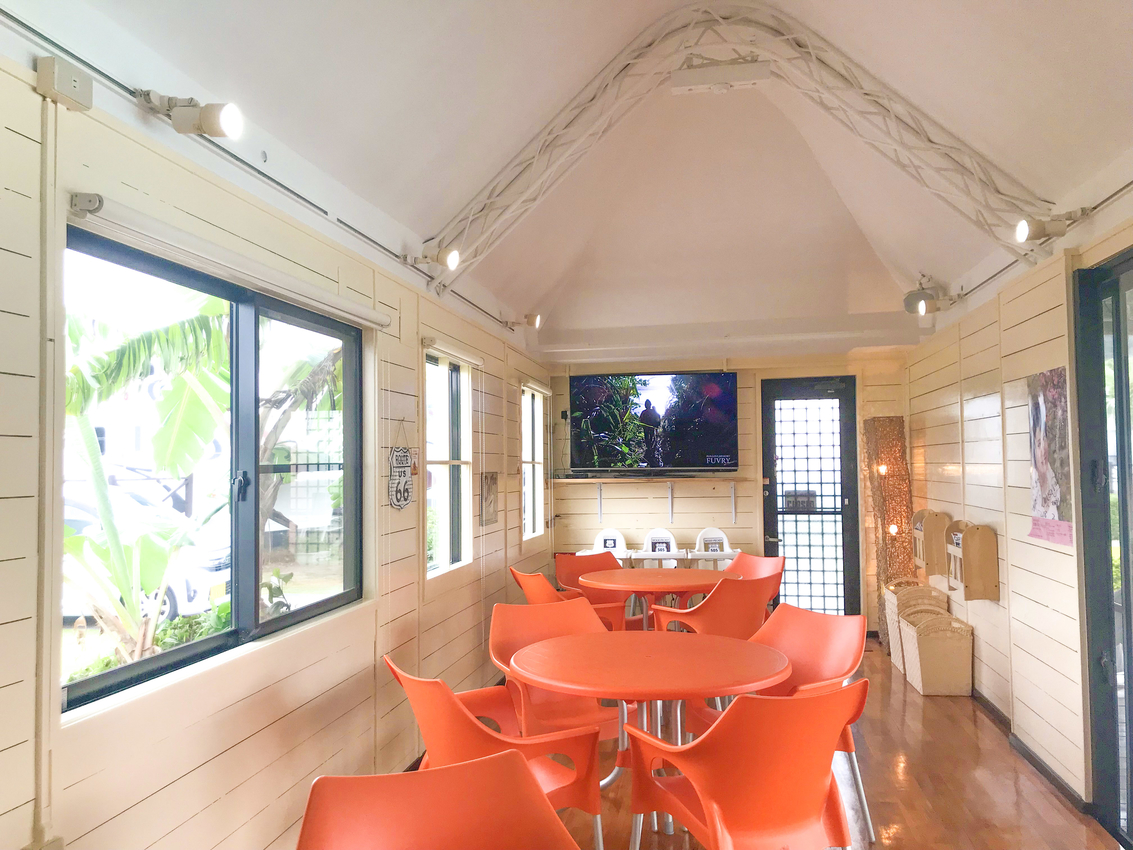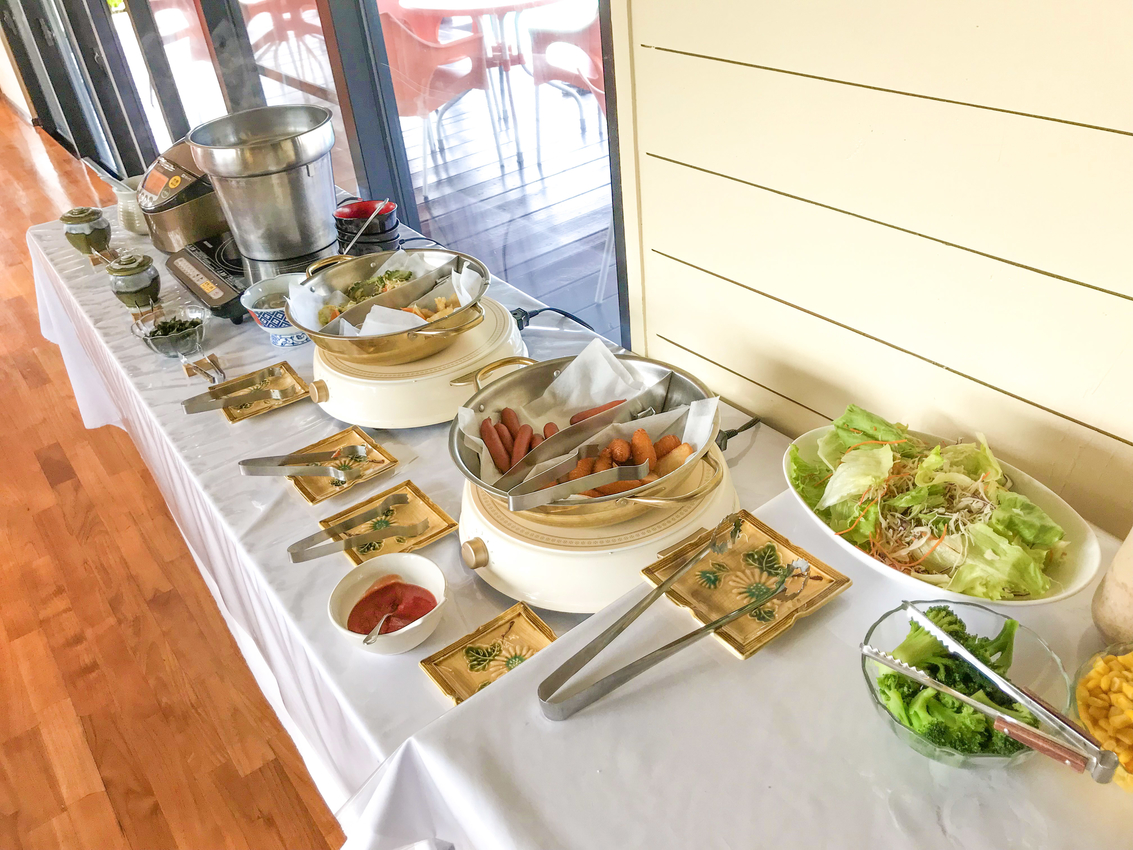 →It is served in a buffet style!
What a whirlwind of a weekend!
Woodpecker Nakijin is certainly a Mecca for travelers who want to experience something different from a classic seaside resort, everything was incredible just as I have expected.
If you're lucky enough to spend a visit here, I hope you'll savor the peace and contemplation the place offers.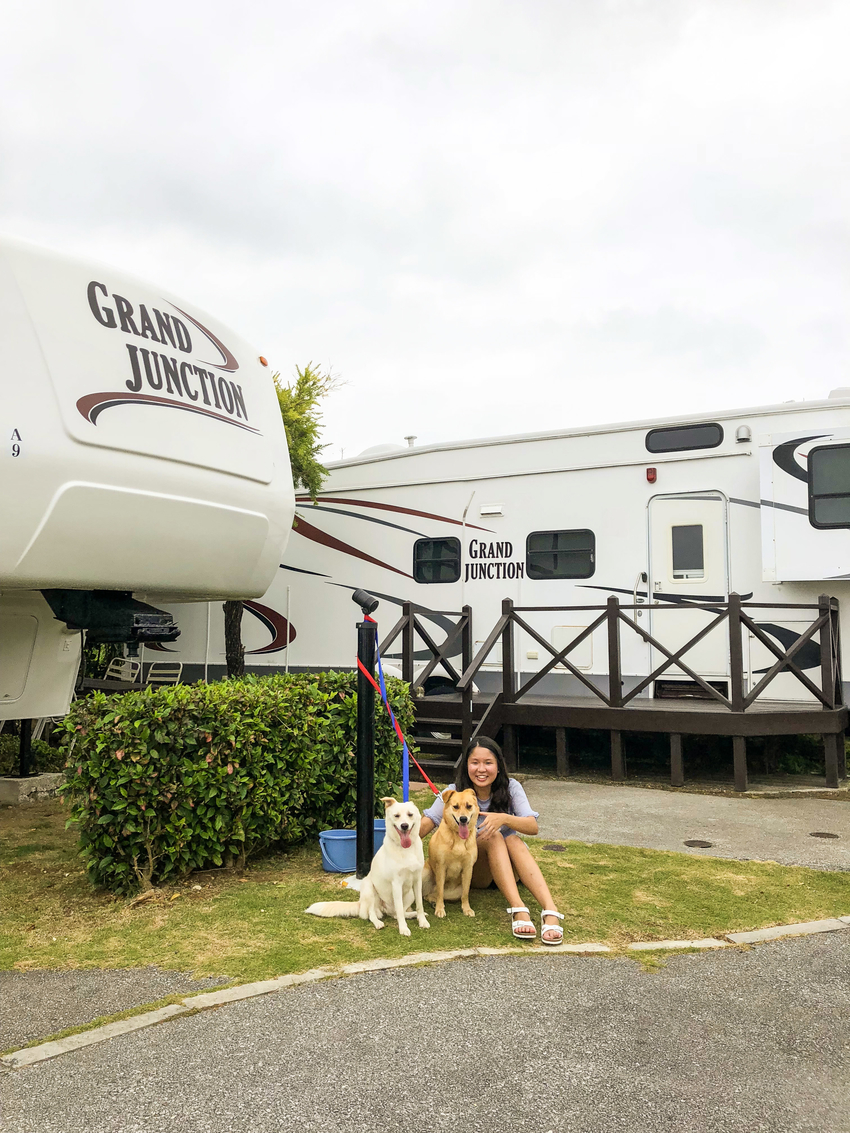 →Chachi enjoyed Woodpecker too♡
Be sure to book in advance as it is very popular in the summer!
↓For more information and reservations, please click here!↓
<Woodpecker Nakijin>
Parking Lots
Free parking lot for 15 cars, reservation not required
Reservation
Click Here
Mapcode
553 110 618*44
Mapcode

〒905-0428

Okinawa-ken, Kunigami-gun, Nakijin-son, Imadomari,

今帰仁村今泊681
♡Follow us on Instagram/Facebook for more updates♡