Hello everyone~
I'm Fiona from Okinawa Holiday Hackers! And I love dogs so much!
I know it's a sudden, but dogs are the best, right?
For me, nothing is better than "dog" all over the universe due to its healing and shiny characteristic.
If I can enjoy the beautiful ocean in Okinawa with my dog…

If we can take a walk along the ocean…

If we can enjoy the leisure live in a place where is different from usual…
If you love your dog so much and the scenes above are what you dream of~!
It's not only a dream! Okinawa Holiday Hackers can help you to realize it.
So this time,
I brought two dogs with me and came to a hotel where is pet-friendly U・x・U
Location: Popular Resort area, Onna Village
This time I came to a hotel named "COLDIO ONNA HILLS".
Onna Village (Onna-son) locates in the northern part of Okinawa main island.
(About 50 minutes by car from international street · About 30 minutes by car from American Village · Approximately 15 minutes by car from Cape Manzamo *The schedule may delay due to the traffic situation.)
Let me briefly introduce the fascination of Coldio Onna Hills for you.
It's a newly built hotel which is just built in 2017.

It's a condominium hotel that all rooms are maisonette type with ocean view balcony.

Among 6 buildings, there are 3 buildings (A・C・D) with jacuzzi.

Maximum 8 people + 2 people bed sharing is available.
→ You can enjoy your trip with not only your beloved pet but also your family or friends who come in group!
Even by reading this, I think there are many people that is eger to book a room immediately, right?
I am going to introduce more details about this hotel U・x・U
Pet under 10kg is available.
There are two dogs and one dog lover here to help you check in.
Hotel Coldio Onna Hills only provide pet-friendly room for pet under 10kg. These dogs are just 10kg U・x・U
The accommodation fee for each pet is ¥1,500.(Tax included)
(The price above is as of Feb. 2018.)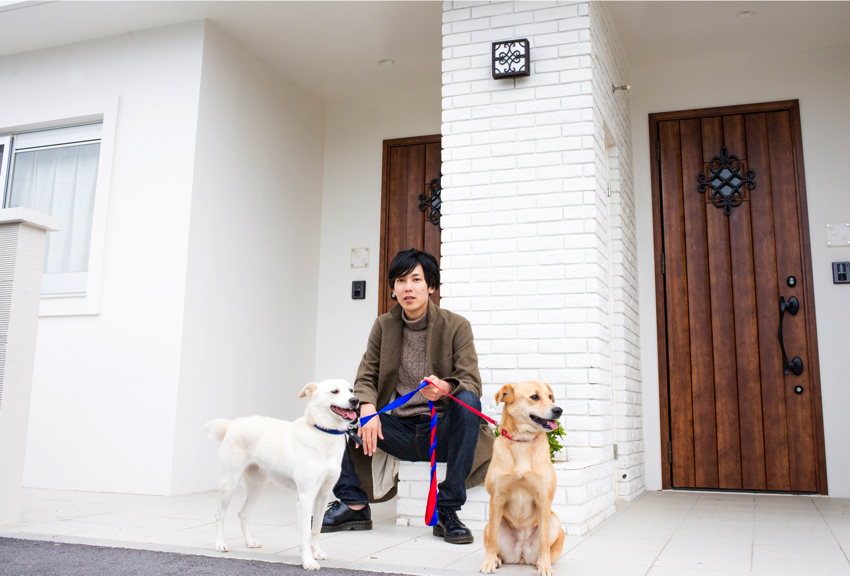 →The door left handside in the picture is building A and the right handside is building B. We stayed in building A this time.
Except building D, there were no other empty rooms on the day!
Dogs who are interested in a group of students that has just checked in U・x・U U・x・U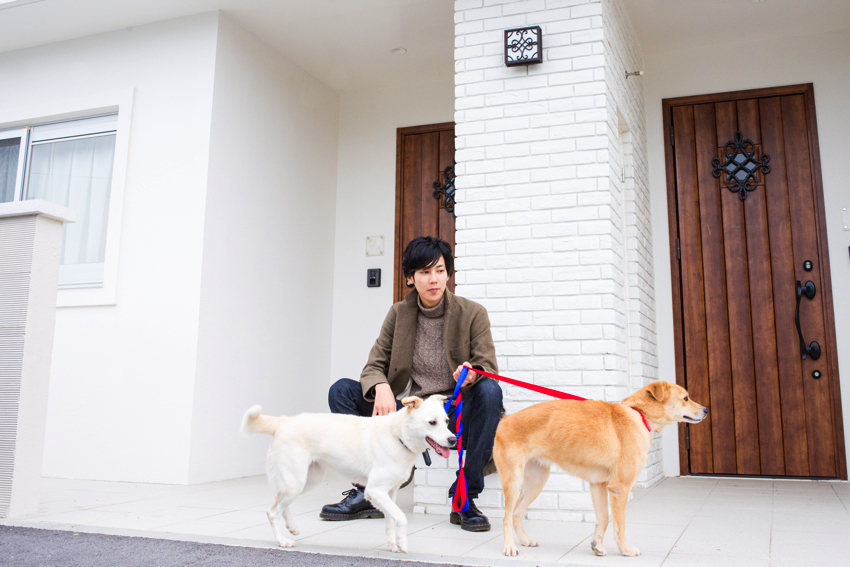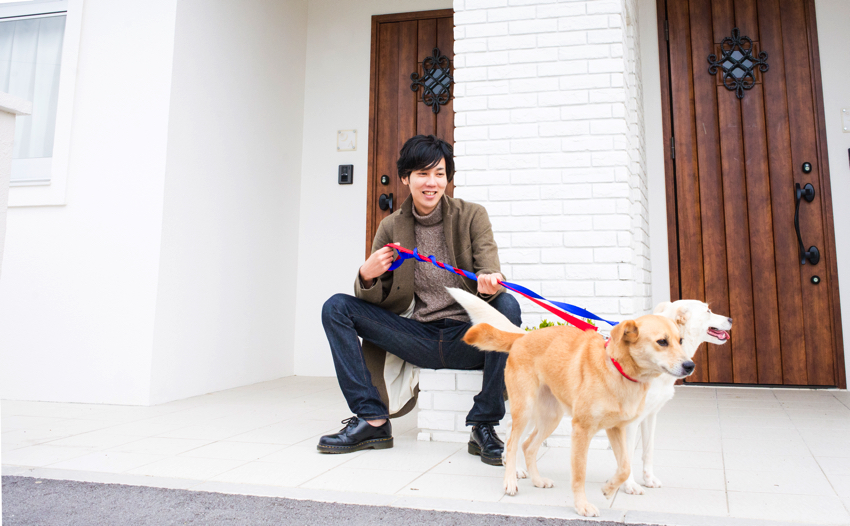 The dog with brown hair is named "ChaCha", and the dog with white dog is named "Chiro". You can call them both "ChaChi".
Both of them are girls.
The name of the dog lover is called Kayou Takahito who is the owner of ChaChi and lives in Okinawa right now.
Fiona: Hello~ I'm pleased to meet you today.
Mr. Kayou: Hello. This is my first time to go a long distance trip and live together with my dogs. I feel nervous but I'll try my best.
Check-in time is between 15:00~19:00.
There are no long lasting staff and reception counter here in Coldio Onna Hills, so the staff will be there to wait for customers according to customers' arrival time. To keep the check-in proceure smmoth, it's recommended to write down your arrival time in the remarks column☆彡
Gained the key at 15:00, entered the room!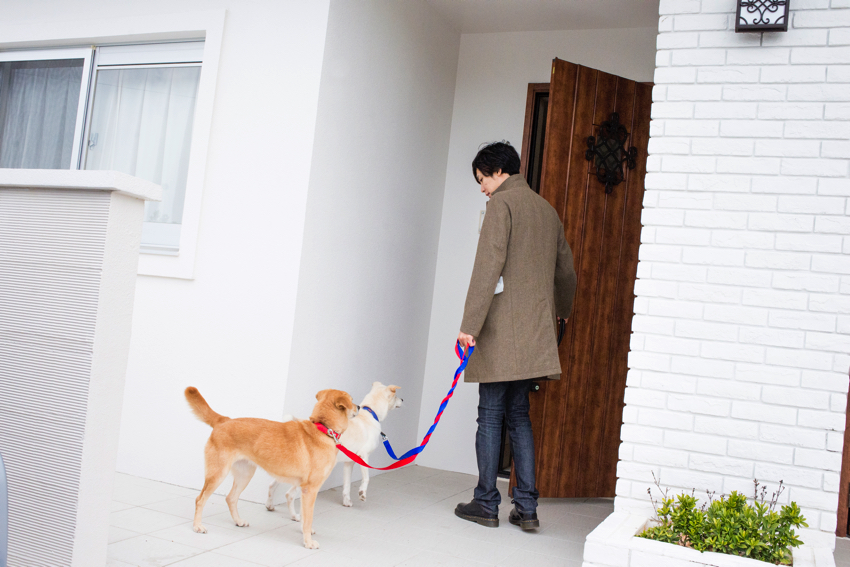 →ChaChi seem to feel awkward with the unsual door.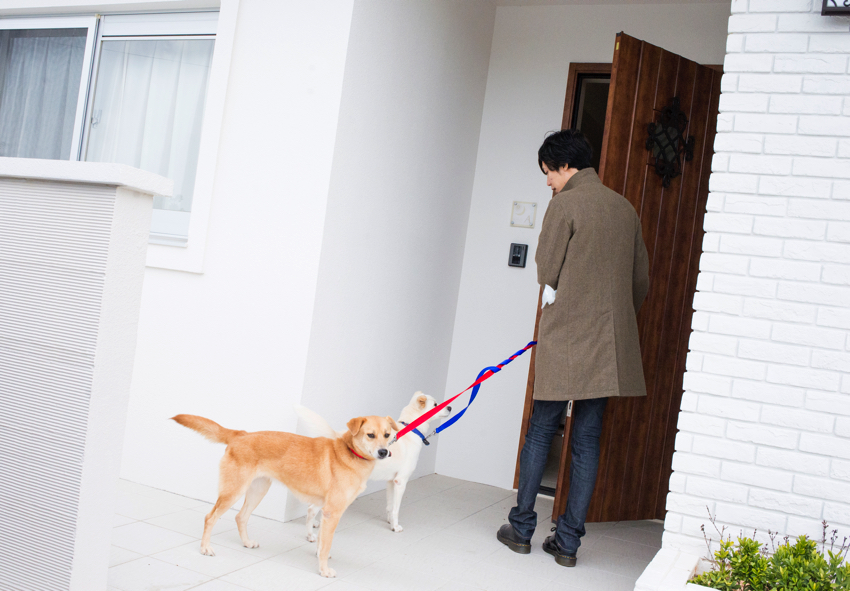 →Timid ChaCha gave Fiona a suspecious look.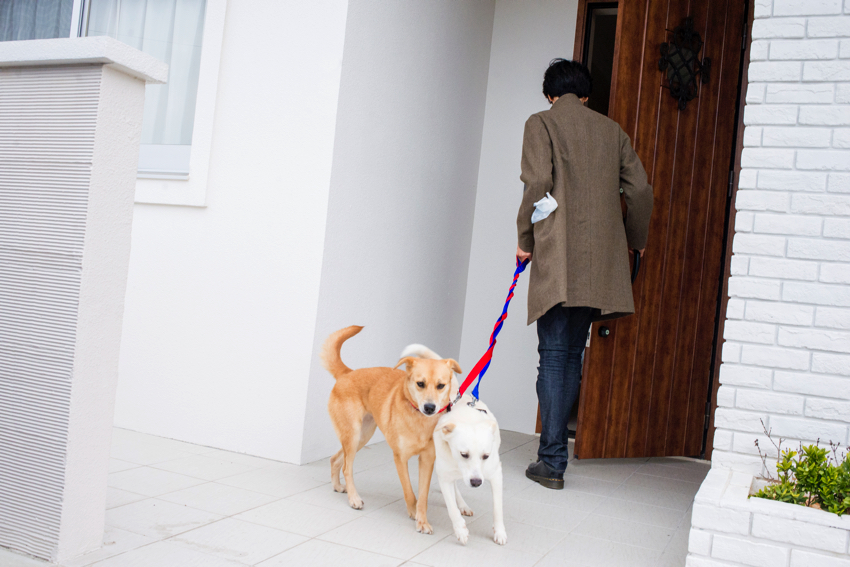 →Fiona was judged as a bad guy, so ChaChi were trying to get away from her…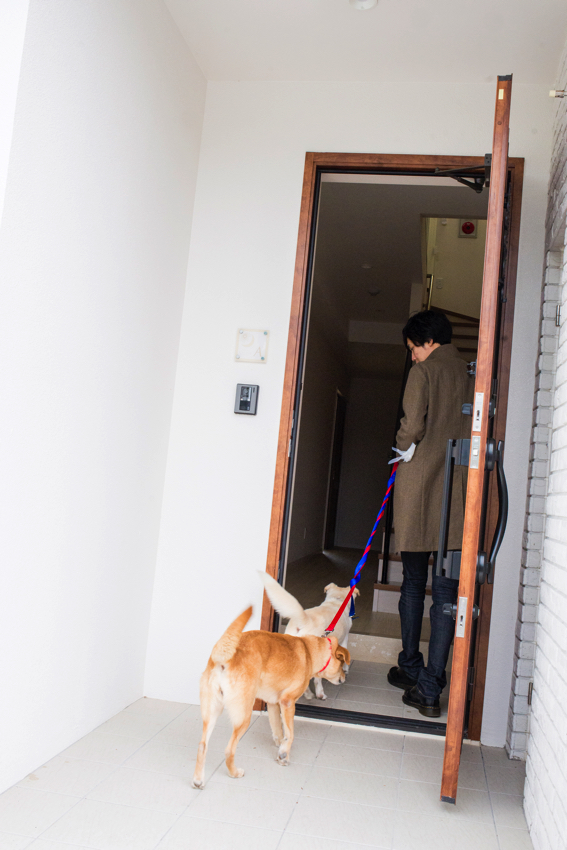 →Quit and entered the room.
First of all, Mr. Kayou used the wet tissue for pet he brought himself to clean ChaChi's limbs befor entering.
This is the basic manner when you live in the pet-friendly hotel.
*Coldio Onna Hills does't provide wet tissue, please notice that.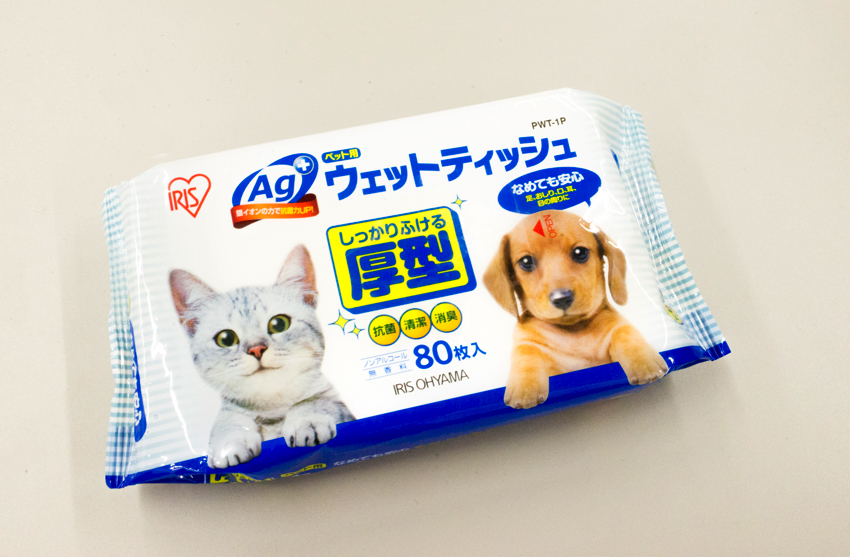 →You can buy one on Amazon.
Mr. Kayou: Wow~! It's a clean and beautiful hotel.
Fiona: There are 2 bedrooms (1 double bed and 3 single beds) , 1 room of Japanese style (Maxium 3 beddings are available), a shower room and a toilet on the 1st floor.
There are living room, kitchen, balcony, bathroom and toilet on the second floor.
Let's go to the balcony with ChaChi~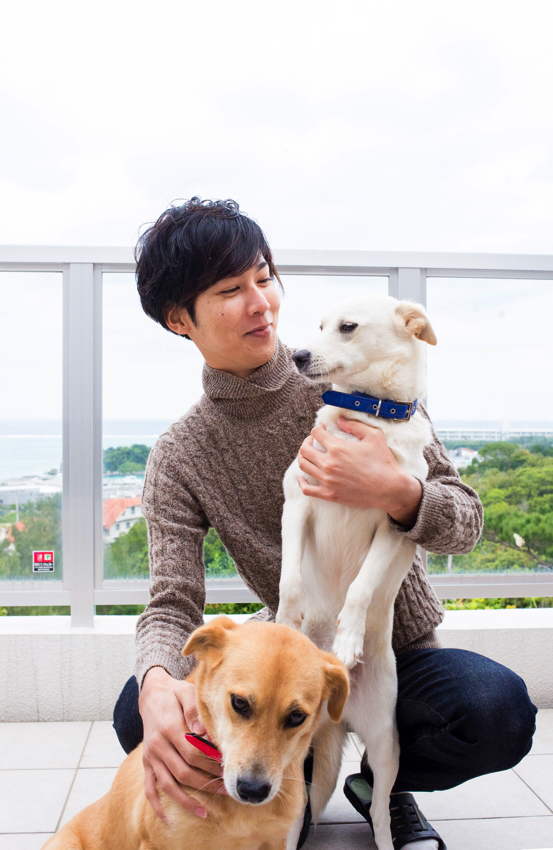 →It seemed Chiro has accepted Coldio Onna Hills and ChaCha hasn't yet.
Balcony with private space.
Fiona: When did you meet ChaChi?
Mr. Kayou: It's about 5 years ago. I met ChaChi in the mountain when they were skinny puppy while traveling to Nago City (Northern part of Okinawa main island).
I thought they were abandoned because they were in a remote mountain.Although they were skinny that I thought there ribs seemed to come out, she buttered me up. It's too poor, so I brought them home without family's permission and raised them until now.
Fiona: ChaChi is so lucky~!!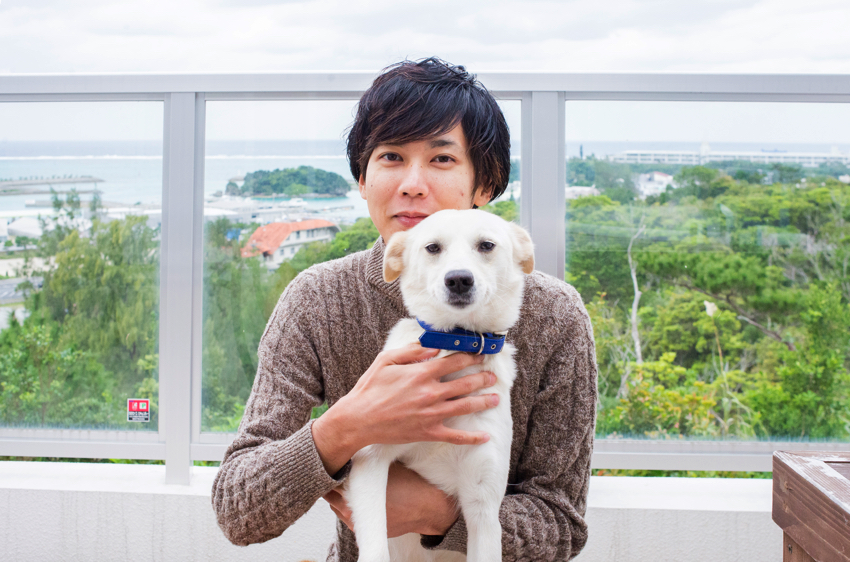 →Chiro looked so happy U・x・U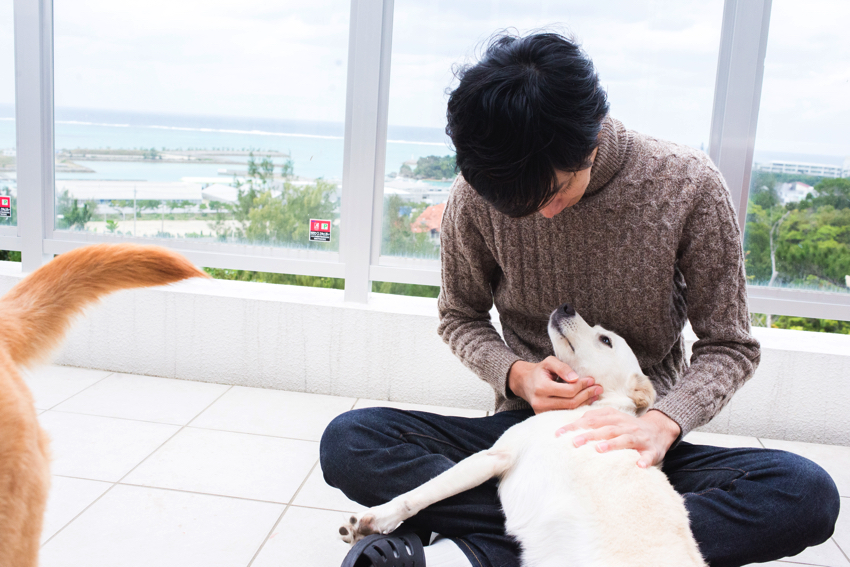 →Chiro was being affectionate to her host and ChaCha was walking around the balcony (Tail).
Fiona: Are they raised indoor?
Mr. Kayou: No, There are raised outdoor. They can freely livetheir life in the huge garden. So today I think I would let them stay in the balcony. If ChaChi can keep obedient, I may let them in.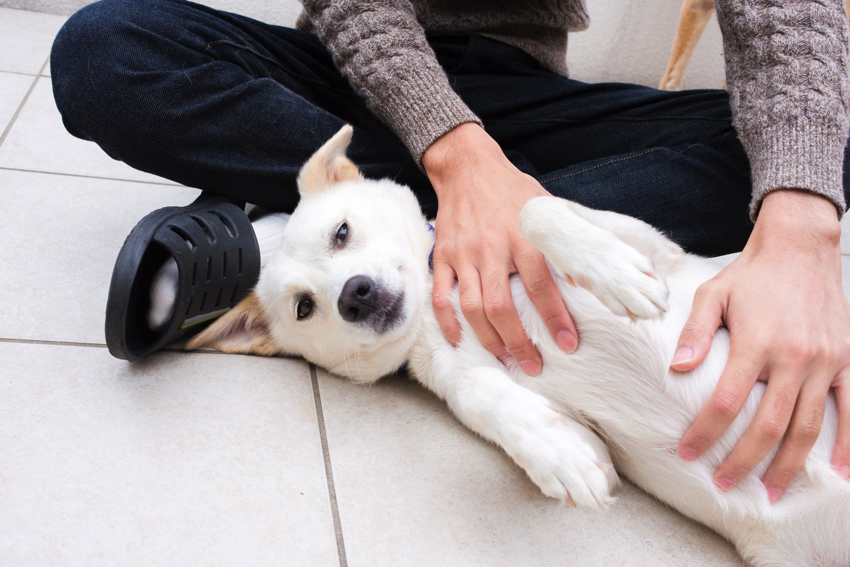 →Coldio Onna Hills is a fantacy world for Chiro.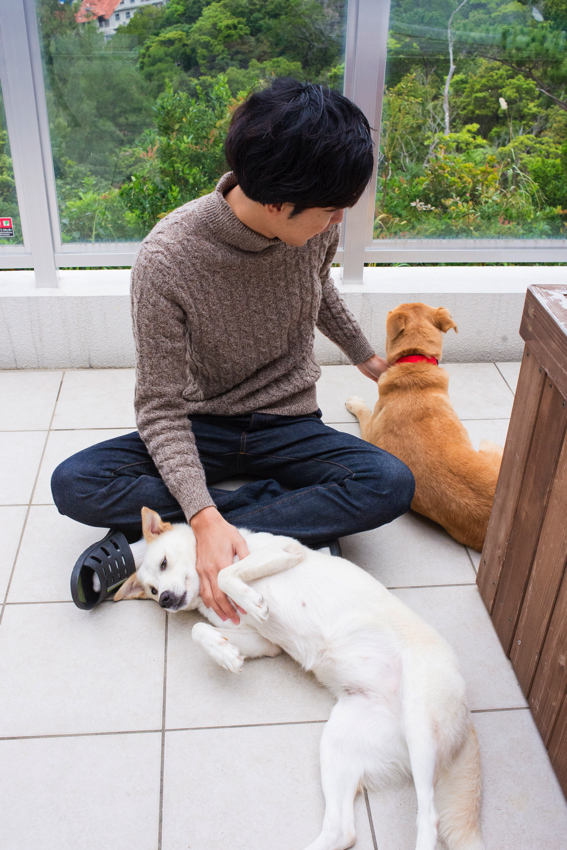 After getting used to the environment, the adult ChaCha started to enjoy the scenery.
Mr. Kayou: Because ChaCha has been abandoned before, so she thinks "going out" = "throwing away". Thus, I think that's why she feels unsafe when going out~
ChaChi&Ishii: !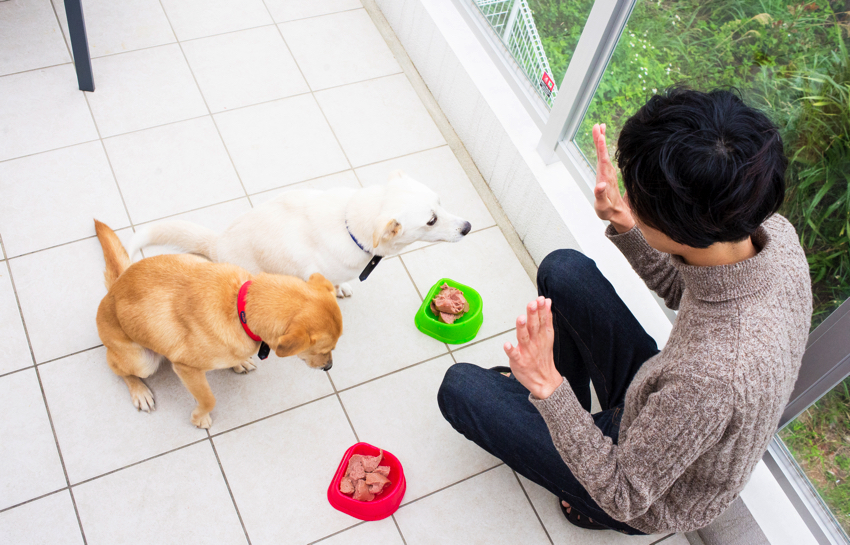 Mr. Kayou: They are able to wait obediently. I bought new plates for them this time.
*Kindly note that Coldio Onna Hills doesn't provide pet food plate.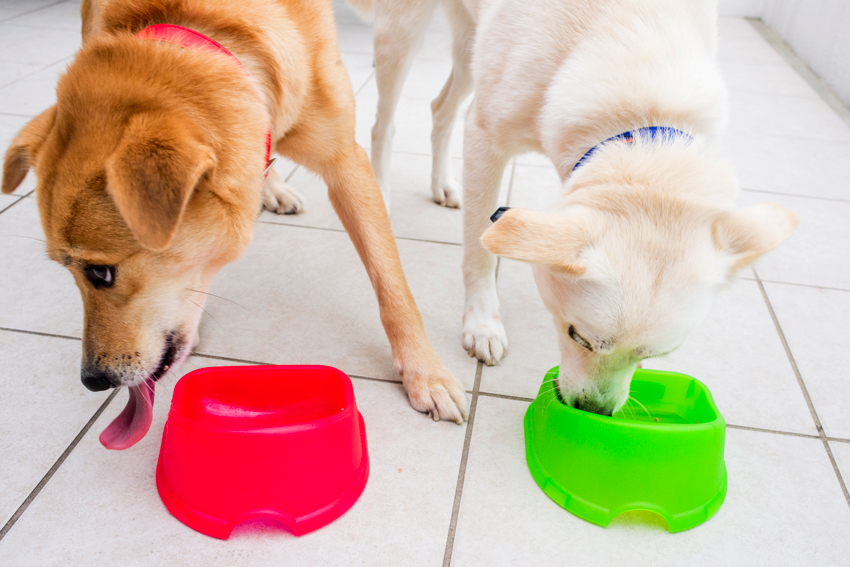 →Started to know here was a safe and good place (Lick) U・x・U
Mr. Kayou: The view from the balcony is fantastic~!
Fiona: It's great to have a jacuzzi to heal the tiredness of the trip and enjoy the private room which is not able to be seen from outside.
Mr. Kayou: There is no house or road on the side of the balcony, so there is no need to worry about that dogs will bark at you.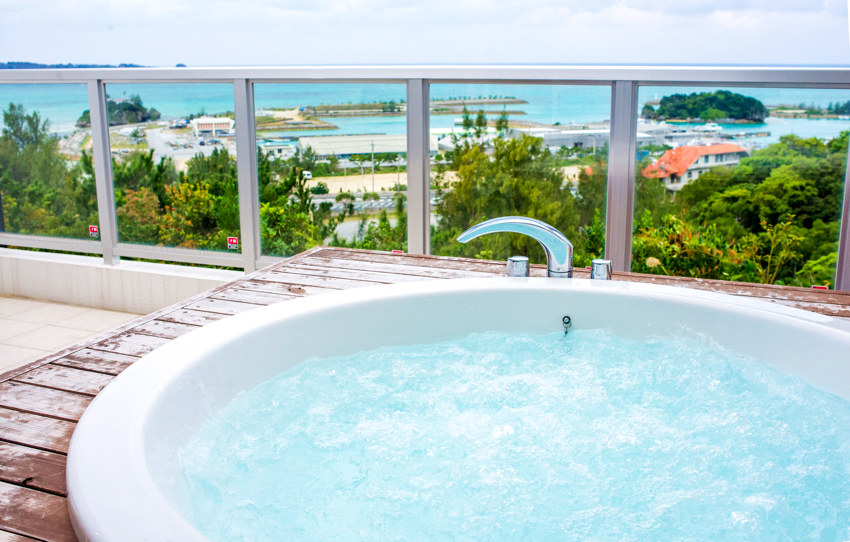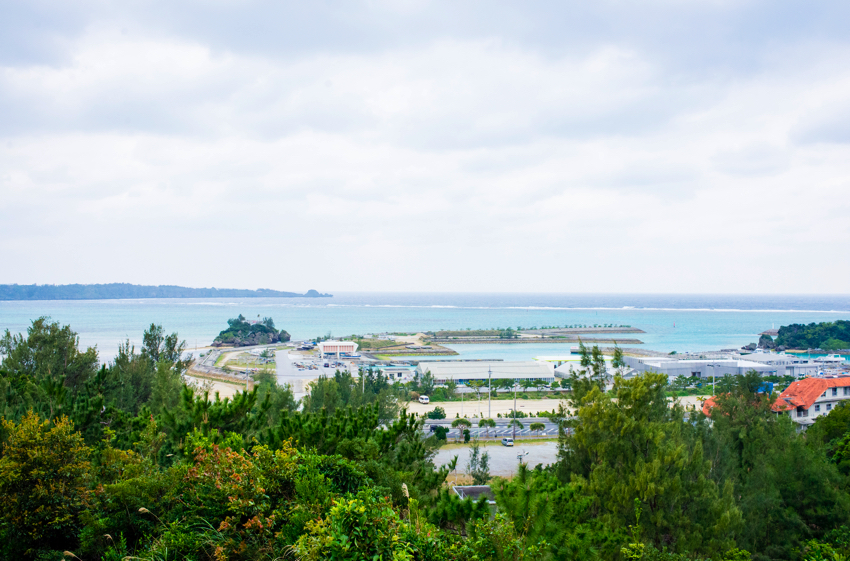 →You can enjoy a completely private environment as there is no house or road on the side of the balcony.
You can buy a handmade pizza from Dokadoka while taking a walk.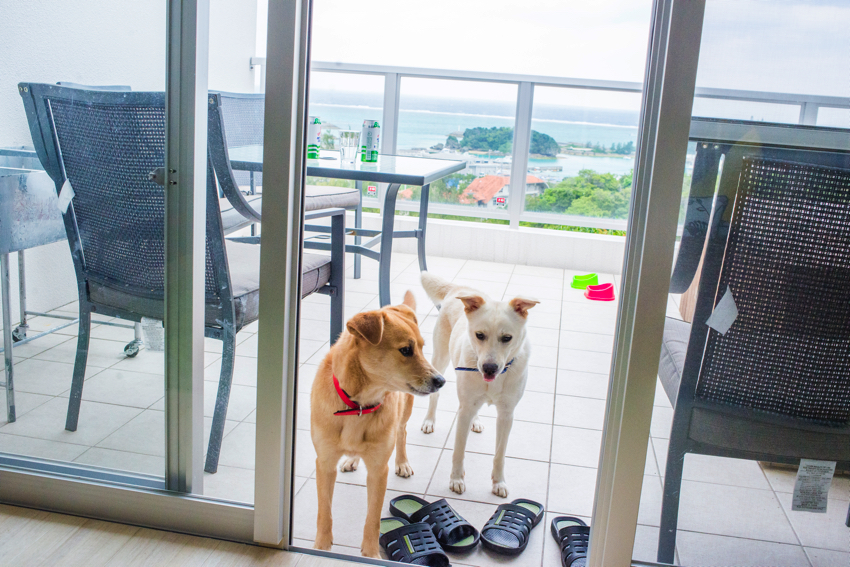 →ChaChi stay outdoor and be careful not entering the room due to the indication from Mr. Kayou.
After having ChaChi rested for a while on the balcony, we decided to go for a walk.
Mr. Kayou: Do you want to take the leash?
Fiona: I wanna try!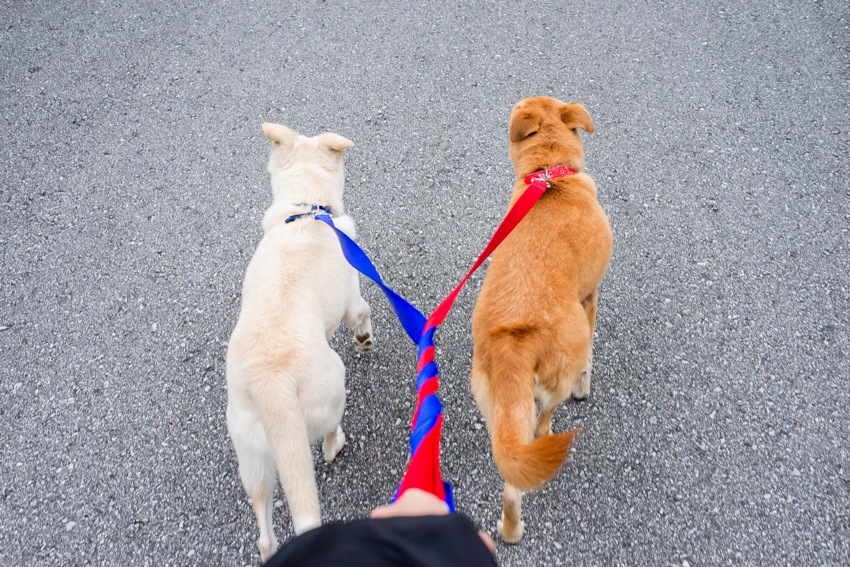 Fiona: Wow! They're so strong. (Sweating)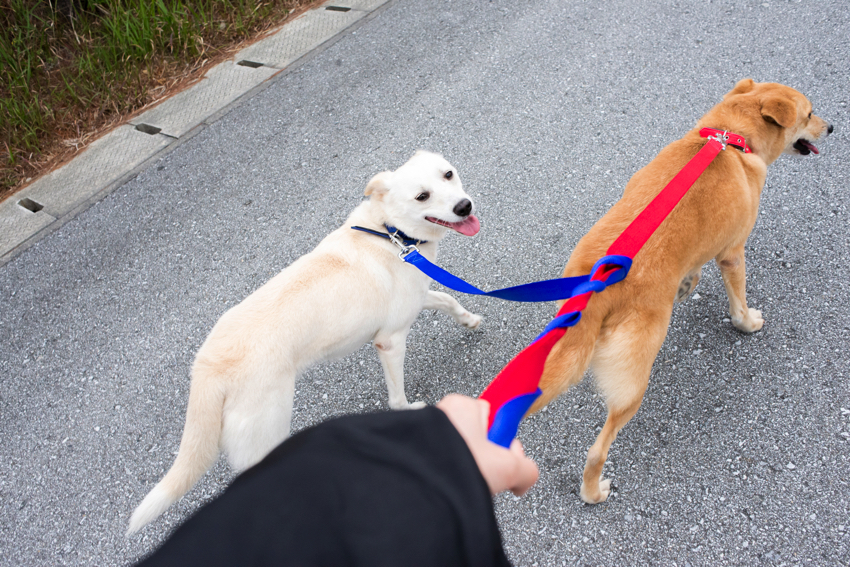 →Are we pulled by this girl? Checked by Chiro U・x・U
About 3 minutes after being out from Coldio Onna Hills.
Discovered the Cafe DOKA-DOKA where sales the handmade pizza.
Pets are not allowed to enter this store, so we take out ☆彡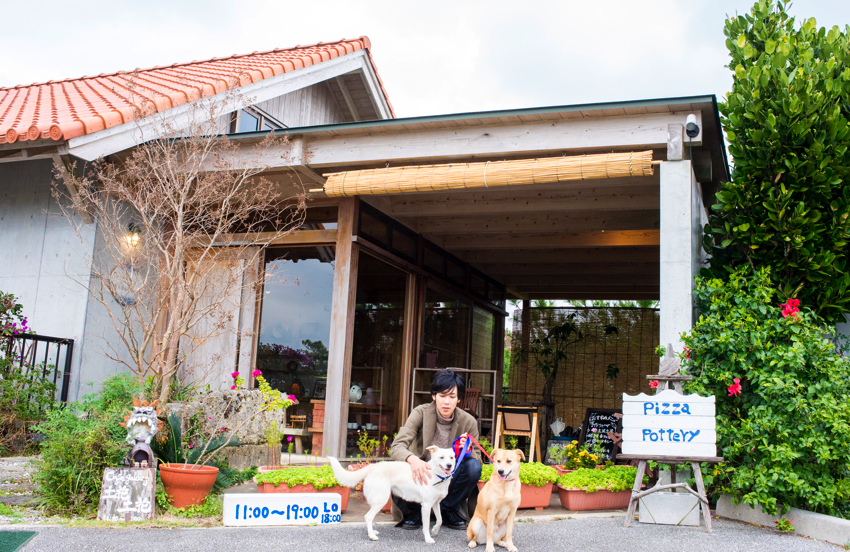 →It is too short to drive. Walking along is recommended.
They offer pizza, taco rice, curry, handmade cookie and others.
I just order pizza as it is the only thing available for takeout.
By the way, you can also drop by the galery here. Works are available purchased.
It attracts local people but also travelers from Korea♪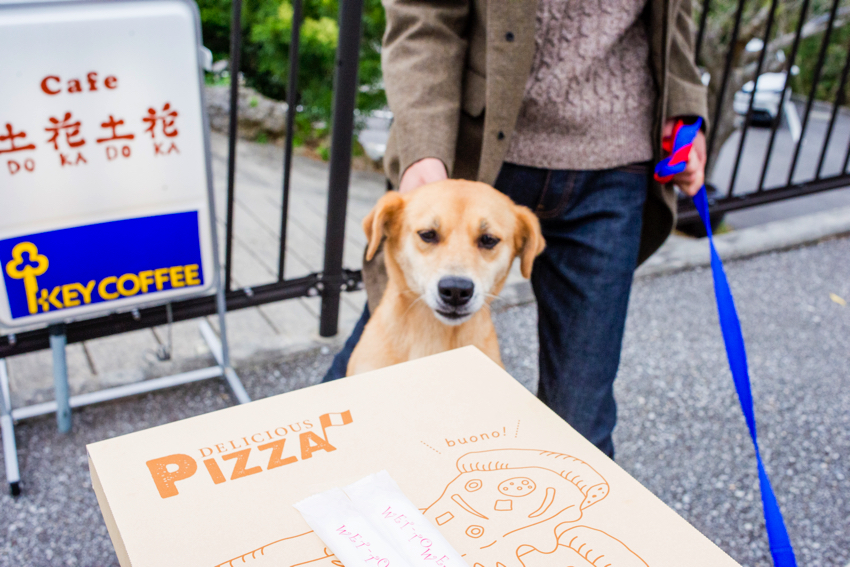 →What a pity that it is not for you.
After the short walking, let's go back to the hotel.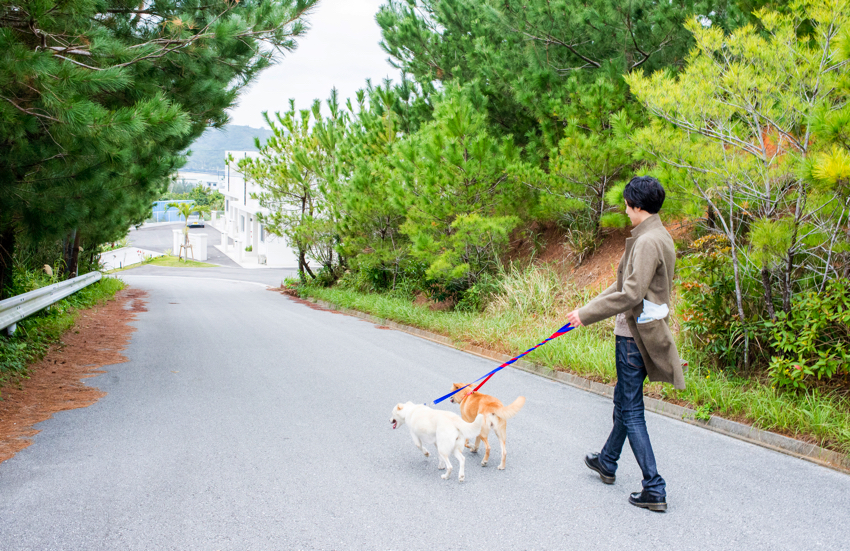 →The white building in the deep is Coldio Onna Hills.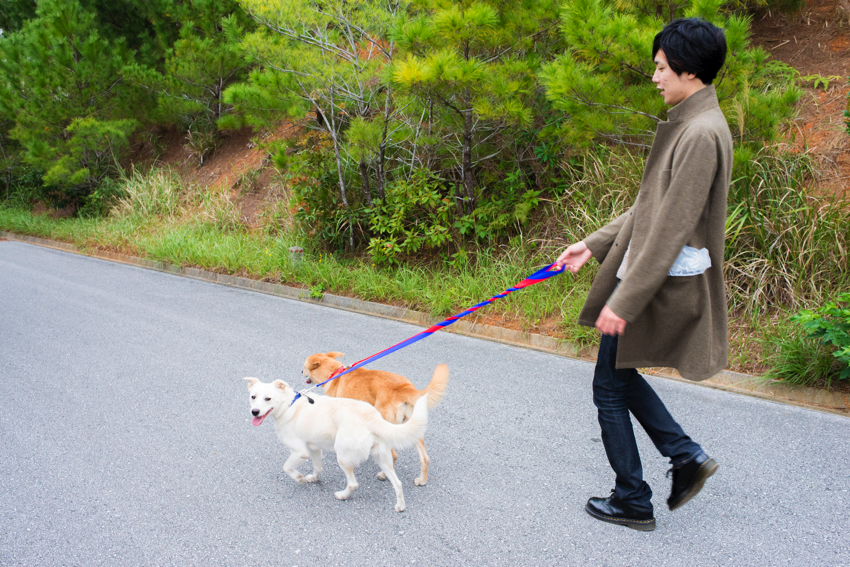 → Are you still with us? Checked by Chiro. (Second time)
I go along the seaside with Chachi, but it is on work (started from Feb.2018). I have to change to another road for safety.
It is only 20 minutes by walking. It is absolutely great recommended to the guest!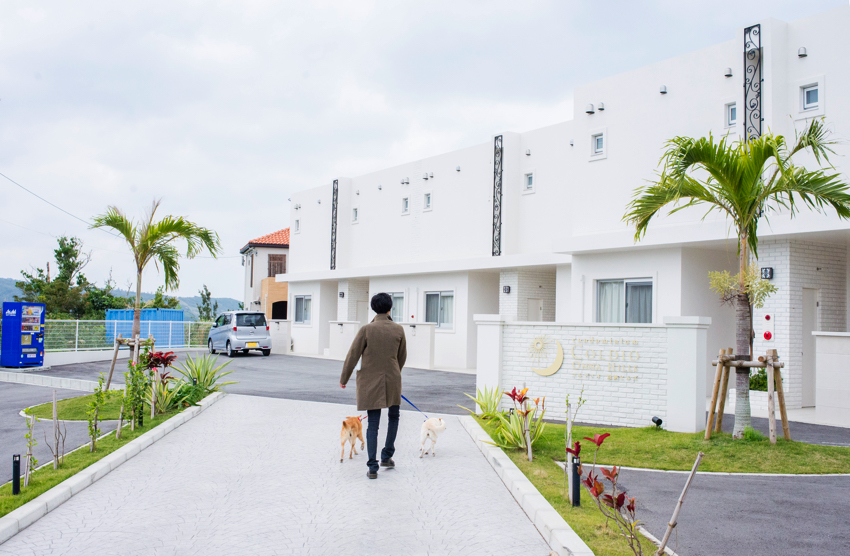 →Counted from the left side, A・B・C・D・E・F. FREE FOR PARKING.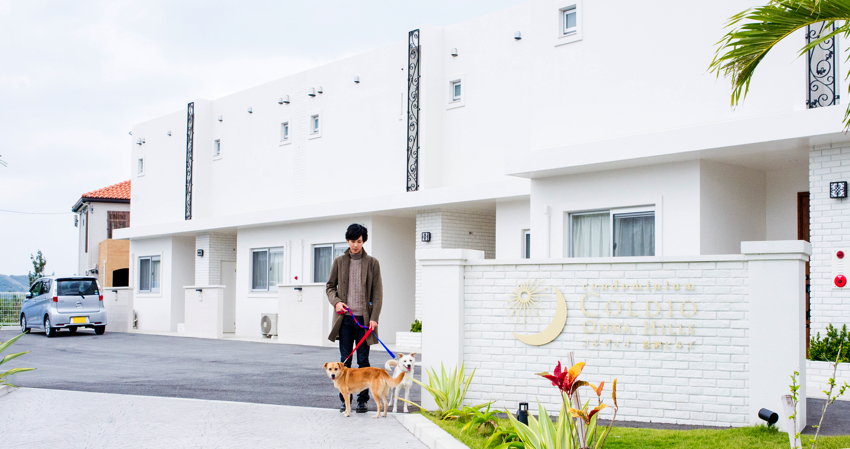 →Though it is not a regular route for walking, Chachi was great satisfied. U・x・U
Kitchen supplies are well set. It takes only 10 minuts by car to the shopping center.
Chachi is having great time at the balcony. I guess we people should have food time now!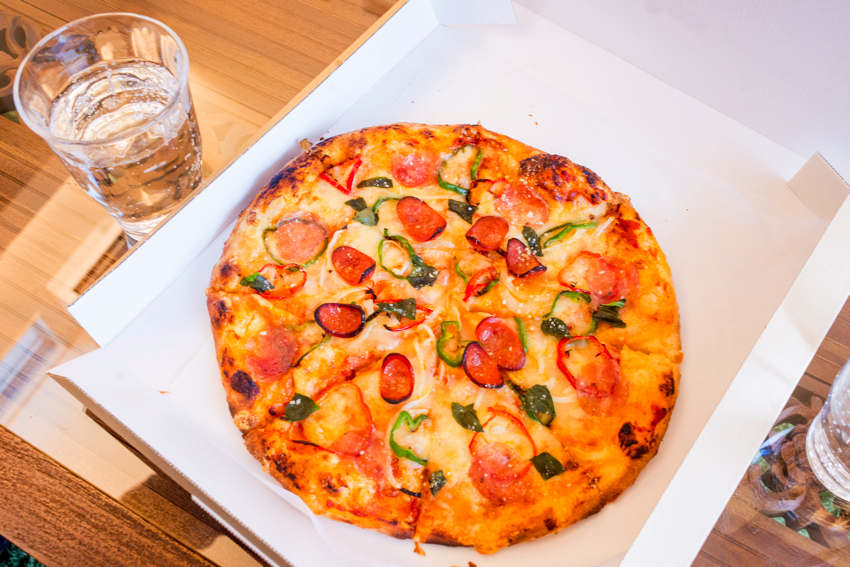 →This is the handmade pizza DOKA-DOKA. The diameter is about 25cm.
It tastes not that good after the walking due to cold. I cannot have pizza without knife and folk!!
Please be assured. Leave it to Coldio Onna Hills.
Steamed the pizza and take it out with knife and fork.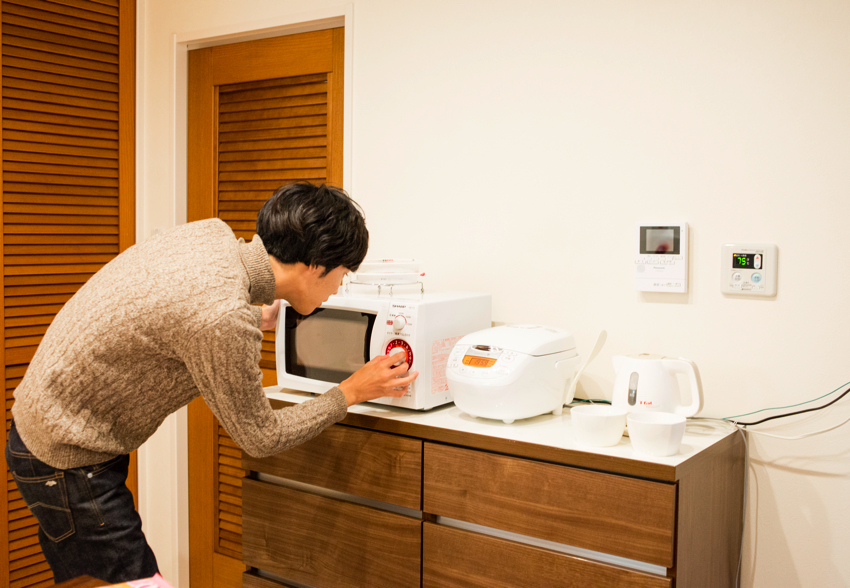 →There are microwave oven, cooker, electric pot from left to right, owned by Coldio Onna Hills.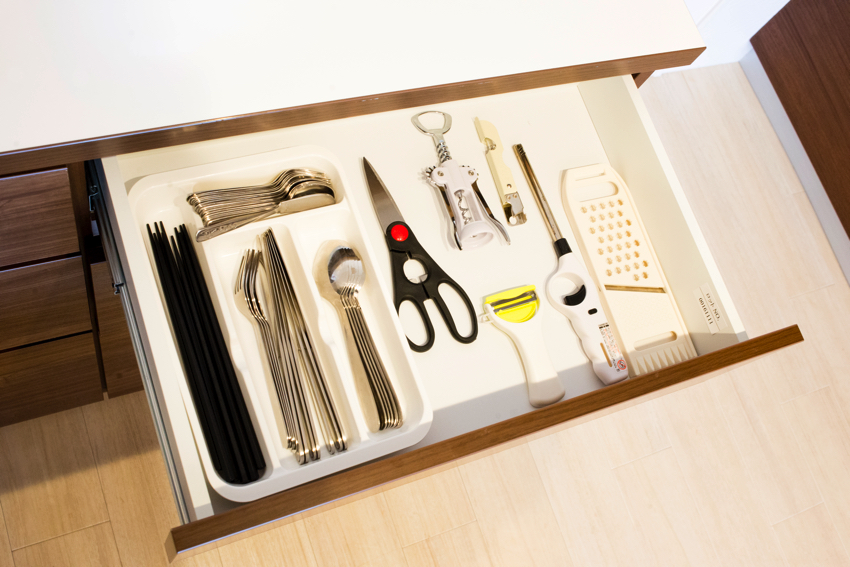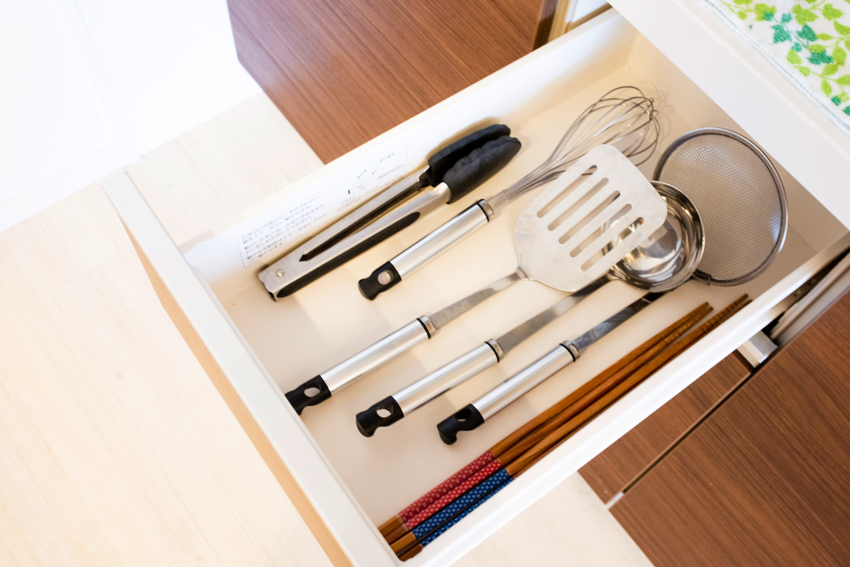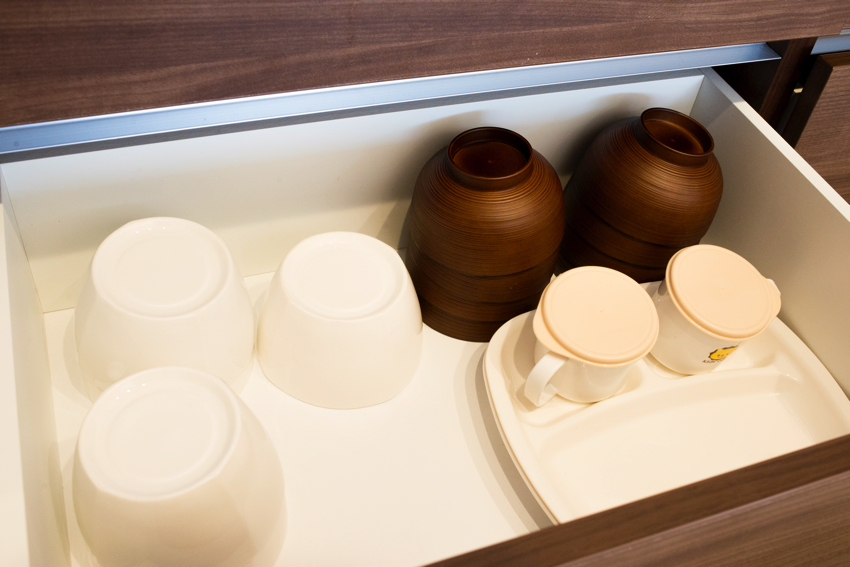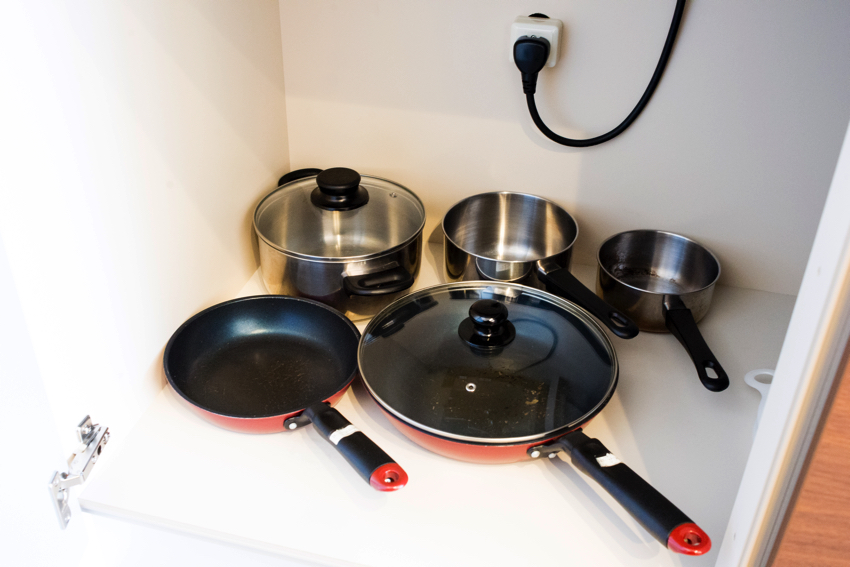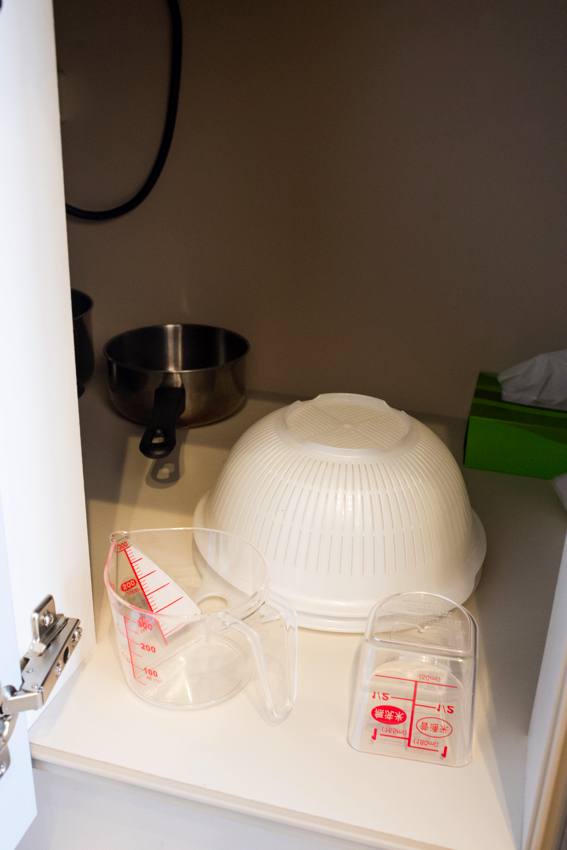 →The tableware, cooking utensils are belonged to the Coldio Onna Hills as well.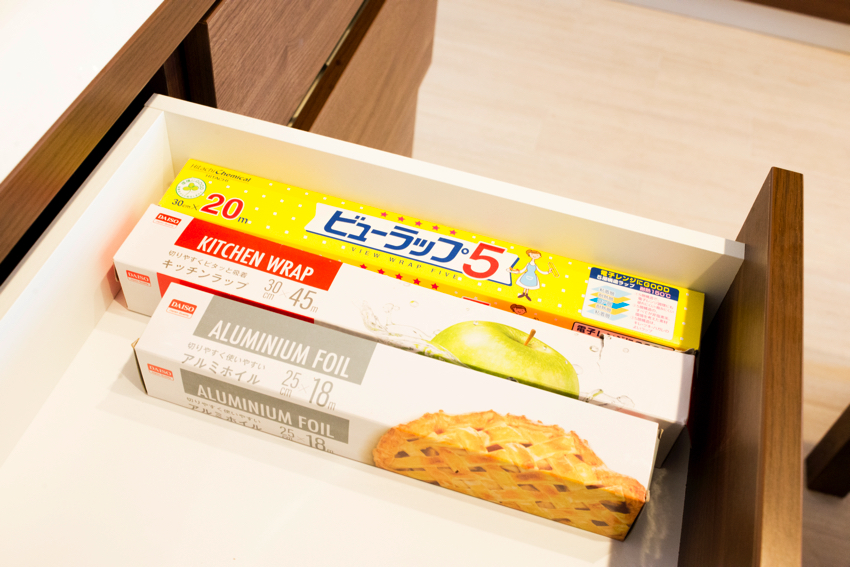 →The kitchen wrap is on the top, and aluminum foil is in the next, owned by the Coldio Onna Hills.
You can get whatever you want here!
The shopping mall SAN-A Ishikawa is 10 minutes by car. You can hang around at the Tabata Ishikawa nearby also. What about cook by yourself with the local food?
By the way, there are no cooking oil or condiment are not provided by the Coldio Onna Hills due to sanitation.
You can bring some from your home or oven buy from the super.
Chachi's first time to relax in the room.
Mr. Kayou had a great mood after tasted delicious DOKA-DOKA pizza.
Mr. Kayou: Chachi always for barked at home. But this time, he did not make any noise. I guess he is quite relax right now.
Fiona: She really acts like an adult. How about Chachi to come inside?
Mr. Kayou: Let's allow them to come inside.
Fiona: Yey!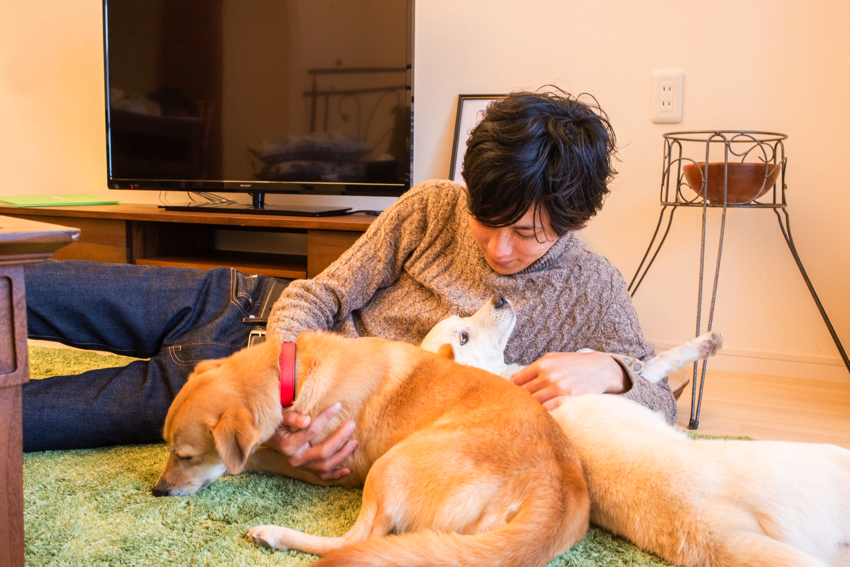 →It is the first time for Chachi to be such good mood.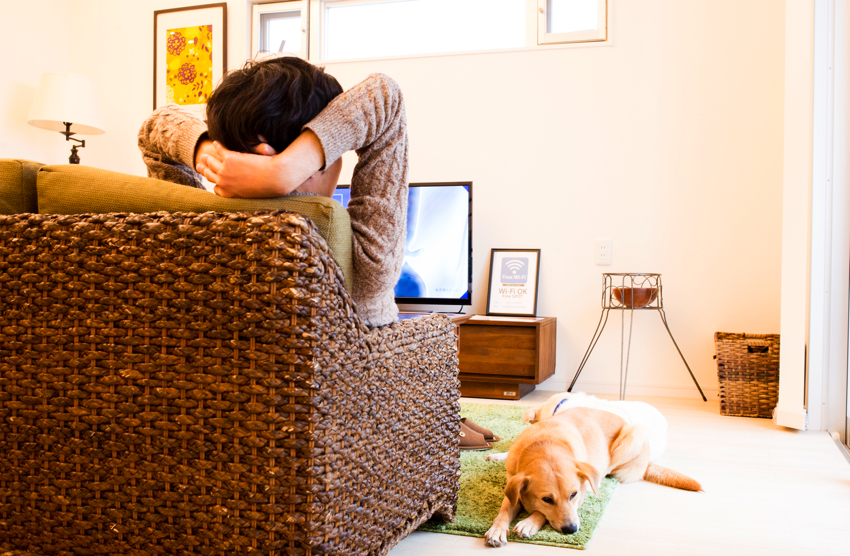 →Chachi might fell asleep after the lunch and the walking.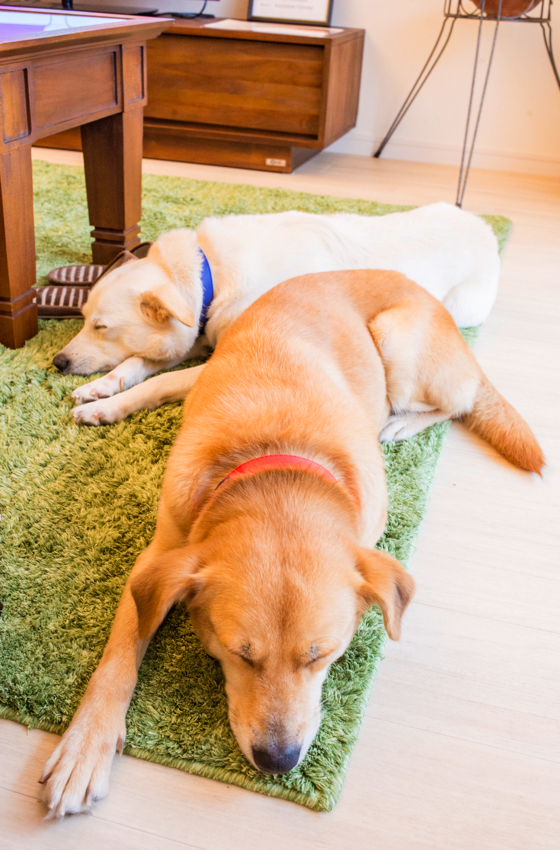 →Have a good rest. U – x – U
Mr. Kayou stayed at home and Chachi was totally at asleep while I was going out to buy something.
I took his list and went to the SAN-A Ishikawa.
→I supposed we were going to have the Okinawa food…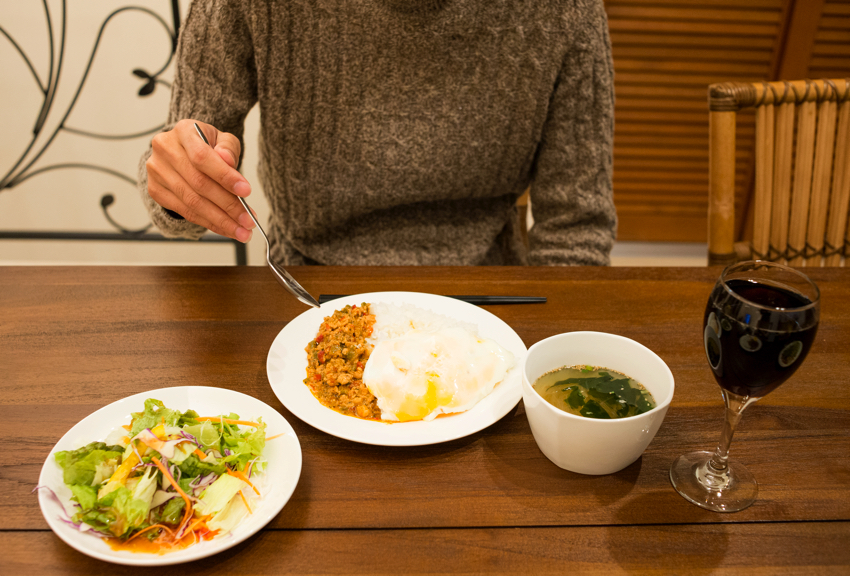 →Salad, Gaprao rice, seaweed soup and the fake wine (Coke actually) from left to the right.
Mr. Kayou: It's so right to bring the oil in advance. What a good night to cook by ourselves.
Fiona: Wow!It looks delicious! But I feel someone is looking at us…(LOL)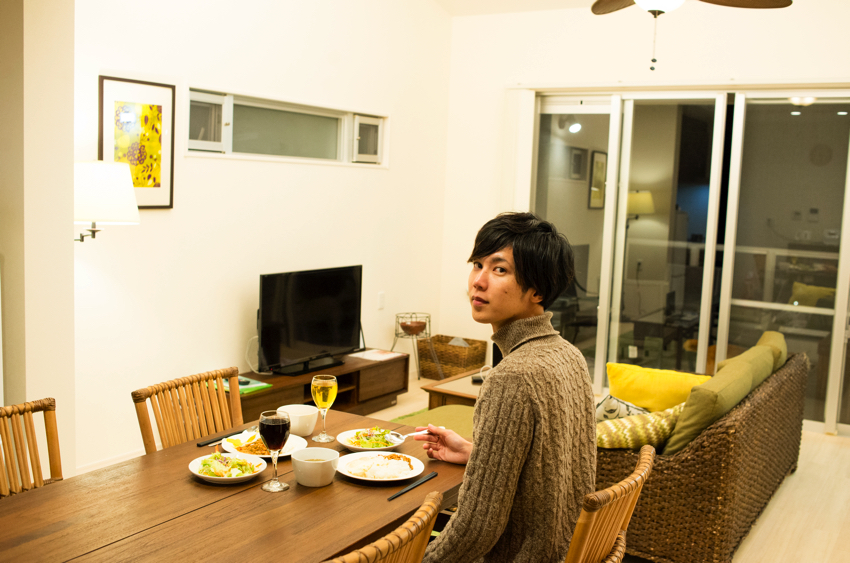 →Mr. Kayou loves Gaprao rice, soup and Coke.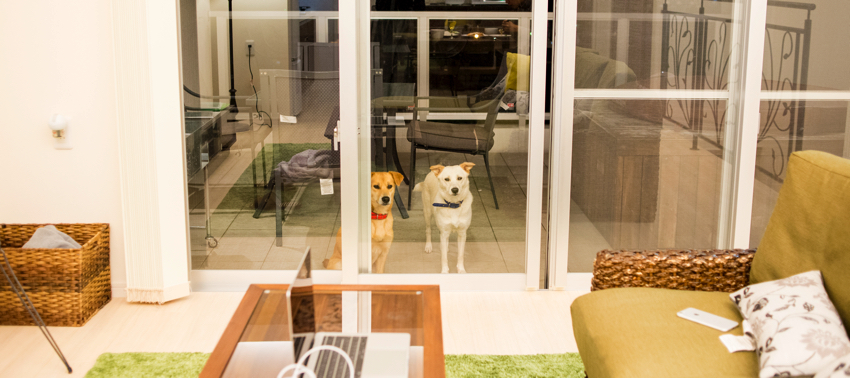 →The twinkling eyes from the outside.
Taking a bath is always the best.
Mr. Kayou: May I take a hot bath in this chance.
Fiona: Sure〜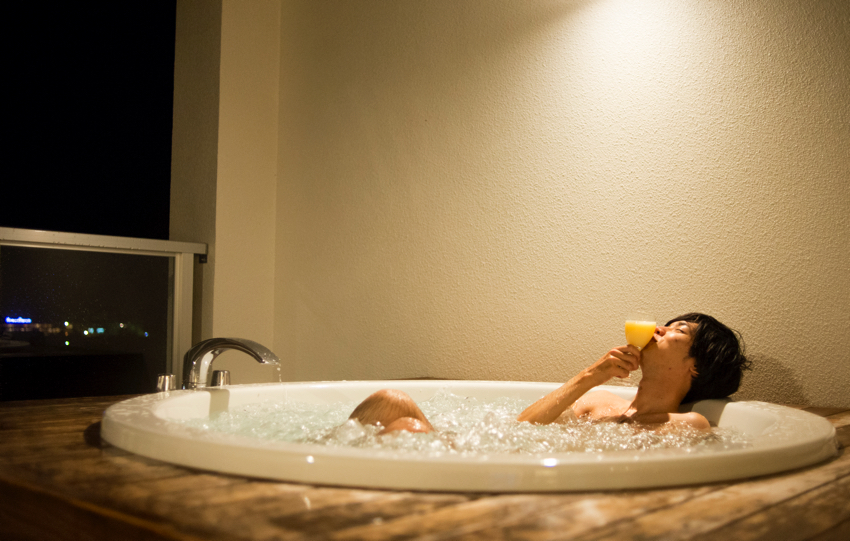 →I have no idea why I have to take such photo. But I just did it as he asked me to.
Mr.Kayou: It is really nice that I can enjoy the ocean view either in the day time or when the sunset goes down, taking your fatigue away.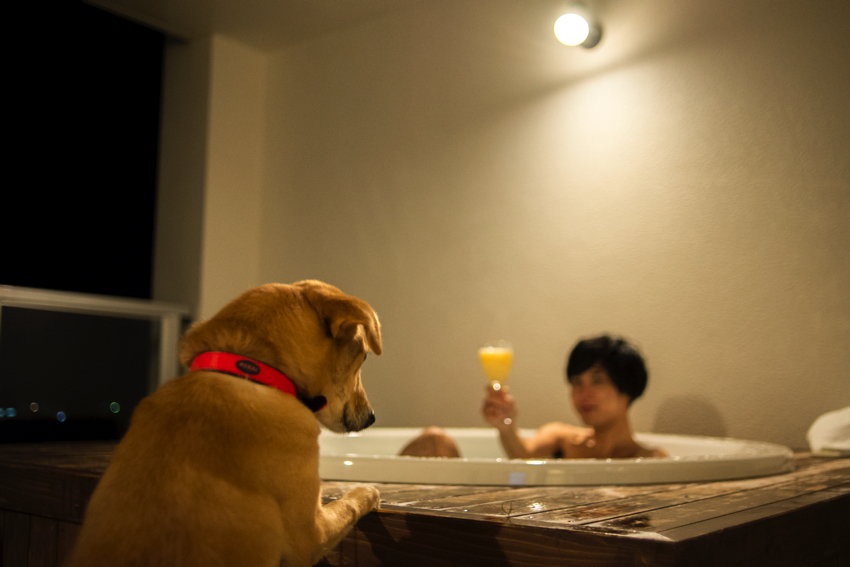 →What are you doing? Chachi jumped in U・x・U
Mr. Kayou: What a great place for pets and family! I love Coldio Onna Hills.Thank you for the long day. Good night.
Fiona: It's my great honor that Chachi has such a good feeling of the hotel. See you tomorrow. Good night.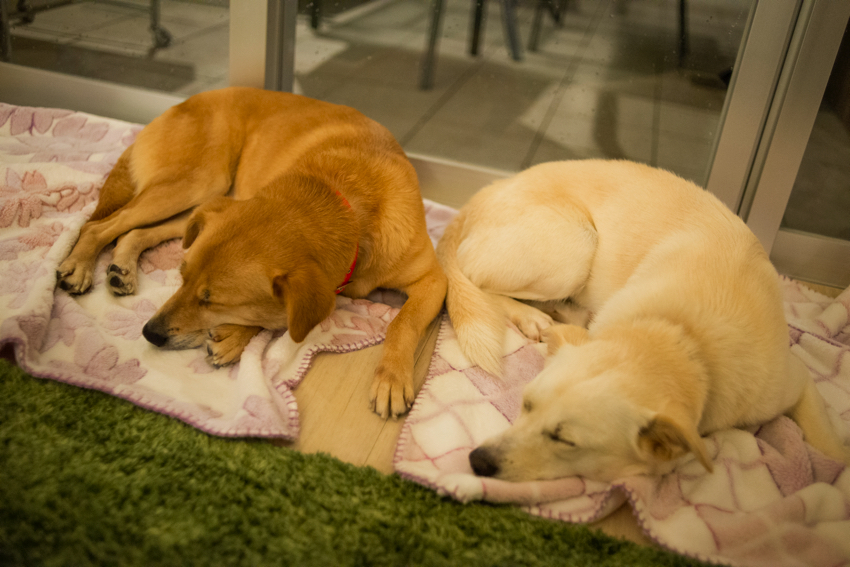 →Let's sleep on the blanket bought in the shop SAN-A U – x – U
Check-out: till 10am
I come to say hello in the morning when Mr. Kayou was cleaning the floor.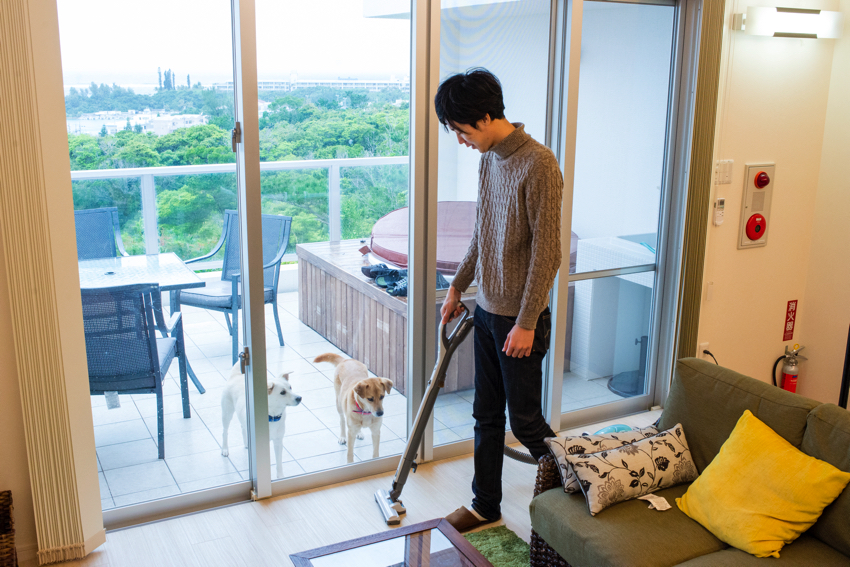 →Cleaning machine is also belonged to the hotel.
Mr. Kayou: Good morning. I use the cleaning machine to sweep the floor.
Fiona: It is a good manner to clean up before leaving. I will clean the kitchen supplies.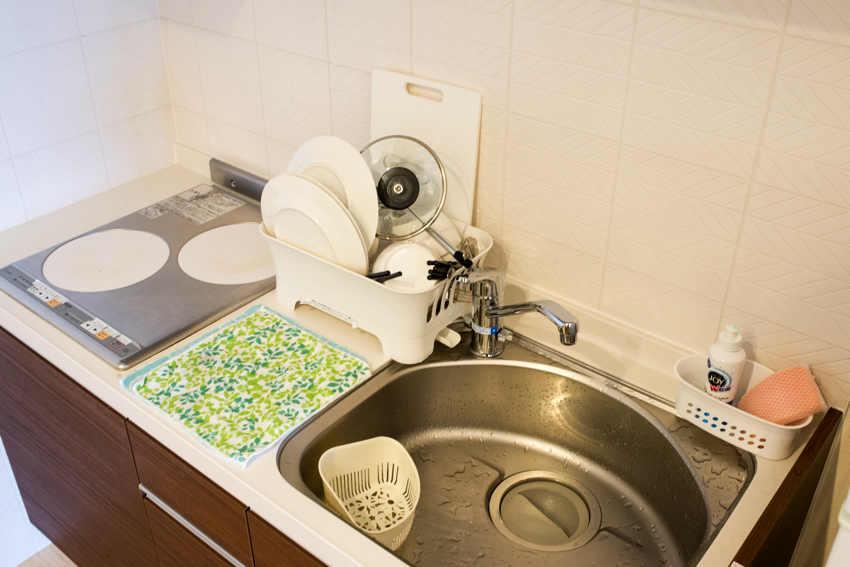 →Dish detergent・sponge are available here. Please cut off the water after wash the dishes.
Mr. Kayou: It's my first time to stay with Chachi outside. I really had a great time. The best thing is it make Chachi so calmed here. I am eager to tell my friend who keeps pets as well.
Fiona: Chachi is really a good girl. Thank you for your cooperation.
A special recommendation for thoes who have pets or go out with family!
Please do not hesitate to stay Coldio Onna Hills! What about take a break in such a private room?!
Wanna know more pitures of Coldio Onna Hills? Wanna make a reservation? Wanna know the price?