Hello everyone! I am Maeshiro from Okinawa Holiday Hackers♪
Have you enjoyed the previous Hotel tours vol. 1?
Okinawa Holiday Hackers hotel tours ★In the 2nd article we introduce new style "La' gent Hotel Okinawa Chatan / Hotel & Hostel" that was just opened in June of this year in Chatan town, Mihama!
※This article was written in 2018.
Hotel & Hostel…?
Yes, this "La' gent Hotel Okinawa Chatan" is exactly the new style hotel combining hotel and hostel♪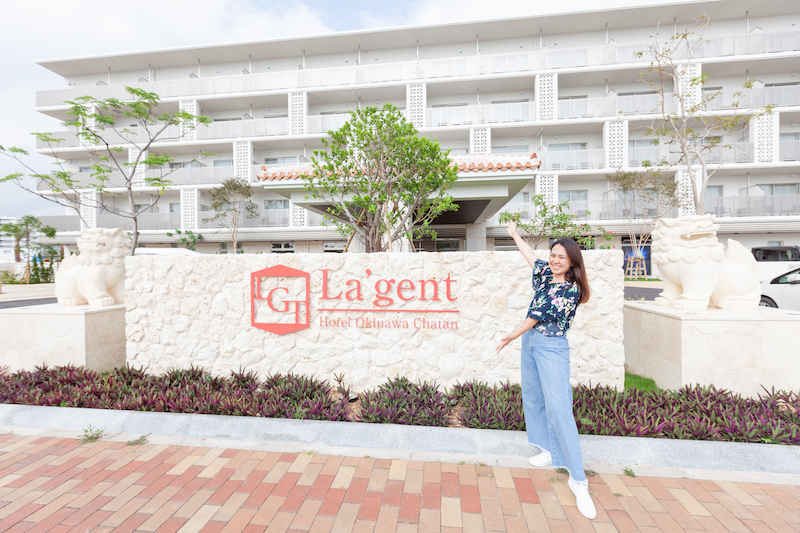 This time me Maeshiro, beauty idol Fuzuki Ishii with amusing facial expression and Okinawa Likes-san from the previous time will prepare a report for you together!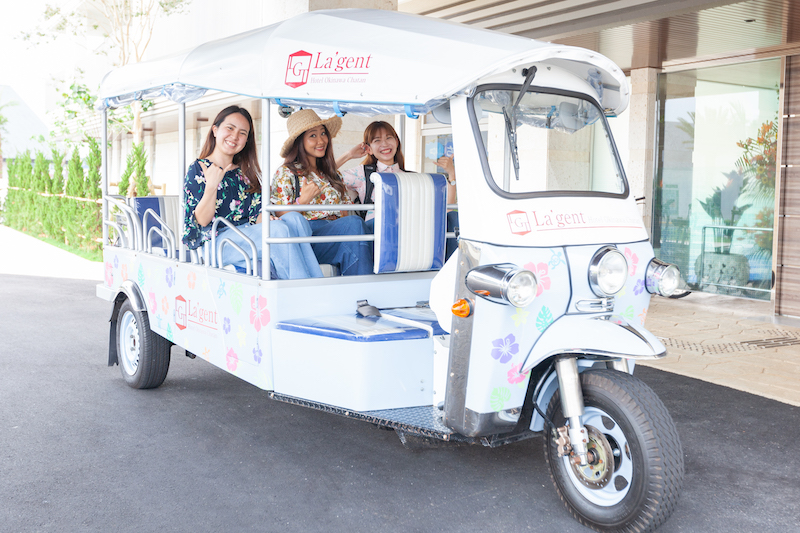 So on the picture from left you can see Maeshiro, Okinawa Likes-san and Fuzuki Ishii
So please enjoy the feeling of participation in this girls trip together~!
Stylish "Mihama American Village" surrounds the hotel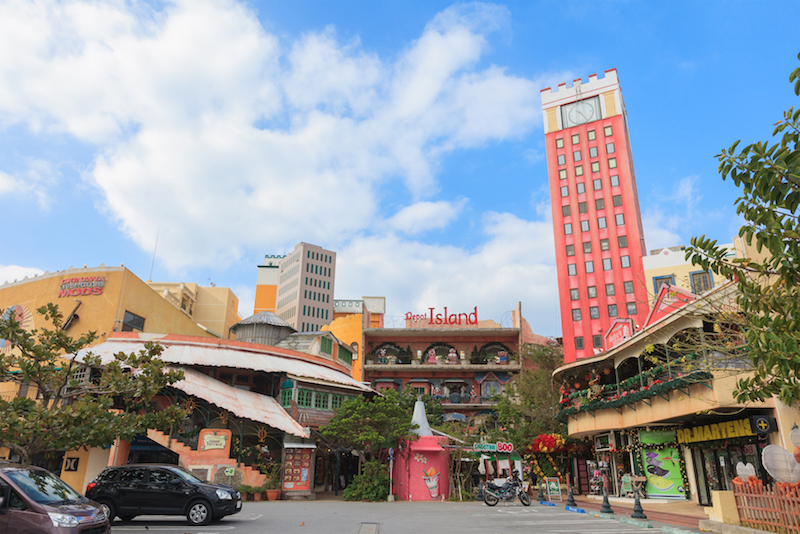 "La' gent Hotel Okinawa Chatan" is built in the area called Chatan-cho Mihama. This places is filled with foreign mood so you can be surprised and even think like "Is this Okinawa?"
Especially so called Mihama American Village site gathers various stylish cafes, restaurants and general stores and each one is worth to see so we recommend to drop in this spot when you come to Okinawa!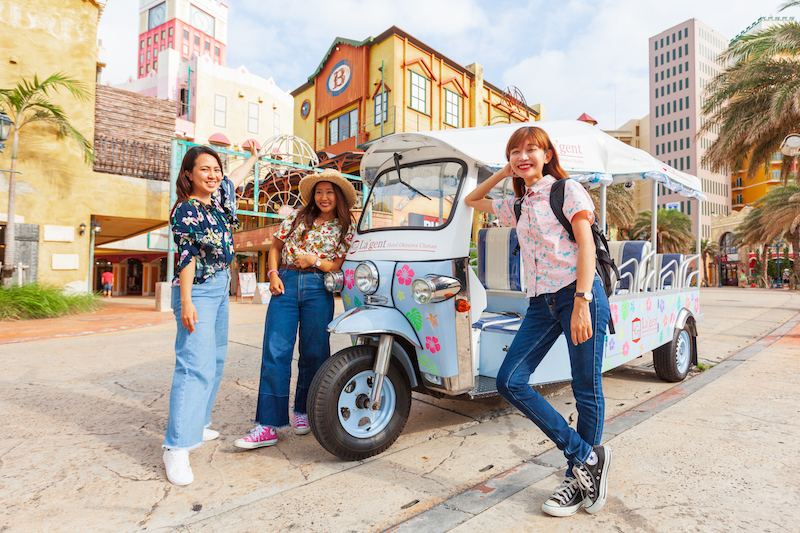 Tuktuk tricycle for pick up and drop off is available on the route from the hotel to Mihama American Village so you can move easily even on rainy day or if it is too hot!
We also enjoyed Tuktuk, and let's go to the hotel of expectations quickly!
Recommended both for single travelers and for traveling groups! Stylish dormitory room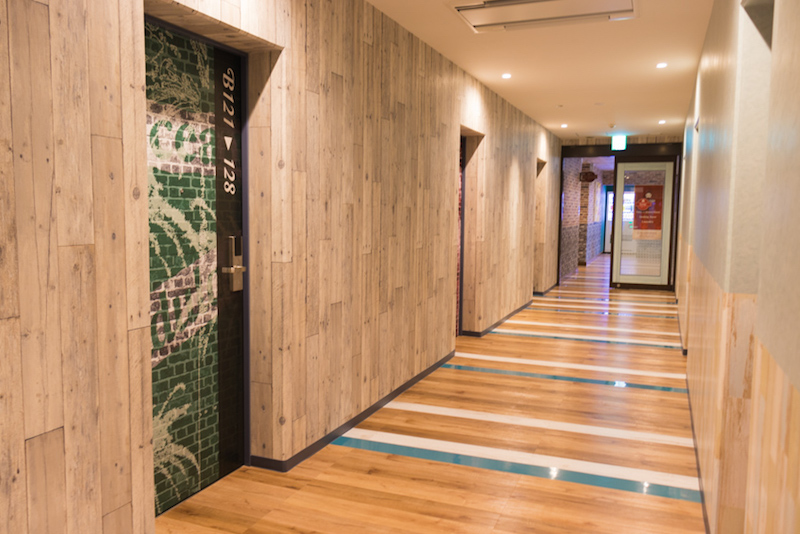 It is amazing that "La' gent Hotel Okinawa Chatan" of course has not only regular rooms but even dormitory (shared room)!
So what should we expect from hotel dormitory?
With this premonition we promptly entered the room…
What? Is it a dormitory? Yes, this is stylish and cozy room is a dormitory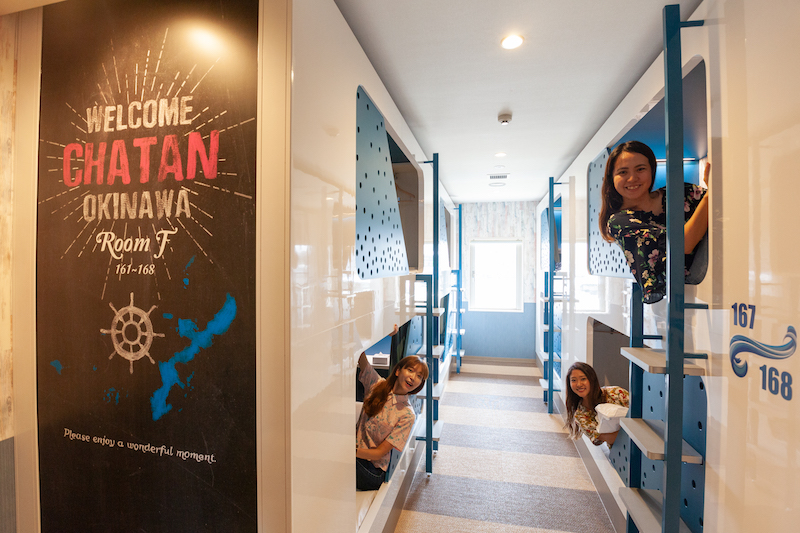 Beds in the dormitory room are colored in turquoise blue and white tones and look fresh!
Personally I think that the dormitory room is important but…
How about keeping privacy and comfort of the bed space? But beds of "La' gent Hotel Okinawa Chatan" are perfect! Each bed has shading curtains, and moreover the space near face is screened by a plank.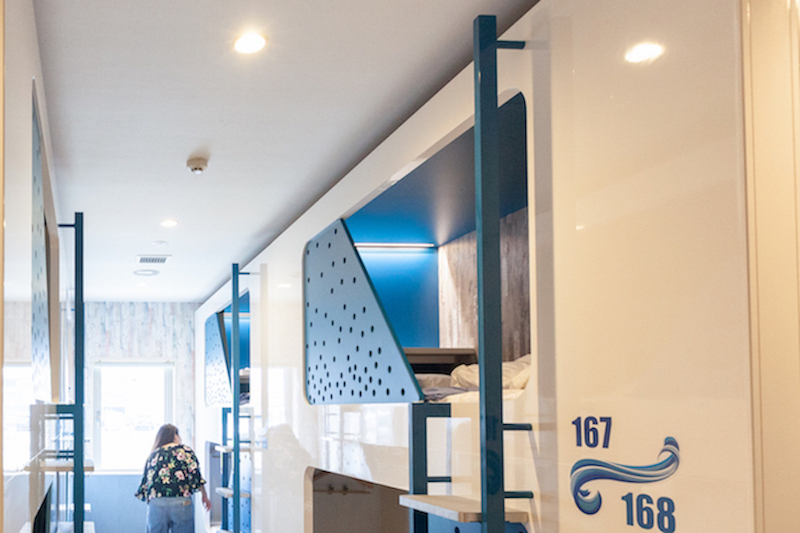 So since it is divided properly you can have fun with friends! And during sleep you can spend your own time in comfort.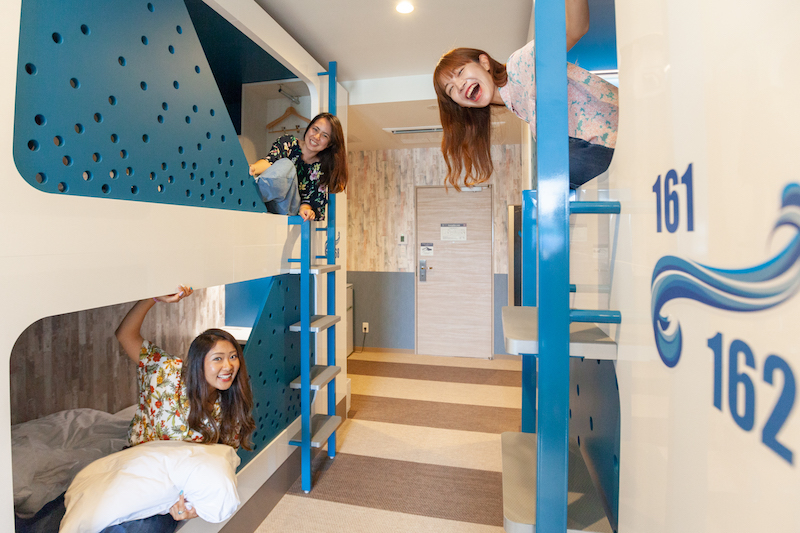 Also groups of men, women or mixed groups can make a reservation for the dormitory, and it means that you can privately book the room in according to your travel style♪
Shared space looks exactly like stylish pub in America.
So the "shared space" we are curious about is here!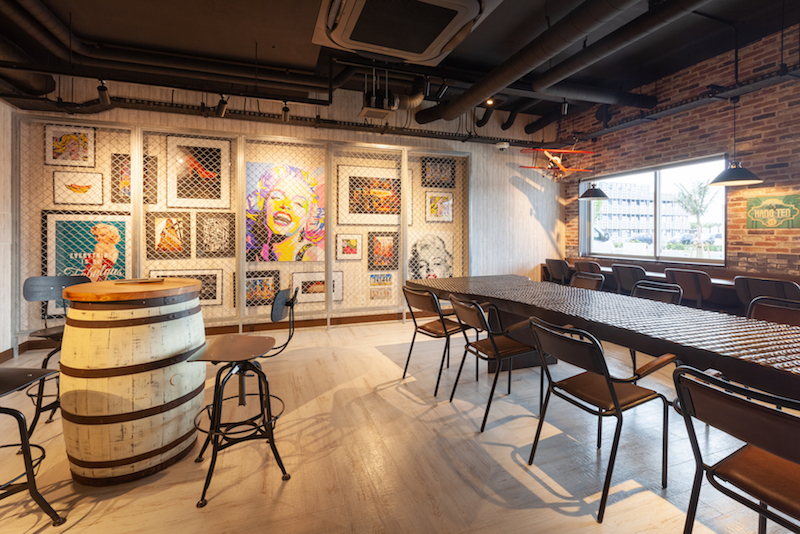 The room is designed in American beach style but now the mood changes rapidly and here is the atmosphere of American Pop. Wall decorations and each interior are stylish also ♡
▼ Spontaneously you will want to take these kind of pictures~~!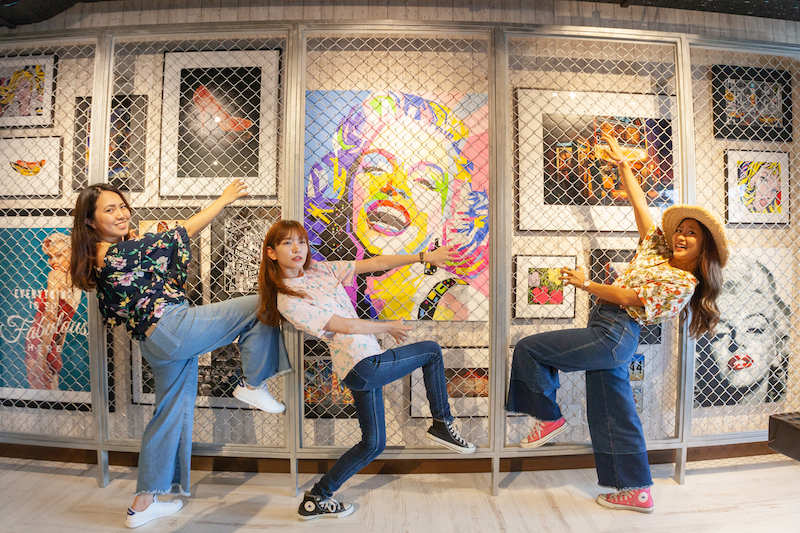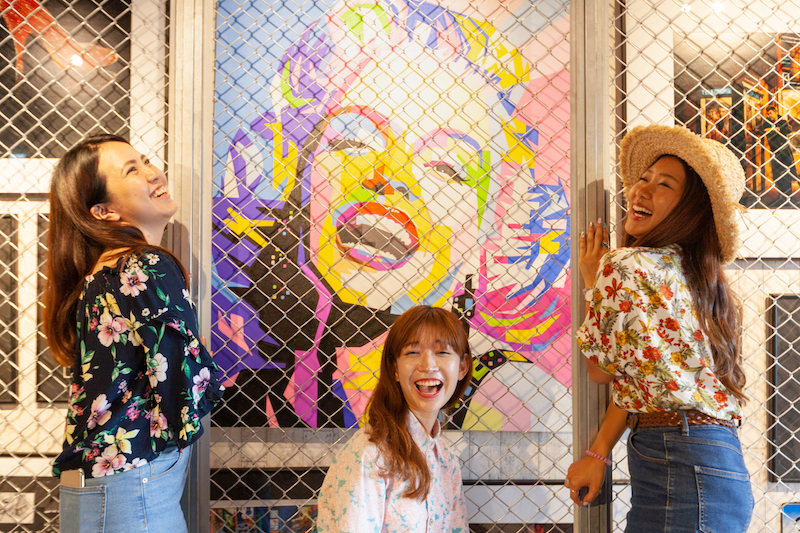 ※Note: here you can see us trying to mimic Marilyn Monroe.
Shared space is also equipped with stylish kitchen!
The posing is like jacket picture of "Culinary band" (directed by Fuzuki Ishii)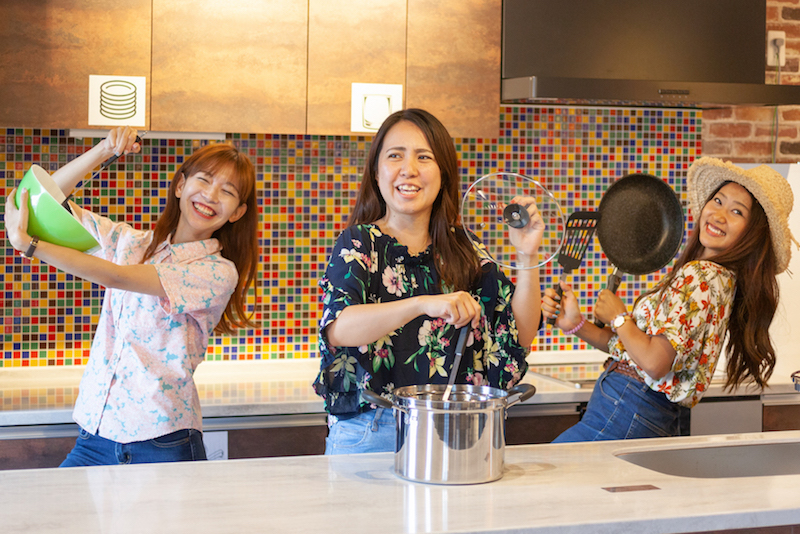 ("Culinary band"??? I could not hide the bewilderment not realizing what's going on)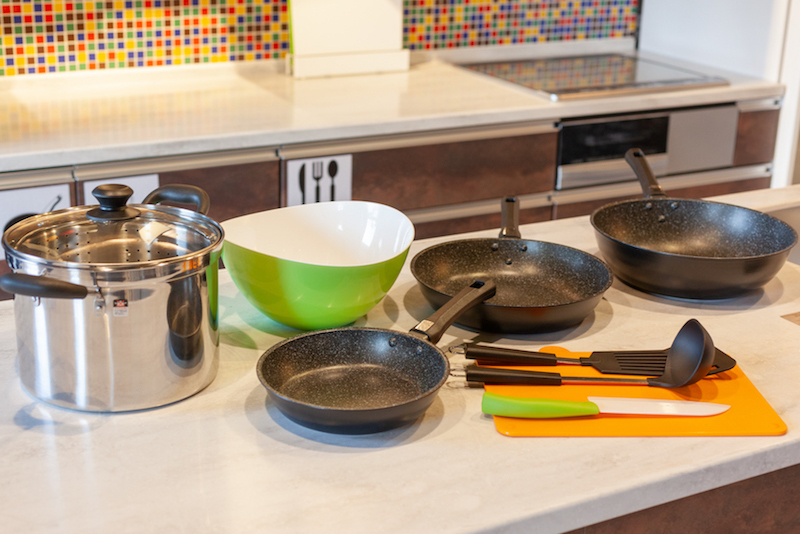 There are various kitchen utensils like fry pan, pots and other in the kitchen! There are a lot of restaurants near "La' gent Hotel", but it is also good to cook and eat snacks if you are tired of eating out during travel!
This dormitory is quite stylish but the price is affordable!
The price changes depending on the season so please check the details about reservation and prices on the web site♪
▼ Web site for hotel reservations
※ Please note ※
In case of making reservation for the dormitory on the web site, if you do not search for "1 adult", dormitory plan will not be shown. If you want to stay as a groups please search as "1 adult, 4 rooms ※in case of 4 people group".
The dormitory room is much more stylish than we expected and we feel tired of excitement but finally let's go to the regular accommodation space~~!
You can enjoy different themes in different rooms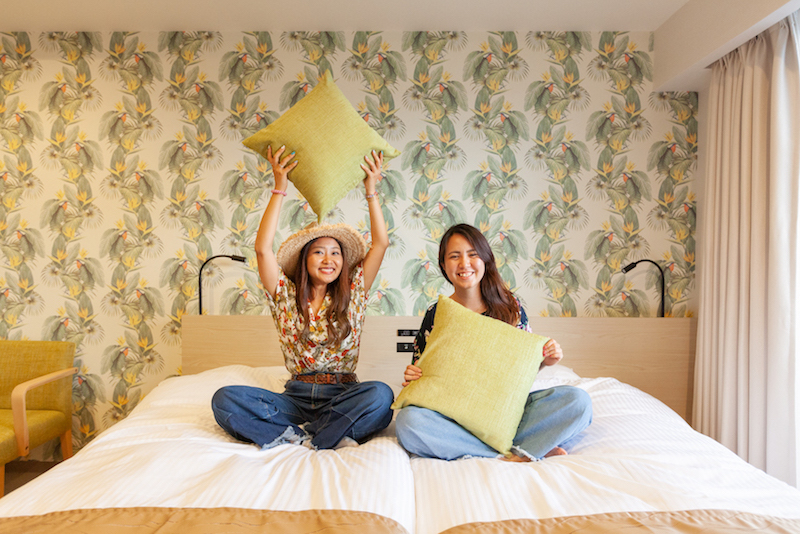 Not only dormitory rooms, but guest rooms have elaborate interiors also♪
It amazing that not only design of guest rooms depend on the floor, but wallpapers are also different in each room.
This is twin bedroom on the 3rd floor on the picture. This is a room with cute wallpapers with overflowing sensation of southern resort.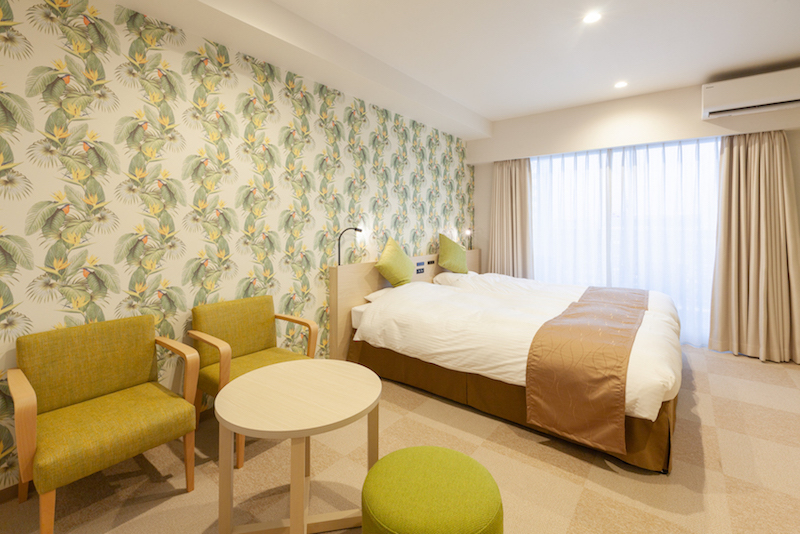 Moreover, speaking of important feature of a bathroom next to the room and it is not an exaggeration…
it is big!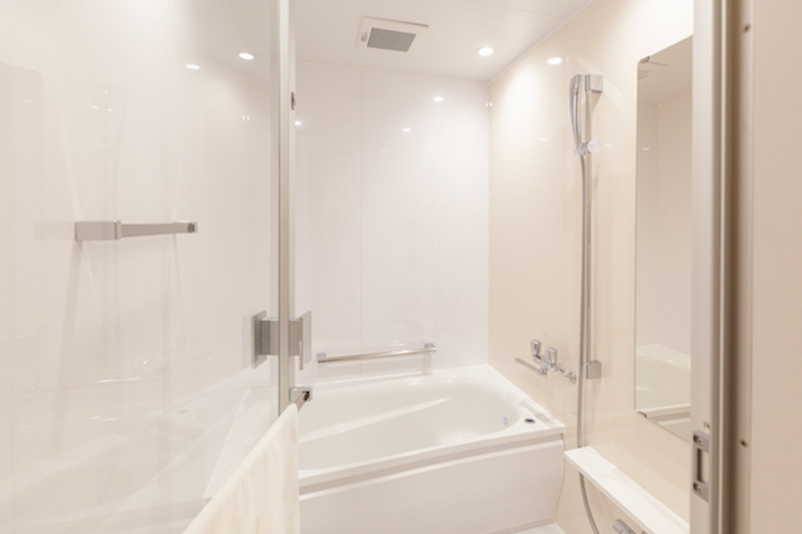 In general, this kind of casual hotels
are equipped with modular bathes
without bathtubs but…
In this hotel the bathroom is comfortably large! Of course, bus and toilet are separate!
What?
It is not possible to explain how big it is even using such words???
So I can suppose that someone asks such a question, so just imagine a regular scene like "Maeshiro is taking a bath and can not understand who makes profit of all this".
So what do you think? This bath is large enough for adult of this quite big size to be able to move and has free space♪ Bathtub is also comfortable so you can heal yourself from fatigue after travel slowly.
Maximum feeling of excitement for children! The most popular family room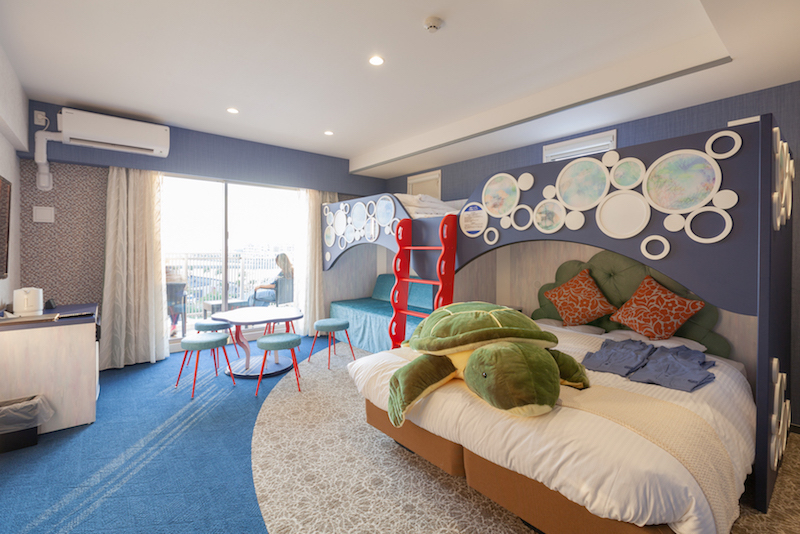 Here is popular family room. Usually it is fully booked so you are lucky if you find available room.
How to say, you will be amazed because this room looks like a kids' room in America that can be seen in movies!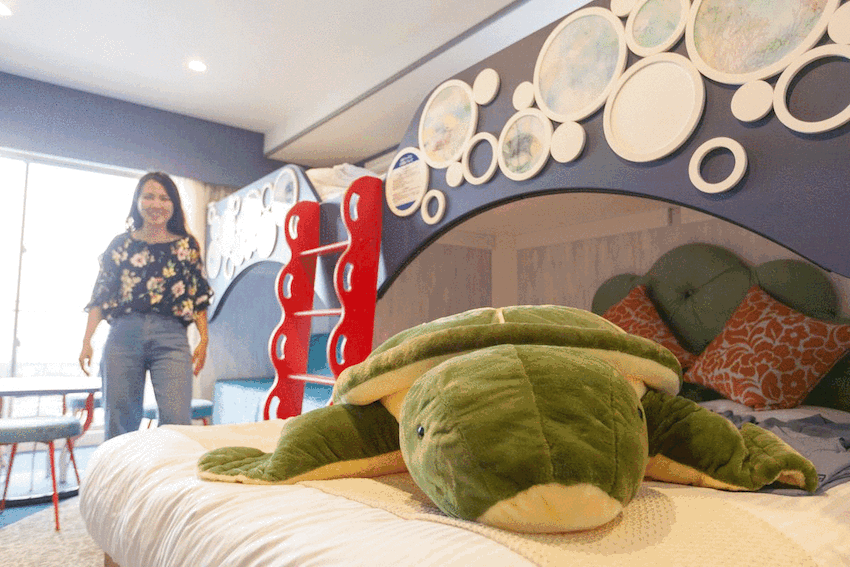 And because of this full-grown adult will frolic like a child, and we tried forbidden in the hotel "bed dive"!
This large turtle toy loved by children is always in this room so you can meet with it if you stay here♪
OK, we have talked about attractive features of rooms more than enough and we continue with introduction of the restaurant in the hotel.
The most stylish place in the hotel is here!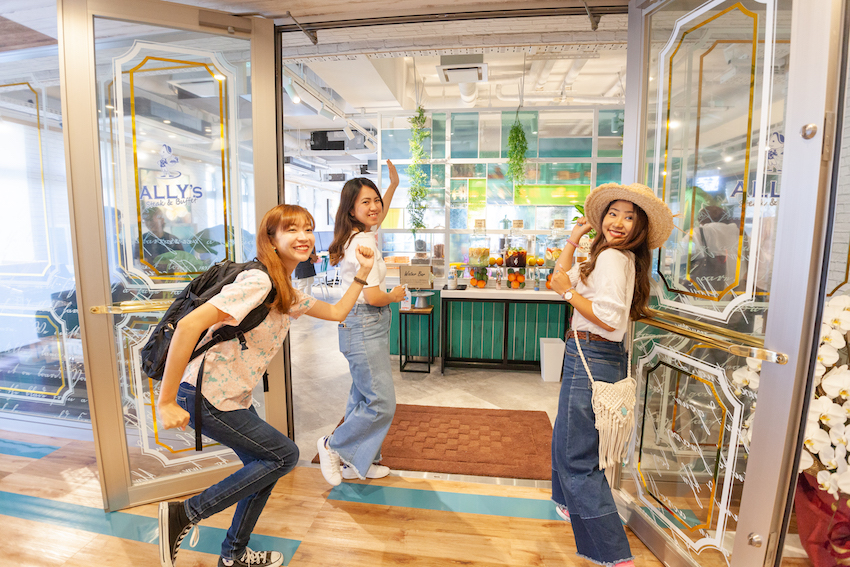 The most stylish spot in stylish "La' gent Hotel" with all rooms being cute is constructed inside the hotel restaurant "ALLY's Steak&Buffe".
The interiors look like American beach house, a bit cool and with resort mood.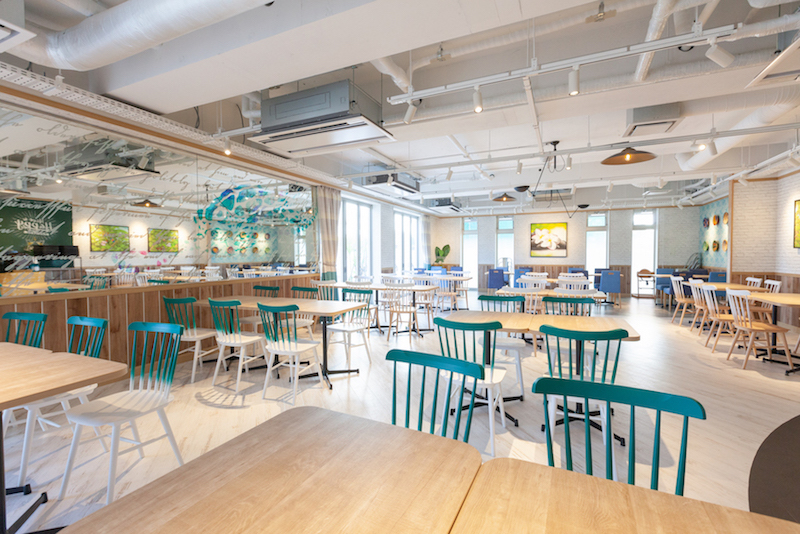 Here you can enjoy buffet style meals and we also tried breakfast.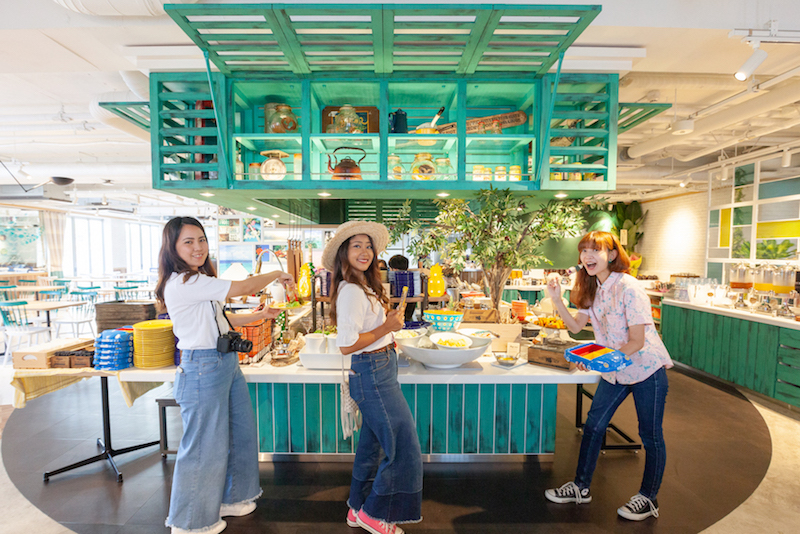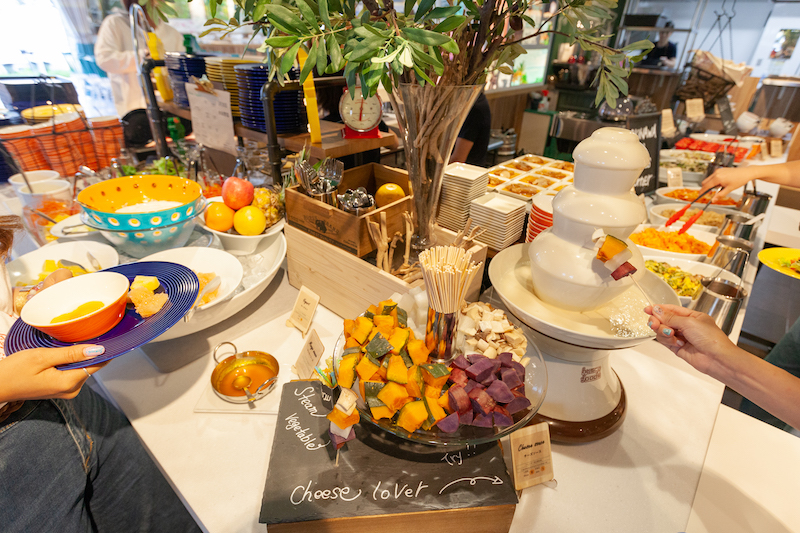 You can also enjoy freshly baked pancakes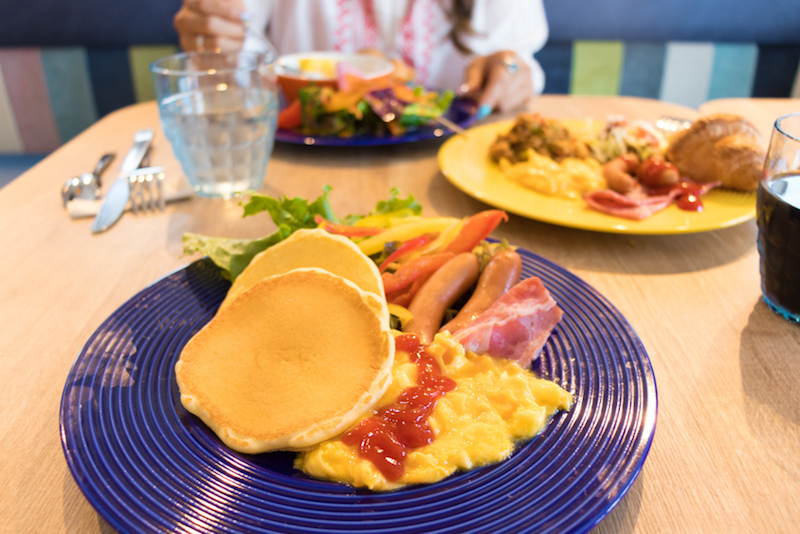 The most recommended point of the morning set is that the staff will cook pancakes in front of you after you make an order. You can enjoy the combination of your favorite toppings.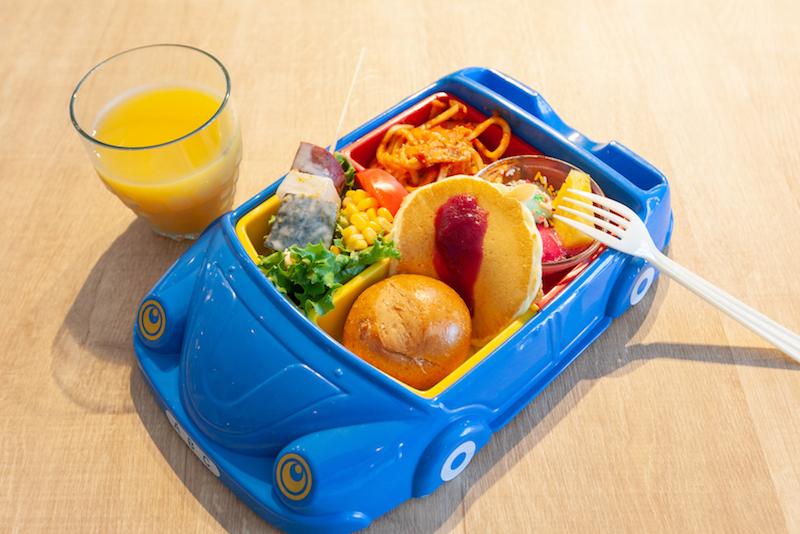 Plates for kids are also prepared so families with children can enjoy it also♪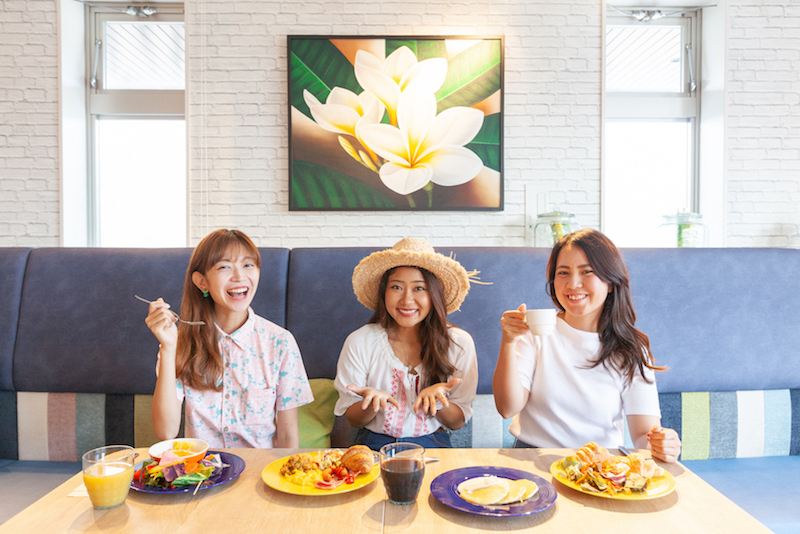 After enjoying meals fully in the stylish space here the 2nd hotel tour ends!
So what do you think of "La' gent Hotel Okinawa Chatan" built in American-style town Chatan?
If you like it you definitely should check the details on this web site for reservations.
▼ Web site for reservations in "La' gent Hotel Okinawa Chatan / Hotel & Hostel"
※ Please note ※
In case of making reservation for the dormitory on the web site, if you do not search for "1 adult", dormitory plan will not be shown. If you want to stay as a groups please search as "1 adult, 4 rooms ※in case of 4 people group".