Hello everyone~
This is Goma from Okinawa Holiday Hackers who had a life-changing moment through rental bike! 
Well, do you know how many people have no idea of riding bicycle? 
According to the reserch, among people aged 20 to 69 years, 5 people in 100 who can not ride bicycle! 
Unexpectedly, what a high rate!(※Based on personal reserch on the internet)
Wanna know why I mentioned this suddenly?
Well, well, well…actually…I can't ride a bike!!!
Accurately I couldn't ride it.
Today I am going to share the story that how my life changed after the bike rental experience in Taketomi Island, a place with the unspoiled nature. 
How to get to Taketomi Island?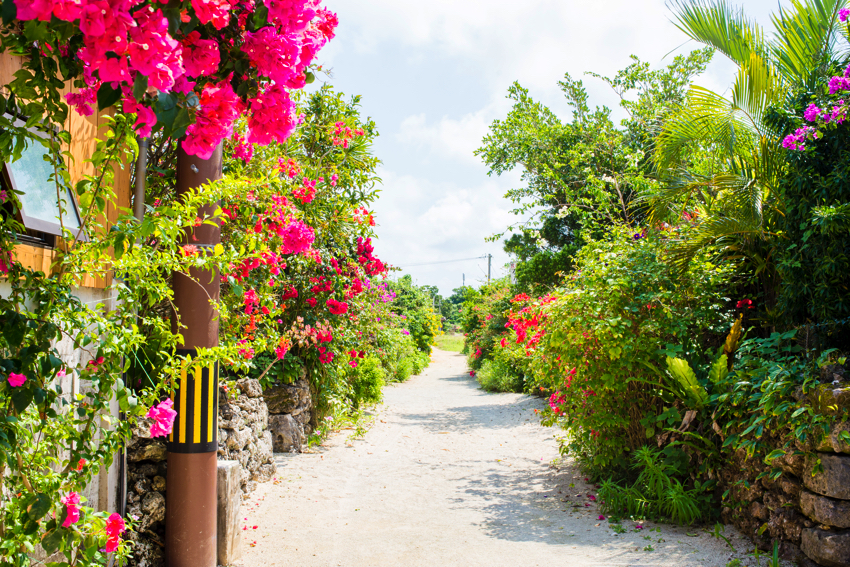 Since there's no airport in Taketomi Island, to catch a plane to New Ishigaki Airport is the first choice☆
Then you can reach Taketomi Island in the blink of an eye by ferry from Ishigaki Port Ritoh Terminal! 
Since Taketomi Island is the nearest remote island from Ishigaki Island, it takes only 10~15 mins to get there by high-speed boat.
What's more, there are about 20 sailings a day due to the frequent usage of one-day tour.
The fare is about 600yen for one way and 1150yen for round trip.
Most of the facilities in Taketomi Island have transportation to Taketomi port. If you can decide the destination in advance, it would be very convenient. 
This time, we take a beneficial plan that is a set of round trip ferries and rental bike ~ ☆
If you purchase separately,
Round trip ferry 1150yen + Tomori rental bike (free time) 1500yen = 2650yen (※ based on personal research)
However, it costs only 2160 yen which is 500 yen profitable if you buy as one set.☆
Let's Go Renting a Bike!
Here we are. Tomori Kanko, bicycle rental!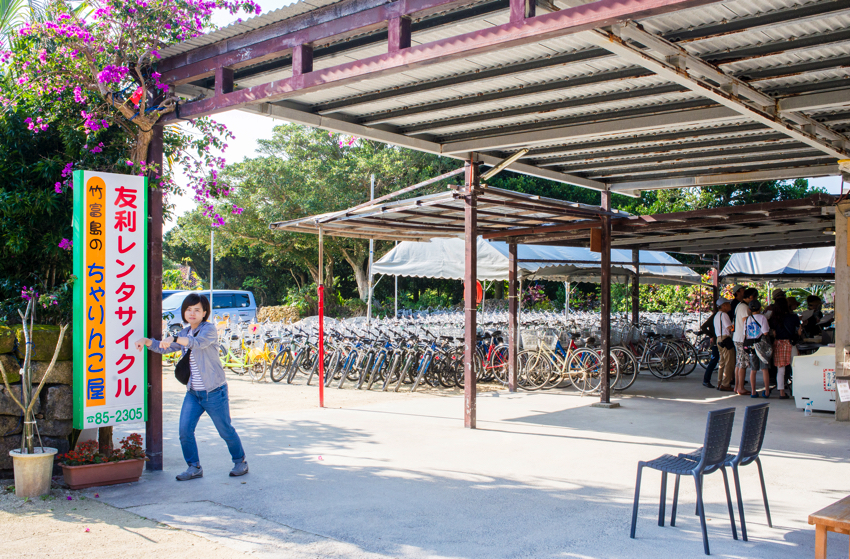 Since there is a transfer from Taketomi Port to the shop, it's convenient to have a free transfer service if you return the bike 20 min before the departure time~♪
Besides, because I can't ride a bicycle, I rent a bicycle with auxiliary wheels☆
According to the staff, it's a little bit difficult to pedal an auxiliary wheels-equipped bicycle~.  Thus, they also prrovide tandem bicycles for those who can't ride a bicycle. 
Even so, I still decided to rely on my own power. To rent a bicycle with auxiliary wheels became my first choice and it became a turning point later.
BTW, there is also an article of the electric scooter and it tells the most regret moment I've had in my life time due to not being able to ride a bike. Please read it if you're interested in.↓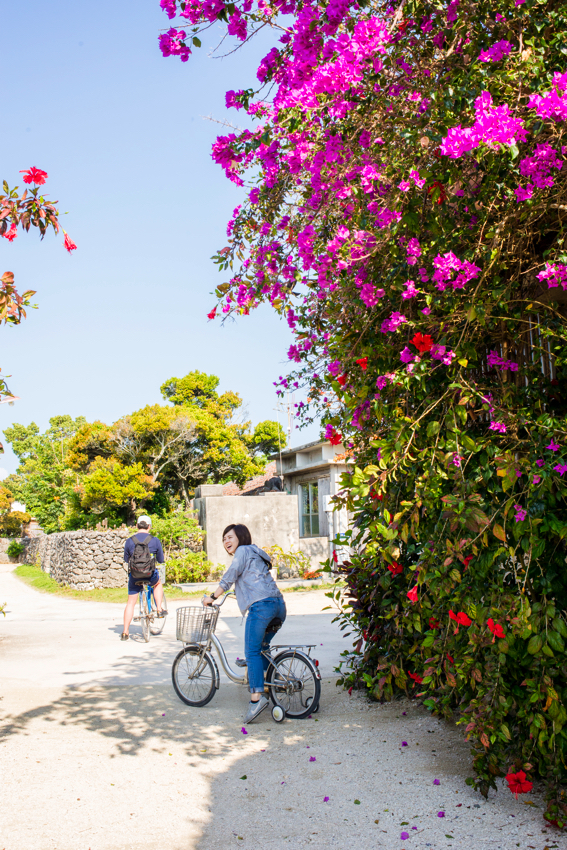 →Alright, I finally can move by myself ~♪
Although a bicycle with auxiliary wheels is actually for kids, I don't have long legs so that's it! 
The stone walls with red roofs and pathway with white coral sand are one of the beautiful sceneries in Taketomo Island. 
Actually it's hard to padel forward on a coral sand-spread road with a training-wheels equipped bicycle said by the staff.
What's worse, it is noisy when little stones hit the training wheels.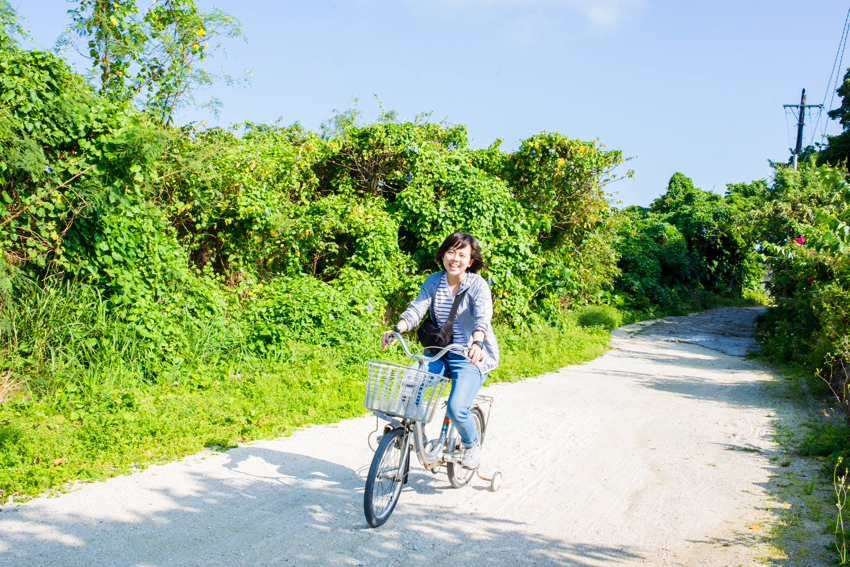 →Have you ever seen an adult riding a training-wheels equipped bicycle with such freshing smile?! 
Anyway I don't care how others look at me because I do want to move by myself♪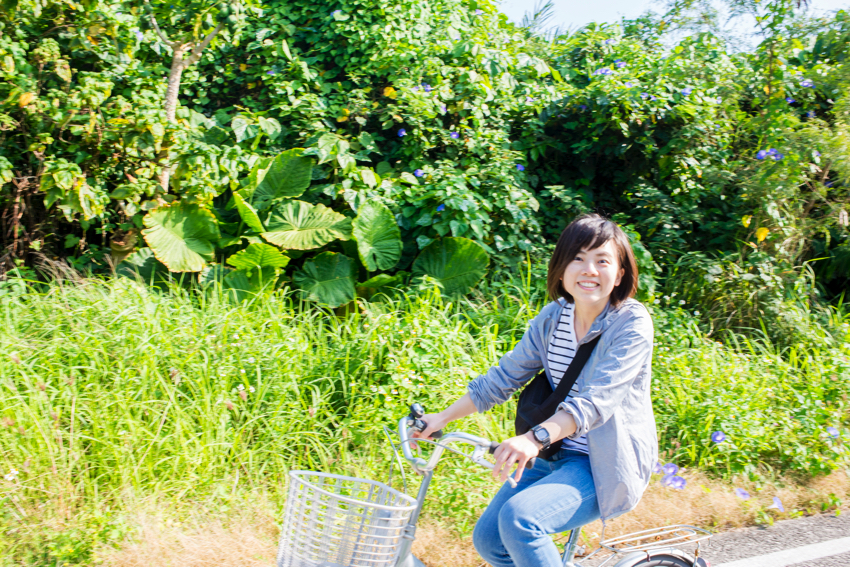 →Cycling in nature of Taketomi!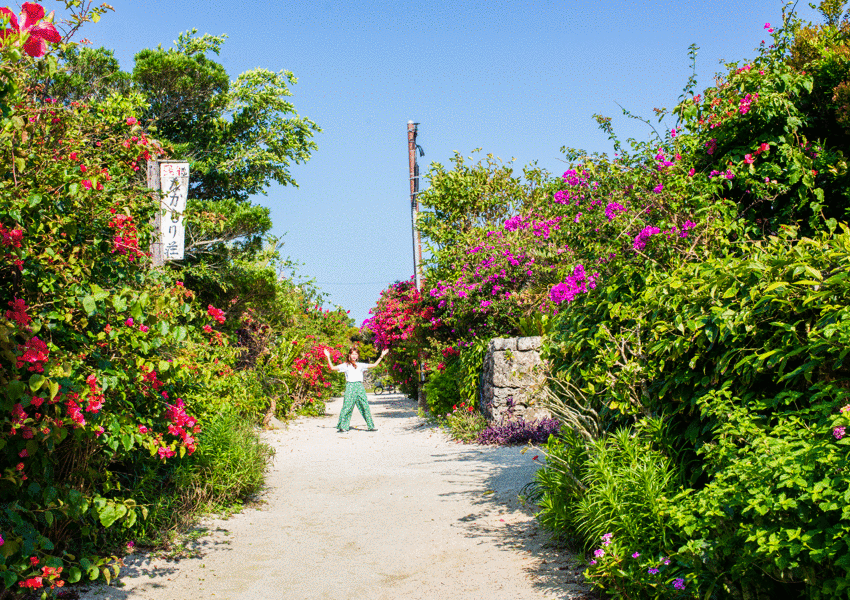 Don't forget bring your UV-protector, water and hat♡
We are going to have heatstroke. LOL
The Kondoi Beach Makes Me Wanna Stay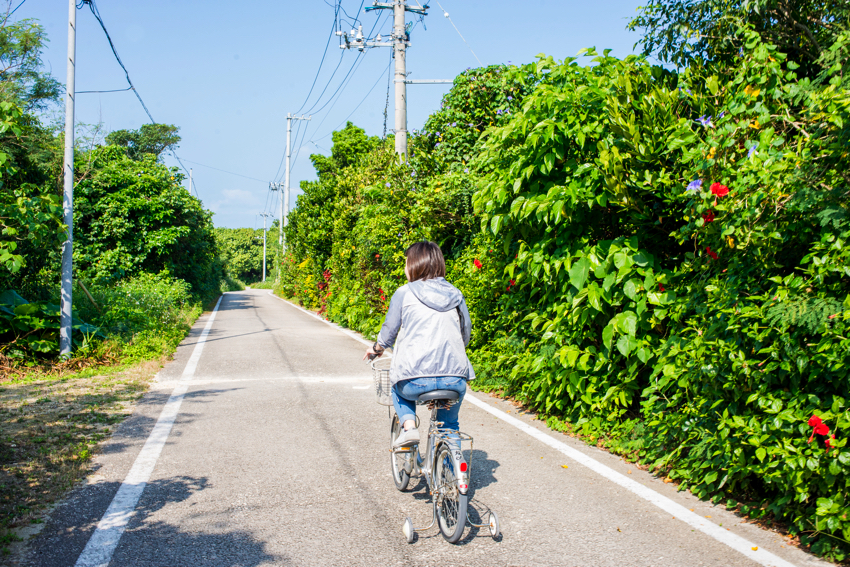 About 15 minutes by bycicle from Kondoin Beach to Bycicle rental shop with full enjoyment of beautiful scenery in Taketomi Island.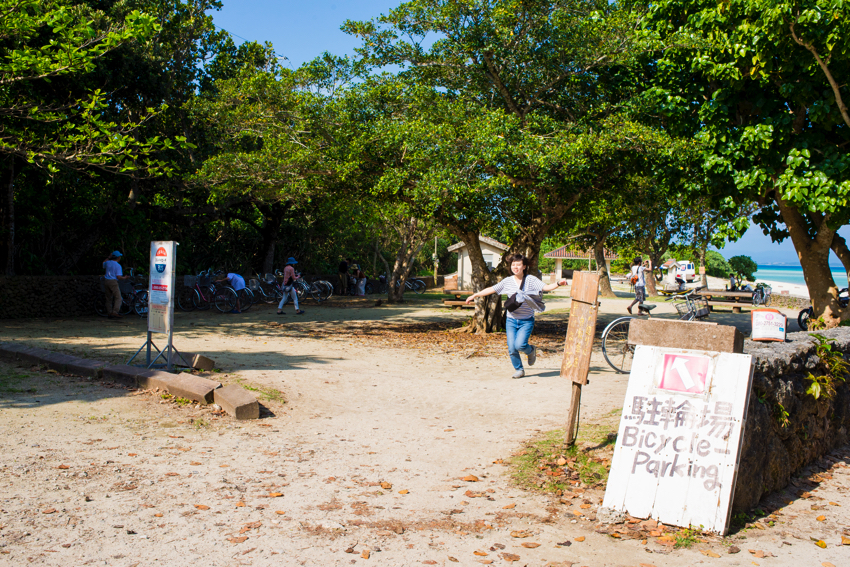 →Here we are at bicycle parking lot ☆
I'm still surprised by this unspeakably beautiful sea although I am born and raised in Okinawa.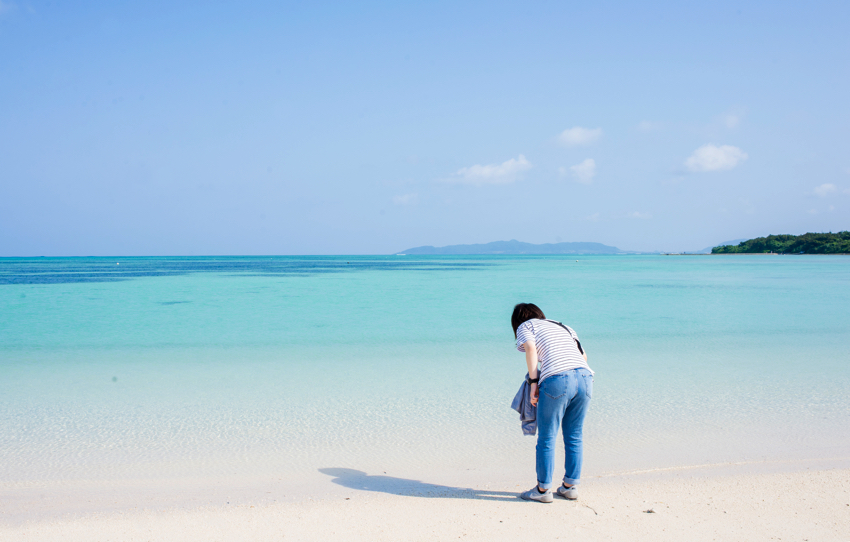 The ocean is so clear that you can see fish swimming around and sun reflections sparkling and shining on water surface even if you don't step into the sea ☆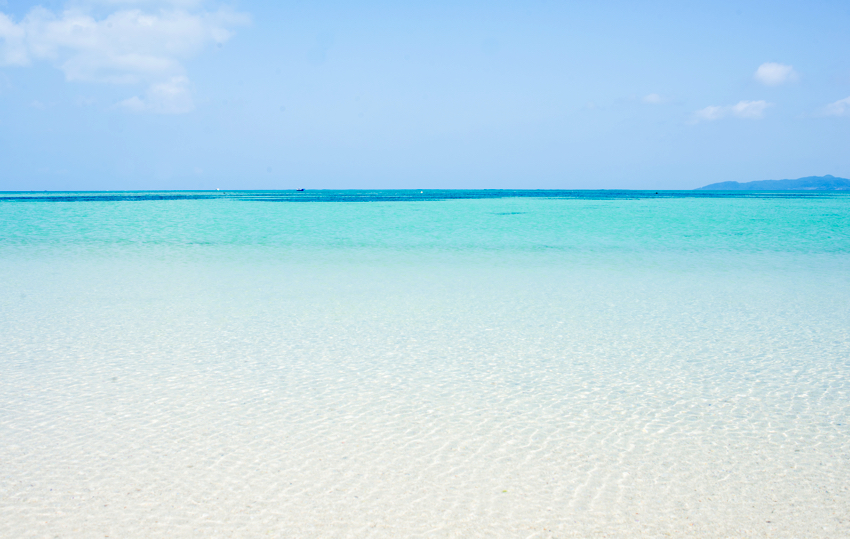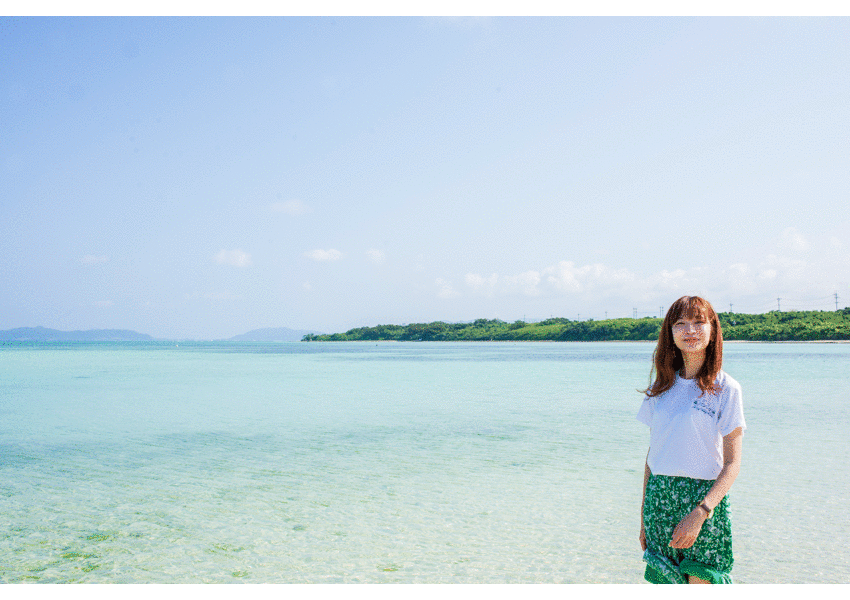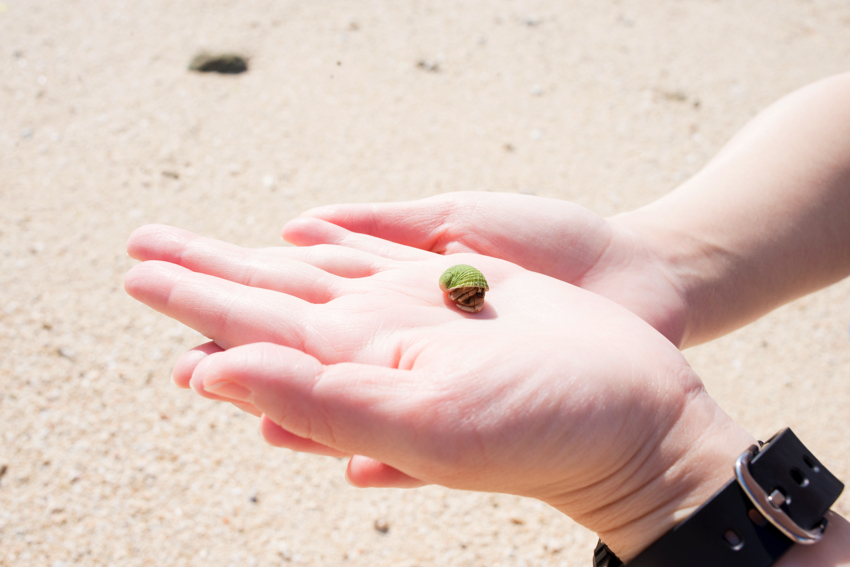 →Catch and release! Hermit crab is always my favorite.
Near the beach, there are parasols for rental and shaved ice and drinks for sale. I ordered a shaved ice ☆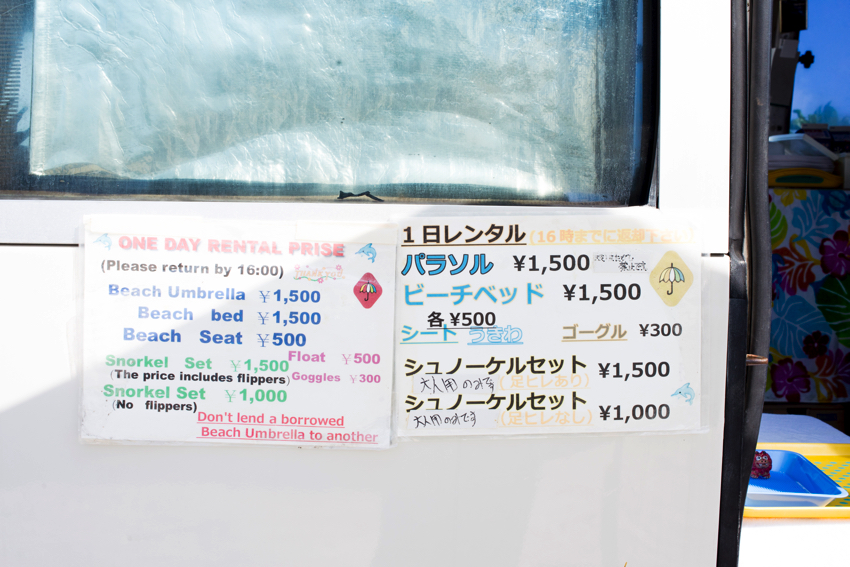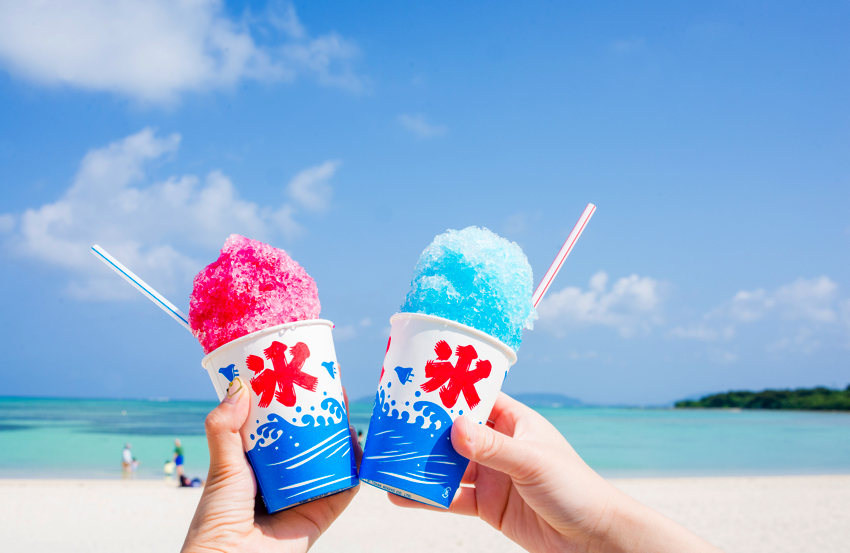 There are covered benches here, so if you're lucky enough, it's a good chance for cat lovers to run into cats from this island~♪
However, since it's a rare chance, I enjoyed my shaved ice under the tree.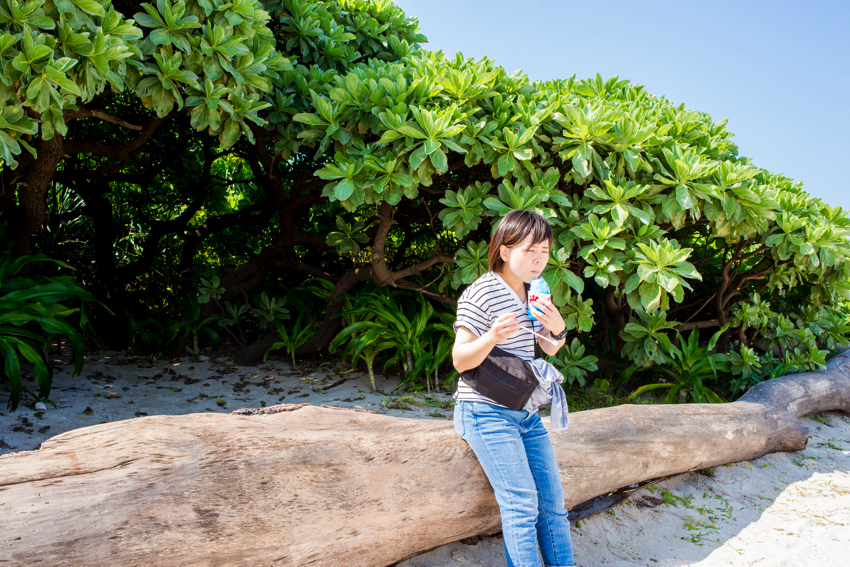 →How great~!That's summerー!
BTW, the Kondoi Beach is the only beach in Taketomi Island. It is definitely a place that you won't wanna miss♪ 
The shower room is well prepared!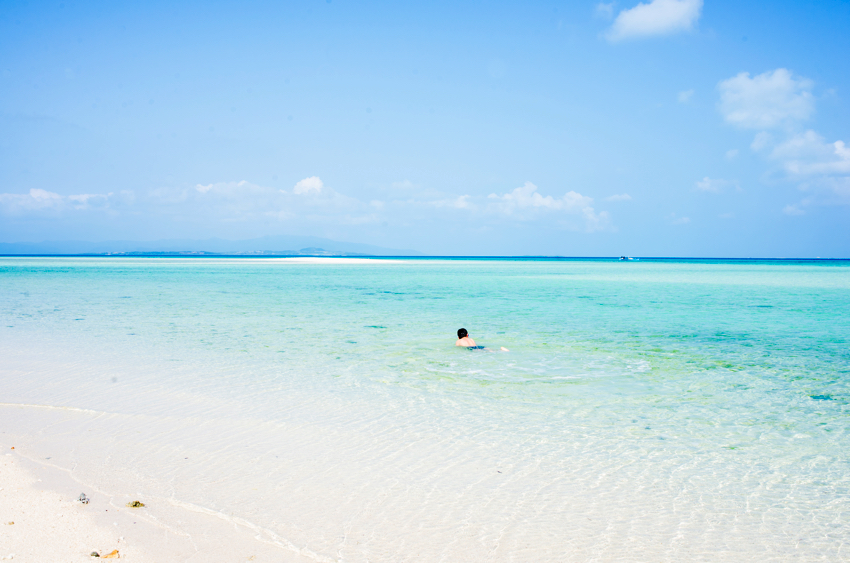 →Someone is trying to swim across the ocean!
A Life Changing Moment
After having fun at the Kondoi Beach, we move on to the next place by bike, and stop for a while to take pictures. 
Suddenly, the thought of taking a ride of Fiona Ishii's bike which is without training wheels pops up in my mind and the miracle happens.
I learned how to ride a bicycle without auxiliary wheel!!!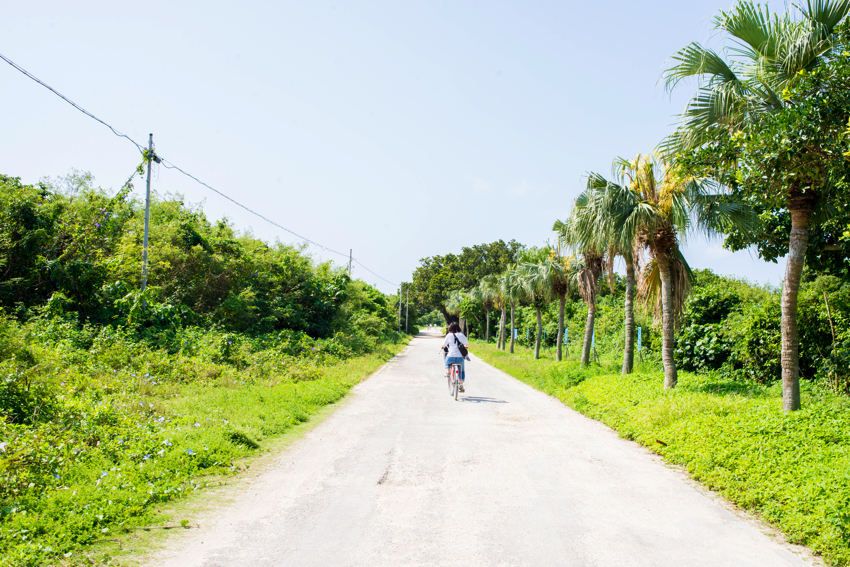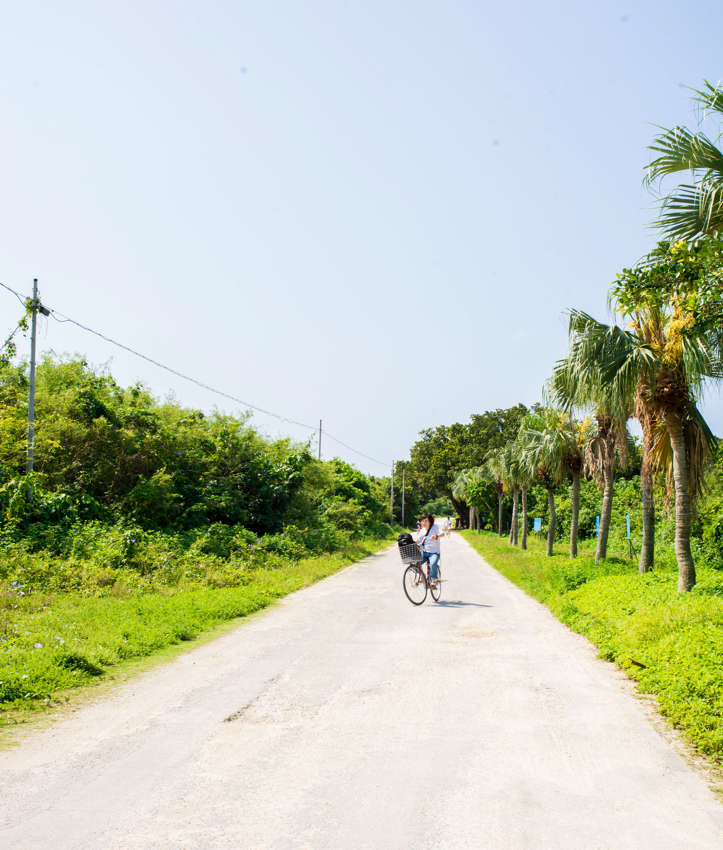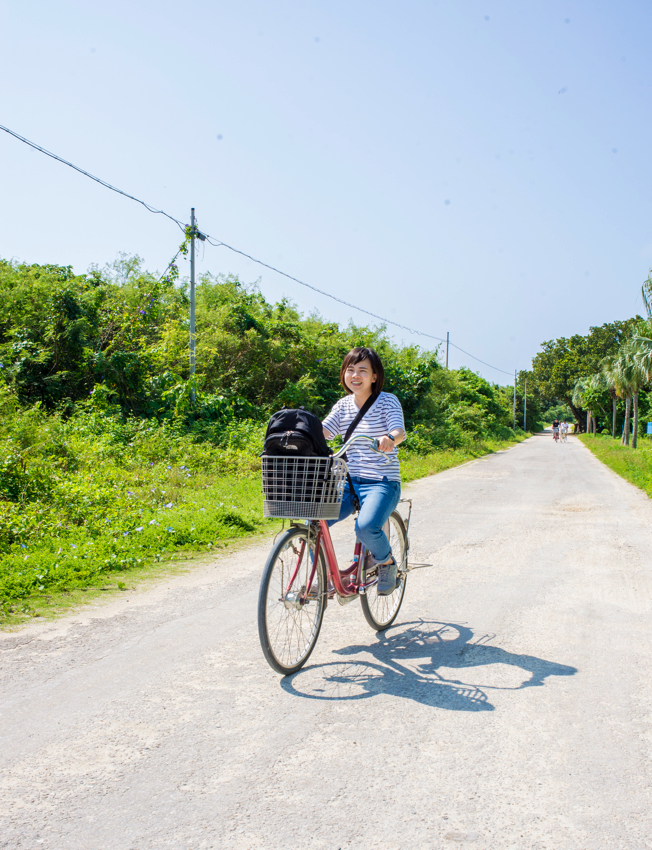 It's easy to padle!
It becomes lighter for me to move forward without being disturbed by the auxiliary wheel.
It's a life changing moment for me!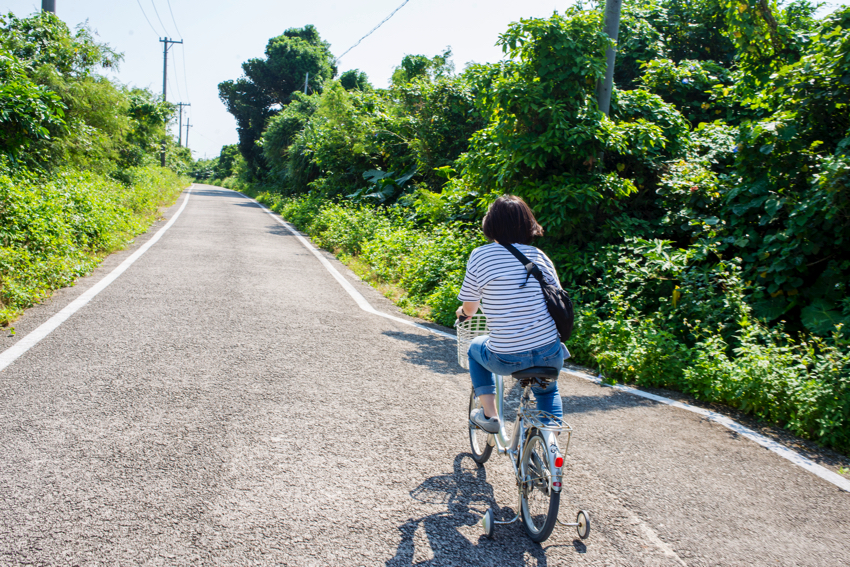 →Exchanged♪Exchanged♪I'm able to ride a bicycle ~\( ゚∀゚)/"
Staffs from Tomori Kanko are also happy for me when I come back to exchange the normal bicycle♪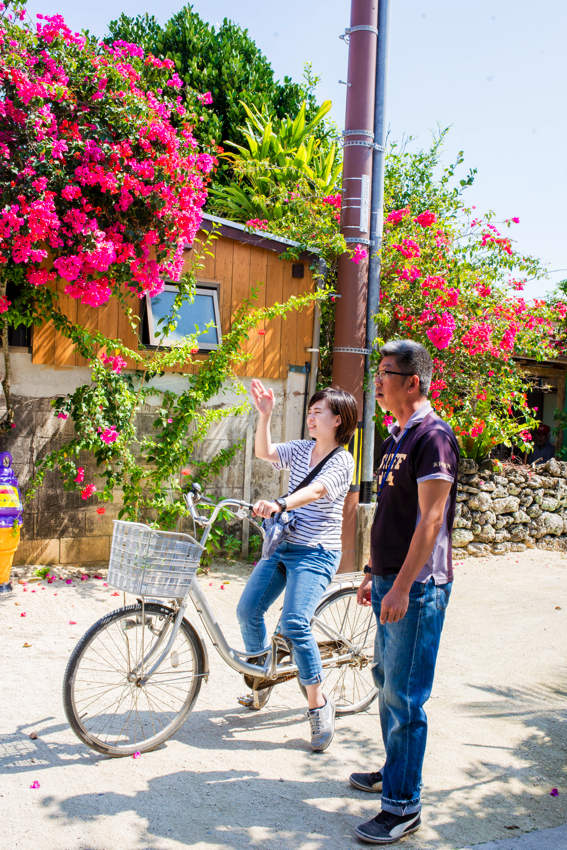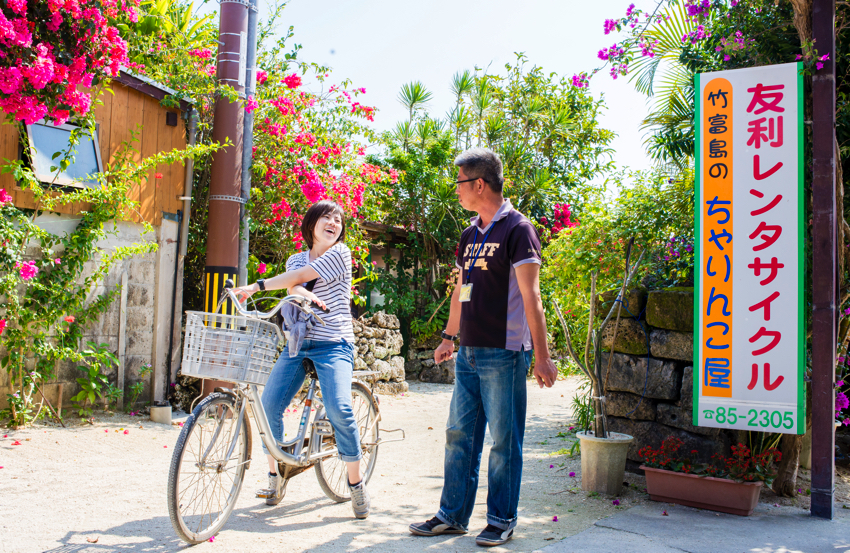 →More and more comfortable with any gesture.
(It's actually dangerous so make sure you stop well.)
Kaiji Beach With Abundant Star Sand is Also Attractive to Local Children
We move on to another must-go beach in Taketomi Island called Kaiji after Kondoi Beach with a lighter step.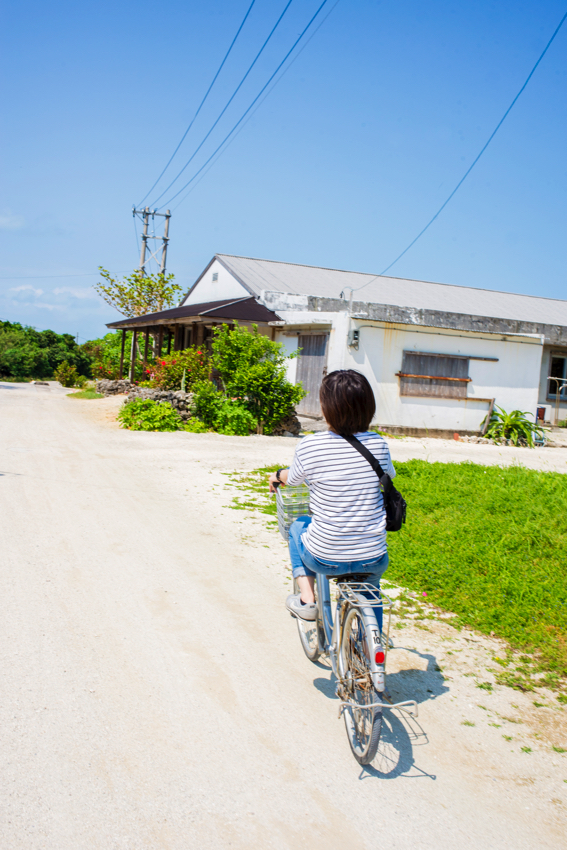 →It is quiet when riding a normal bicycle.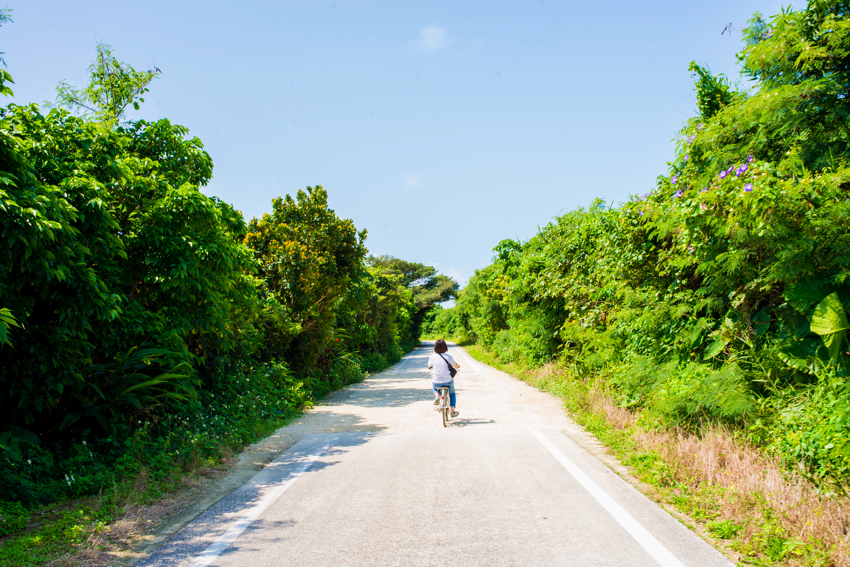 →Easy peasy without auxiliary wheels
It's amazing to have a beach connected to the ocean with a large amount of star sand which is so rare♪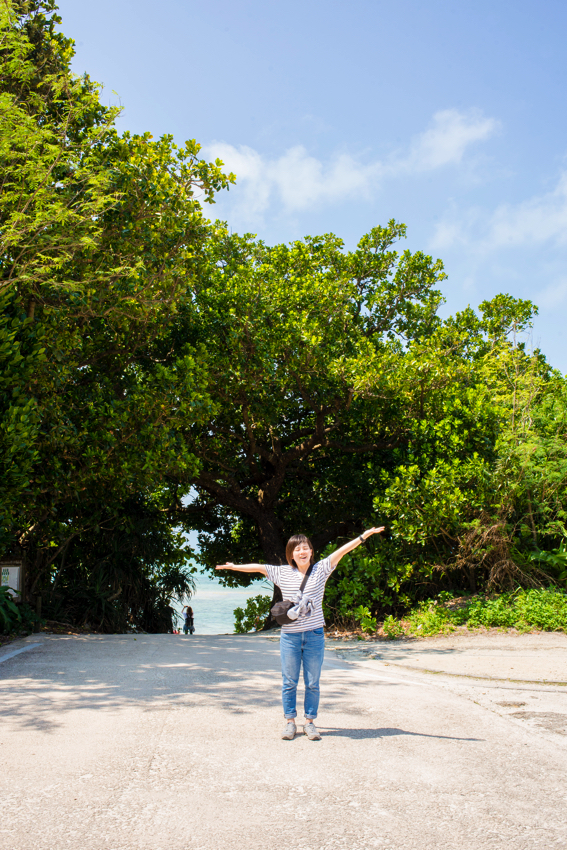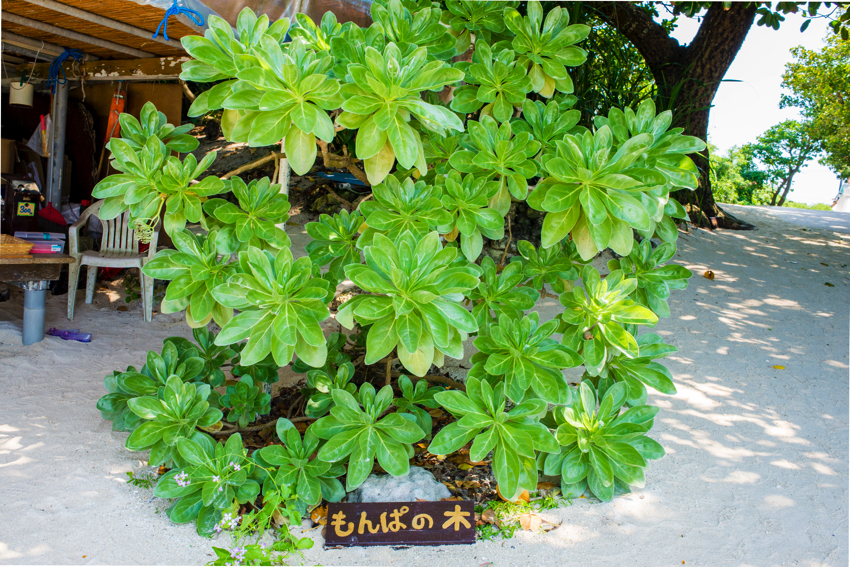 "The Legend of the Star Sand"
There is a sad legend in Taketomi Island
Long time ago, there was a father star in north and a mother star in south. The mother star consulted God of heaven about a proper place to give birth to a baby. Then, the northern ocean of Taketomi Island recommanded this place for them. So plenty of baby stars were born there. 
However, God of sea was furious at the arbitrary born of baby stars. He served as a serpent and bit all baby stars to die. The carcasses of baby stars became the form of little stars and being washed ashore on the beach of Agarimisaki (Old name: Aimisyan). Eventually, they're named Star Sand.
Godess of Agarimisaki thought these carcasses of baby stars were so pity, so she decided to bring them back to the heaven by putting them into the incense burner so they can rise up to the sky together with the smoke of the burned incense.
That's why there are many baby stars shining near the mother stars from south.
In Taketomi Island, the star sand will be put into the incense burner from the praying place every year.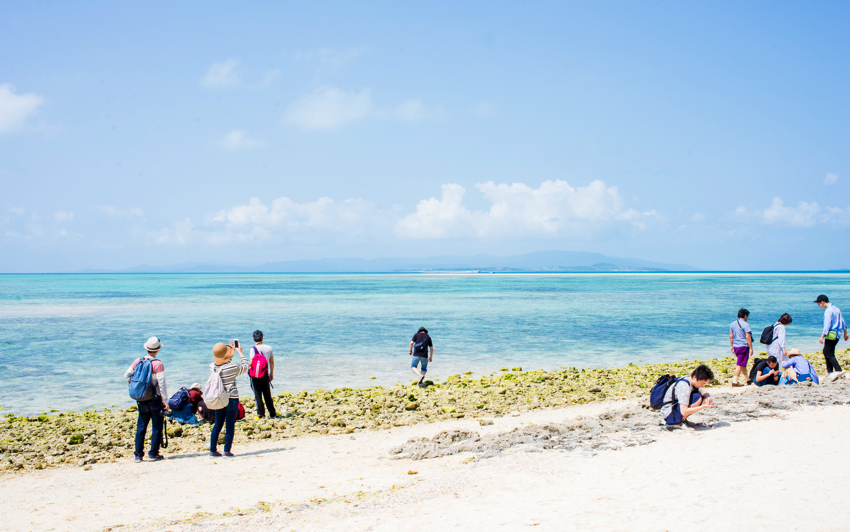 →You'll get a lot of star sand by grabbing the sand in hand.♪
I know it's such unromantic but the star sand is actually the shell of insects with calcareous shell after they die.
However, don't you feel the legend is more suitable for the star sand rather than the insects' shell?
You can also ride on swings made by fathers of cute local kids☆
See more on Instagram~☆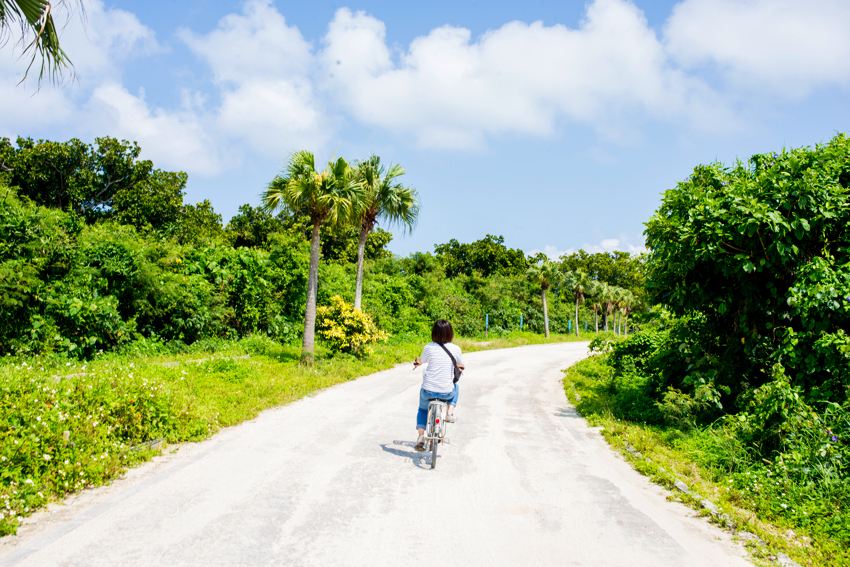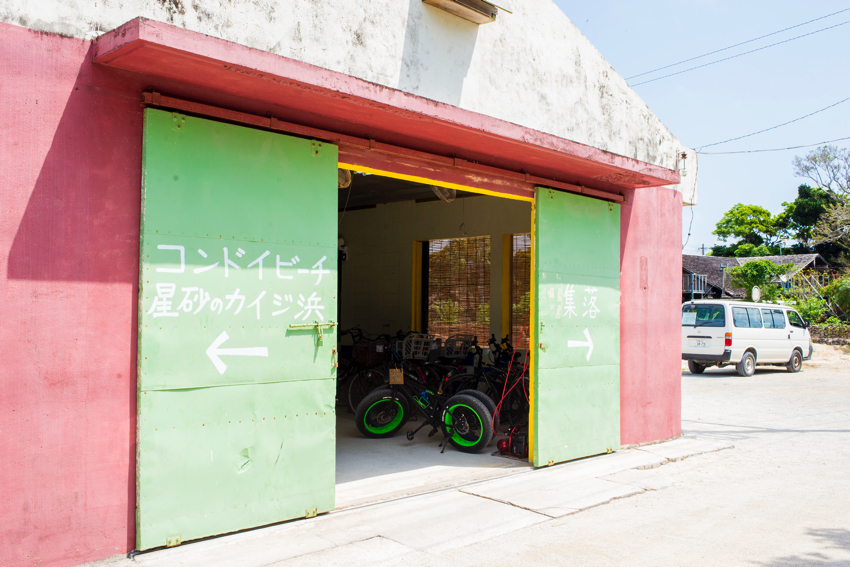 Finally
This time I had great fun with the sea rather than the streets of Taketomi Island , and everything on this island is so beautiful which makes me doubt should I end this article here because there are still many stunning things haven't being put on Okinawa Holiday Hackers. 
Roads here are well paved so even as a poor bicycle rider, I had a good time cycling here!
But there are many valuable buildings here so it's better ride safely.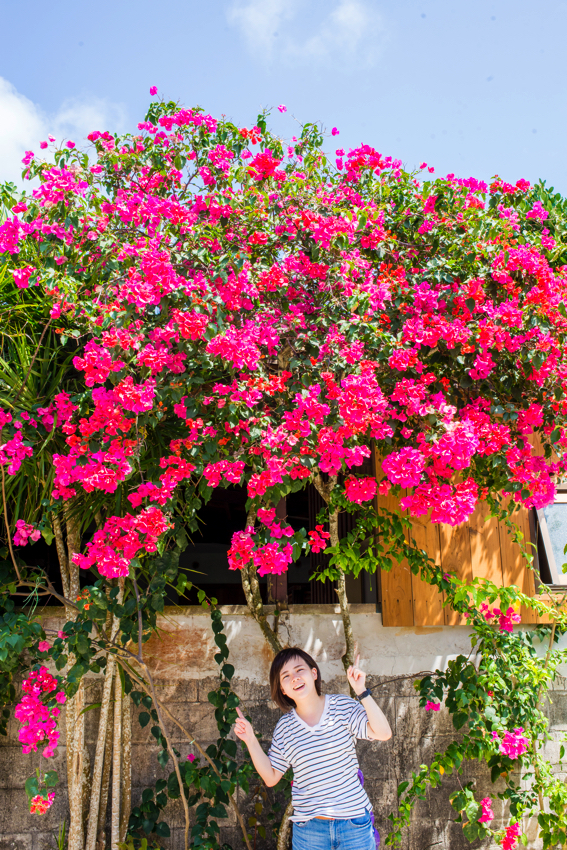 Just as I had a life changing moment here, everyone will definitely have something changed here while cycling with beautiful scenery and the power of wind and have daily exercise shortage solved   (*゚∀゚)
Really want to keep here as a secret island…
\ Okinawa Holiday Hackers Editorial Department,SNS ARE UPDATING /
COME&CHECK our SNS for more new articles♪If you like us, please click LIKE♡