Hello! This is Maeshiro from Okinawa Holiday Hackers!
It's hot in Okinawa~
Although it is still March, you can feel the sign of summer because of the hot and humid weather.
The air conditioner becomes indispensable when riding on the car.
『In such hot summer, isn't it sounds great to jump into the ocean???』
 ・
 ・
 ・
 ・
 ・
 ・
 ・
That's why Okinawa Likes and I visit Town Motobu where is located in the northern part of Okinawa to enjoy the ocean.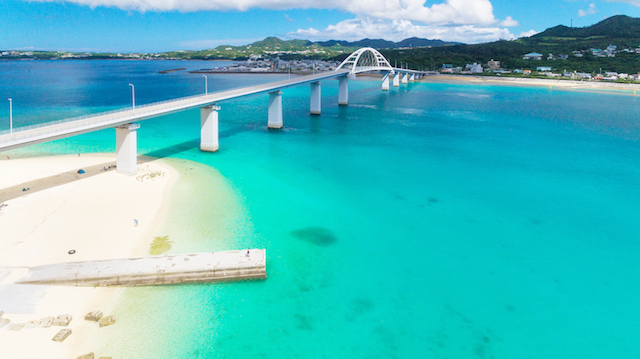 We introduced Town Motobu in another article『Special Picks of 4 Spectacular Beaches♪ The true appeals of Okinawa where you should not miss! 』before. There are many beautiful beaches including "Anchi Beach" in this town. 
In addition to beaches, there are Okinawa soba shops, nice cafe, and popular attractions such as Okinawa Churaumi Aquarium here in Town Motobu. 
Before going to the ocean where is just in front of us, we decided to go to another place first.
We went to "Fruit Cafe Matsuda Shop" for a break.
WOW! It is definitely a must-go place for viewing the amazing scenery with its best location that is right in front of Sesoko Bridge. My desert time's coming.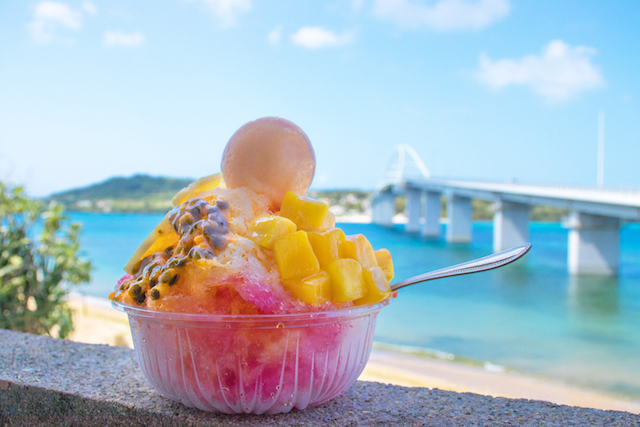 I would like to recommend "Ie Island's Tattyu Mountain" (A name of a dessert) to you guys.
This mysterious dessert is a shaved ice with the topping of strawberry syrup and plenty of Okinawa local fruits which seems to brim over with the bowl. Moreover, there is a scoop of ice cream with pink color and grapefruit flavor on the top♪
The texture of the fruits and the acidity of the ice match so well! It's healing to enjoy the cool shaved ice while watching the beautiful beach of SesokoBlue.
…After that, we are going to move to our real destination!
・
・
・
・
It takes about 2 minutes by car from Fruit Cafe Matsuda Shop to reach our destination『Gorilla Chop』!!!
Because here is one of the famous diving & snorkeling spots in Okinawa main island, so I think there are many people who has been here before.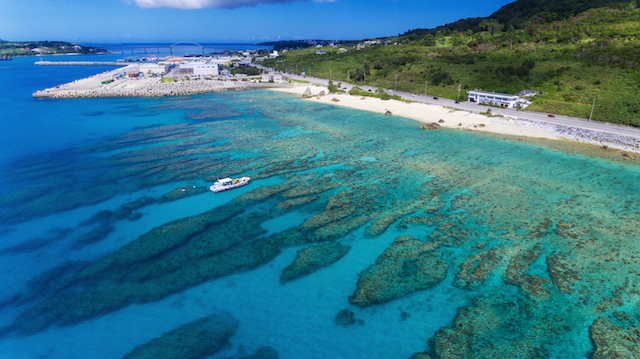 You'll find out the answer why here is so famous from seeing it from the sky. As you can see in the picture, there are large coral reefs exist.
Before moving on, do you know why we call here『Gorilla Chop』? How does it gain this name????
I know many of you must feel curious about this question, so let me interpret for you!.
There is a distinctive rock which looks like a gorilla chopping on the beach, so that's why we call here『Gorilla Chop』. 
※This is the rock called Gorilla Chop▼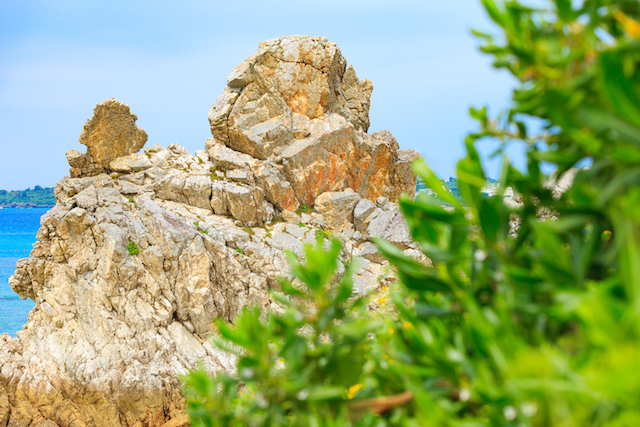 (How is it? Can you see it? … The gorillas is chopping)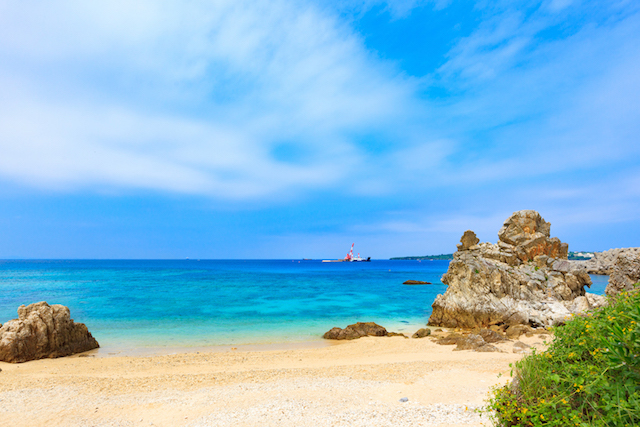 Of course you can enjoy Diving&snorkeling here.
But I want to play with the healing fish elegantly without swimming by myself……
To answer this willful request, we visit here to experience "Underwater SEA WALK." I personally recommend here for doing sea walk.
・There is a helmet especially for breathing in the water, so it's easy to breath under the water. 
・It's no need to know any techniques of swimming skills such as submergence or breathing tech.
・You can enjoy watching the fish in a really short distance.
Doesn't it sound great? I can't wait sharing my experience of sea walking to you guys!
We came to a shop near Motobukou called 『Sesoko Beach Marine Club Motobukou Shop』to experience underwater sea walk.
It takes about 1 minute by car from Gorilla Chop to this marine activity shop. In addition to underwater sea walk, there are many marine activities you can try here such as snorkelling, and so on.
Today's temperature is 23℃.
Although you'll get a little bit sweaty when standing under the sun due to the strong sunshine, according to the staff, the water of the ocean is still cold though it's so hot on the ground because of March. 
『Are you serious? In this scorching hot day?!』We put on the thick wetsuit which is for winter reluctantly.
Let's go!(Later, we will appreciate the thick wetsuit. )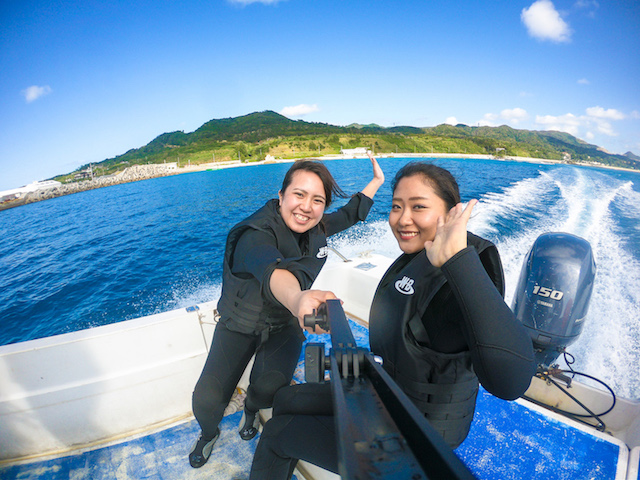 Within 5 minutes after boarding, we arrived at the spot of sea walking!!
This is the place where we are going to do sea walking today. Before diving into the ocean, we have already fascinated by the beauty of it.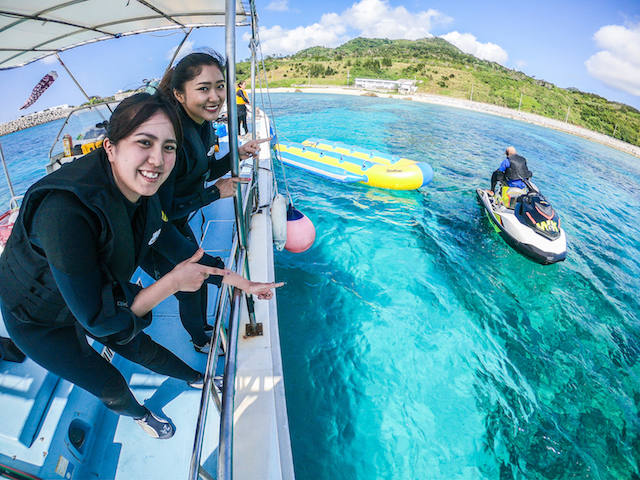 It's stunning to watch the beautiful ocean from the beach. Moreover, it's also exceptional to look into the blue and clear ocean from the boat!!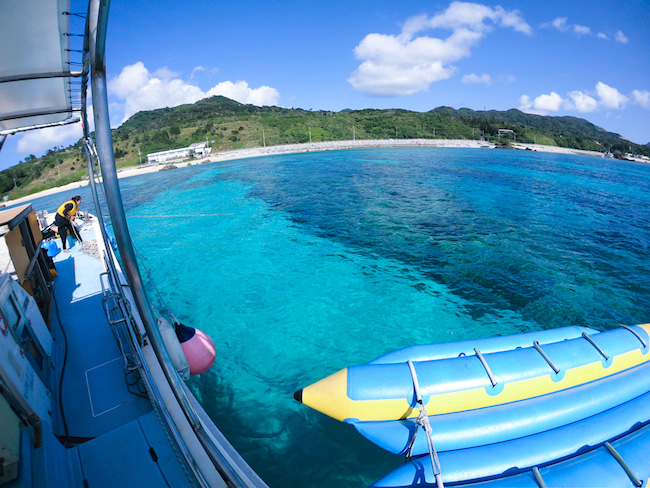 After hearing the guidance from the guide sufficiently, we move into the ocean.
Ugh…It's so cold! The water from the ocean it's chill!!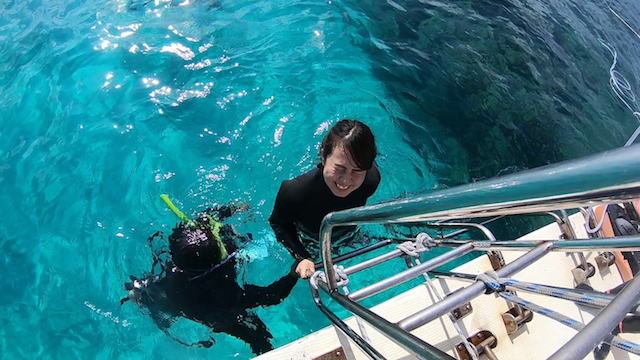 Before entering the ocean, it's really hot and sweaty, but it's cold inside the ocean in March!!! Fortunately we wore wetsuit. 
A Mysterious Experience to Breathe in the Water
We wear a special helmet to walk into the sea. There's plenty of oxygen being sent to the helmet by the tube which is connected from the ship. Thus, the helmet is always filled with oxygen. We breath in the sea just as how we usually do on land.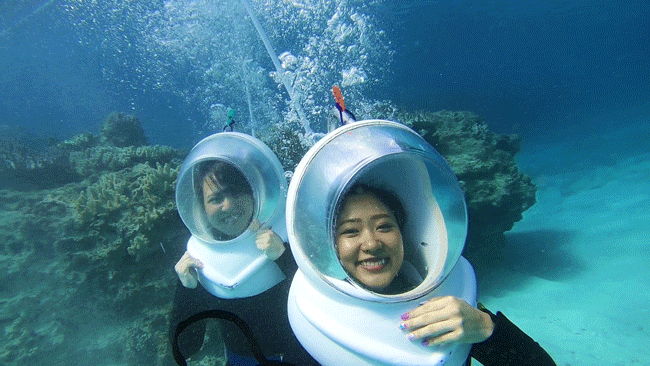 When we get down into the sea,
『We breath in the sea as what we do normally!』
We feel touched for a while.
※The combination of wetsuit and oxygen helmet is a little bit like an astronaut, but please ignore it.
You can also bring your own swimming suit when the temperature goes up to enjoy the marine activity, so ladies can rest assured♪ 
Although you need to pop your ear while going down from  the ladder, the staff will take care of everyone even in the ocean, so please don't worry if you can't do it well. 
In addition, at the Soseka Beach Marine Club, it is OK to bring cameras that can be used underwater, such as GoPro. It is great to be able to take pictures and videos even in the ocean in Okinawa for memorial.
(※Please kindly note that bring-in waterproof camera is personal responsibility. Make sure to check before joining the activity!)
By the way, disposable waterproof camera with water resistant deep to 10m, available for 24 pieces, is also on sale in the shop. 
Program flow
・Enable to relief the ear pressure
・Touch the living creature
・Baiting the fish
・Having fun around the beach
It is exactly like living in the fish tank of the aquarium.
Finally, it comes to the time of touching the living creature after my ear gets used to the pressure undersea. 
The qualified experienced guard guided me to touch the safe creature .
The cute starfish♪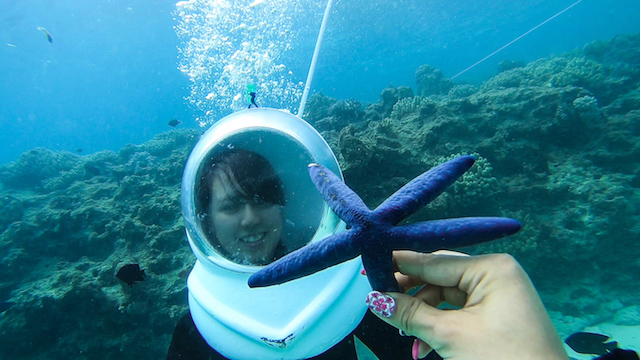 Then it came to the sea cucumber!!
It totally freaked me out. I gave it to the Okinawa Likes staff without second thought. LOL.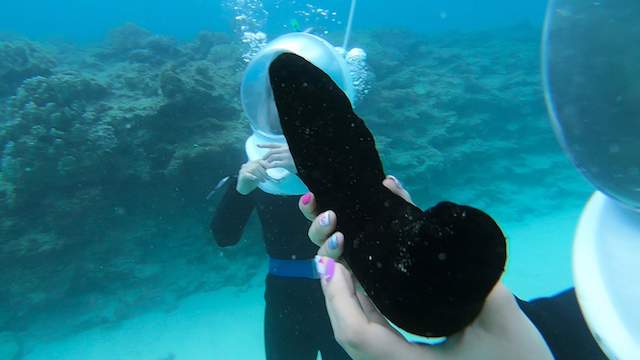 After all the laughs and screams by the starfish and sea cucumber, it came to the baiting time♪
I heard that baiting needed some tricks. Luckily, the staff told us immediately.
Wow!! I had no idea it could be that close to see the fish. It looked exactly like I was dipping into the tank of the aquarium. 
Seeing is believing.Check the GIF as below.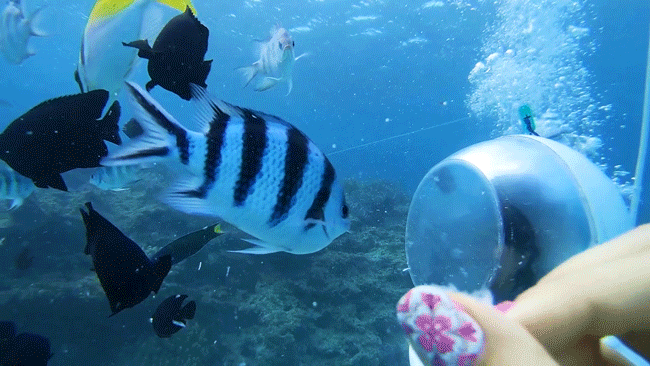 We were served with a cup of hot tea before going home.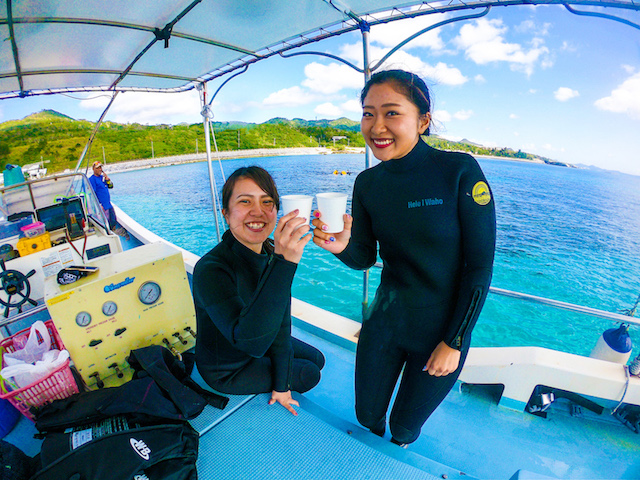 Summary
It was at the beginning of March when I participated the excursion. It was a little bit chill in the that moment. I have to say it must be a perfect choice in this summer!
I have to say underwater sea walk is an easy activity beyond your imagination!
If you wish to swim back and forth in the vase ocean, we recommend snorkel or diving for you. 
However, if you are not good at swimming and expecting to have fun in the water, we would say sea walk is the best choice for you♪
(※Attention:
The one who is not good at reliving the ear pressure is not recommended to participate the sea walk excursion. )
Moreover, a convenient access is a merit for the marine activity. And also, there are some other attractions such as Gorira Chop around here.That's why we strongly recommend Sesoko Beach Marine Club!
So come and enjoy the feel the intense pleasure of sea walk. It may be a whole new experience for you ♪
Shop information
Shop
Sesoko Beach Marine Club
Office Hour
8:00~20:00、Always Open
Parking Lot
✔(Free)
Operation
9:00~16:00( 9:00~15:00 every hour from Nov. to Feb.) ※Available to reserve before 00:00
Booking Website
RESERVE NOW
Address
〒905-0225沖縄県国頭郡本部町崎本部4755−1
Remark

GoPro or other waterproof camera is available to bring.

※Mare sure your camera is with water pressure resistant.

disposable waterproof camera with water resistant deep to 10m, available for 24 pieces, is also on sale in the shop.