Hello, everyone~! It's Goma from Okinawa Holiday Hackers ♪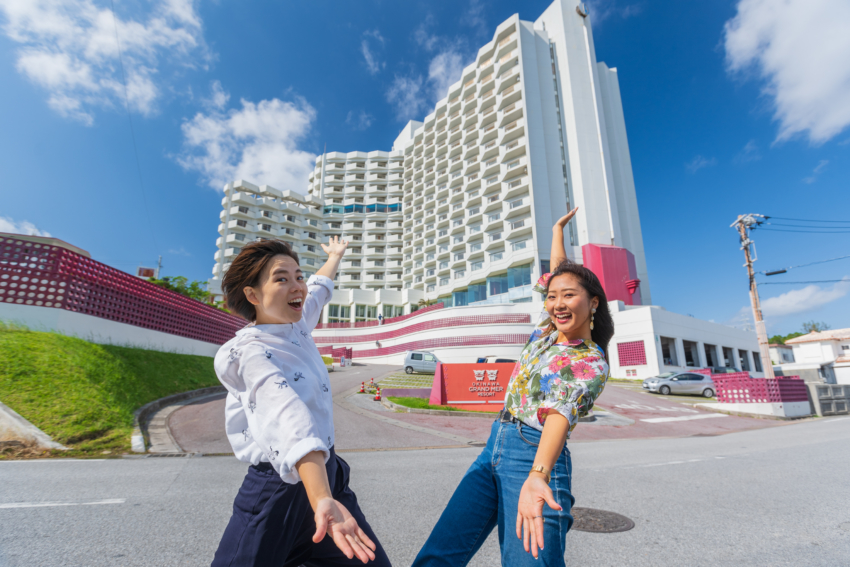 This time, for [Hotel Tour Vol.8], we went to Okinawa Grand Mer Resort, a resort hotel located up high in central Okinawa together with Okinawa Likes (/・ω・)/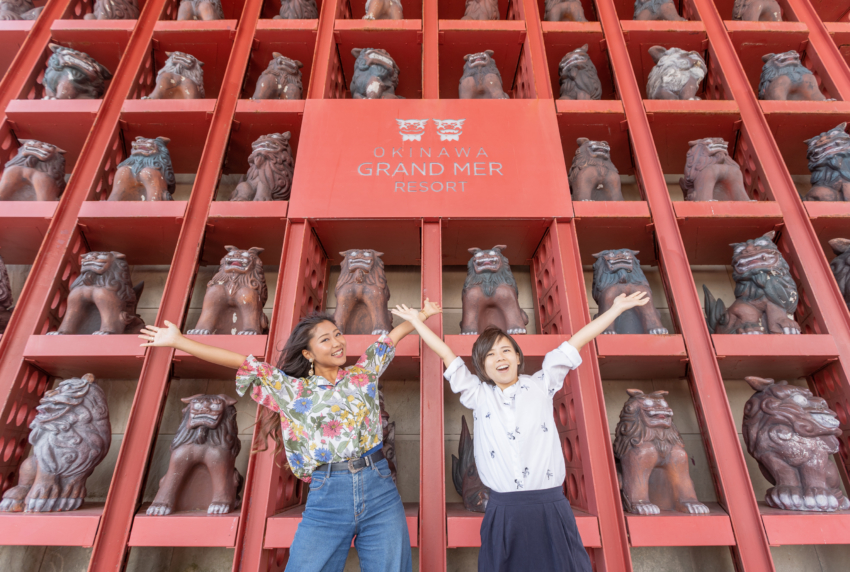 At the entrance there were soooo many shisa Okinawan lion statues greeting us ☆
We started off with the usual buffet♪
A popular buffet among local residents in the prefecture, too
At Okinawa Grand Mer Resort, you have a full view of Okinawa City from a large window, so you can enjoy a different view from the ocean one you might normally get in Okinawa while you enjoy your food♪
You'll find a welcoming selection of food from Japanese and Chinese to western all on offer ٩( "ω" )و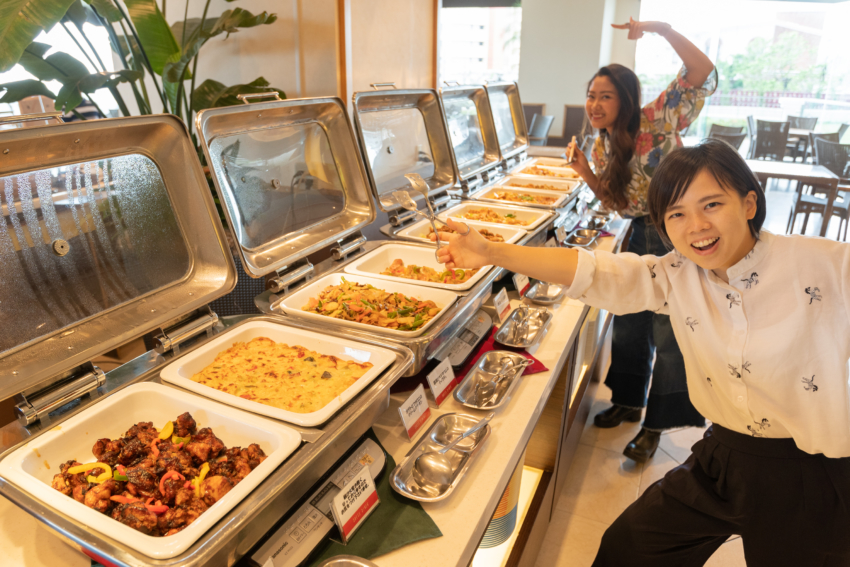 It makes your mouth water just looking at the stews and soups on offer (; ・`д・´)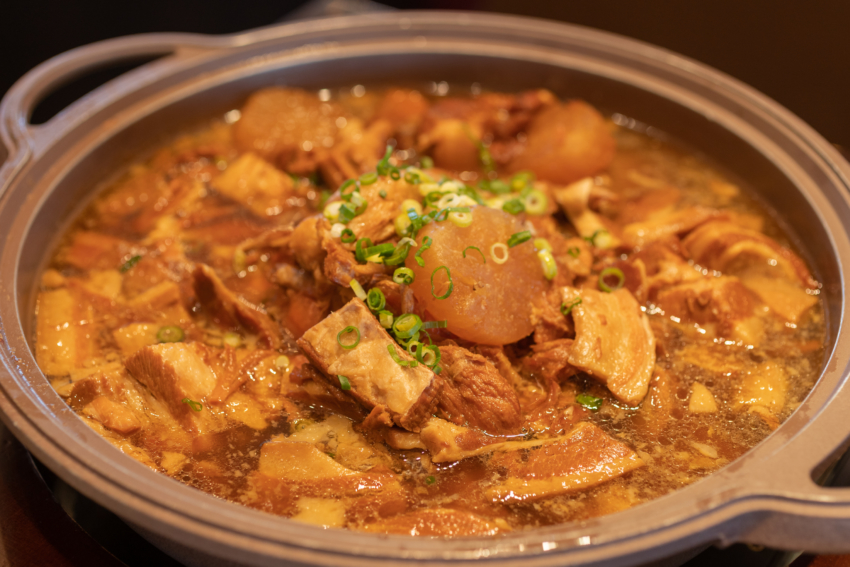 There was even Okinawan soba noodle area, which are made using by draining all the hot water!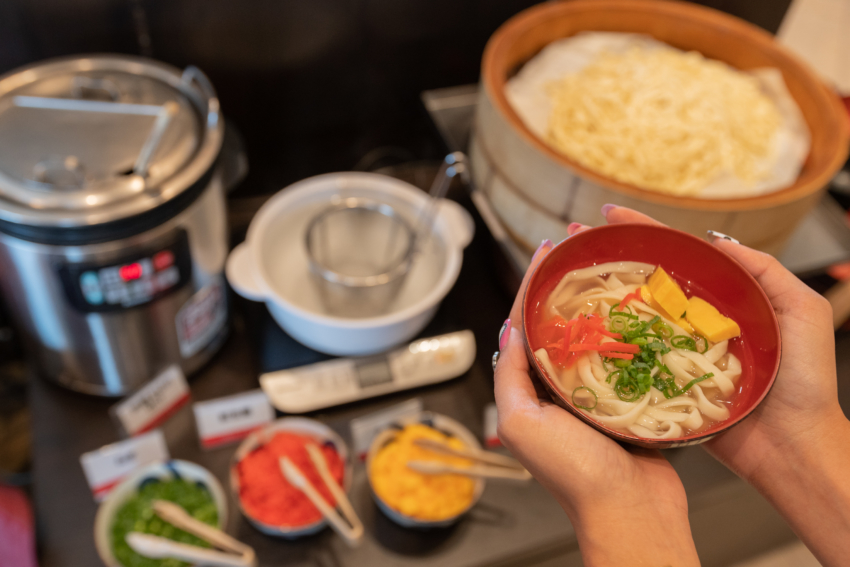 The tables are set at a low height, just right for children to enjoy, too ★
We also found a handmade kaisendon (rice topped with raw fish) area, a first at a hotel buffet for us!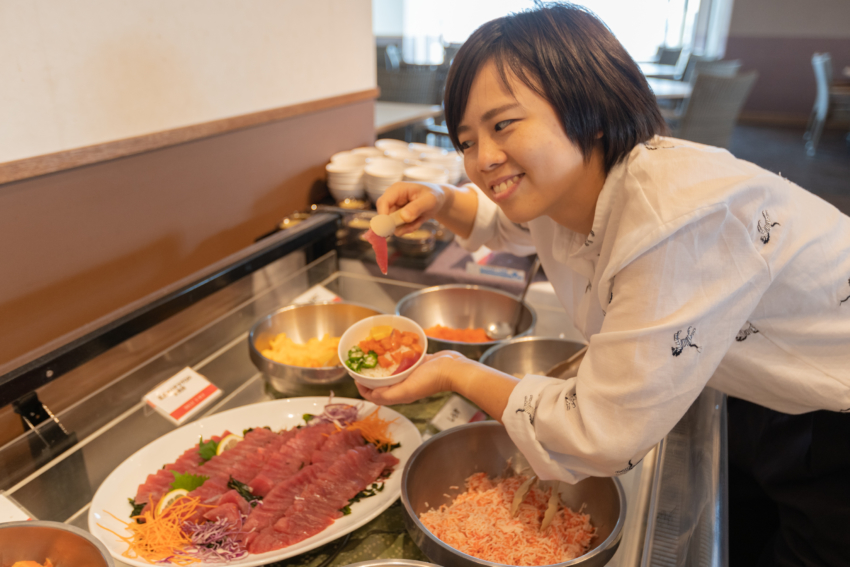 And, of course, there were a variety of desserts on offer, including mousse, bavarois, and fruit, too!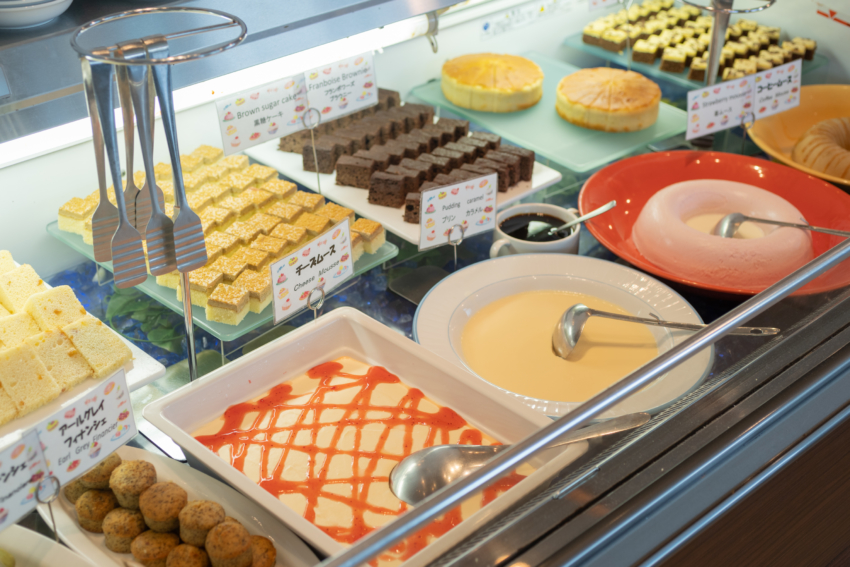 We greedily put on more bit by bit (´艸`*)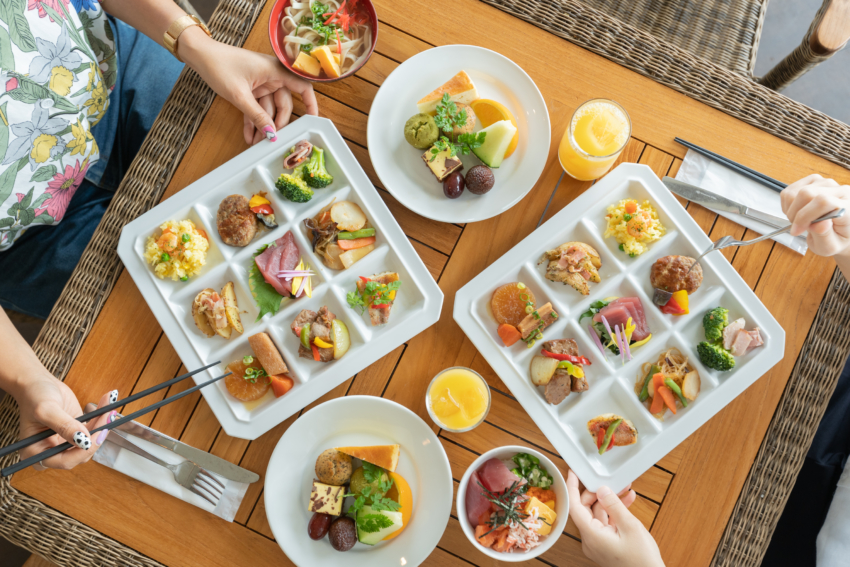 A sweets room with a large dining room-cum-kitchen
We stayed in suite B, which allows up to four people to stay overnight!
Inside the room you'll find a spacious dining room-cum-kitchen and living room, too ♪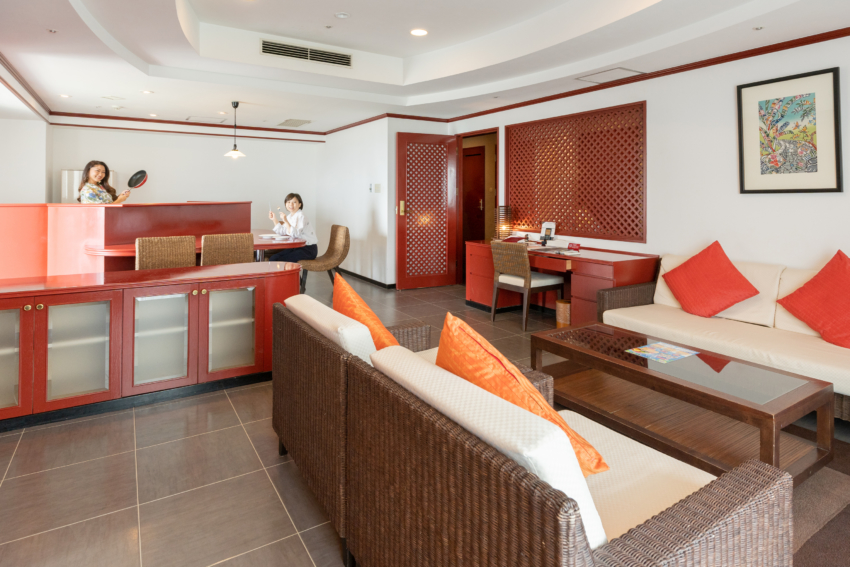 You can also relax and lay down in the bedroom, which is detatched from the living room!
You can show off your skills in the dining room-cum-kitchen, too!
It's made exactly as you'd picture a suite room (*'▽')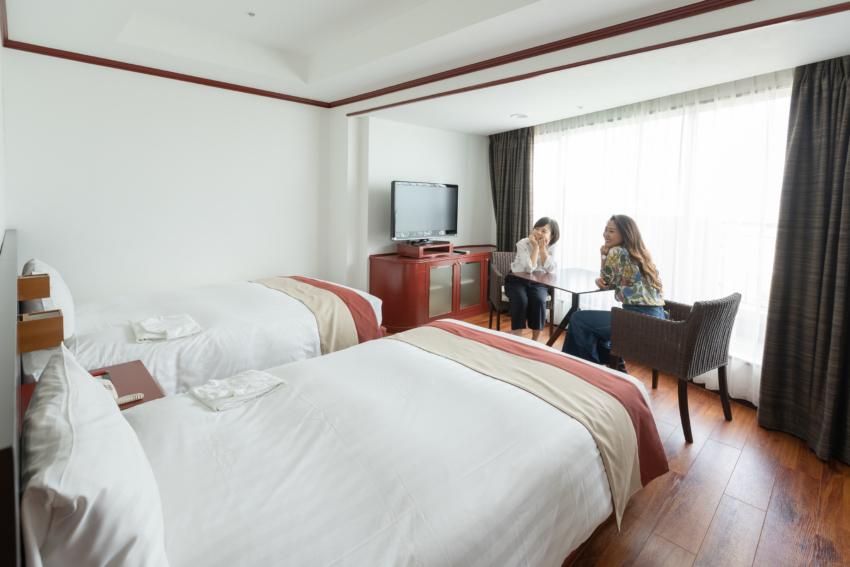 There are lots of other types of rooms as well as suite B!
Japanese-style room
Photo: Okinawa Grand Mer Resort
Superior room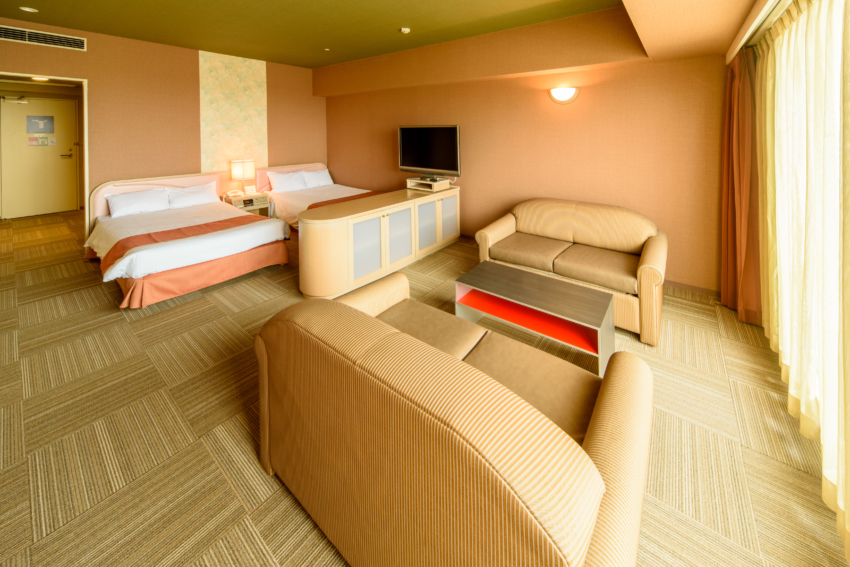 Photo: Okinawa Grand Mer Resort
▼Have a look at the other kinds of rooms here!
You can enjoy the delivery service menu from the comfort of your room
AND Okinawa Grand Mer Resort's delivery service has so many options!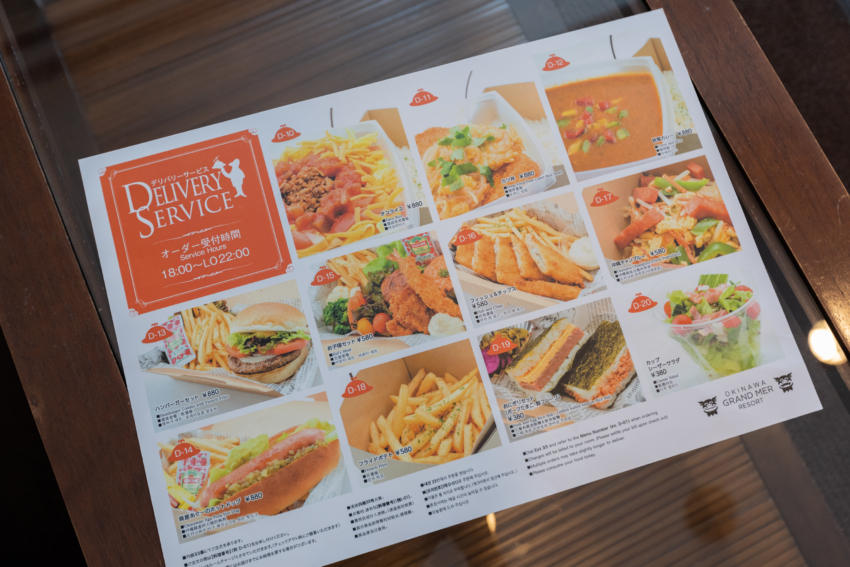 We chose to try the top 3 popular items on the menu from their great choice of 20 ♪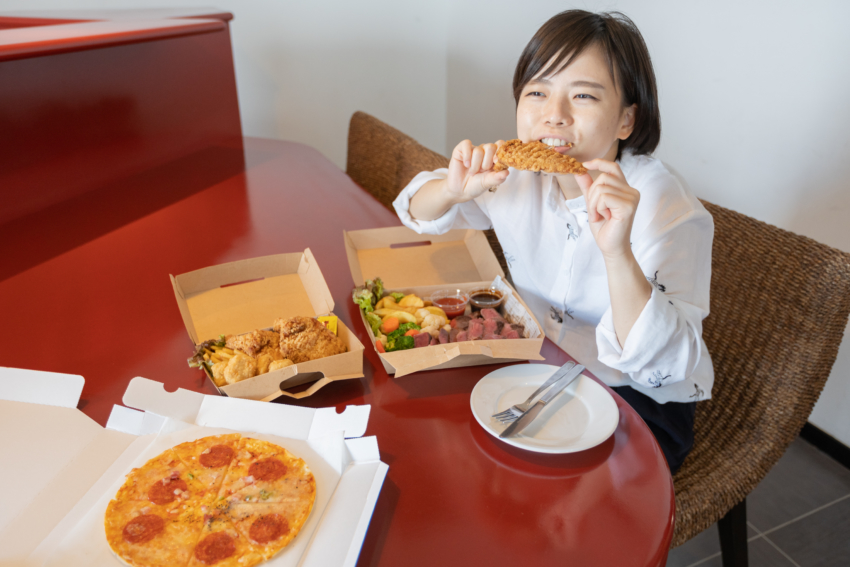 In order of popularity from where I was sitting
Mega steak (roast garlic sauce, salsa sauce)

French fries and chicken nuggets

Mixed topping pizza
And the taste… was delicious way beyond what you'd expect for a delivery☆
Everything on the delivery menu is made here on the 10th floor at the Shisa Lounge when you order, so it's all fresh, piping hot, and tasty!
It's perfect for anyone who wants to take it easy and eat in their room instead of bringing small children to a restaurant ♪
Your eyes just get drawn to the 1kg hamburger and 40cm hot dog!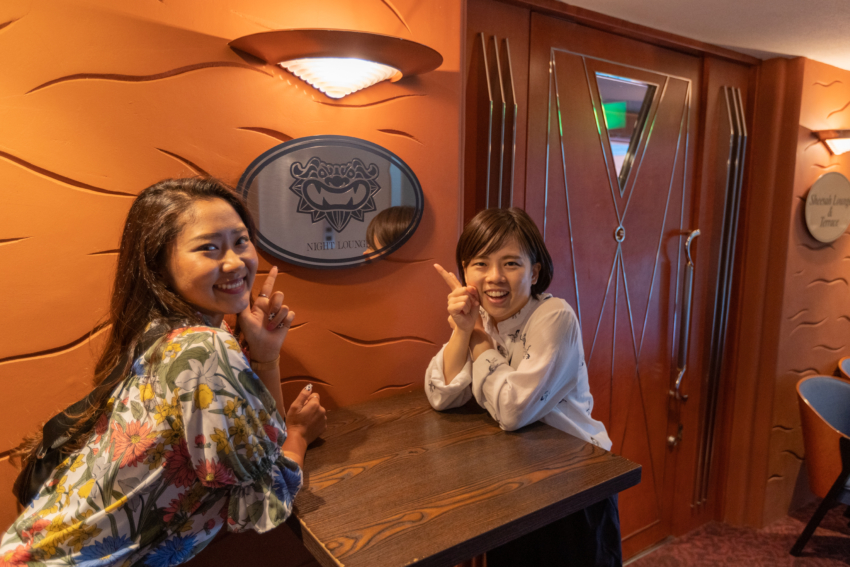 If you feel like a little more than just a delivery
We recommend the special menu which you can only order from here on the 10th floor at the Shisa Lounge (17:00-24:30, L.O. 24:00) ♪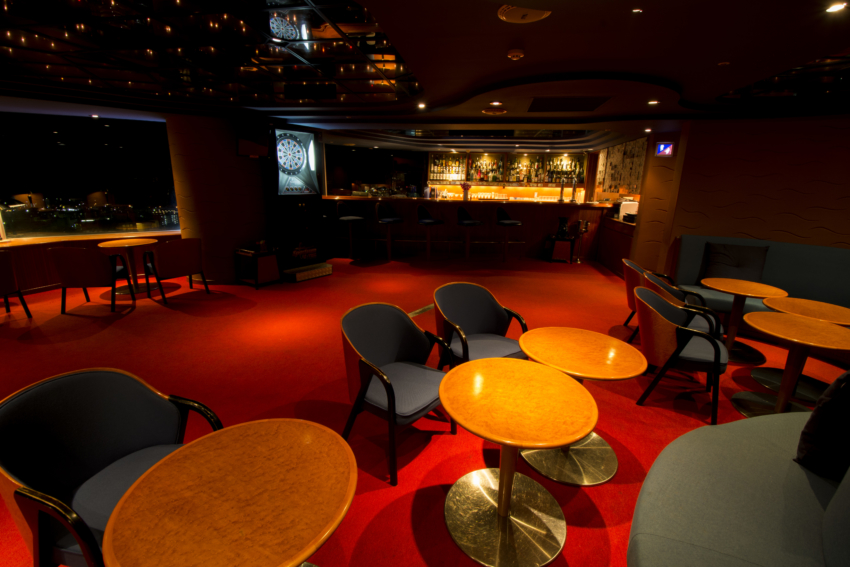 Photo: Okinawa Grand Mer Resort
Tada! What do you think?!
It's incredible, draws you in, and just keeps you glued (=゚ω゚)ノ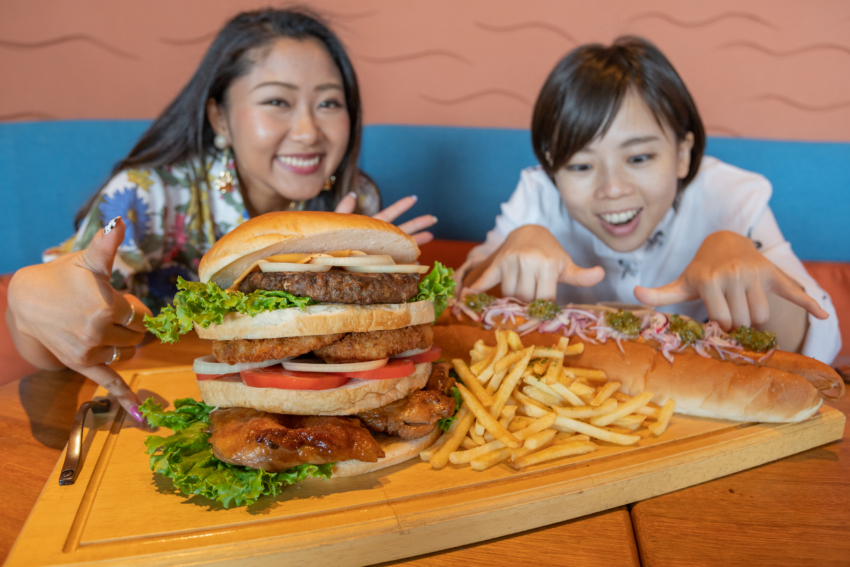 3 patty mega burger and super long hot dog
There are 3 kinds of burgers patties inside this 1kg burger (hamburger, pork cutlet, and teriyaki chicken) and the 40cm hot dog is just humongous!
It's a mystery where they managed to find a sausage so big (´゚д゚`)
Please give it a try when you visit Okinawa Grand Mer Resort ♪
It was an incredible last photo for our [Hotel Tour Vol.8], but what did you think of Okinawa Grand Mer Resort?
It will be great to enjoy this resort hotel that's big for both it's rooms and food and gives you a different take on Okinawa☆
▼Make a resevation from here!