Hello! 
This is editorial staff of "Okinawa Holiday Hackers"!
In everyday life I am a female university student of University of the Ryukyus in Okinawa prefecture. It is my first experience of writing an article so I am nervous…!
Using the opportunity of entering the university I started my live on Okinawa, but only recently I get accustomed to a lifestyle when I am using a car everyday. A car is necessary wherever I go and even it takes only 5 minutes on foot to get to the university I accidentally drive a car! 🙂
---
So this time such person as me will introduce… a drive course to a remote island that can be reached by car.
---
Speaking of traveling Okinawa, the main way of transportation definitely will be a car.
So I investigated a popular "Mid-Sea Road" as a drive course perfect for persons who want to see beautiful see while driving!
Mid-Sea Road? What does "road in the sea" mean? If you have such questions this is for you!
▼ What is Mid-Sea Road…
This is a 4.75 km long marine road which conencts Okinawa Island and Henza Island and situated on the eastern shore in the central area of Okinawa Island.
4 remote islands (Hamahiga, Henza, Miyagi and Ikei islands) and Okinawa Island are connected via this Mid-Sea Road.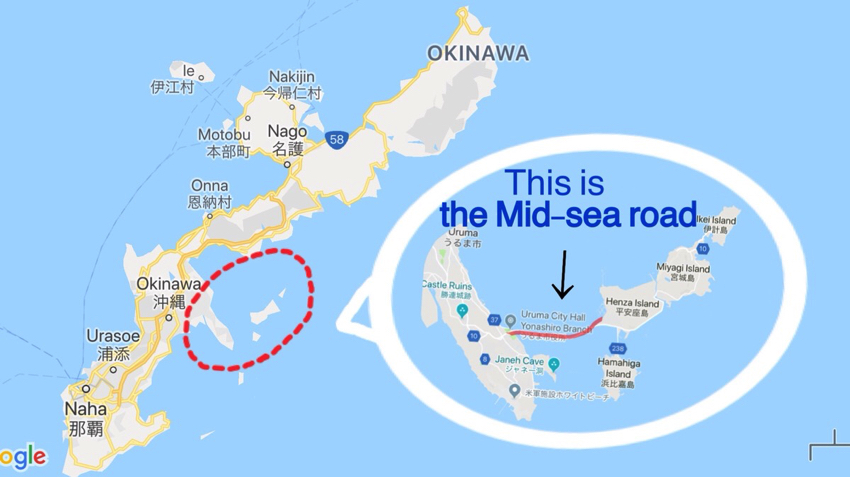 This time I focused on Miyagi Island among these 4 ones!
---
And speaking of a companion during Okinawa travel it is OTS Rent-a-car!
\ I will travel using OTS Rent-a-car  /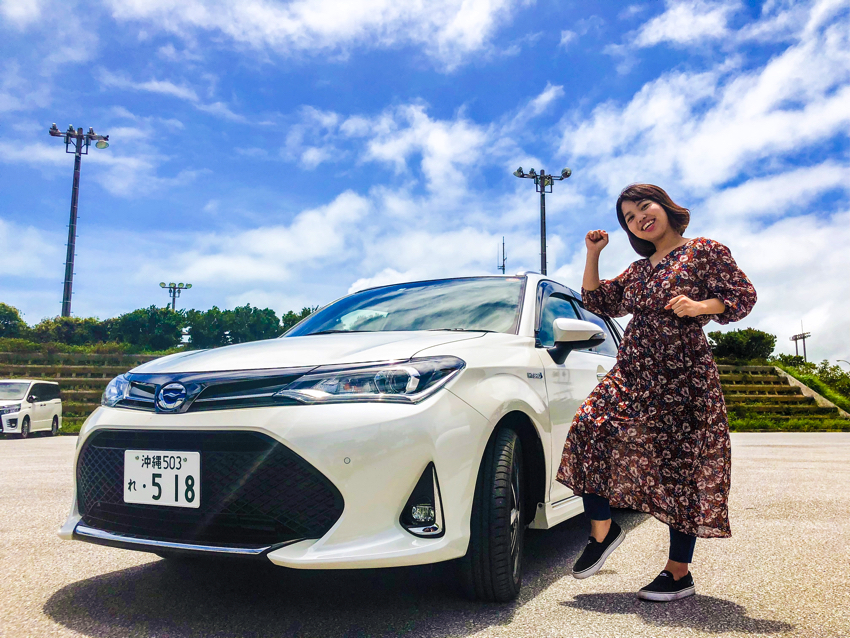 ▼ OTS Rent-a-car reservations are here!
This time I rented Eco Hybrid HA class Toyota Corolla Fielder provided by OTS Rent-a-car!
For tasty scenery of Kafu Banta ("Kafu Cliff")!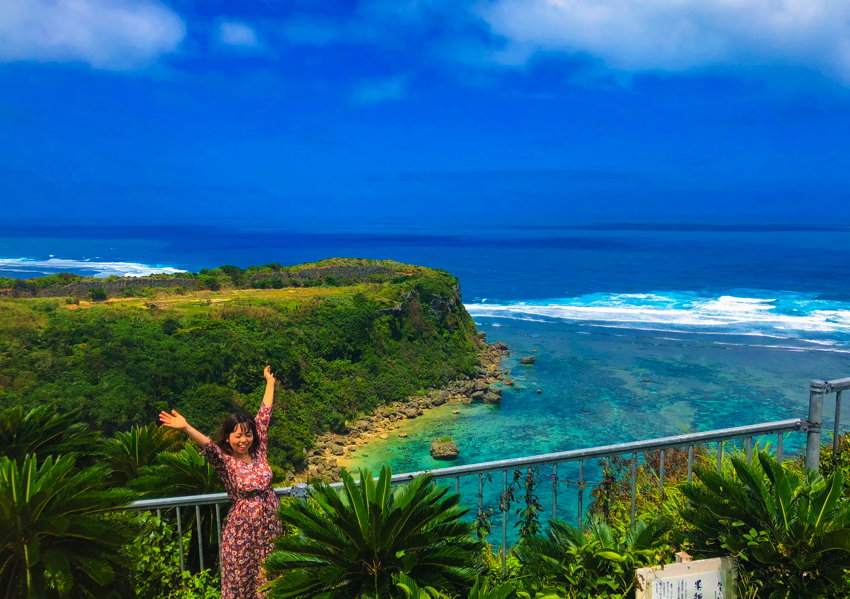 At first, let's go to Kafu Cliff on Miyagi which is the most distant island from Okinawa Island~!
About the name "Kafu Banta", "Kafu" means "good fortune" as it is in the Japanese language, and "Banta" in Okinawa dialect means "cliff" and therefore it is also known under another name of "Happy Cliff".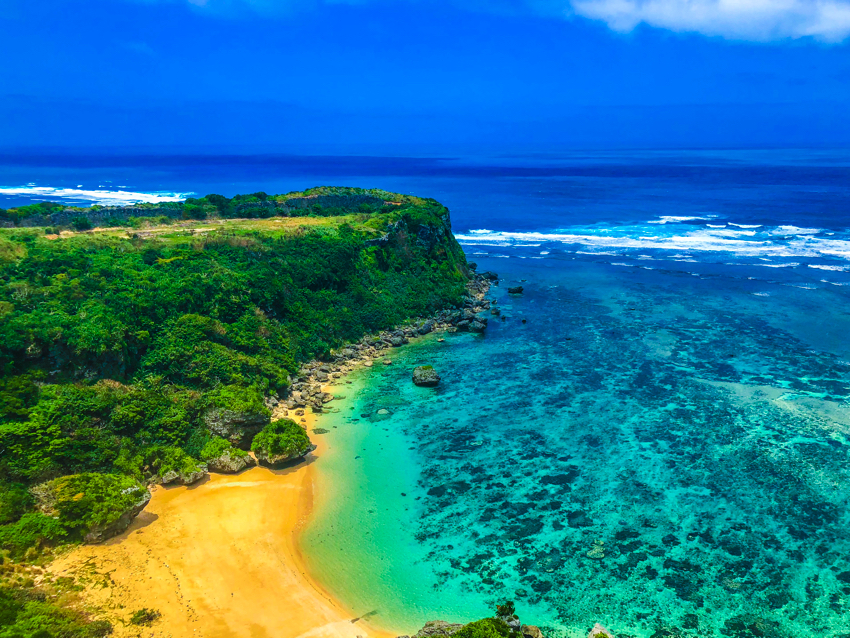 This is the highest place in the area and the scene you can observe from the cliff is really superior!
Since the name is "Happy Cliff", to spend time more and more funny I have brought a lot of happy power!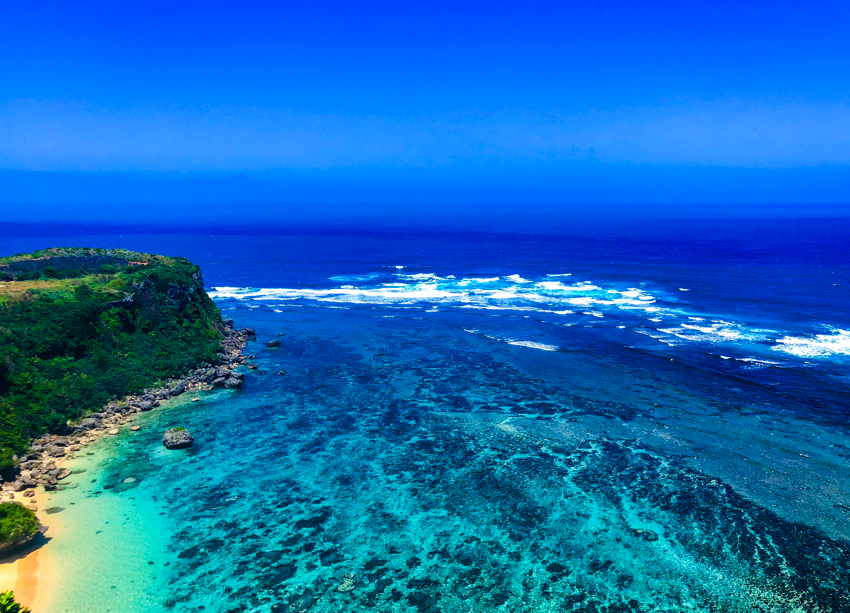 → Blue!!! No matter how many times you saw the sea of Okinawa it is so amazing so may leave you speechless!
Gradations of blue visible from the sea are very beautiful under sunlight!
If you want to take a picture, I recommend to do this at the noon when the sun is just above!
About the access, Kafu Banta is located beyond the parking lot of Nuchimasu Factory so you can get to the destination point if you go towards Nuchimasu Factory♪
I will introduce Nuchimasu Factory below.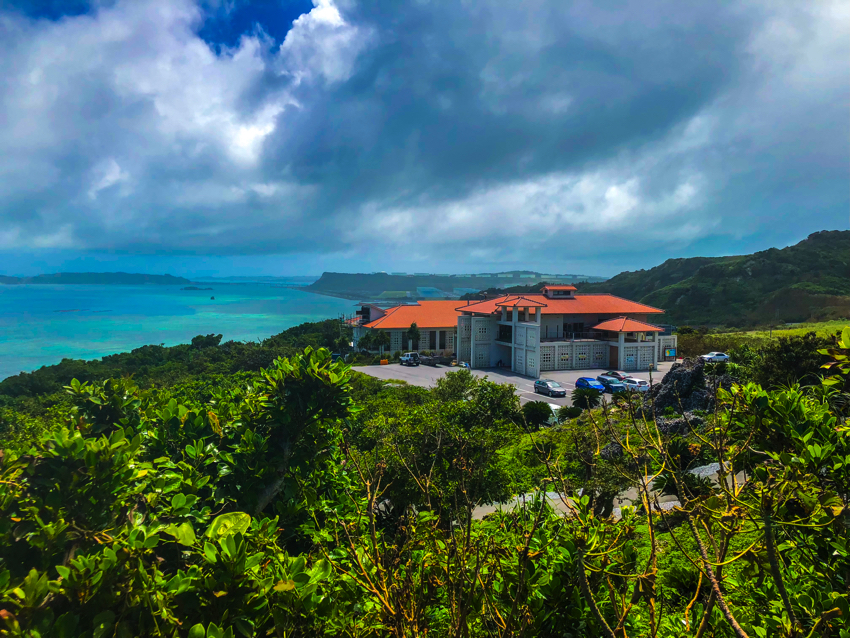 → Red tiled roofs visible from Cafu Banda is Nuchimasu Factory.
<Kafu Banta>
Business hours・regular holidays
None
Mapcode
499 674 697*47
Admission fee
None
Parking lot
Yes・No charge(40 cars)

※This is a parking area of Nuchi-una Sightseeing and Salt Factory.

Staying time
20 minutes
Address
〒904-2423

沖縄県うるま市与那城宮城2768

※This is the address of Nuchi-una Sightseeing and Salt Factory.
Snow on Okinawa?! Visit tour to salt producing Sightseeing and Salt Factory
After touching nature on Cafu Banda, let's go sightseeing to "Nuchimasu Nuchi-una Sightseeing and Salt Factory." nearby♪
If you are thinking like "What is Nuchimasu? What is Nuchi-una? What is this?", the following is for you!
▼ What is "Nuchimasu"…
This word is made from "nuchi" which means "life" in Okinawa dialect and "masu" which means "salt" and the salt made here is called "nuchimasu".
"Nuchi-una" has the meaning of "garden of life" and this word indicates the premises of this facility.
▼ Nuchimasu and regular salt, what is the difference?
Nuchimasu has 25% lower amount of salt content in comparison to regular salt, it includes abundance of potassium which is usually excreted from the body with surplus salt and this salt is also registered in Guinness World Records as a salt with the largest number of minerals in it!
It is good to intake it in food, use for skin care, and when you start to use this wonderful salt you can not stop then.
Sea water of Okinawa especially near Miyagi Island contains a lot of minerals.
Now, let's go to the excursion~!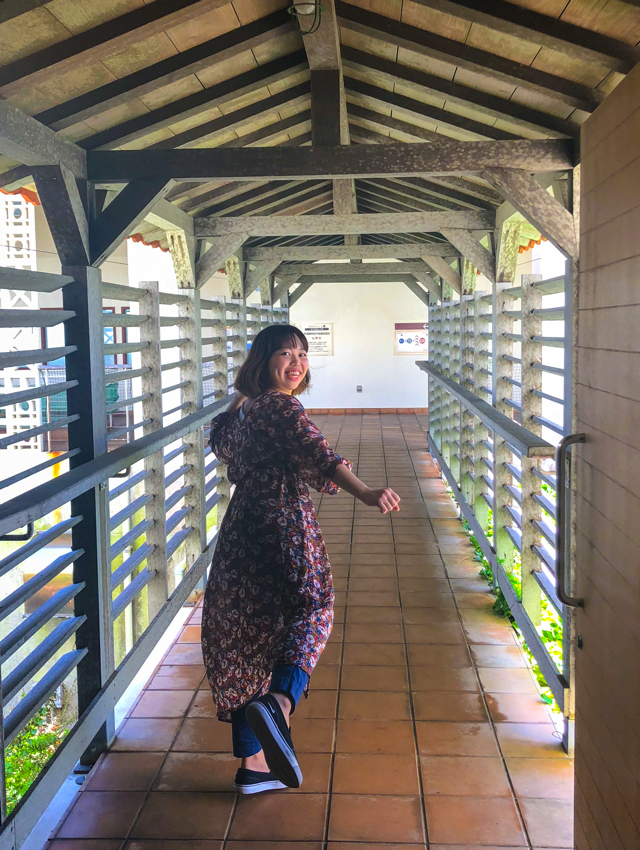 Salt is being produced inside the building and you can take see the state from the outside a little.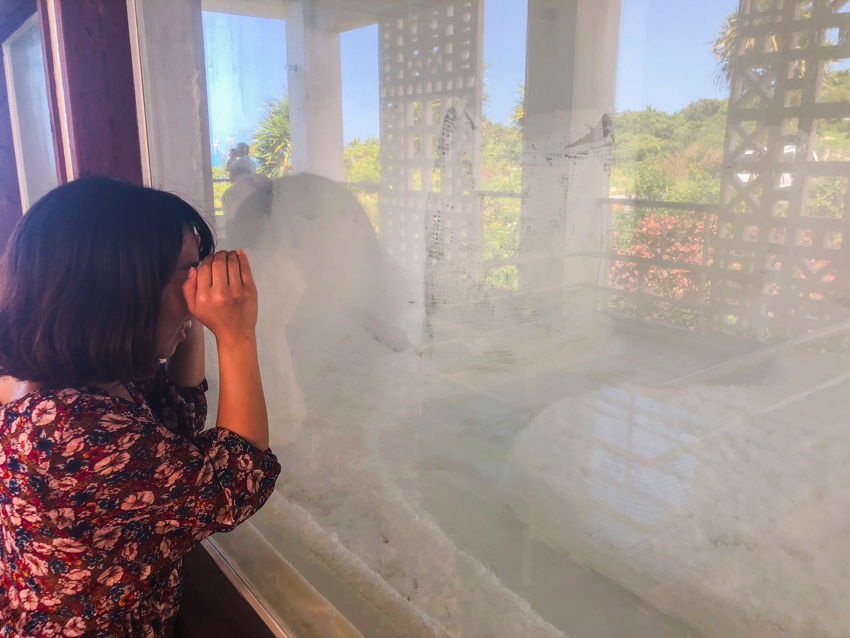 → Salt is piling up like a snow! Even "saltman" is here and it was really like a snow.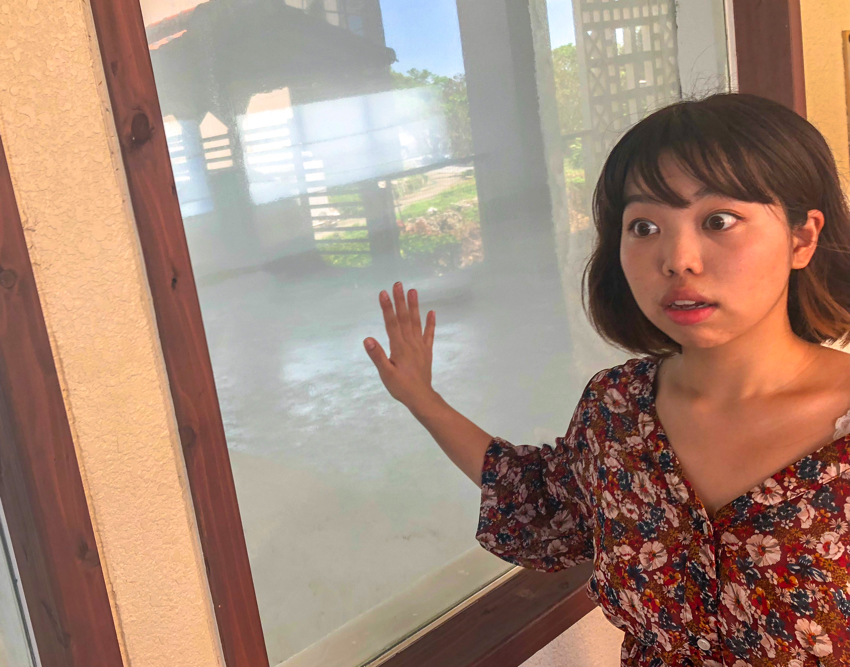 → It is me surprised by the warmness of the glass 🙂 It is warm because salt is being produced by evaporating water.
Shop and restaurant are on the 2nd floor of the building.
Short break in the restaurant "Takahanari"♪
I tried suchika set meal (with Okinawan salt pork) prepared with nuchimasu and daifuku (rice cake stuffed with sweet filling) with nuchimasu.
Let me start from suchika set meal.
Suchika is grilled pickled in salt 3 slices of pork placed on the top of Okinawa soba noodles.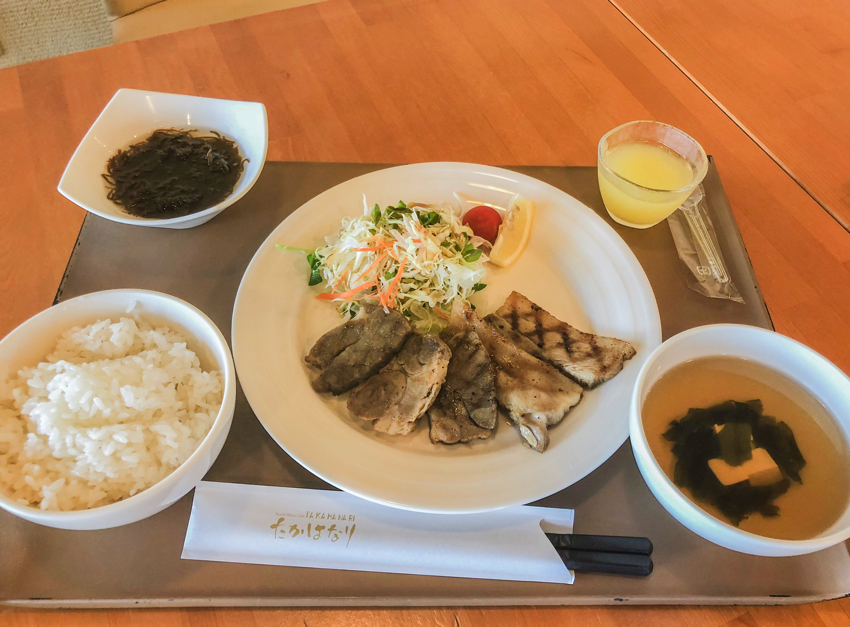 → This set meal is filled with famous products from Okinawa like mozuku seaweeds, shequasar jelly and other. Looks tasty~!
Just look at this!
I still haven't eaten it but I feel like I can eat so many of this slices!!! 🙂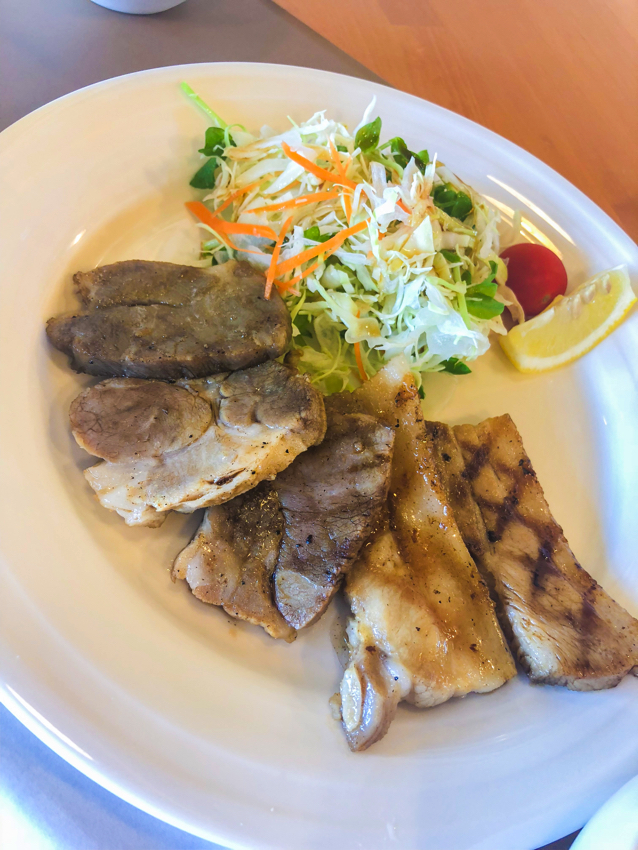 Let's eat!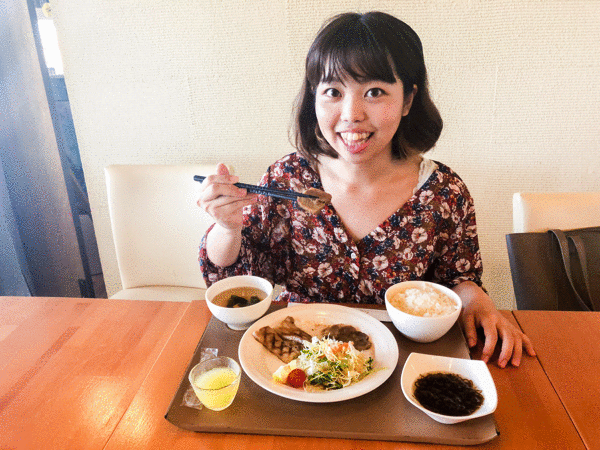 Thanks to nuchimasu pork meat has become soft and very delicious!
The next is daifuku with nuchimasu.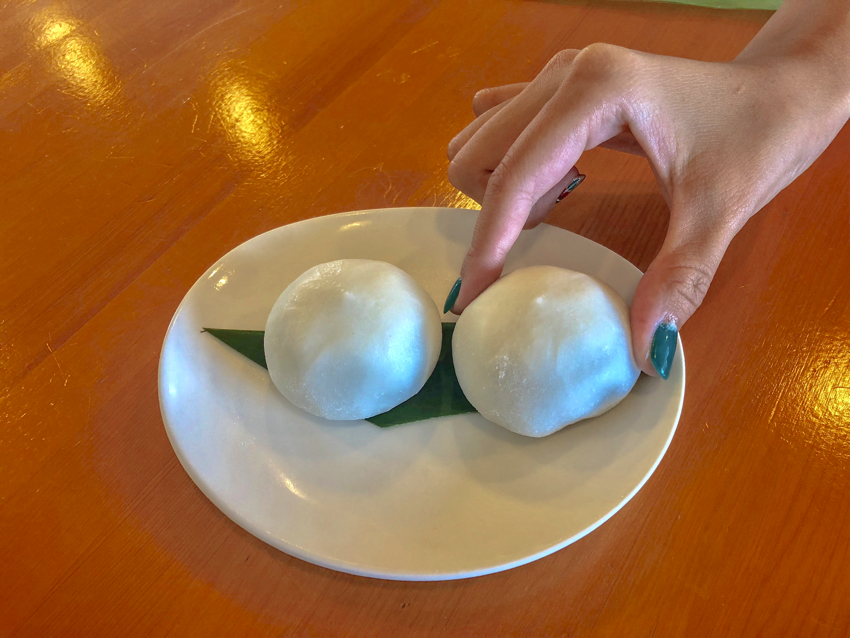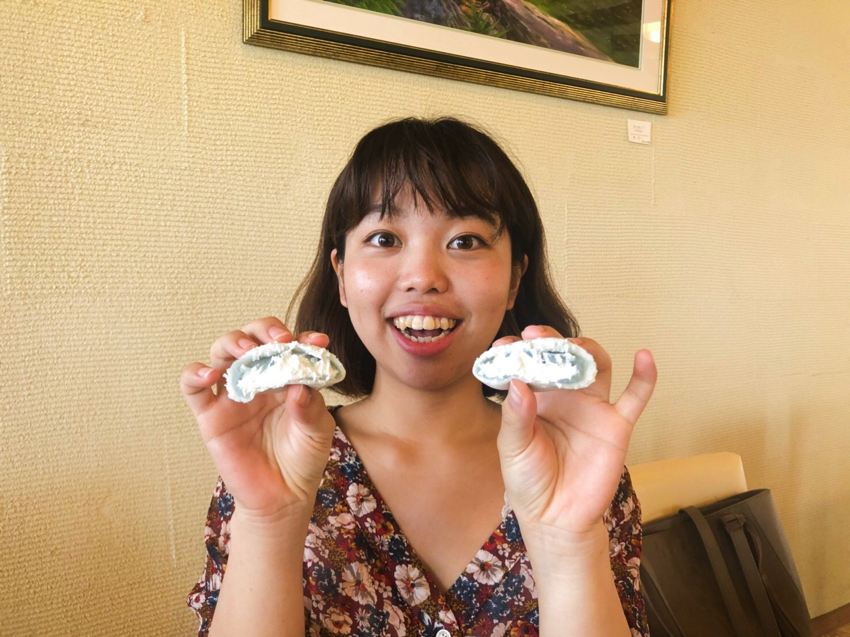 → It looks like this if you tear it. I saw blue sweet bean the first time!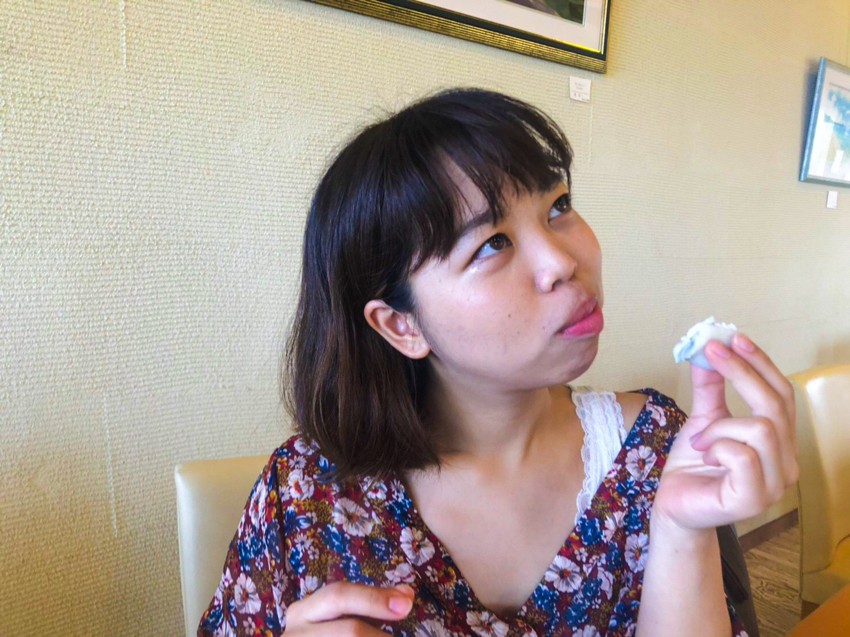 → I wonder what taste it has…??
Surprisingly!
This sweet bean filling had the taste of fizzy drink!
Faintly salty as well as chilly, cold and tasty~!
Though I live on Okinawa I have never eaten daifuku with nuchimasu. And since you can eat it only here you definitely should try the taste at least once!
<Nuchimasu Nuchi-una Sightseeing and Salt Factory>
Business hours・regular holidays
9:00~17:30
Mapcode
499 674 664*86
Admission fee
None
Parking lot
Yes・No charge(55 cars)
Staying time
1hour
Address
〒904-2423

沖縄県うるま市与那城宮城2768
Seashore disappearing in the sea…?
Do you know this beach often being discussed in SNS~?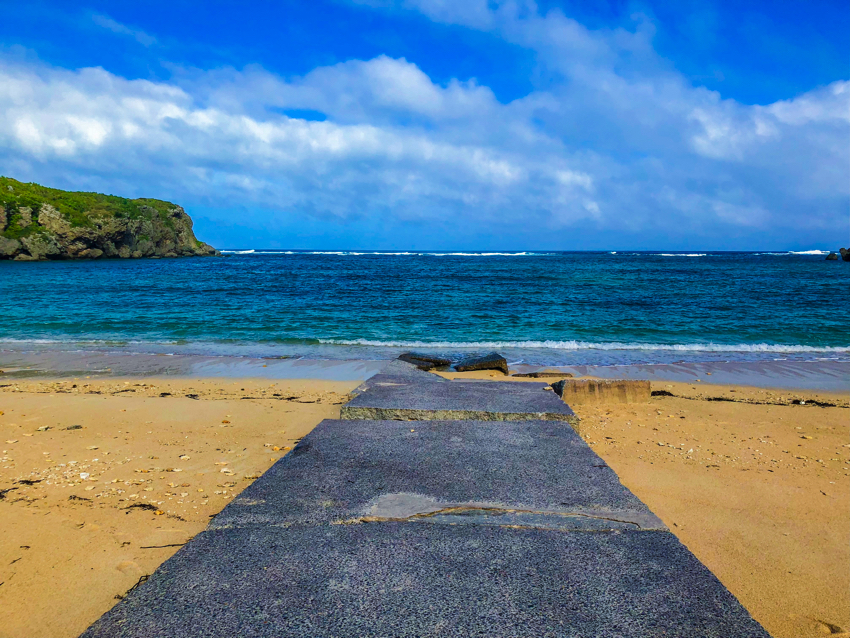 This beach is situated on Miyagi Island and the concrete road in the center advances from the shore towards sea so in this mysterious place it looks like the road continues deep into the see!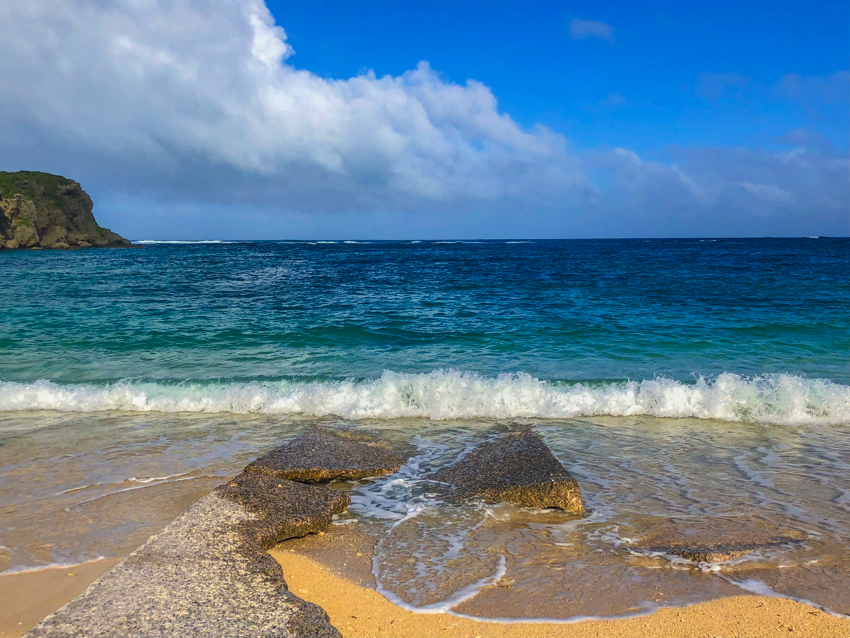 The day we collected data for this article was the day after typhoon with high waves and high tide at evening so we could not see the scene we expected but…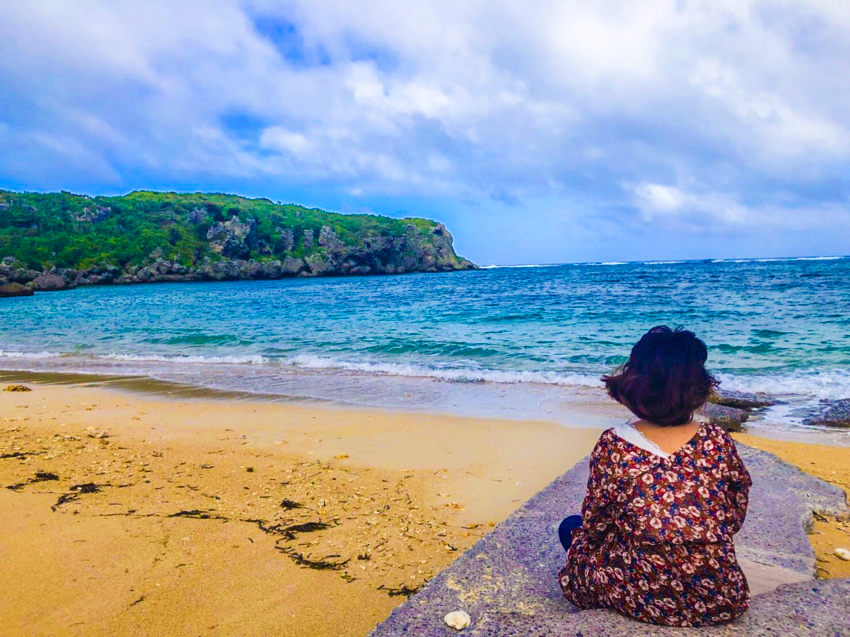 → There were very small number of people and only one family was there when we gathered the data.
This is a popular topic in SNS so please check the comments in Instagram♪

<Uku no Hama ("Uku Shore") >
Admission fee
None
Parking lot
None

※There is an empty space near Uki no Hama and several cars can be accommodated, but on the way a part of direct road is not being coated so we recommend to go on foot.

Shower/Toilet
None
Locker room
None
Mapcode
499 704 553*18
Address
〒904-2423

沖縄県うるま市与那城宮城
Tasty shaved ice from beautiful pottery♪
Speaking of September, Okinawa is still hot…
Shaved ice "Ruan + Shimairo" is served in shaved ice shop (kakigori-ya) on Miyajima island and this is perfect on such time of the year.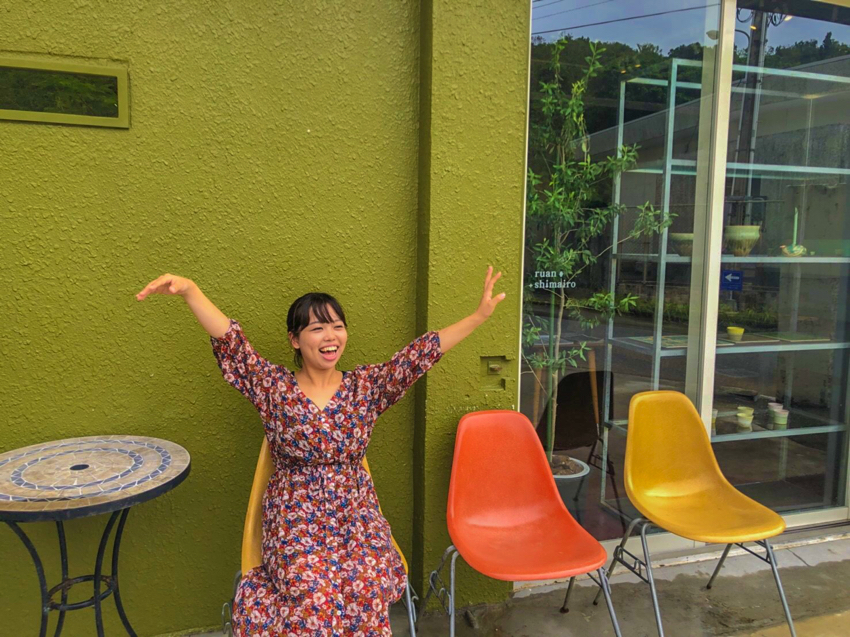 → Be excited with this cute appearance.
In this store you can enjoy not only shaved ice but a pottery at the same time also!
Shaved iced made by the storekeeper Mr/Mrs Nakazawa is served in the pottery made by ceramicist Mr/Mrs Shimabukuro!
▼ Interesting menu is here!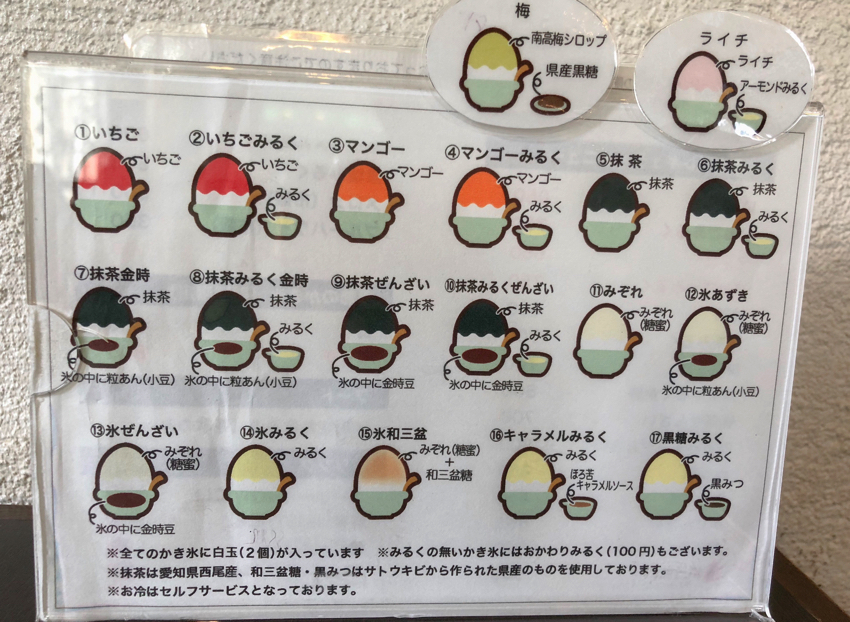 → There are so many menu options so it is impossible to choose! Plum taste and lychee taste on the top right are seasonal tastes and apparently they change.
This time I tried mango milk (the 4th in the menu) and red bean soup ice (the 13th in the menu)!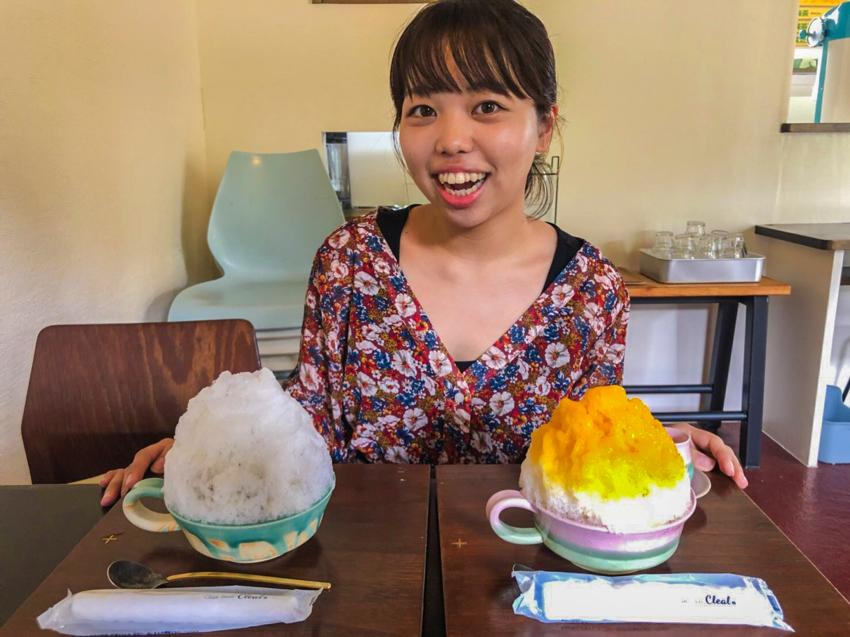 → Left: 13th position red bean soup ice (Kori Zenzai). Right: 4th position mango milk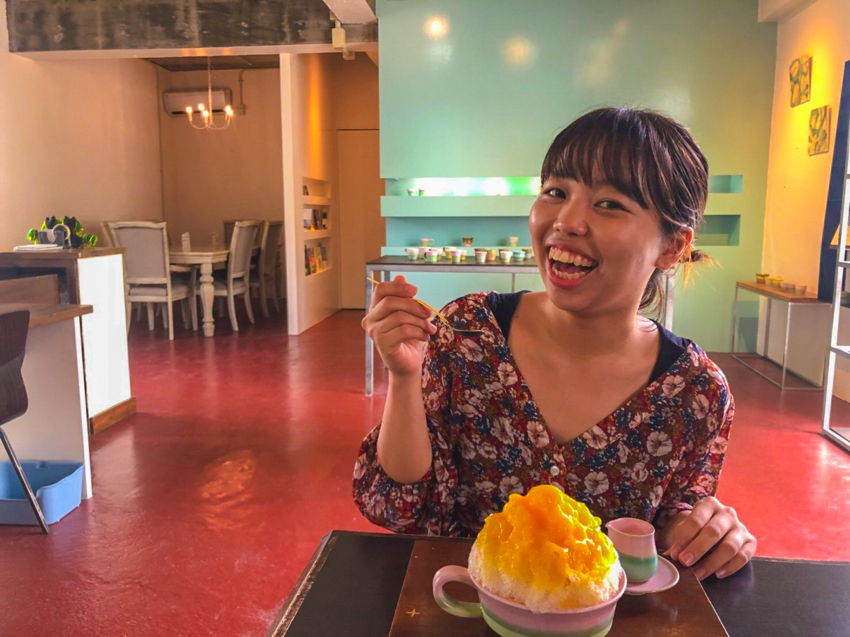 Grip of the pottery is made the way that you can drink and enjoy the ice until the last drop even if it melts.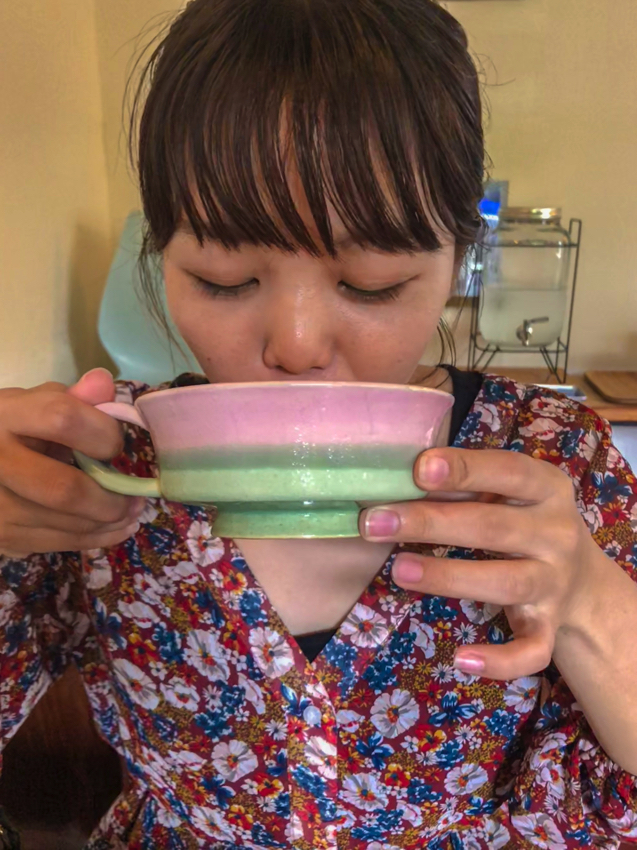 → I enjoyed this tasty dish fully to the last sip properly!
The layout of the store is also cute!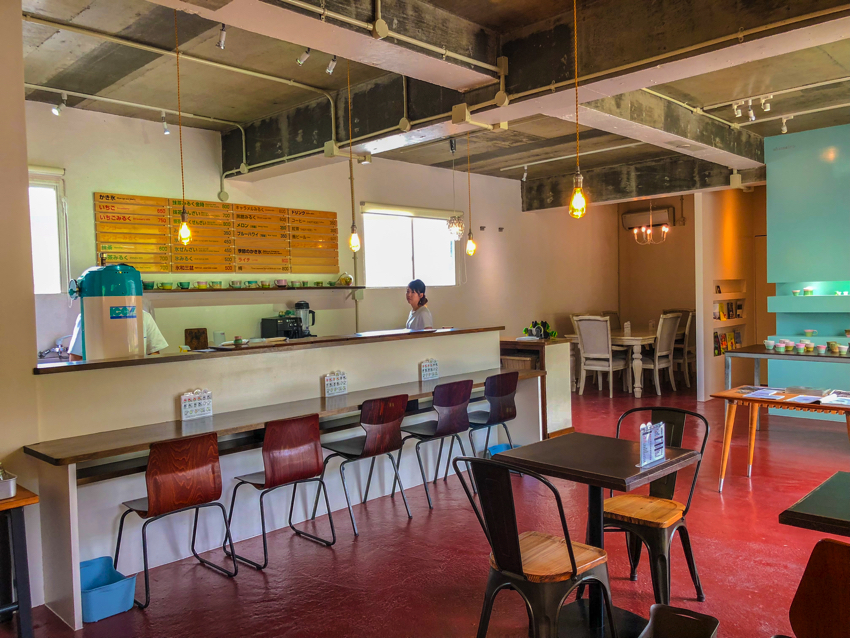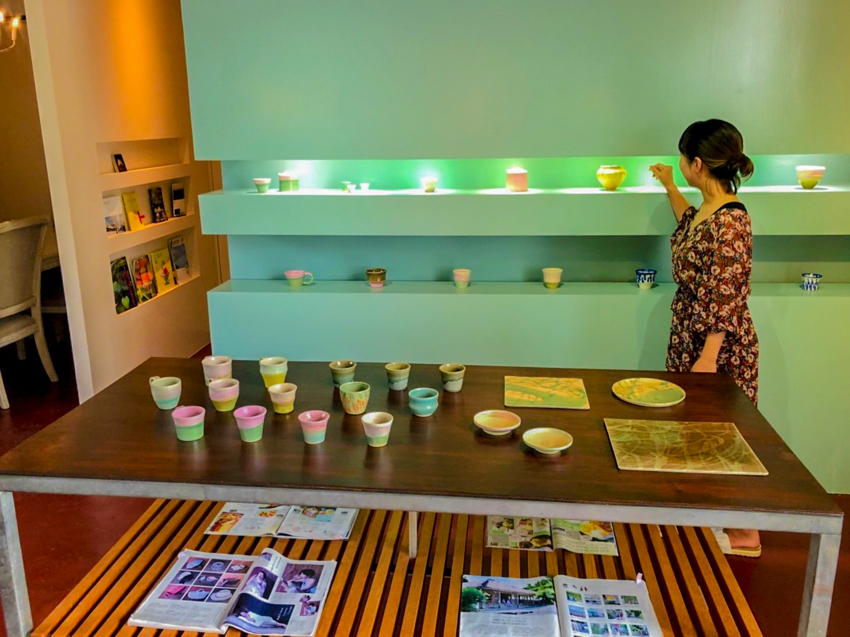 All ceramics is adorable so you will want to gather it♪
This pottery is also can be purchased so how about buying one as a memory of travel to Okinawa?
You can also take a look at the comments in Instagram left by another people and it is nice to choose the taste of the shaved ice♪
<Ruan + Shimairo>
Business hours
11:00~17:00

Closing days: every Tuesday and Wednesday

※Closed only on Wednesdays from July to September.

Mapcode
499 672 422*10
Parking lot
Yes・No charge(3 cars)
Staying time
1hour
Address
〒904-2425

沖縄県うるま市与那城桃原428-2
Driving this time I enjoyed the scenery and food of Miyajima properly!
Please try to visit this place♪
I hope you will use this article for traveling Okinawa!