Hello everyone following Okinawa Holiday Hackers. This is Maeshiro!
This is a bit out of the blue, but
Did you know about Komaka-Island, an uninhabited island just 15 minutes by boat from Nanjo-city on the southern part of Okinawa's main island?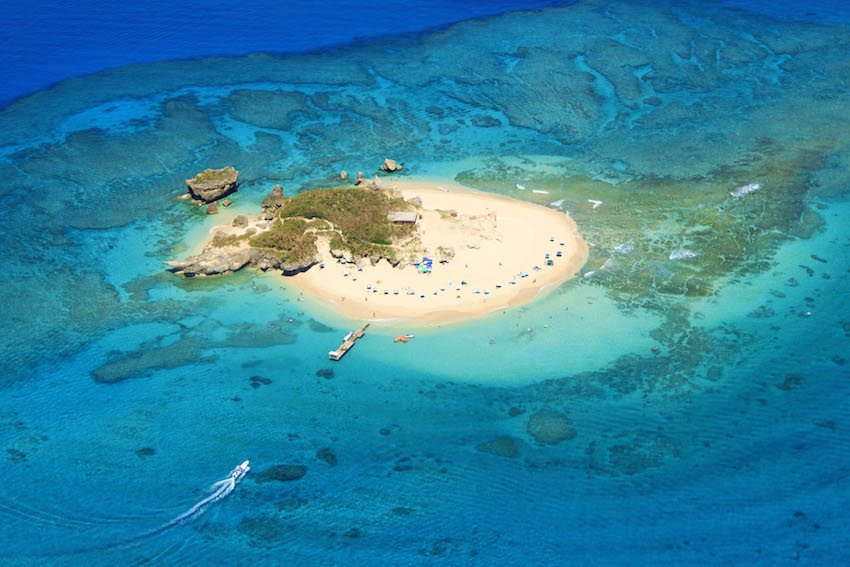 Material provided by: Chinen Marine Leisure Center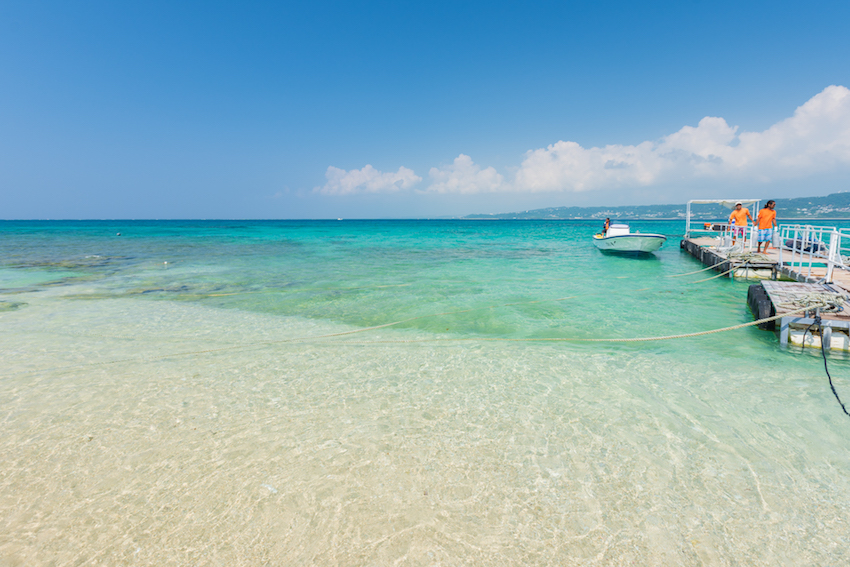 The appeal of Komaka-Island is the great number of activities if offers!
It is an uninhabited island just 800 meters in size, but it is well managed, so you can safely enjoy activities including snorkeling, diving, riding banana boats, and having barbecues.
"Maybe it's nice to visit an unpopulated island, but wouldn't it be boring?" Rest assured, no, it won't be boring.
This time around we'll introduce our top five hints, which we learned firsthand, for visiting and enjoying uninhabited Komaka-Island.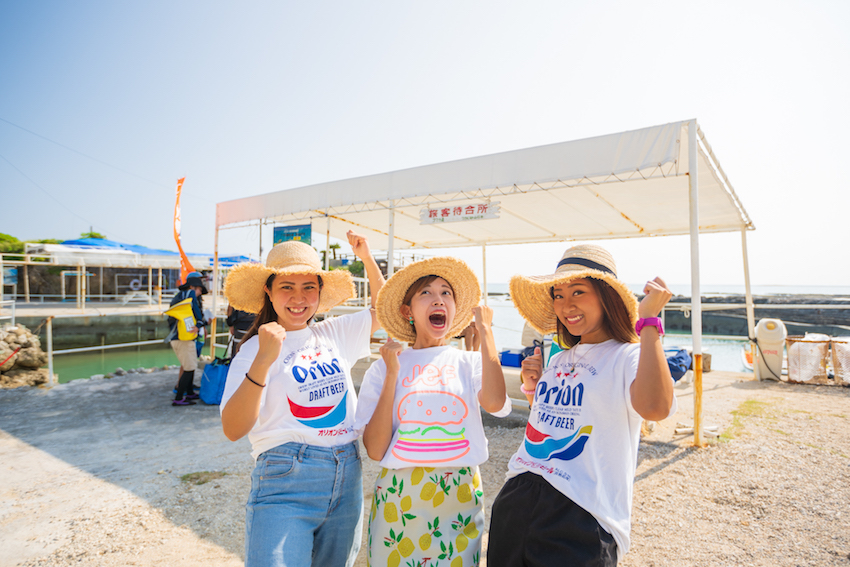 1. We recommend online, discounted reservations for the boat.
Chinen Marine Leisure Center manages Komaka-Island and handles everything from reservations for the boat to the island, as well as marine activity reservations.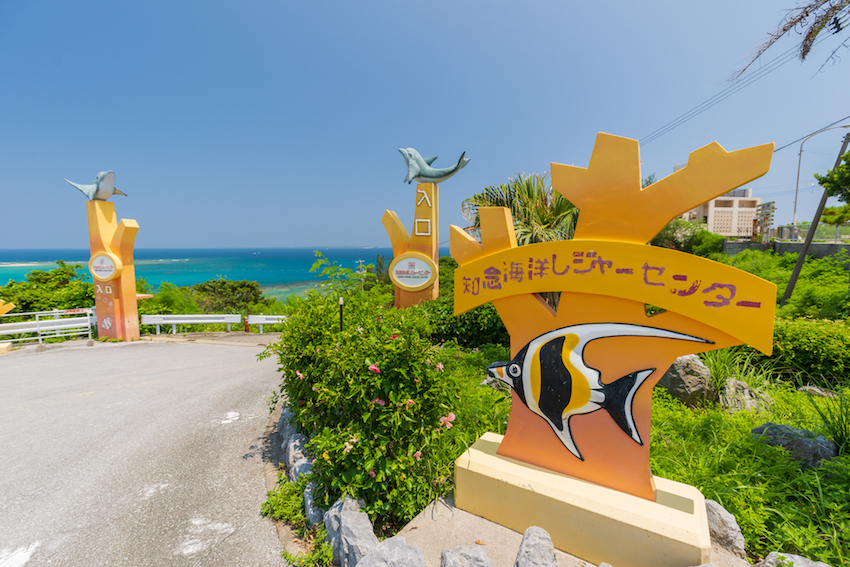 The entrance with the dolphin gate is the landmark for Chinen Marine Leisure Center
Some reservations are also possible from a website calledOne Two Smile ACTIVITIES
If you use this site for reservations, we recommend getting a discounted round-trip ticket.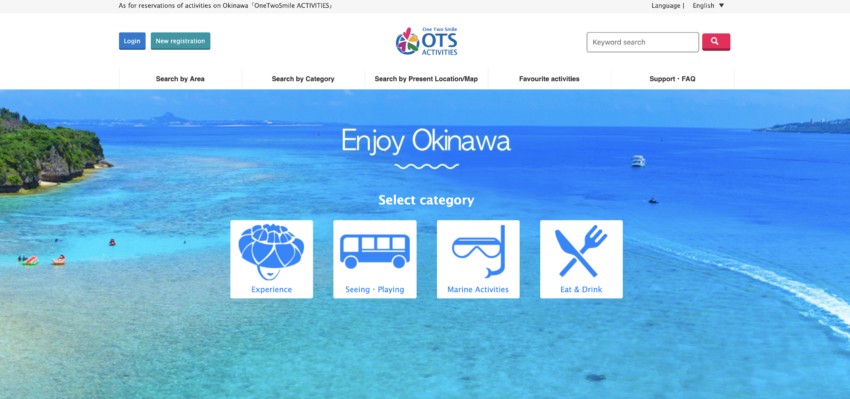 *Payments are made on-site, so you can avoid worrying if you need to cancel.
Since we took care of our round-trip boat reservations online, we only had to rent our snorkeling sets (four sets) and umbrellas when we arrived.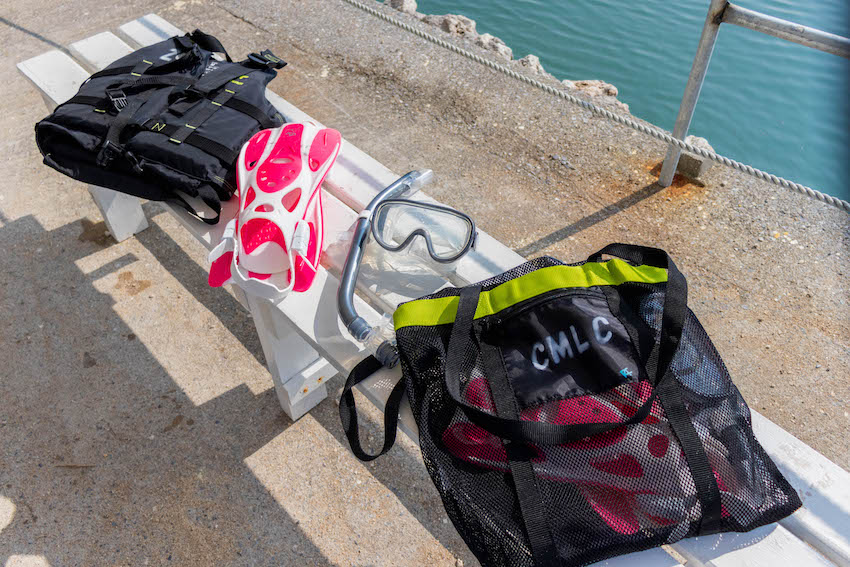 All of the snorkeling sets can be rented at Chinen Marine Leisure Center.
Once preparations are complete, time for departure!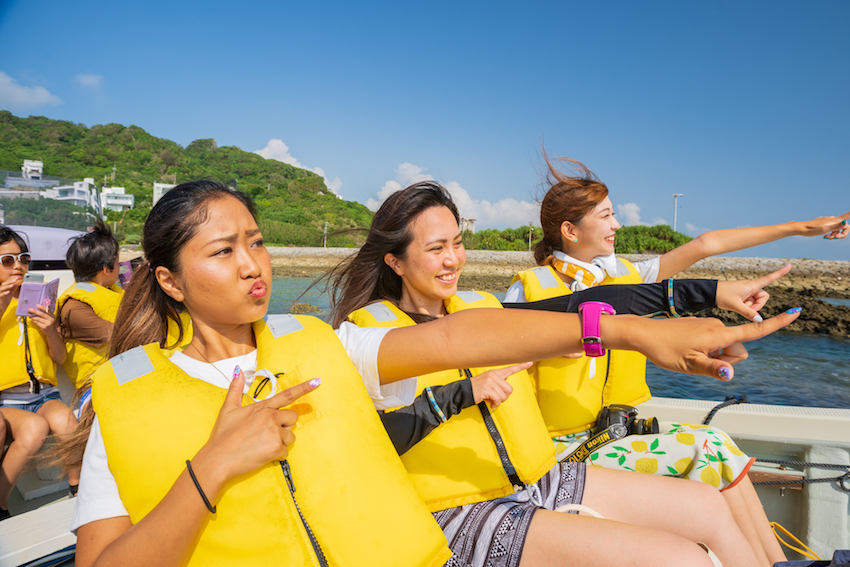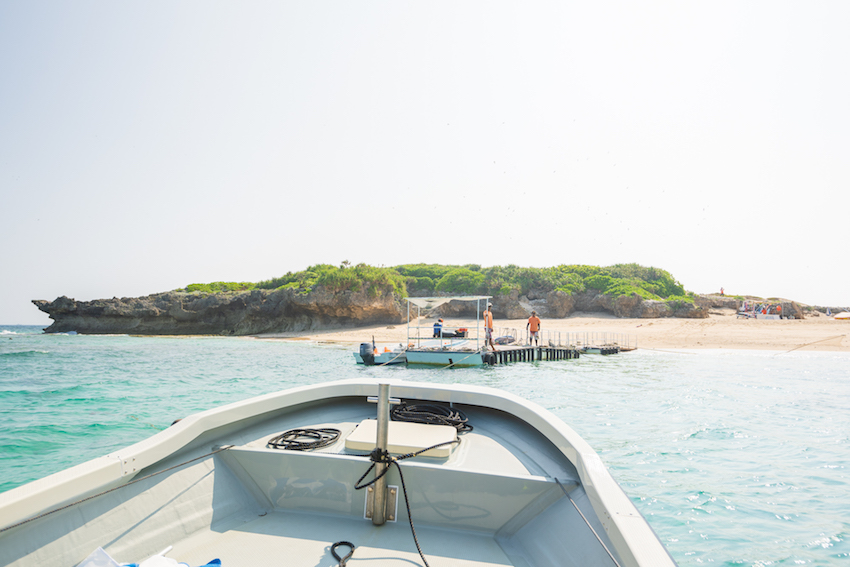 Since the ride is just 15 minutes, it's not long enough to get seasick and you glimpse the island soon after departure.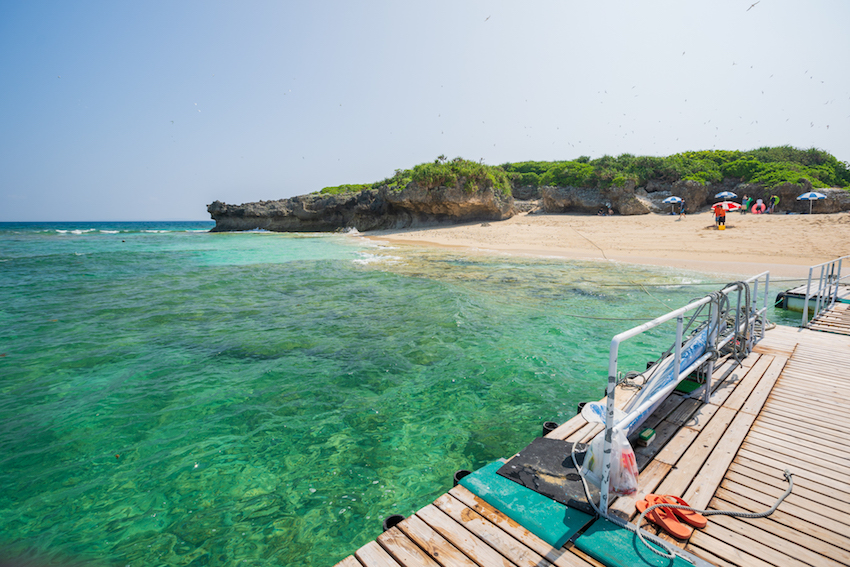 Right off the pier, the "Komaka blue" color was gorgeous! We had finally arrived.
2. You really need an umbrella. Definitely rent one in order to avoid heatstroke.
We arrived on Komaka-Island!
Check out the pure white sand!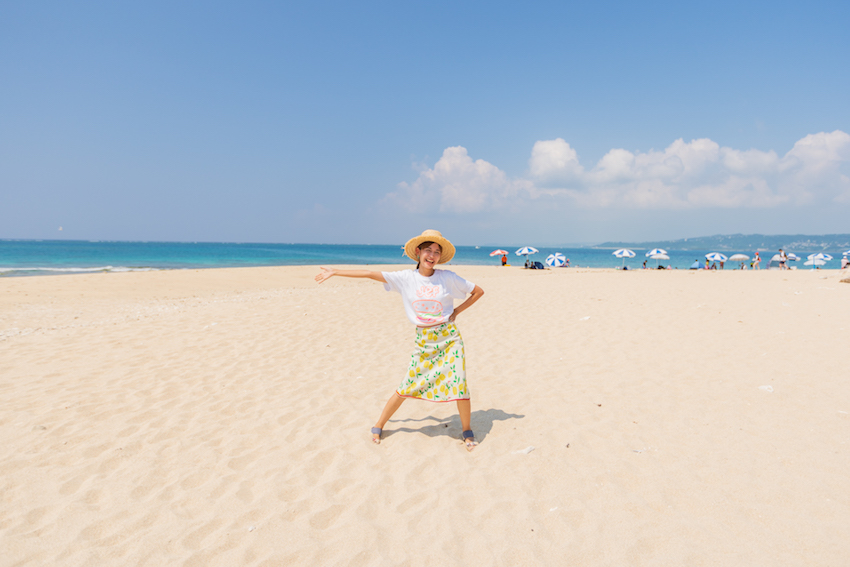 Ishii (a member of our "hackers" team)got really excited bythe contrast of the "Komaka blue" against the white sand!
More than half of Komaka-Island is covered bythis pure white sand, which powerfully reflects the sunshine They don't have any covered rest areas and there is only a little shade by the rocks. So, definitely take advantage of the parasol/umbrella rentals.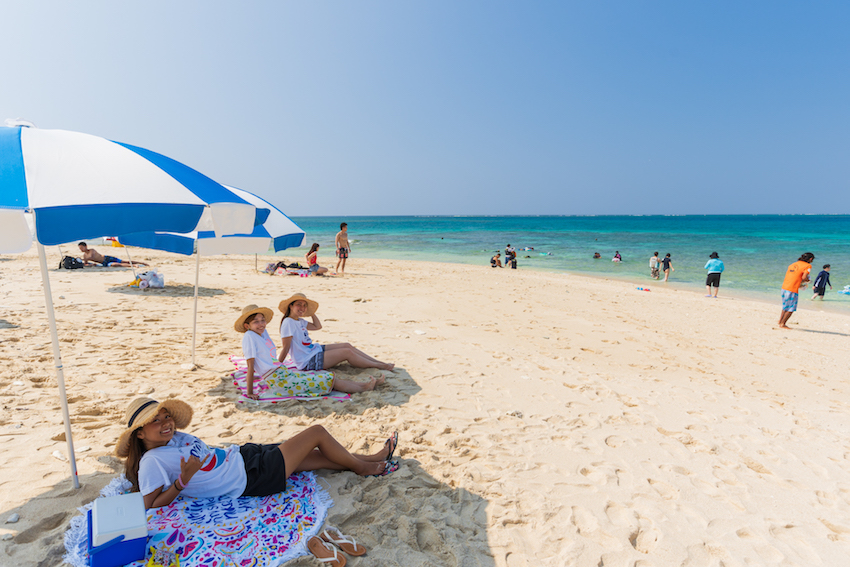 If you use an umbrella and spread out a sheet, you can create your own leisurely rest area.
3. Be sure to bring your own cool drinks and sheets/towels to spread out
You can rental snorkel sets and umbrellas, but the Leisure Center does not rent sheets.
Which means that you need to bring your sheets/towels along with your drinks to keep you hydrated.
If you're wondering what to bring, we'll give you our Okinawa Holiday Hackers packing list.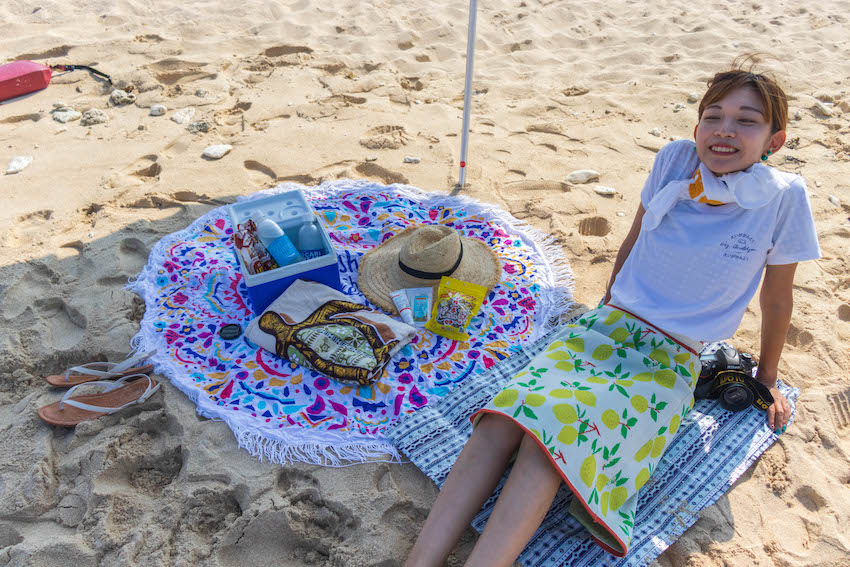 First, bring a beach towel or sheet to put on the sand This will really come in handy after you set up your umbrella!
You may also need a sports drink (like Pocari Sweat) and some dried plums (umeboshi) to keep your electrolytes and minerals in balance.
Other than that, we recommend a straw hat to fight the strong sun
In our experience in the hot summer midday sun, the wide brim and nice air flow makes a straw hat better than other hats at keeping you from heat stroke. (*There may be variations for different individuals.)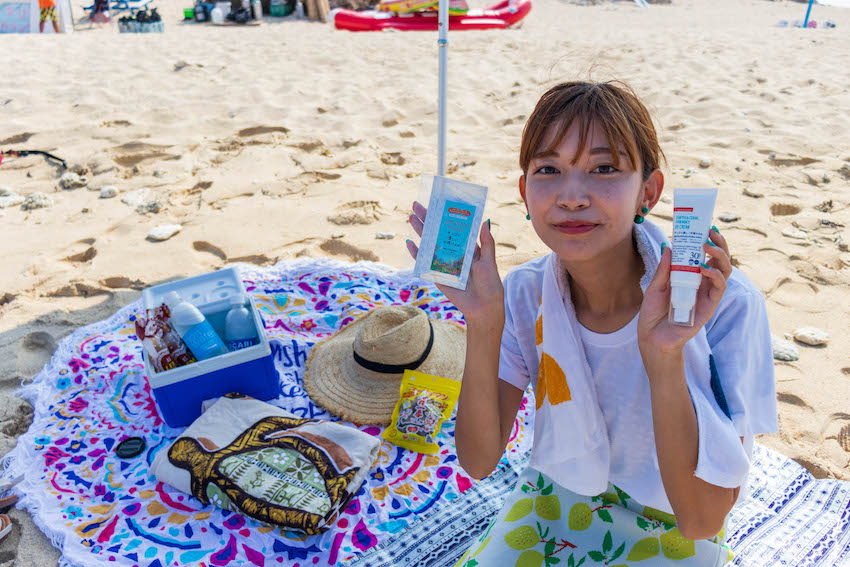 Also, for those going in the water in Okinawa, we want to promote this sunscreen that is safe around coral. Standard sunscreen has ingredients that bleach coral, but this brand does not include those ingredients.
This brand does make you whiter than standard sunscreen, so you only need a small amount spread thinly. Please give it a try.
This coral-friendly sunscreen is available for purchase at the Chinen Marine Leisure Center.
4. Beachcombing while strolling on the island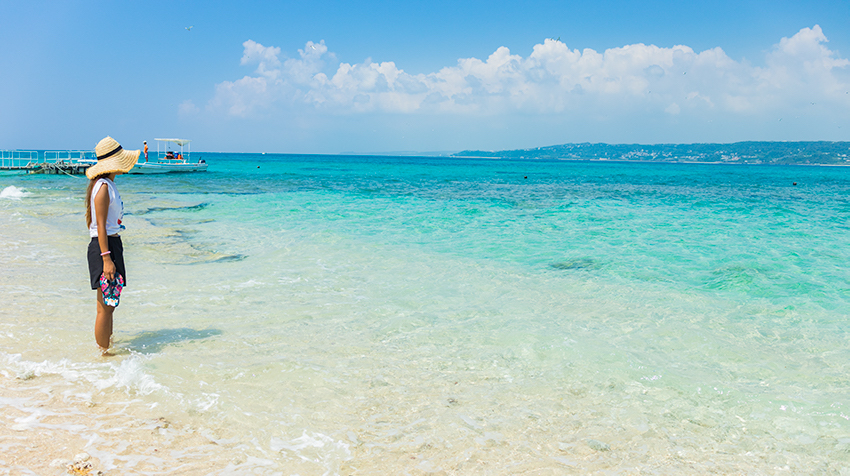 Since you've made the trip to an uninhabited island, you should stroll around the island before jumping in the water.
If you walk around, the first thing you'll find is a great photo spot!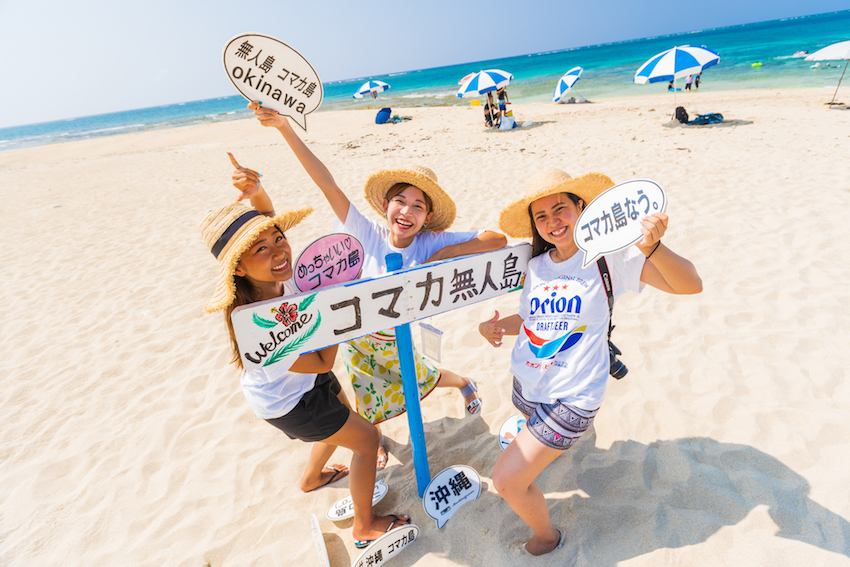 This is highly recommended if you want to capture a scene really showing that you are standing on a small island.
Then, if you walk further, you'll come to this very scenic spot!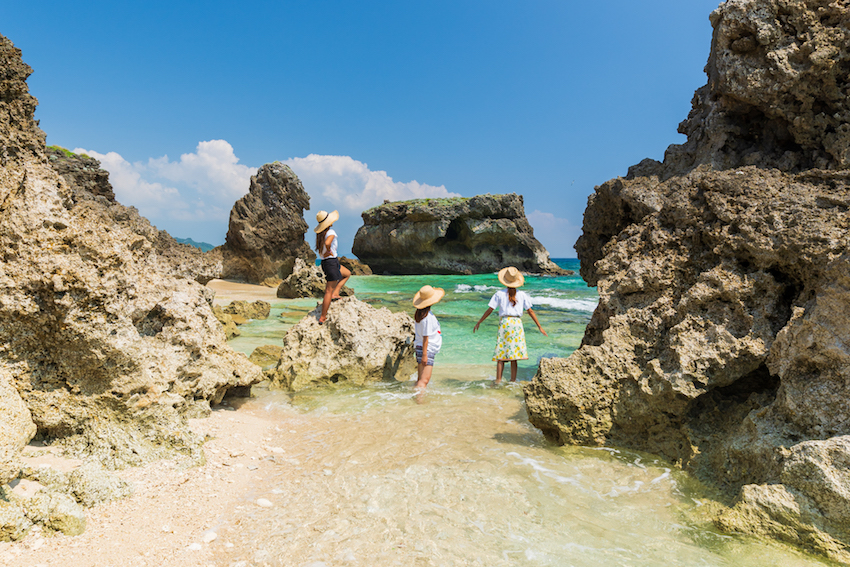 You can catch a glimpse of the glimmering "Komaka blue" ocean. *Swimming is not permitted in this area.
During your stroll, you may find shells as cute as these.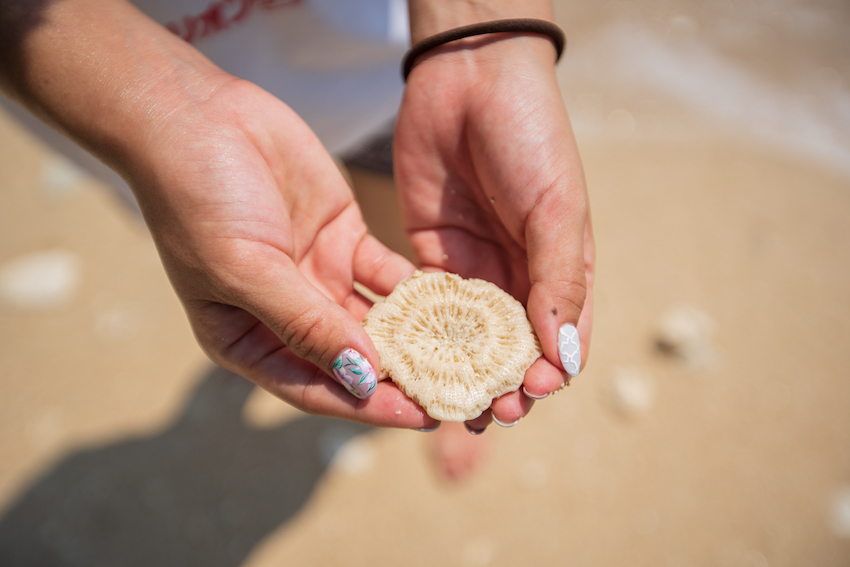 We have been to many beaches in Okinawa, but Komaka-Island seems to have the most intact shells and pieces of coral.
Which is why we recommend it for beachcombing.
5. We also recommend a tour if you want to go snorkeling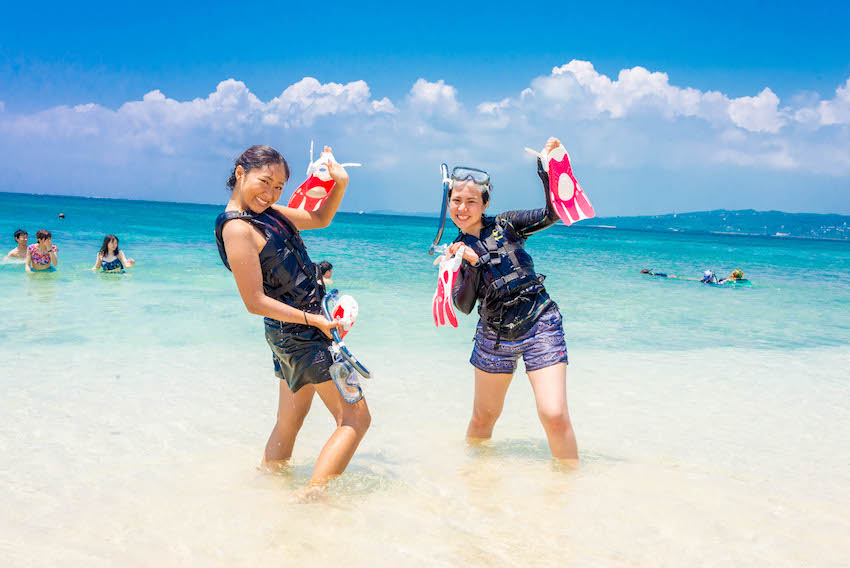 Finally, we're going snorkeling!
This time, we decided not to schedule a tour and just went out on our own with a rented snorkel set.
But, if you are heading out in the ocean, it is nice to have information provided by a guide…
If you snorkel on your own, you have to stay within the designated swimming area.
By the way, if you book an instructor, you can go outside the designated area. So, that is what we recommend if you want to get the best snorkeling experience.
It might actually be a bad thing, but we were amazed at how close the fish got when we dove under the water!
We were able to get his close to the blue emperor, a popular and exquisite fish in Okinawa. You can't fish for these blue emperor, so some of them are eight years old. Fish lovers will be on the edge of their seat.
Please don't harvest these guys. (chuckles)
All of the fish are used to people, so we could get really close to them!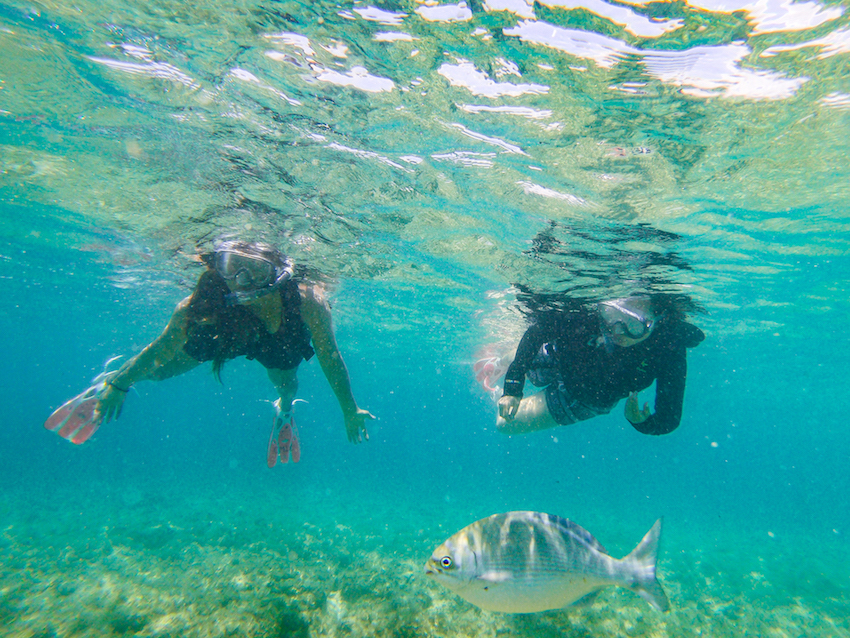 Those are the top five hints for getting the most out of Komaka-Island
Last…
If you go to Komaka-Island, we recommend bringing the minimum amount of luggage.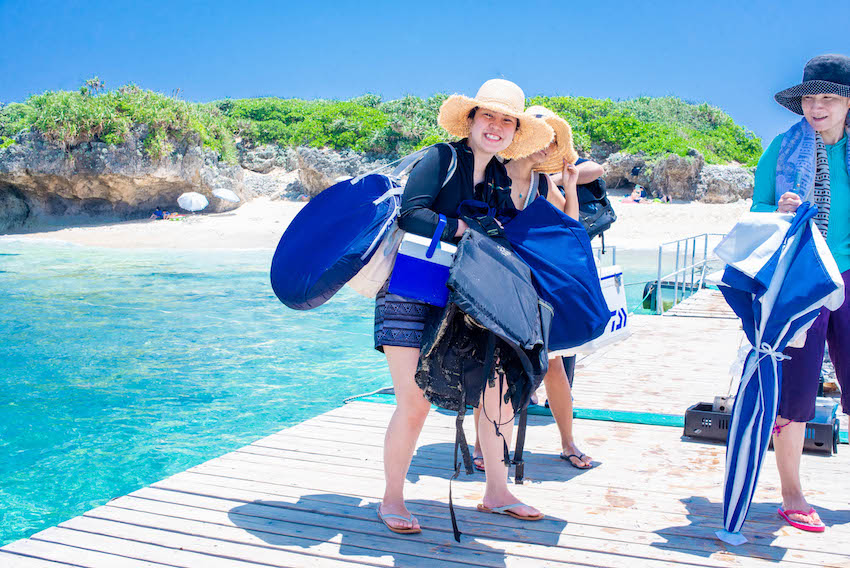 We regretted bringing a whole bunch of equipment for pictures, etc.
Komaka-Island doesn't have any changing rooms or showers, so you have to go back to Chinen Marine Leisure Center a bit wet and salty. Keep your bags to a minimum so that they don't get soaked!
What did you think?
We hope that this will be helpful for you when visiting Komaka-Island.