Hi! This is Maeshiro from Okinawa Holiday Hackers.
Finally we get the chance to have a family trip to Okinawa for escaping the busy daily life! Wait… PEOPLE!!! CROWDED PEOPLE!!!TRAFFIC JAM!!!What a waste!
Already being fed up with the unhappy situation? No worries!
We have a secret plan for you!Having fun with kids in the nature freely.
This time, we would like to introduce Southeast Botanical Gardens located in central part of Okinawa main island to you guys. 
Do you know Southeast Botanical Gardens?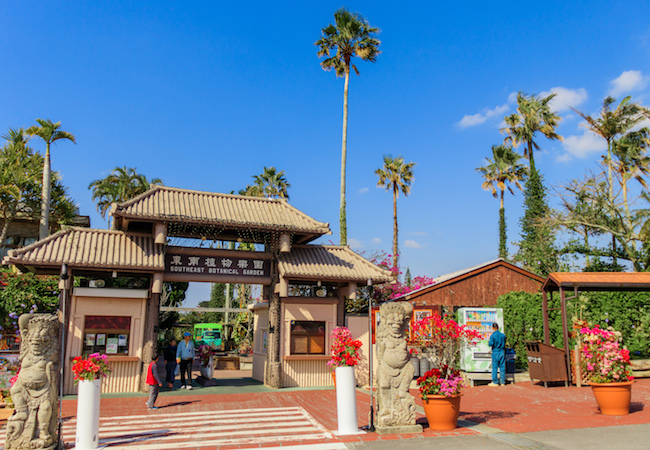 This article is for those who haven't been to the  Southeast Botanical Gardens yet. 
Southeast Botanical Gardens is a tourist facility located in the central part of Okinawa main island in Okinawa city. You can not only see Japanese largest scale of palm trees  but also feel the most subtropical atmosphere of Okinawa main island here.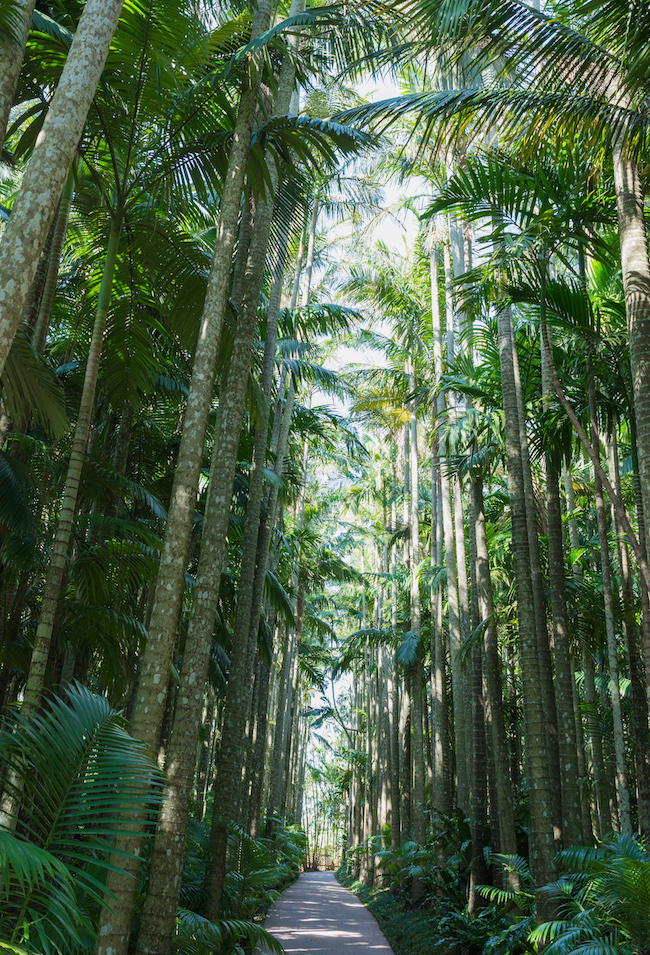 There is Japanese largest scale of Alexander palm trees in the Botanical Garden.
There are many rest areas with tropical atmosphere here in the facility♪
With great traffic convenience, it is only 20 minutes by car from AEON MALL OKINAWA RYCOM.
Paint on Cow!? Activities for Children to Enjoy "Graffiti"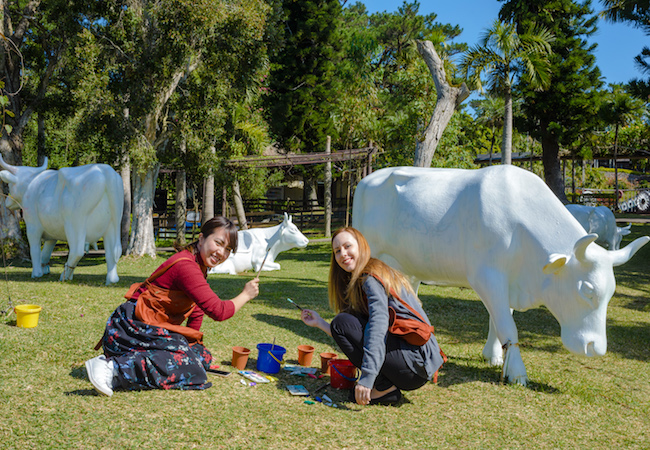 What is『Caw・Art』exactly?!
Generally speaking, it means paint on the cow,a sculpture,freely. 
Painting on a cow is absolutely attracts the kids attention and make them feel even more exciting!
1 Reserve『Cow・Art』!
『Cow・Art』reservation is requested!Thus, you can reserve and pay for this painting activity while buying the admission ticket!
※Attention!※
Being separated by the parking lot, the northern part is Water Garden, and the Southern part is Botanical Garden. 『COW・ART』 takes place in the Water Garden♪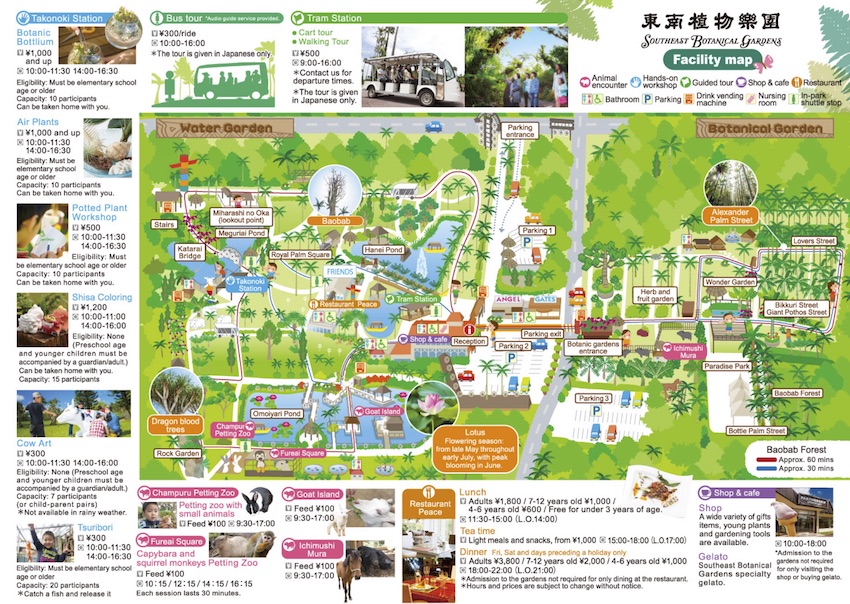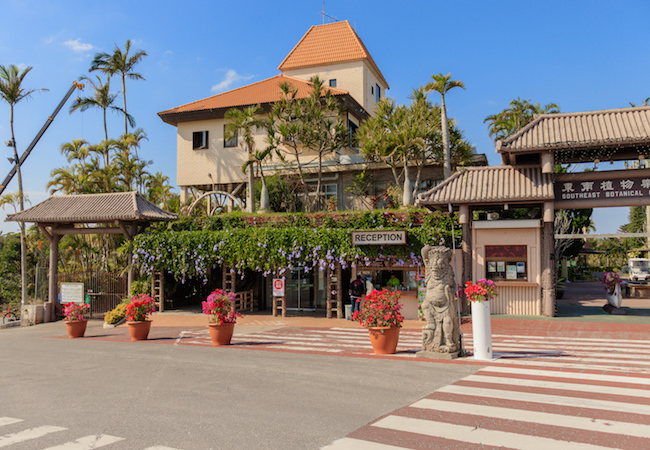 The left hand-side of the main gate of Water Garden is the service counter.
【Valuable Information】
It's recommended to reserve a ticket of『"Paint the cow" activity together with admission ticket to Botanical Garden 』by only paying the admission fee of  Botanical Garden on OTS Activities Website in advance.  
▼Reserve tickets HERE
2 Get tools from 「Takonoki Station」
After finishing the reservation, you can get painting tools such as apron, brush (1 piece), 6-color paint at「Takonoki Station」 in Water Garden.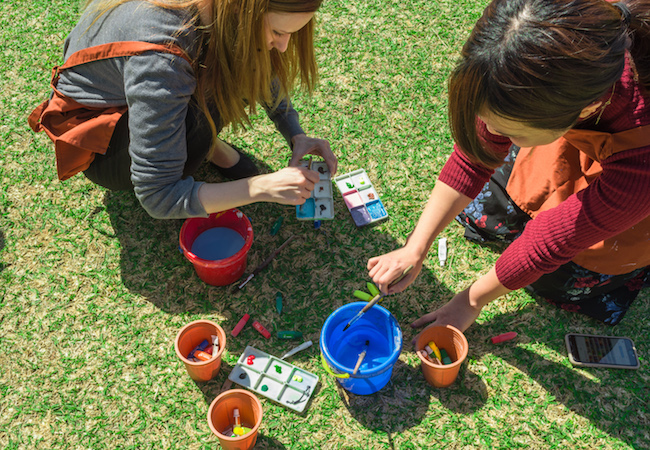 3 Which Cow Should We Choose? Paint Whatever You Want on Your Favorite Cow Sculpture! 
Then, pick one favorite cow and paint whatever you want! 
I'm going to challenge!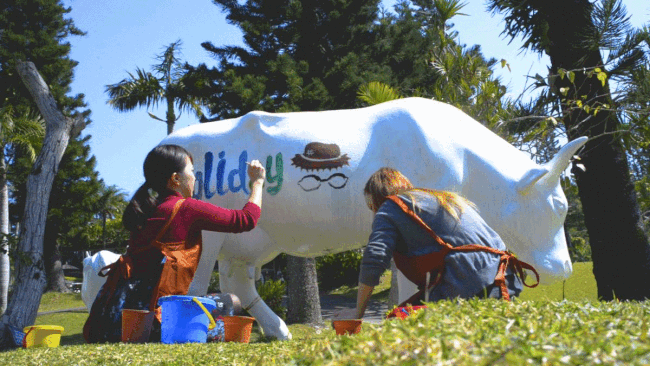 Do you know what we're painting?
・
・
・
・
・
・
・
\Here is the debut of our『Cow・Art』/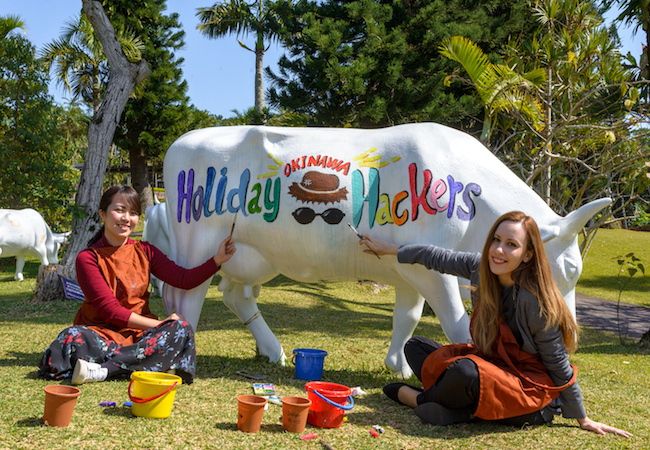 We painted Okinawa Holiday Hackers' logotype in a colorful version~.(Hope everyone can remember the logotype of Okinawa Holiday Hackers♪  ←Greedy)
In this activity, not only adults can totally relax in the beautiful nature but also children can enjoy painting.(Of course you can enjoy painting with your children together!)  You can enjoy the leisure time here without worring about the crowds in this huge garden! 
Is There Any Other Spot We Can Have Fun With Our Kids? 
In addition to Cow・Art, let me introduce other spot where you can also have fun with your kids in Southeast Botanical Gardens!
Dream Place for Adults !?Tree house  Ficus superba
The tree house is right next by the square where you can have Cow・Art. Sometimes, the adults are more exciting than their kids unexpectedly! No matter what age you are, tree house can always tickle your fancy~♪

Healing Mini Zoo
Cute animals like capybara, squirrel monkey, and other animals are waiting for you!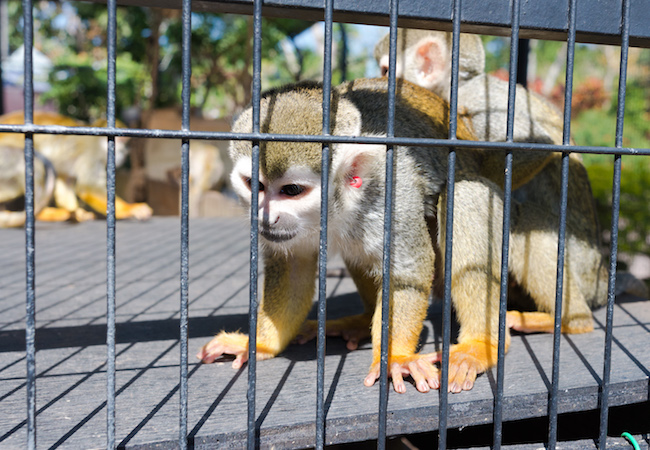 Shiba "Machiko" who lives a little away from other animals is my favorite.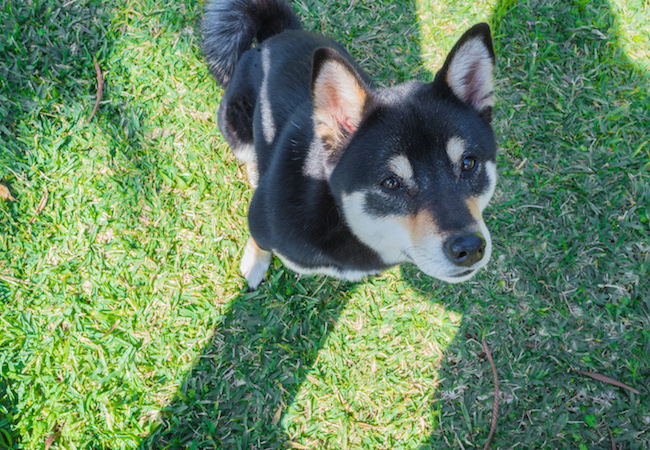 OMG!!! I can't take my eyes away from it…
The Final Chapter Goes Here! Ending with the Original Sweets♪
What if we can have some ice after all the sweat! We decide to go to the cafe shop Chibana Gelato near the Tram Station.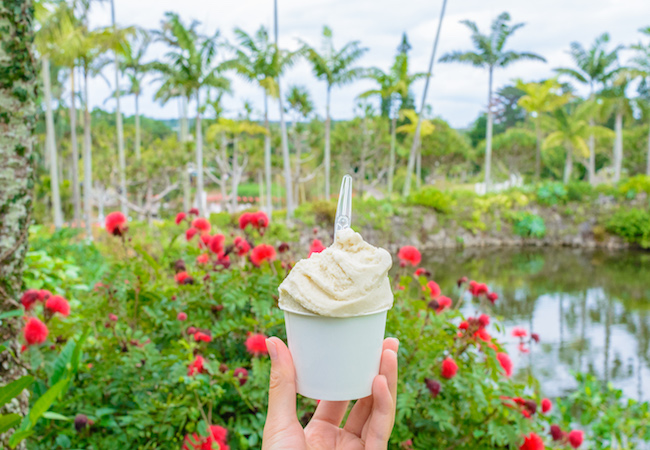 Gelato is made of banana from Yaesecho, sweet potato from Yomitan Village, custard from Yanbaru and other materials. All of them are made in Okinawa. There are over 20 kinds of gelato here. It is really hard to choose. Kids can also enjoy having the gelato as there. It is really a good place to drop by when you wanna have a rest!
『COW ART』Booking
It is available to book on the day or reserve on OTS Activities website previously. Please check the URL below for the detailed information. We recommand pre-reserve for your convenience♪
・For more RESERVATION information, please go visit Southeast Botanical Gardens Website! 
・【Entrance Fee Presented】For more ACTIVITIES' BOOKING information, please go visit OTS ACTIVITIES website!
<Southeast Botanical Gardens>
office hours
official website

※Office hours may be changed seasonally. Please kindly go visit the website for the lastest news. Kindly confirm the last entry before you visit. 

Regular Off Day
Normally, it is always open.
Parking lot
Have(Available for 350 cars)
Mapcode
33 742 540*66

※Mapcode is available for searching destination on the navigation.(Only appliable to navigation system accordingly.)

Address
〒904-2143 沖縄県沖縄市知花(字)2146
Good NEWS!!!
\ Okinawa Holiday Hackers Editorial Department 、SNS ARE UPDATING /
COME&CHECK our SNS for more new articles♪If you like us, please click LIKE♡