Hello everyone!
It's the Okinawa Holiday Hackers!
Avoid the heat in Okinawa! You can go for a swim in the sea! The travel expenses are cheap too! The season for little-known sightseeing spots is here! (゚∀゚)/
Without further ado, it's making its first presence in Okinawa this year! Let's introduce the "Entertainment to Move the Emotions" event, or "Okinawa E-Motion" event that was loved in Honolulu, Hawaii!
We Hackers will also be sneaking in! Look forward to it, as we'll be waiting with gifts!
The event will be held from:
May 18th (Saturday) till June 2nd (Sunday)
The main attractions during Okinawa E-Motion are food, music, and art, and will be changing weekly for you to enjoy!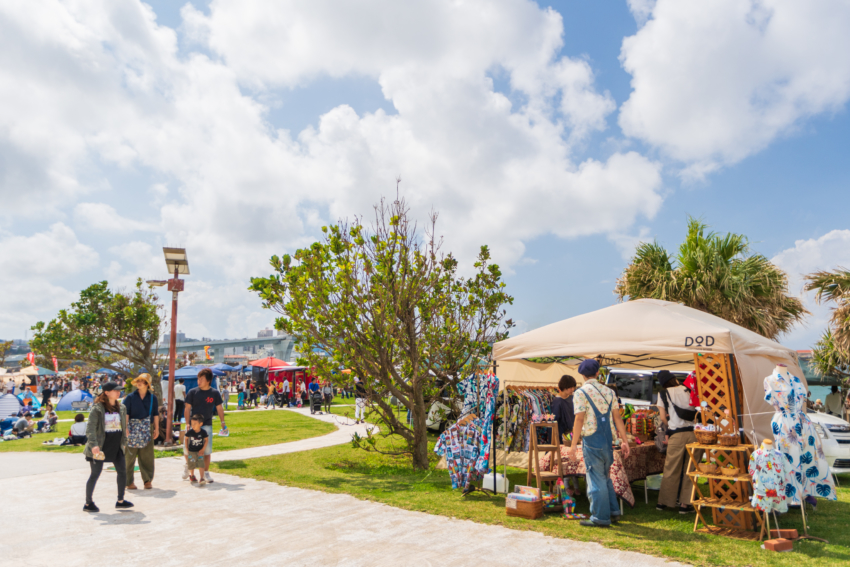 For those of you who are begging for more details, we will be introducing the main events that will be taking place from Saturday to Sunday and their times and locations!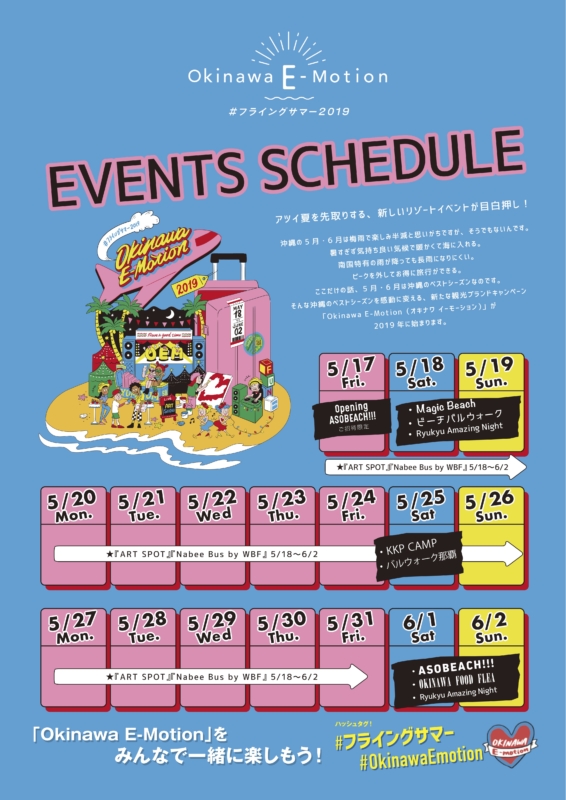 First Week
Magic Beach
5/18 (Saturday) and 5/19 (Sunday) 5:00 pm-9:00 pm
Location: Naha-city, Naminoue Umisora Park
Wow! This person pops up everywhere! It's the famous "Masa Magic."!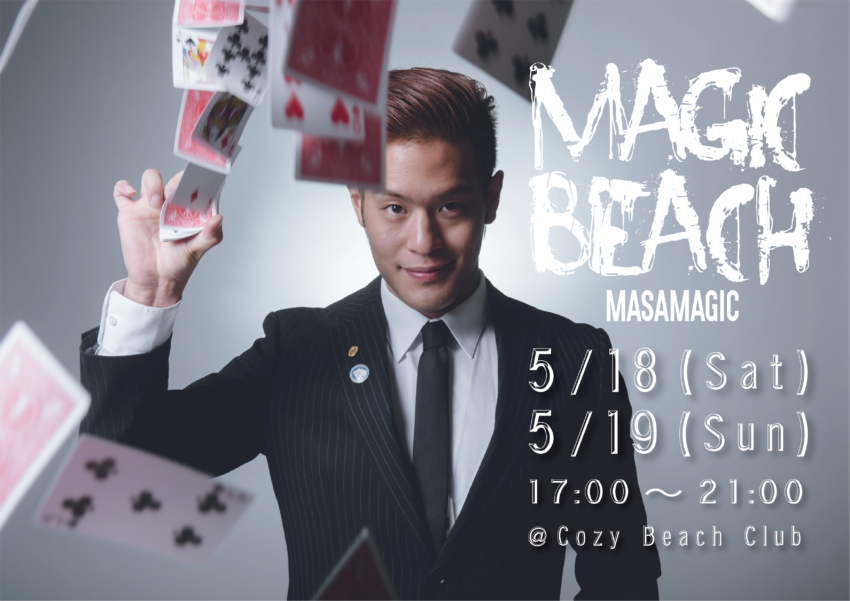 It turns out that I was the only one who didn't know who he was, when in fact he's quite famous!
He has performed for the exclusive club for magic enthusiasts, "The Magic Castle"! You'll be able to watch such a magic show for free very soon! It's certainly one not to miss. (; ・`д・´)
Beach Bar Walk
5/18 (Saturday) and 5/19 (Sunday) 5:00 pm-9:00 pm
Location: Naha-city, Naminoue Umisora Park
The eateries participating in "Bar Walk Naha" will be preparing their famous cooking and everything else across the board!
Enjoy the food together with the magic show!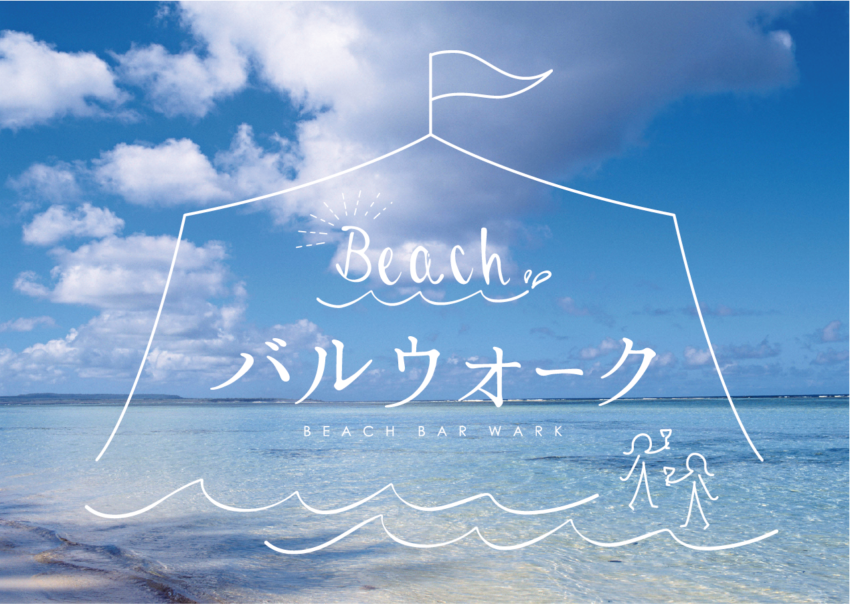 Ryukyu Amazing Night
5/18 (Saturday), 5/19 (Sunday), 6/1 (Saturday), 6/2 (Sunday) From 5:00 pm
Location: Naha-city, Naminoue Umisora Park
You'll be able to partake in the night entertainment that our very own Fiona Ishii enjoyed for just these four days, all for free!( ゚Д゚)!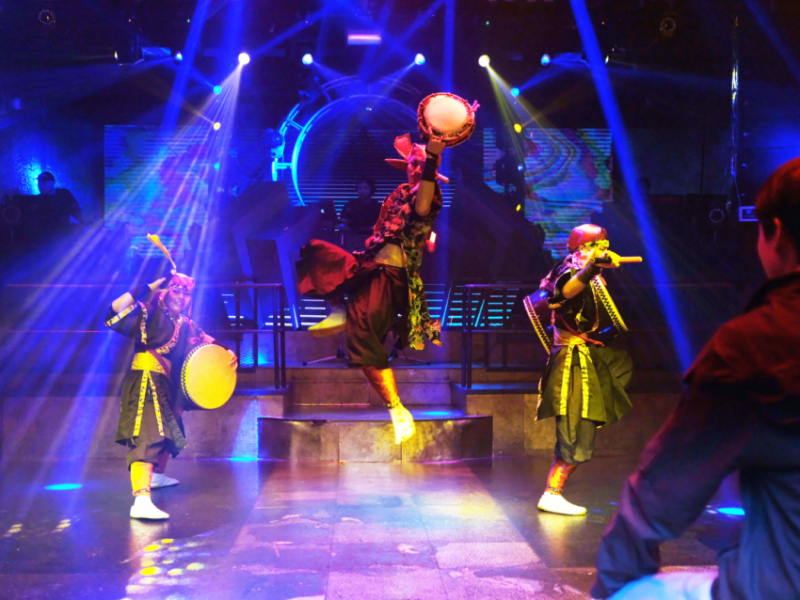 ▼An article on her experience below!

Second Week
Bar Walk Naha
5/25 (Saturday) 3:00 pm-12:00 midnight
Location: Centered at Kokusai-dori, approximately 50 restaurants from the "Izumizaki Area" to
the "Sakae-machi Area."
The food event that has been held six times before in the past is being held for one night only!
At this event, you'll be able to go on a feasting journey through five restaurants with a "limited-edition snacks and a drink." Just hearing about it gets me excited!(゚∀゚)!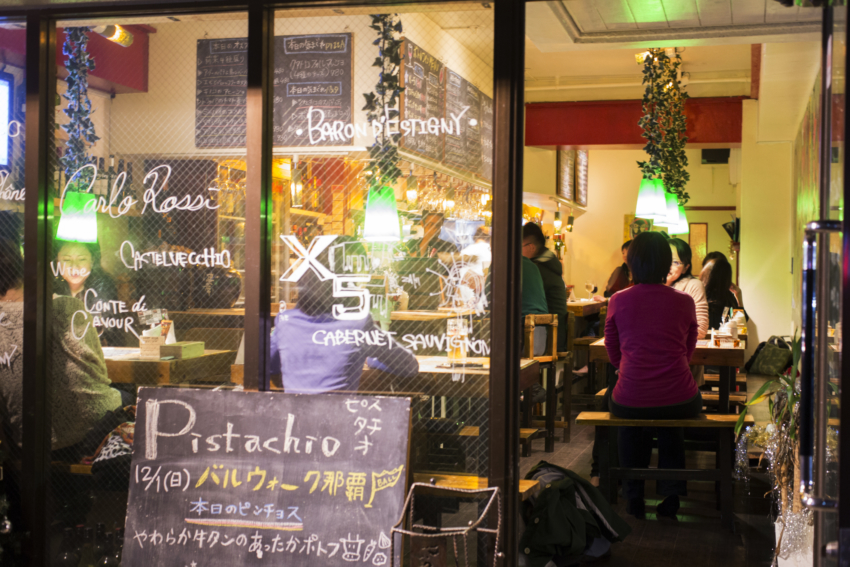 Of course, buying a ticket on the day of the event is a cheap 4,100 yen, but buying in advance is even cheaper at 3,600 yen.
Us Hackers will also be participating! Follow our updates on Instagram, if you so please.
▼Buy in advance below!

KPP CAMP
5/25 (Saturday) Doors open at 3:00 pm and the show starts at 4:00 pm
Location: The Outdoor Theater at Ginowan Seaside Park.
Is it true? A battle of the bands sponsored by Kyary Pamyu Pamyu!
Shota Shimizu and Koresawa will be participating!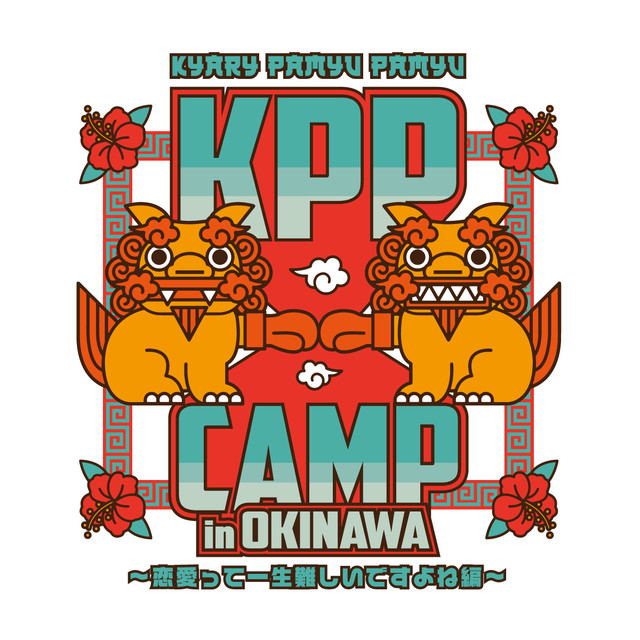 You don't want to miss this opportunity to witness these famous artists collaborate live!
▼Tickets and more details below!
Third week
ASOBEACH!!!
6/1 (Saturday) and 6/2 (Sunday) 3:00 pm – 9:00 pm
Location: Naha-city, Naminoue Umisora Park
At this venue, the famous Perfume and Kyary Pamyu Pamyu, Yasutaka Nakata and ☆Taku Takahashi from M-flo who brought techno-pop to Japan, MAKIDAI from Exile and many other famous musicians and DJs will be performing. (; ・`д・´)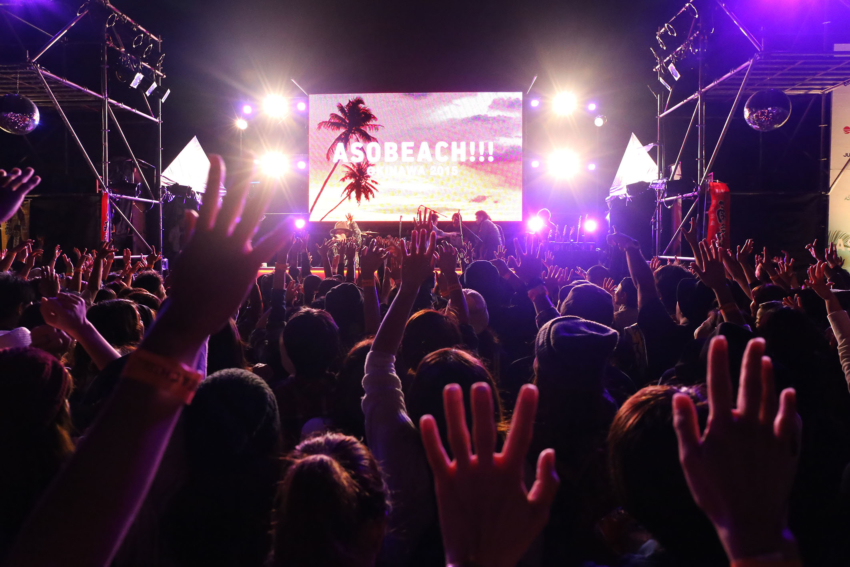 Feeling the Okinawa night breeze, it's sure to be a blast!
▼Details and reservations below!
OKINAWA FOOD FLEA
6/1 (Saturday) 12:00 pm-9:00 pm
6/2 (Sunday) 12:00 pm-7:00 pm
Location: Naha-city, Naminoue Umisora Park
At the "Okinawa Food Flea," you'll be able to enjoy a festival of food. There will be restaurants all with their own specialty, from coffee to Vietnamese food, hamburgers, and even beer. Just listening to the type of restaurants that will be there makes you impatient! ( *´艸`)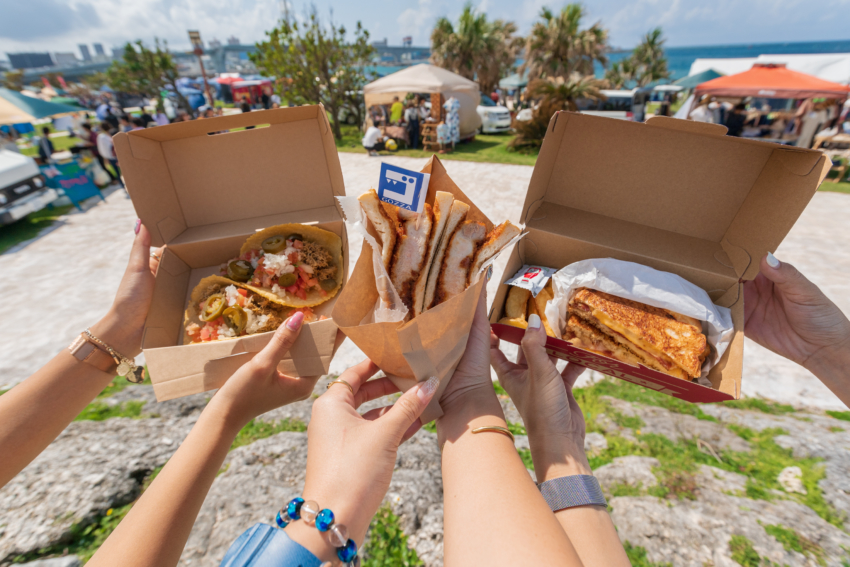 At this venue, there will be places like a travel and entertainment corner for children to try on a pilot uniform, making the experience fun for all ages! (´ω`)
But it doesn't end there. There will also be art spots that make for perfect Instagram material between 5/18 (Saturday) and 6/2 (Sunday)!
▼Details on art spots below!
We sneaked onto the grounds early!
The "Naminoue Umisora Park" that will be the main venue!
Furnished with parking spots and bathrooms, you couldn't ask for a better place!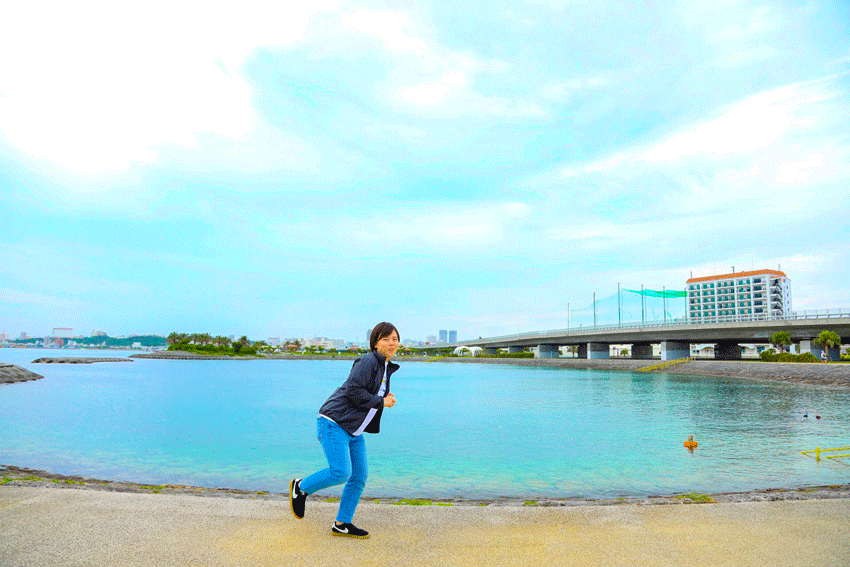 However, there is the chance you may get lost on the drive here, so make sure to check a map beforehand! (゚∀゚)
As a note, it is forbidden for normal people to swim here. Lol.
Those of you who want to swim should use the nearby beach!
Naminoue Umisora Park
Parking spot
Yes/Fee
Address
〒900-0037
沖縄県那覇市辻3丁目3−1
Will you be joining us at "Okinawa E-Motion" and chimudondon with us (Okinawan for having your heart pound in excitement)? ٩( "ω" )و