Hello everyone! I'm Goma from the Editorial Department of Okinawa Holiday Hackers♪
Speaking of Okinawa, the image that comes to mind could be tropical fruits, such as mangoes or dragon fruits, right? Those fruits are really delicious! I love them, too.
But this time, different from that stereotype image of Okinawa, I will introduce a farm of fresh and delicious strawberry picking that you can also enjoy.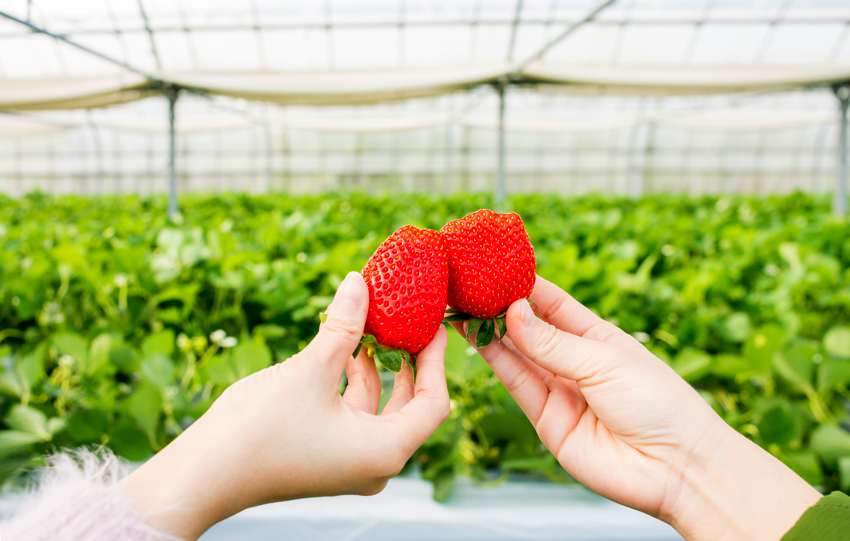 Location: Shiradō Ichigo-en in Ginoza
This place is located in the northern area of Okinawa, in Ginoza village.
(About 1 hour by car from Naha Kokusai Street; About 40 minutes by car from American Village; Approximately 15 minutes by car from Busena Marine Park. *The duration of travel may be changed due to the traffic situation of that day).
By the way…
There is a special Kuruma shrimp restaurant named Tamaya. It is a good choice for those who are going to the strawberry picking to have lunch here♡
→Okinawa has the best production of prawn farming among Japan! It's worth a try to taste the Japanese tiger prawn of Godzilla class.
This time we are going to the Shiradou ichigoen (Shiradou strawberry farm), a tranquil wonderland that you can enjoy a leisure time here.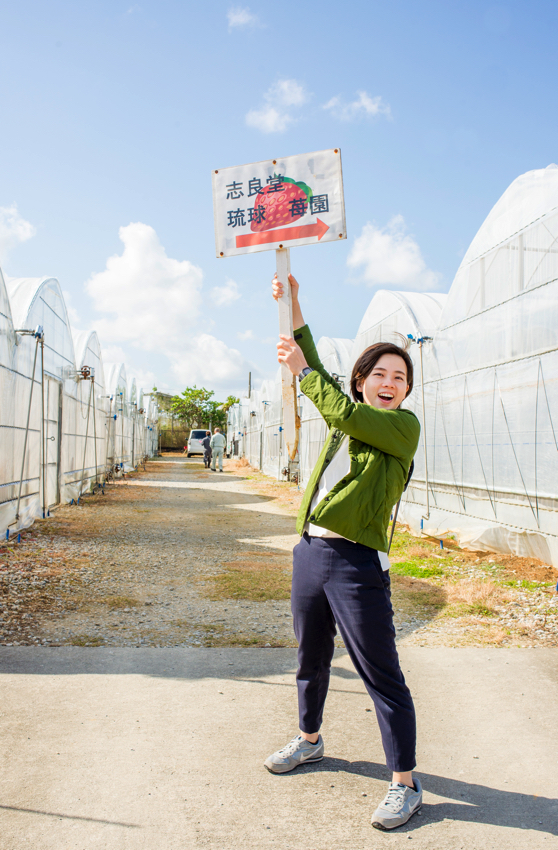 →Moving towards the direction of the car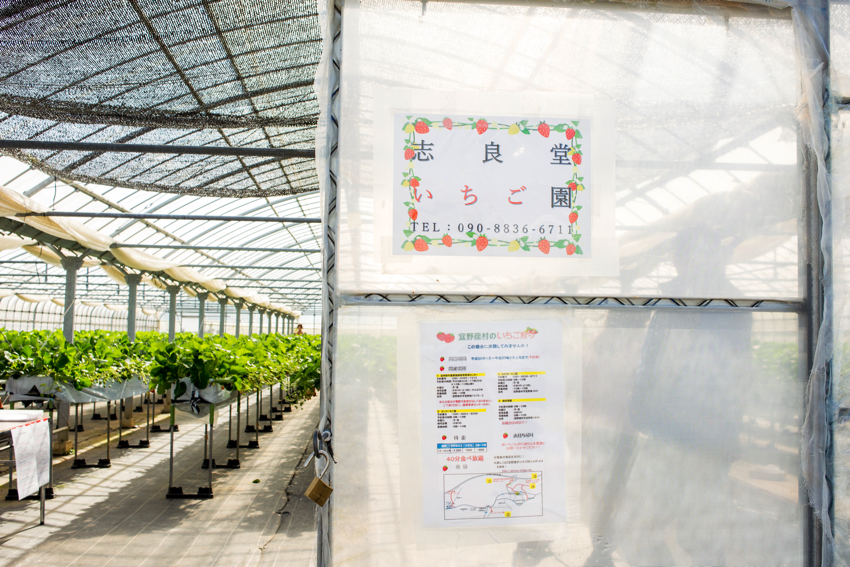 →You may notice that there are notes stuck on the green house.
You can pick the fruits without bending over. It is absolutely no need to worry about your shirts getting dirty.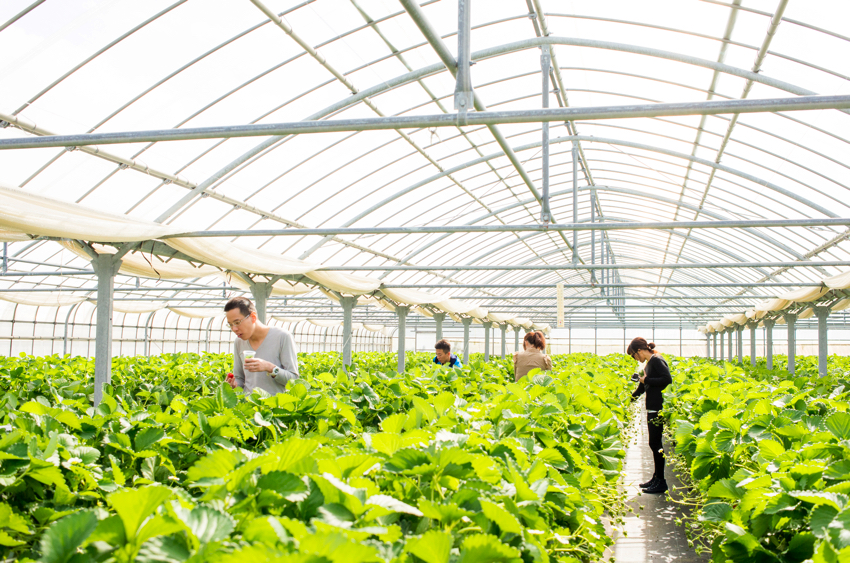 Many strawberries are hiding behind the leaves when you stoop down a little.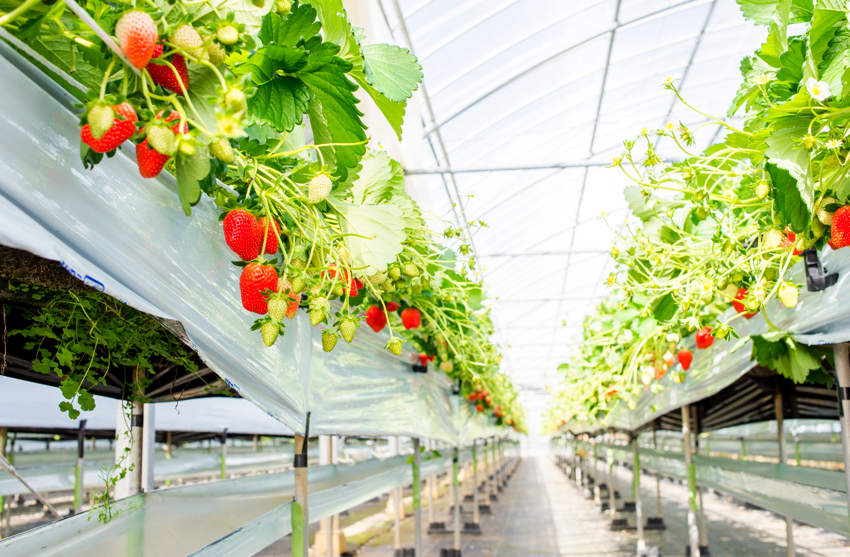 Wheelchair and baby cars are available to enter the garden. What a great place!
The character of the garden's owner is super great!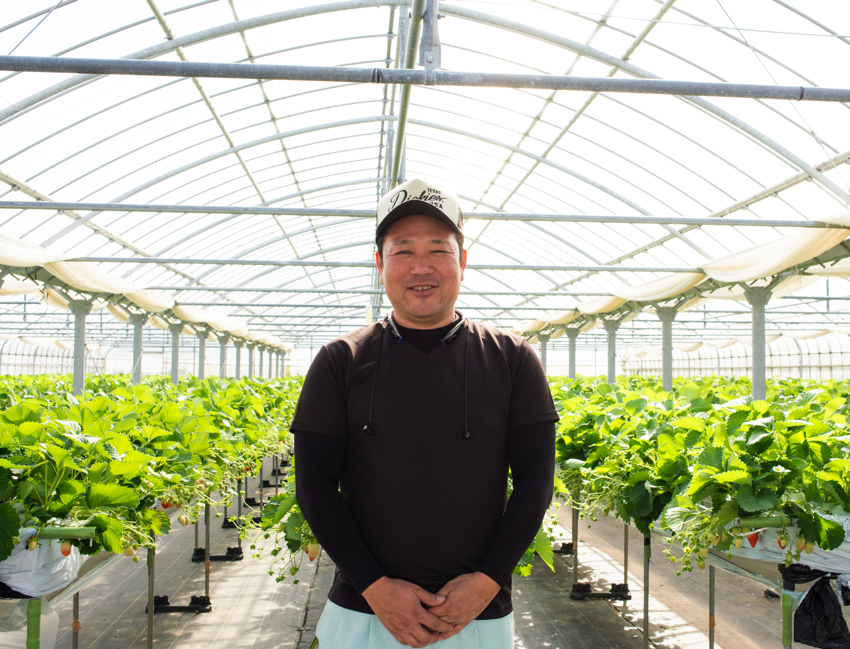 → This is the owner of Shiradou ichigoen,Mr. Shiradou.
Goma:Nice to meet you.
Mr. Shiradou: Nice to meet you. We held the strawberry picking for 40minutes. Please put the leftover to your cup!
Goma:Sure. I got it.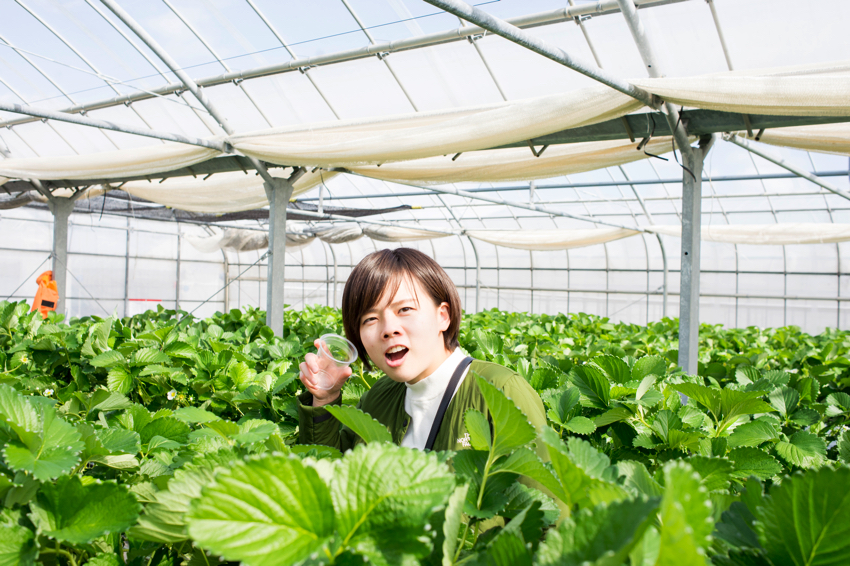 →Please put the leafy stem inside.
Mr. Shiradou:Please throw the cup into the bucket when it is full.
Goma: Will people eat that much???
Mr. Shiradou: People who loves strawberry may lose control~Especially visitors overseas can eat a lot…LOL… Is it the first time for you guys?
Goma:Yes. It is our first time.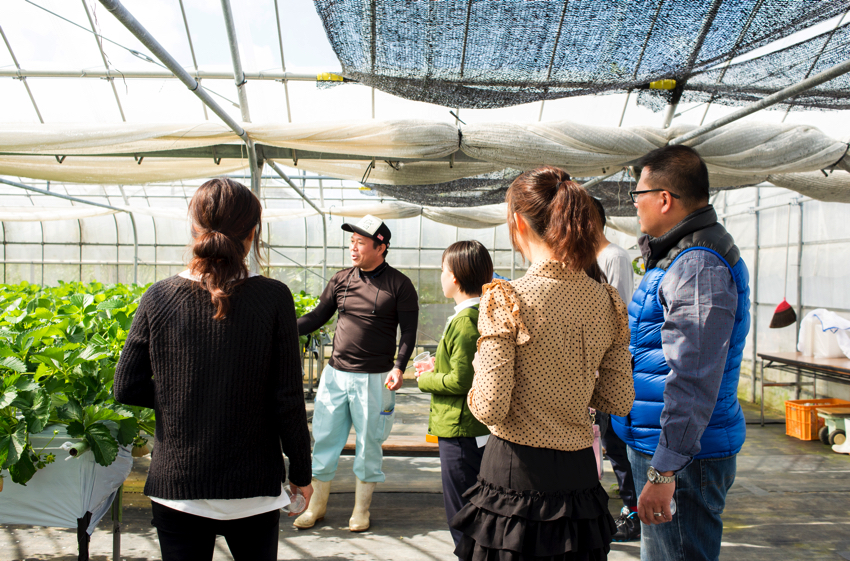 →Some other customers are from Taiwan.
Mr. Shiradou:Please twist the stem quickly, and you can get it smoothly like this. Remember, do not pull it down violently~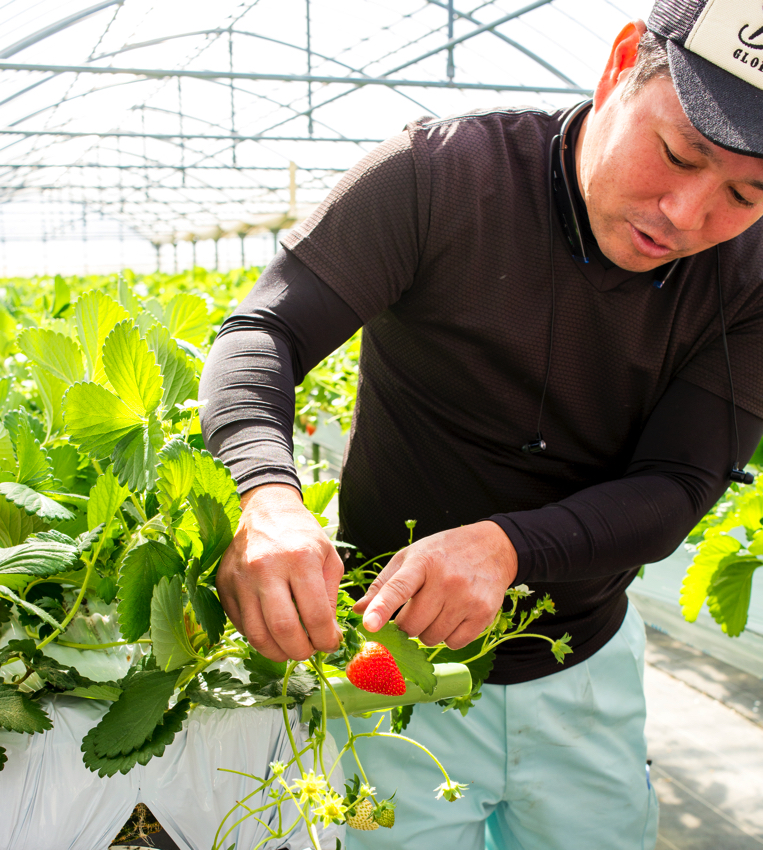 →We were told how to pick the fruit at first.
Goma: It is so easy to take it down! By the way, how do you teach customers from oversea?
Mr. Shiradou:It is totally fine to communicate with body language.
Goma:I see! Body language makes sense!
Mr. Shiradou:Sure. Besides, we also use the manual with English or Traditional Chinese Character to guide them.
Goma:You are so nice!
Recently, the foreign customers are increasing greatly.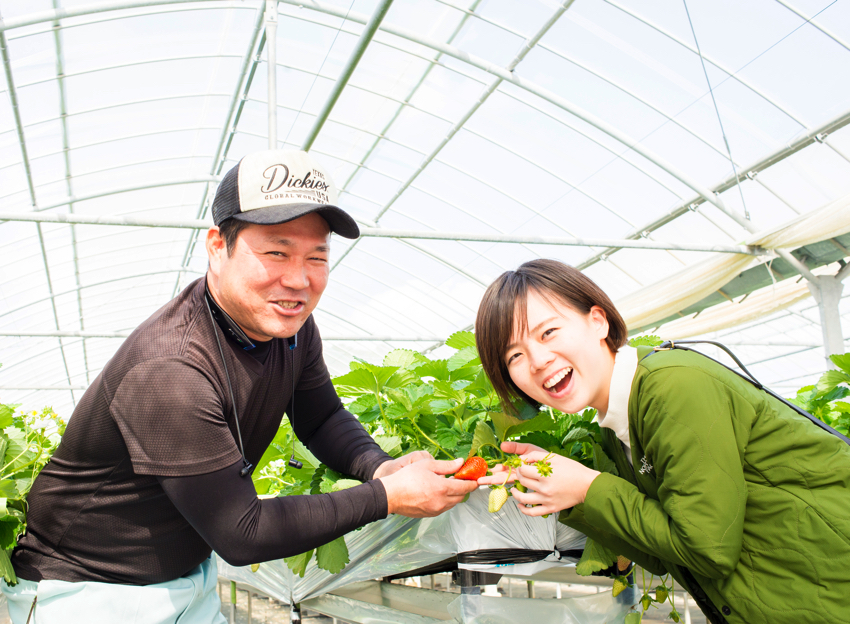 "Please take a photo with me!" I was invited by Mr. Shiradou. He said even though there was no strawberry cake but he had the strawberry!
Why is it red inside but with white color?
Actually, there are many kinds of strawberries.
In Shiradou ichigoen, they plant two types: Kaorino and Yotsuboshi.
Goma:How many variety do you cultivate?
Mr. Shiradou: We have two kinds.
Goma: Oh, really! (They look exactly the same~)
Mr. Shiradou:If you try one, you will tell immediately. The one with white pulp is Kaorino, and the other with red pulp is Yotsuboshi.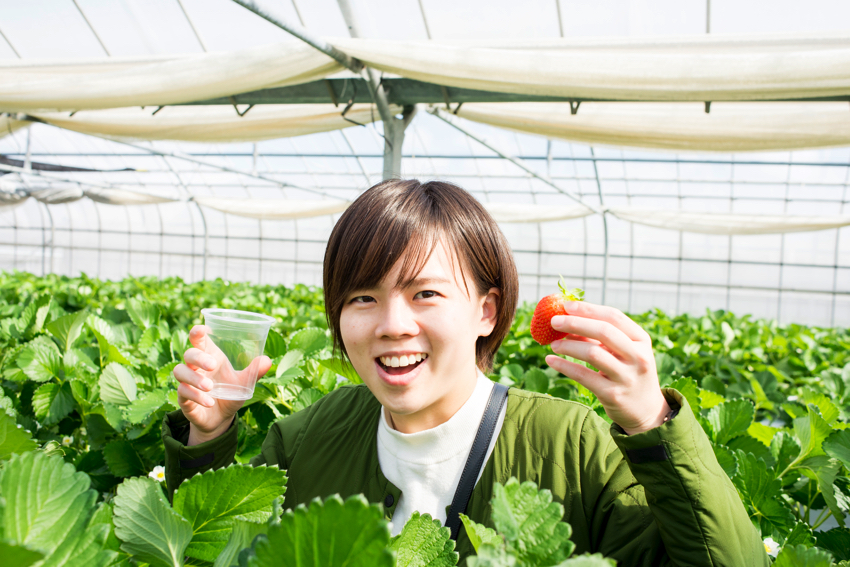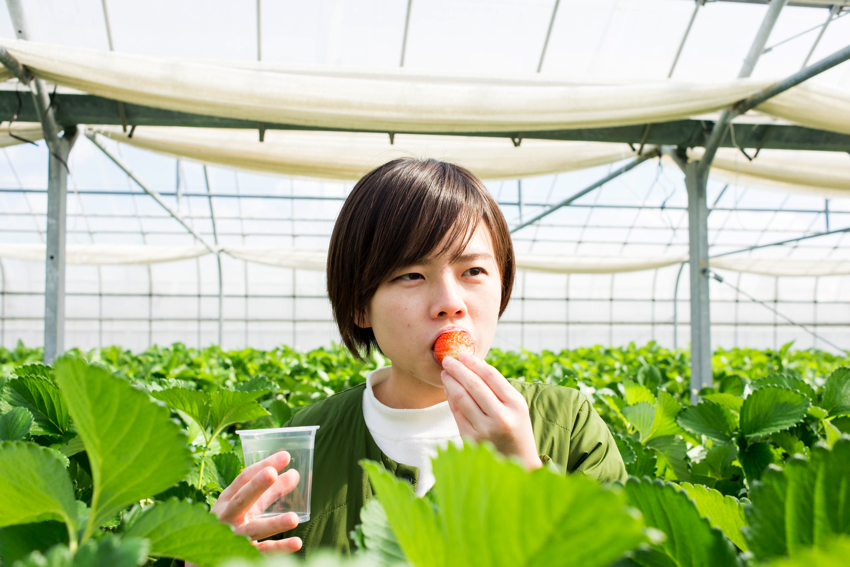 Goma:The pulp is white, so it must be Kaorino! It is unexpectedly easy to understand. (Btw, I never give a thought about the color of the pulp.)
Mr. Shiradou:It is All-You-Can-Eat. You can eat as much as you can.
Goma:WOW!!!How lucky I am!!!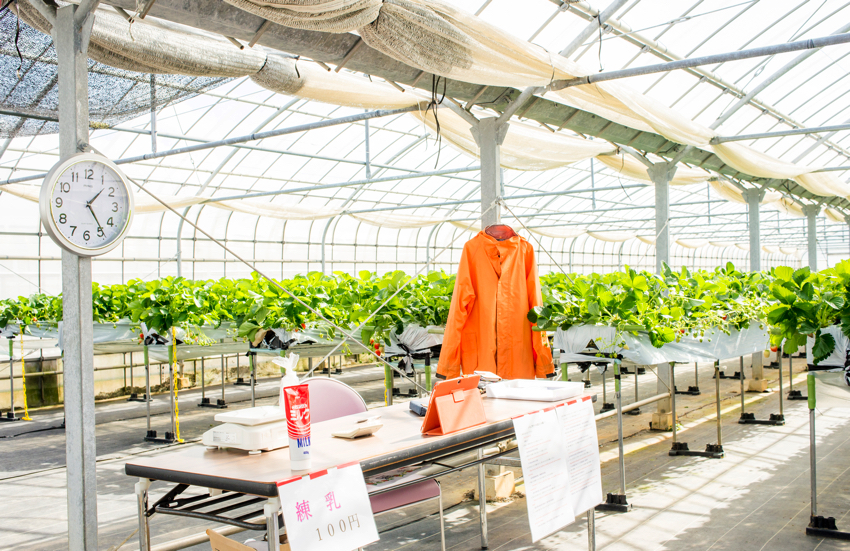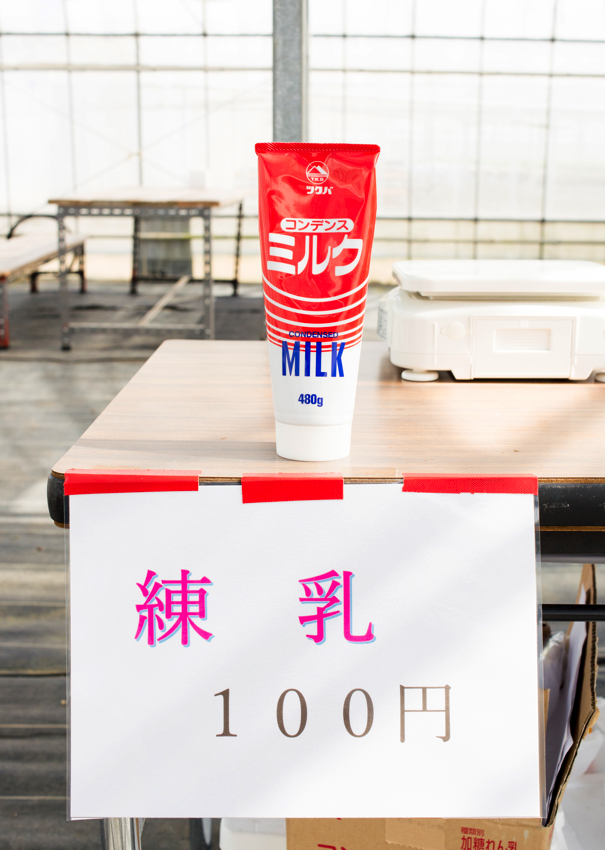 You can put some concentrated milk over the strawberry. It will be even sweeter!!
With only JPY100, you can put as much you can. Perfect match!!!
Runner! Well, I am not saying the the person who is actually running. It is a way to keep the flavor of strawberry.
As you can see, there are something on the strawberry. Do you have any idea what it is? Well, they are seeds and fruits as well in fact!
Then you may wonder what is the red stuff around the seed?
It's actually the bloating root of the pistils.
How cool it is! I can't stop eating because of the unspeakable feeling.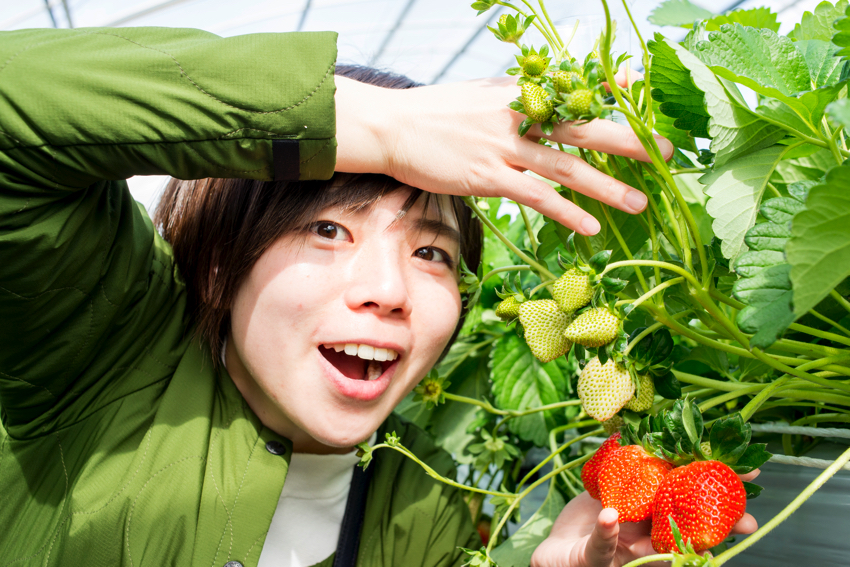 Goma:Would you please show me the seed?
Mr. Shiradou:We don't start cultivation with seed but use the RUNNER method.
Goma:RUNNER?( It must be poor listening.)
Mr. Shiradou:Like this〜
Goma:Does it grow faster than other plant?
Mr. Shiradou:Yes. Cut down the stem than put it inside the bottle.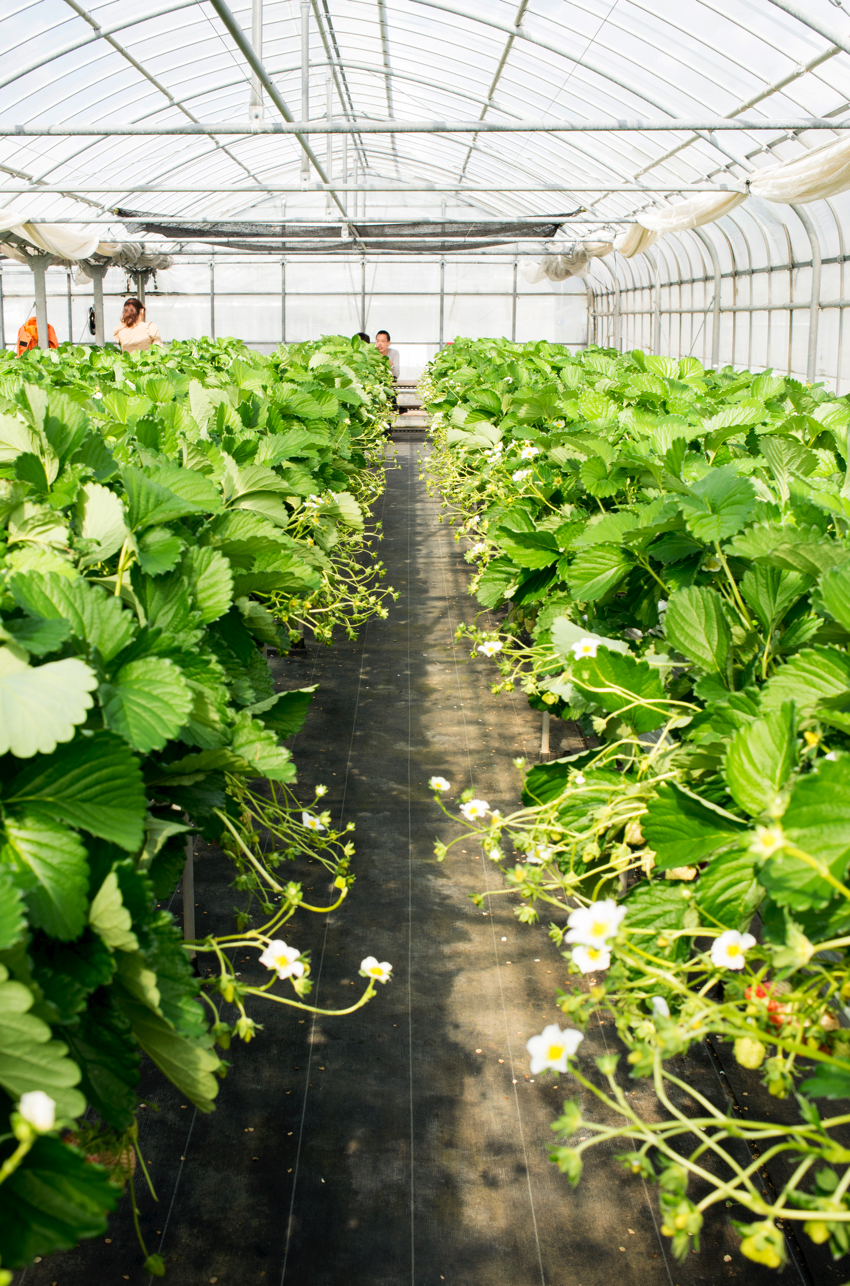 →The long stem with flower underneath the leave is called RUNNER.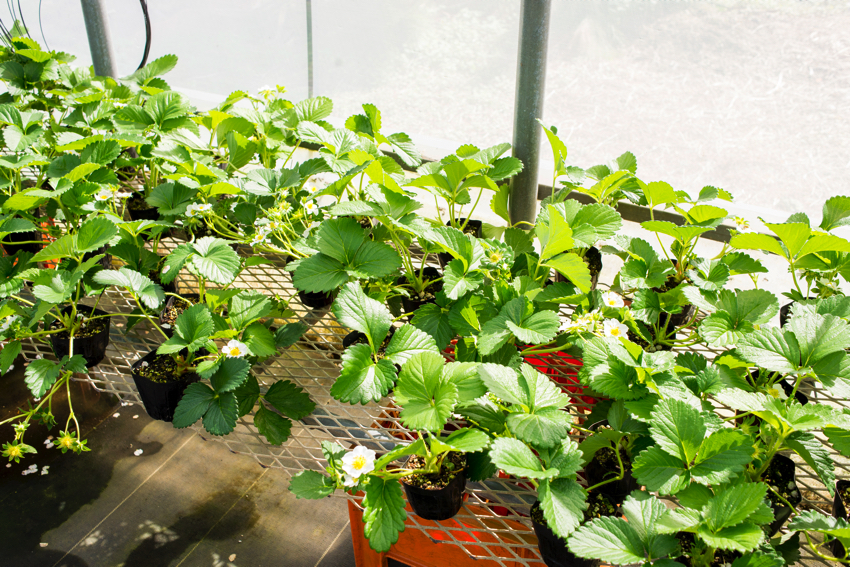 →Put the RUNNER inside the pot.
If we grow with seed, somehow the taste of the strawberry gets wierd or takes more time. That's why we adopted the RUNNER method to grow the fruit here. For example, transplanting the young stem from the main stem makes the flavor of the strawberry remain the same.
Takeaway is not available.
Goma:Btw, is it possible to take away?
Mr. Shiradou:We are sorry that we don't offer the takeaway service. If there are few reservations on that day, we sometimes sell by weight.
Goma:I see. You have to save some for the customers who come later. It will be lucky to buy some by weight.
Mr. Shiradou:That's true~
Please kindly note that takeaway or buying with gram is normally not available.
Limited edition (Dec ~ the beginning of May). Reservation requested!
Please kindly note that reservation is completely required.
Normally, weekend days are always fully booked. Please make a reservation in advance!
<Shiradou Strawberry Farm>
| | |
| --- | --- |
| Service Period | December 8, 2020(Tue.) – May, 2021 |
| Office Hour | 10:00〜14:00 |
| Regular Holiday | Monday・Friday |
| Charge | junior high school student and above:1500JPY・Elementary School Student: 1000JPY・2~6 years old: 700JPY |
| Parking Lot | Yes・FREE |
| TEL | +81-90-8836-6711 |
| MapCode | 206 267 077*64 |
| Address | 〒905-0207 沖縄県国頭郡宜野座村宜野座1641 |
(Above information is as of Jan 2018)
Normally it is charged about JPY1500~JPY2000. Compared with other places, it is quite cost-effective!!!
(*Only personal opinion.)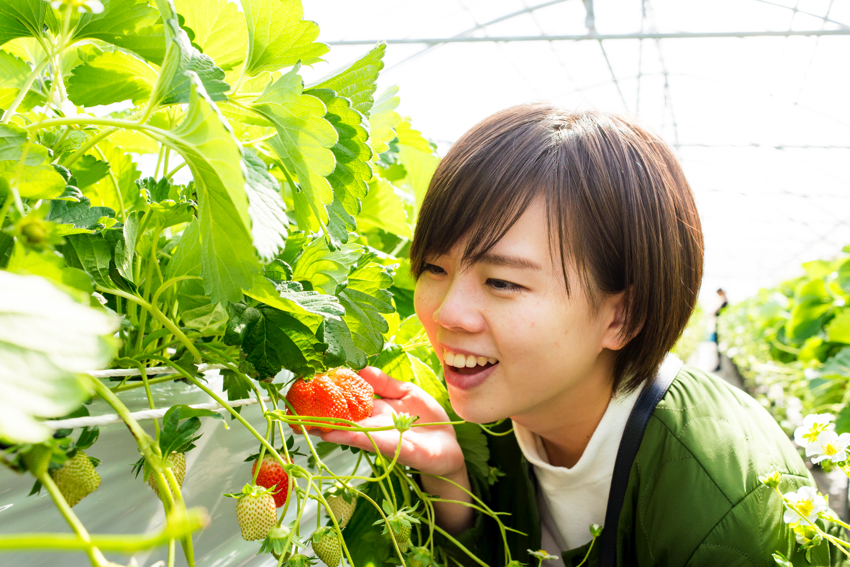 Come to Ginoza and fill yourself with Kuruma Shrimp and Strawberries (^o^)!