Hello everyone! I'm Fiona from Okinawa Holiday Hackers(╹◡╹)
Talking of Okinawa, you will find a lot of unusual ingredients from popular cooking where nowhere else could be found. The well-known ones include Awamori (Japanese Sake), Okinawa soba, Taco rice, Hisier (Okinawa chevon dish), Carrot shiri-shiri (Okinawa dish of grated carrot stir-fried with egg and sometimes meat or fish )etc.
Okinawa cuisine is highly favoured by Japanese travellers… But for foreigners, Japanese cuisine are more expected than Okinawan cuisine. 
That's why I would like to introduce the "Sushi Roll-Making Experience" to all of you(╹◡╹)
The location is at the Okinawa Grand Mer Resort.
I came to the Okinawa Grand Mer Resort situated in the central part of the main island to join the "Sushi Roll Making Experience" taught by a professional Japanese chief.
(40 minutes by car from Naha airport · 7 minutes by car from Aeon Mall Okinawa Rycom · 20 minutes by car from American Village *Travel times depends on the traffic situation.)
Reservation is required and the lesson is also open to anyone who do not stay in the hotel.
You could request for specific date and time (╹◡╹)
Let's go inside and take a look!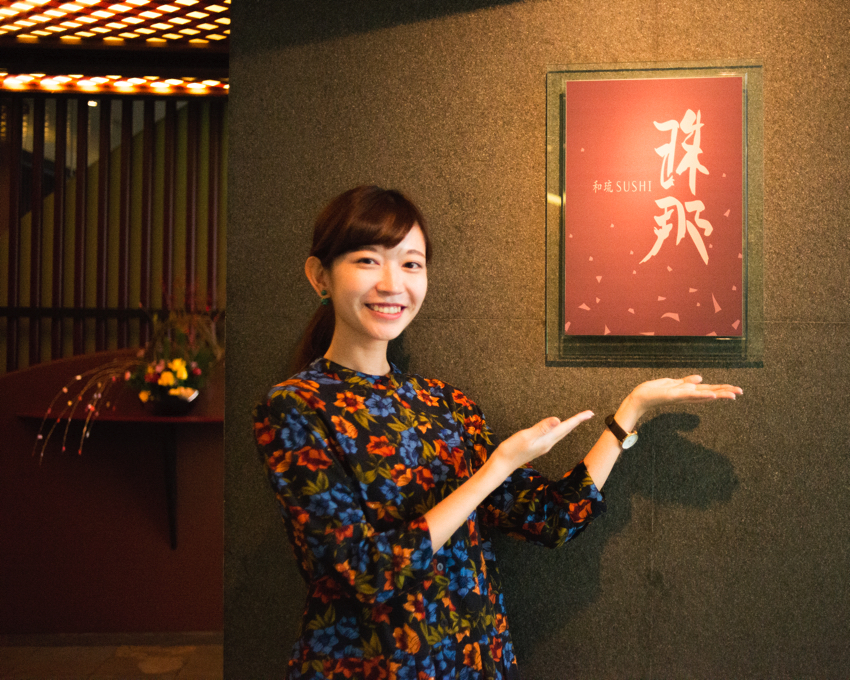 →The restaurant "Waryu SUSHI Shuna" is on the second floor of the Hotel."
Chef Shimizu greeted me at the door when I entered (╹◡╹)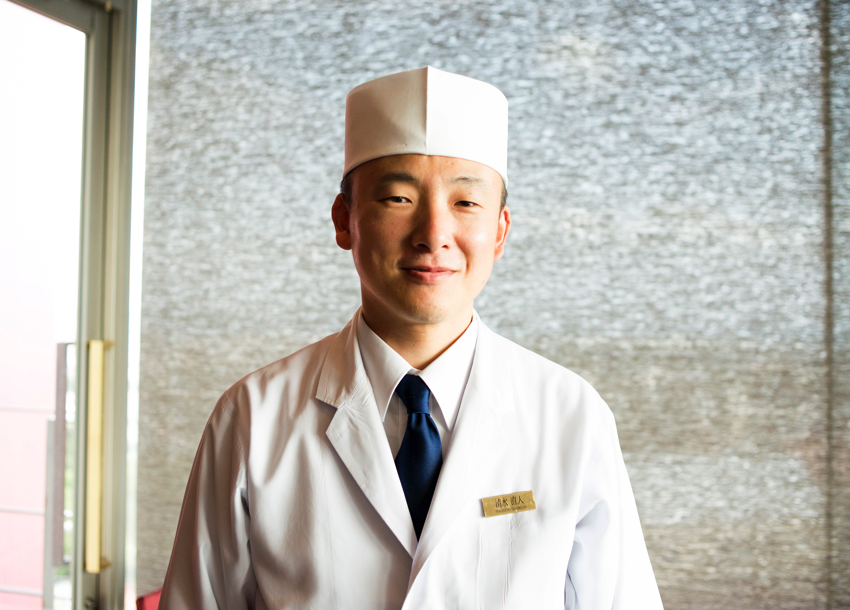 →Chef Shimizu Naohito (Chef 清水 直人)
Fiona: I rarely cook by myself. Please take care of me!
Chef Shimizu:Looking forward to working with you.
Fiona: What are the steps for sushi roll making? I am totally a newbie here. Will I be able to handle it well?
Chef Shimizu: In this lesson, we will teach you how to make vinegared rice and tips on how to roll sushi. Then customers will do it by themselves and taste it.
The whole process is quite easy. Some people can even finish it in 5 minutes, so anyone who is not used to cooking or even children can do it by themselves.
Vegetarian/Vegan & Halal are welcome too.
Fiona: That's sounds great! By the way, which countries are most of the customers come from?
Chef Shimizu: Excepting from Japanese customers, other main target markets are Hong Kong, Singapore, Taiwan, and Thailand.
This lesson also supports vegetarian/vegan and halal, so anyone can enjoy this activity.
Fiona: How about language support?
Chef Shimizu: Japanese・English・Chinese・Korean are all available.
Fiona: Wow~ Perfect(╹◡╹)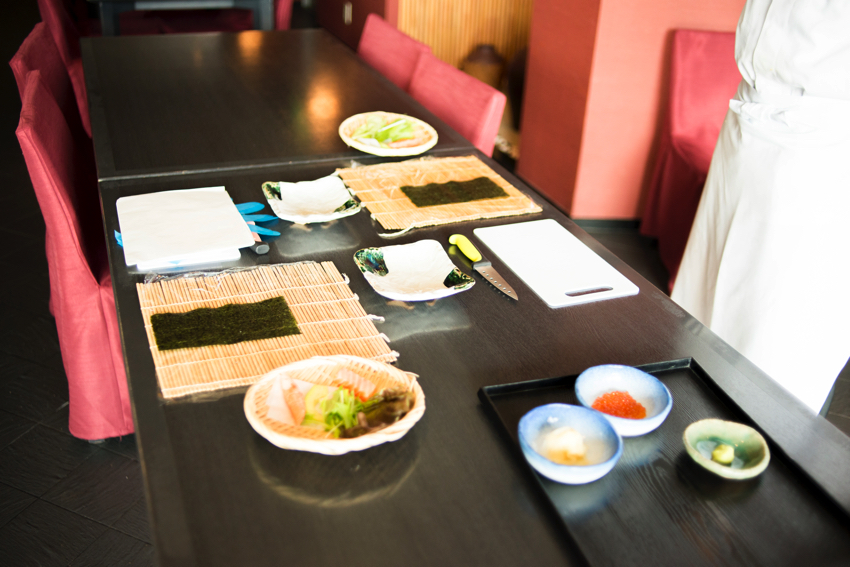 Chef Shimizu: Let's start! But before this, please come here.
Fiona: !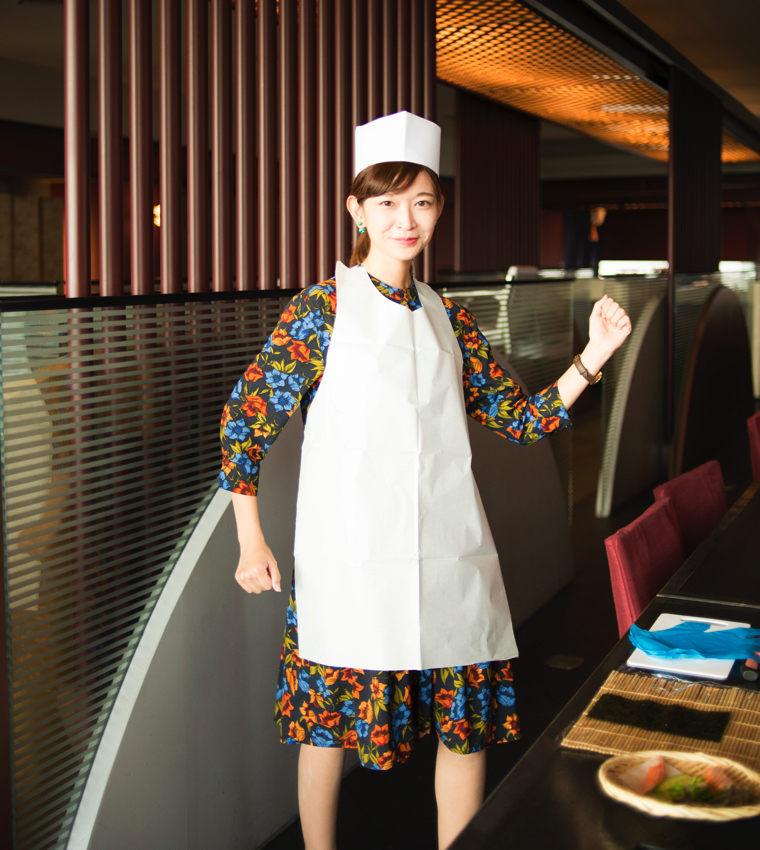 →It seems that everyone can bring this kit home.(paper hat and paper apron)
Fiona: Let's start from scratch!
Chef Shimizu: I always start with this pose with customers to mark the beginning of the lesson. Would you like to try, Fiona?
Fiona:!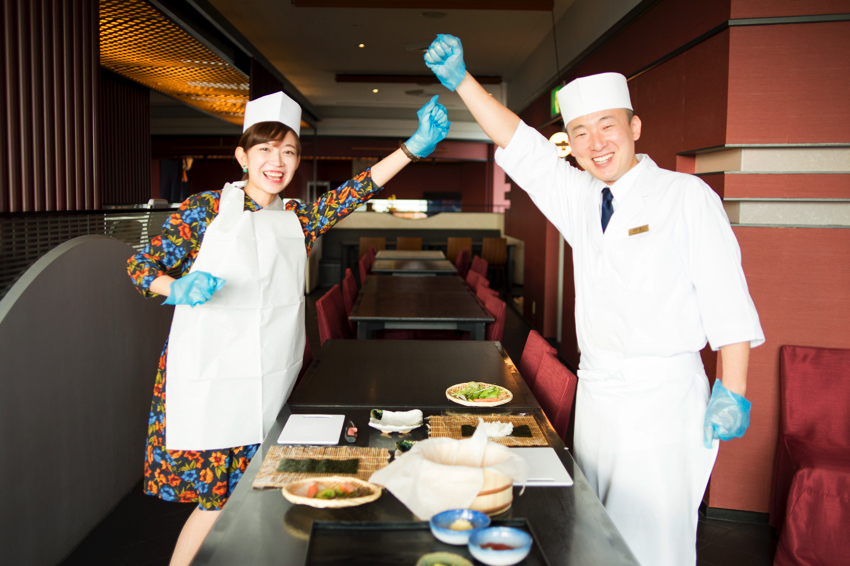 →A worldwide common starting gesture.
Chef Shimizu: First of all, put the vinegared rice on
the laver.
Fiona: OK. (I haven't had my lunch yet, so let me put a lot of vinegared rice!)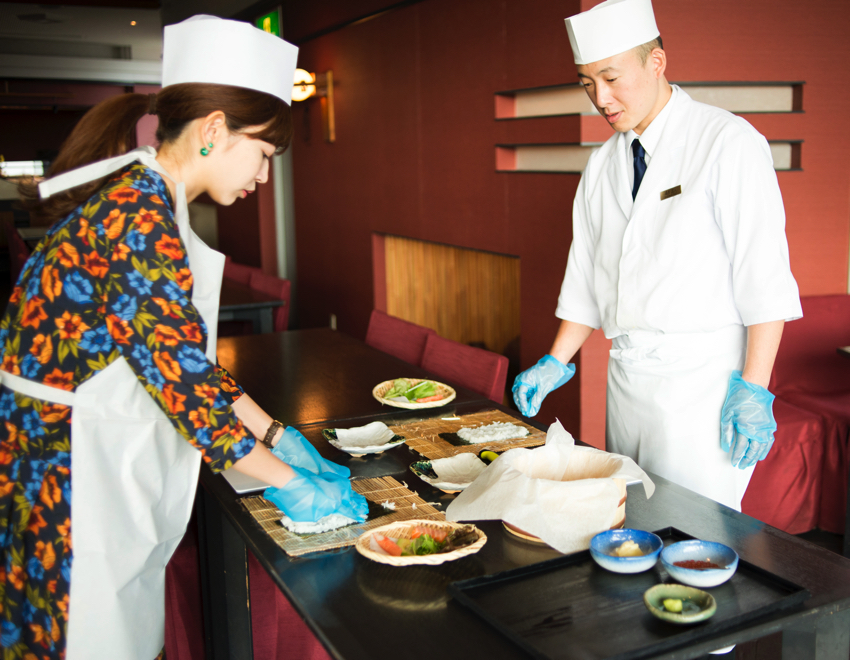 →Chef Shimizu seemed to be surprised by the amount of rice I put.
Chef Shimizu: Turn over the laver and then we will put the ingredients.
The ingredients prepared this time are lettuce, mizuna (Japanese brassica), avocado, salmon and crab stick (╹◡╹)
Chef Shimizu: After putting all the ingredients in the middle, let's roll it up.
Fiona: Ok. (It's difficult to roll it up because I put too much rice in.)
Chef Shimizu: After rolling up, let's adjust the shape of the sushi roll.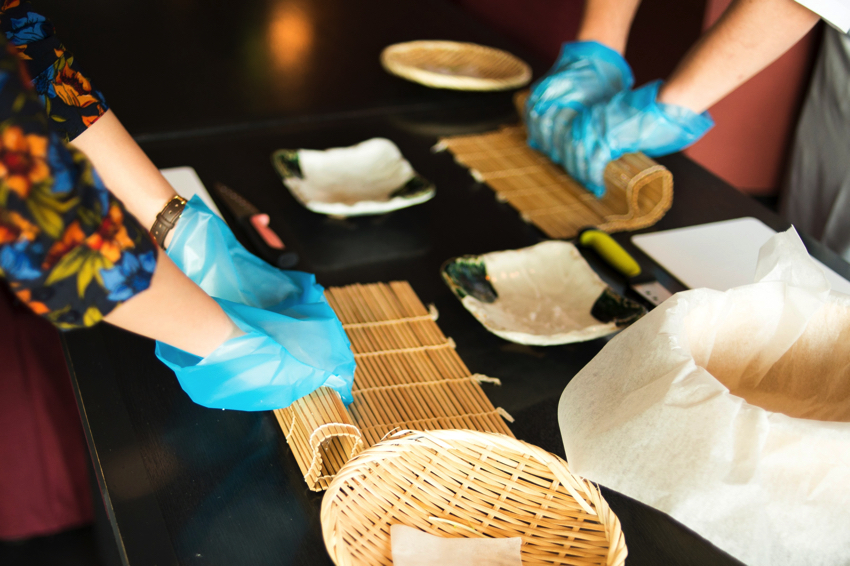 Chef Shimizu: Then cut it into 4 pieces.
Fiona: OK. (I haven't used knives for months.)

→Obviously what I made is different from others.
While Chef Shimizu is cutting the sushi roll into pieces,
Fiona: (Eh? I can't cut my sushi roll well. The shape is gradually collapsing. Help!! )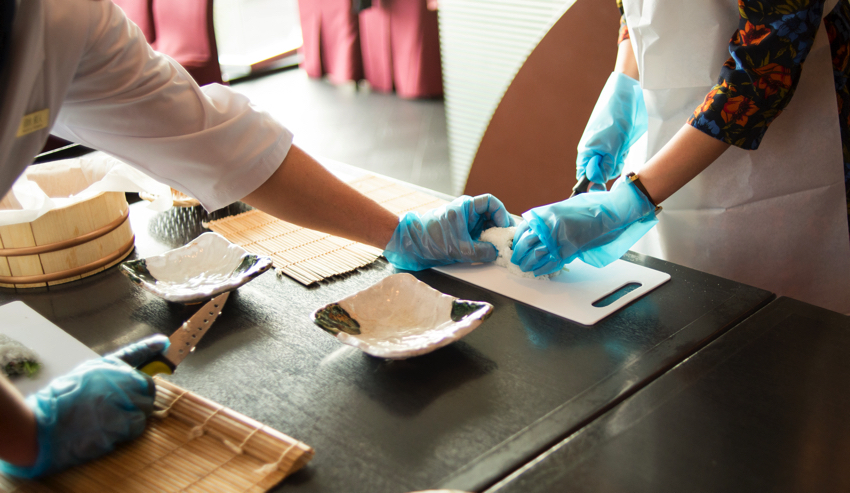 →Chef Shimizu did me a little favor(╹◡╹)
→It was a lie. Almost all of the sushi roll was cut by him.
Chef Shimizu: For the finishing touches, we will put on salmon roe and some soy sauce.
Fiona: Finished!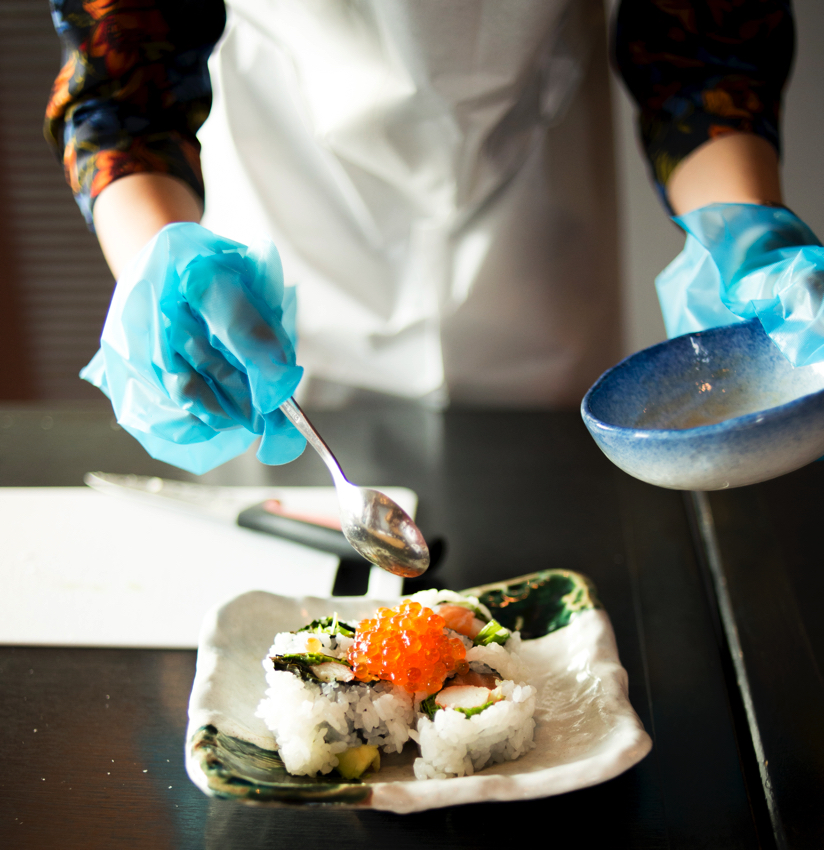 →It's important to take a beautiful picture and upload to Instagram… I have learnt my lesson… The amount of rice does affect the shape of the sushi roll.
It is finally done(╹◡╹)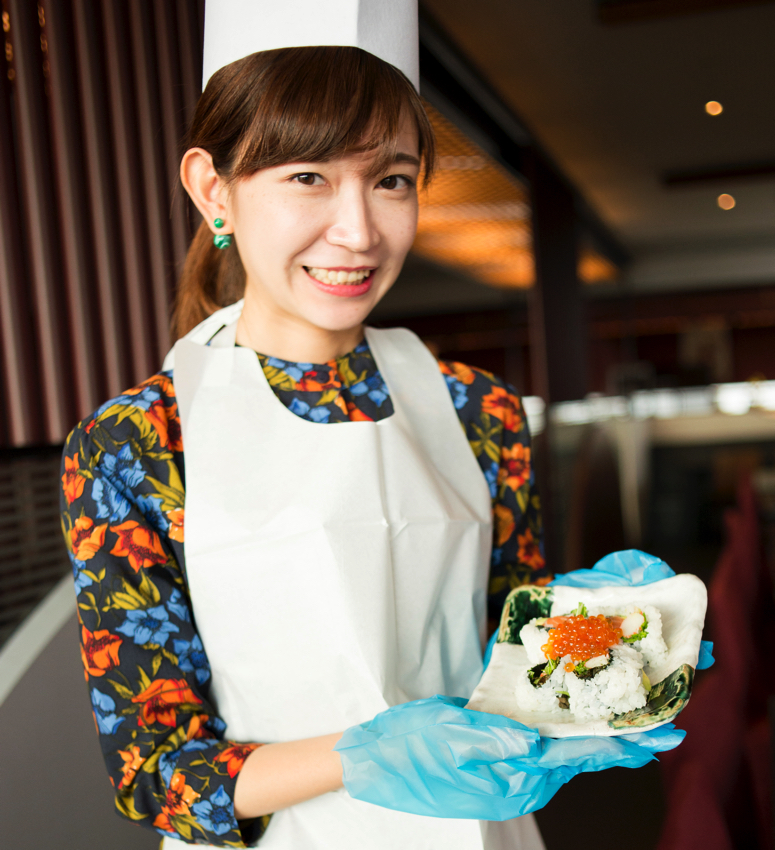 →Even though I didn't moved that much during the lesson, my front hair got messed up. I was nervous because I haven't used knife for a long time.
This is the final product of Chef Shizumi.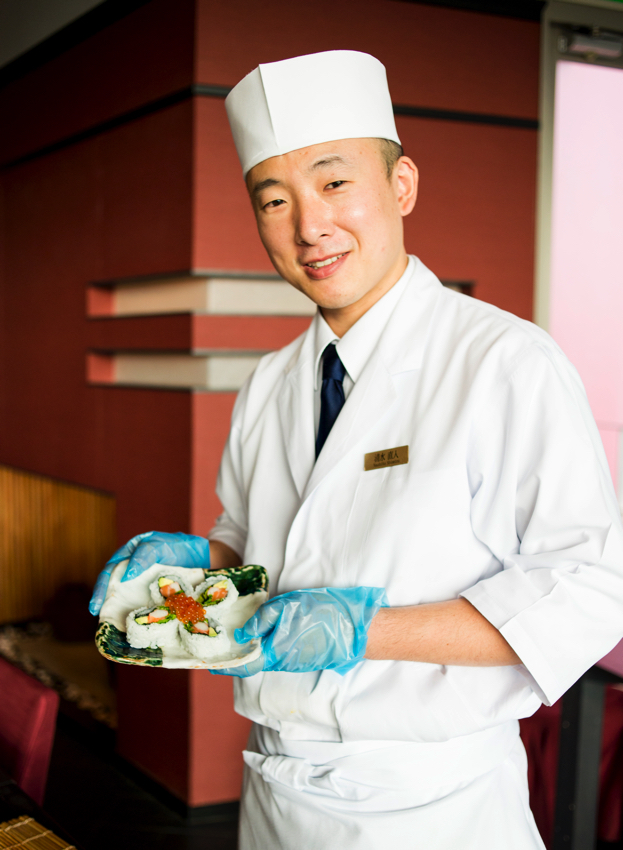 →It looks so delicious!!! And it looks so delicate. He is truly a master!
Chef Shimizu: How do you feel about the sushi roll experience?
Fiona: It was kind of difficult for me. When I heard that someone could finish it within 5 minutes, I thought that it would be a piece of cake. I think being greedy was the cause of my failure, I put too much vinegared rice. Please don't learn from me.
I wondered how did you come up with the idea of sushi roll making experience?
The combination of Japanese and American Culture.
Chef Shimizu: Although "Suhi Roll" is originally from Japan, it has spread throughout the globe with new inventions such as the "California roll" in America.
Okinawa's "Chanpuru Culture" is the combination of Japanese culture and American culture. Hope that travellers can learn and understand this special culture through making sushi rolls.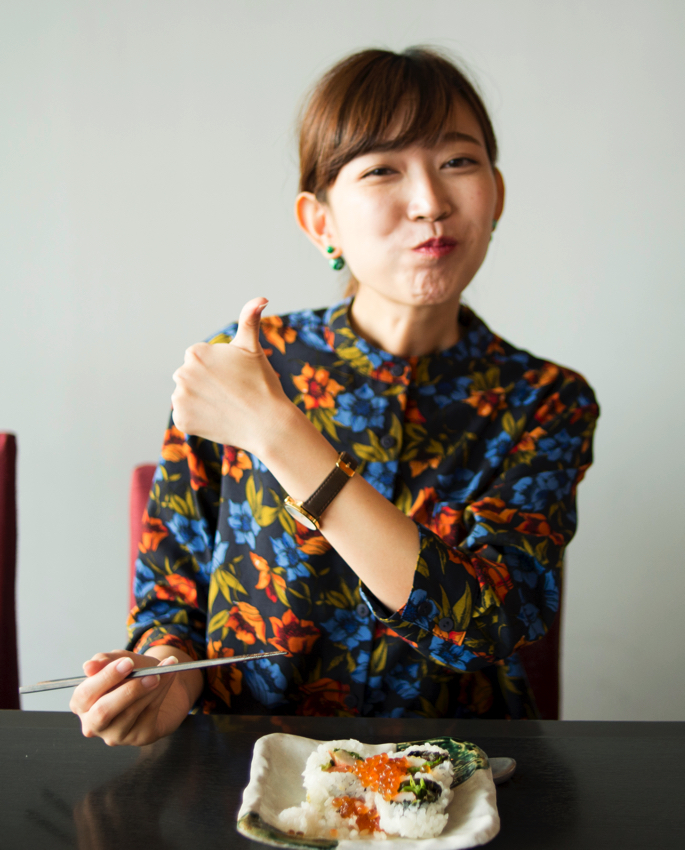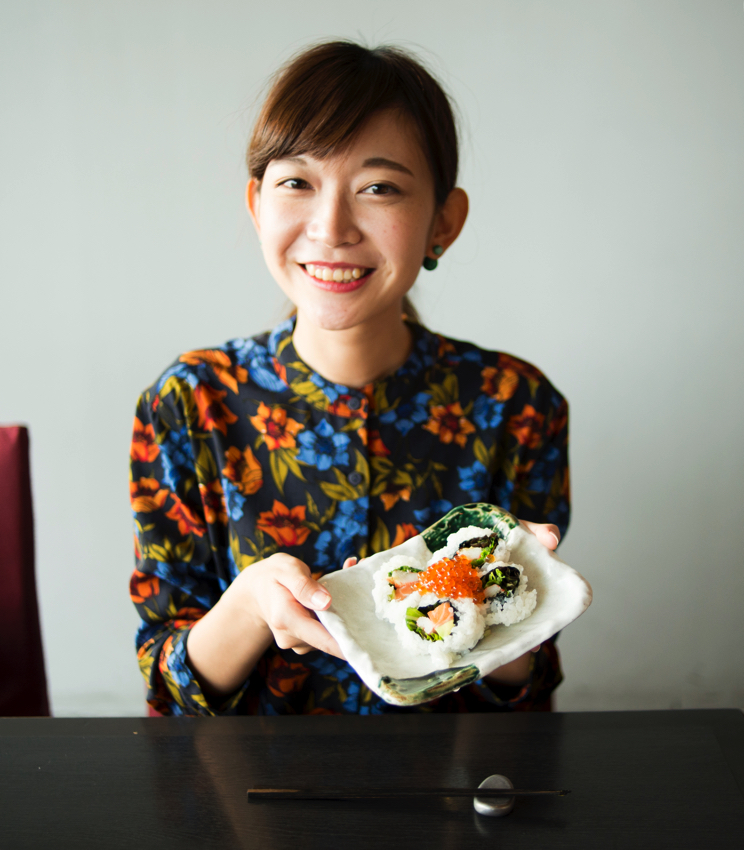 →In any case, the contents were very delicious (╹◡╹)
Fiona: When is the most popular times for this activity?
Chef Shimizu: The evening section is the most popular period. Usually families come here and enjoy dinner after sushi roll making.
It is recommended to reserve the dinner and lesson together for smoother travel.
Fiona: Lastly, Chef Shimizu's, thank you very much for today (╹◡╹)
Chef Shimizu: Okinawa has the highest longetivity indicies within Japan, which is due to Okinawan's healthy lifestyle. To date, sushi is also considered as a healthy alternative for any meals. Please come and experience the Chanpuru culture at Okinawa Grand Mer Resort. Thank you for today.
The activity welcomes everyone to join, regardless of any nationality. Minimum number of participants is 2 and maximum is 50 people!
Vinegared rice is the key to success of making sushi rolls. Please reserve and experience by all means (╹◡╹)
Still need to practice my cooking skills…
Reserve Roll Sushi Experience Lesson HERE → TEL: +81-98-931-1585(to Restaurant Reserve Department)
Book a room in Okinawa Grand Mer Resort HERE!