Hello everyone! This is Goma from Okinawa Holiday Hackers!
Sorry for being sudden, but do you want to forget about everything and just spend vacations on the beautiful beach of Okinawa the whole day?
This time together with Okinawa Likes (from Okinawa SNS media) known from the previous time we sneak into "Rizzan Sea Park Hotel Tancha Bay" situated in Onna Village in the northern area of Okinawa where you can do everything within the hotel starting from accommodation, having meals and to trying activities♪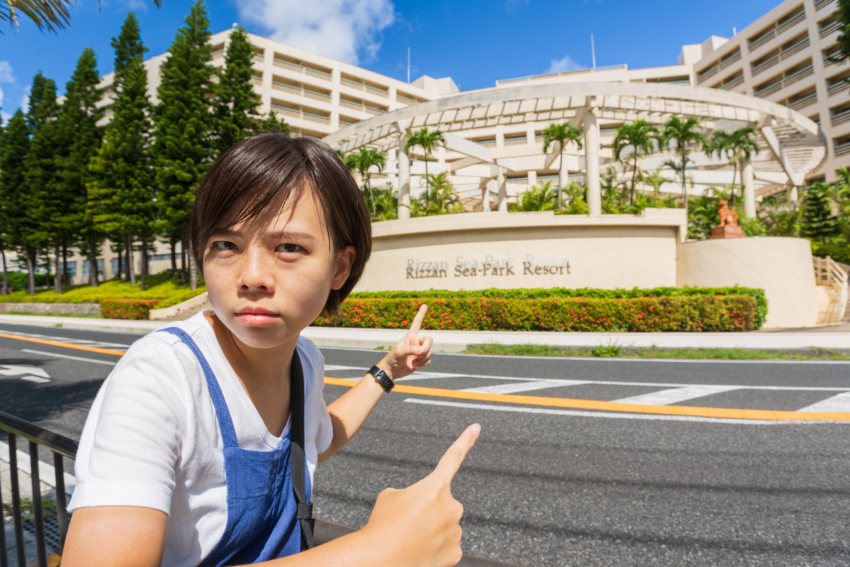 1 day stay near the beautiful beach! You can just watch or go to the spot!☆
"Rizzan Sea Park Hotel Tancha Bay" is the largest hotel on the beach on Okinawa! This is the most recommended hotel for people who want to enjoy sea♪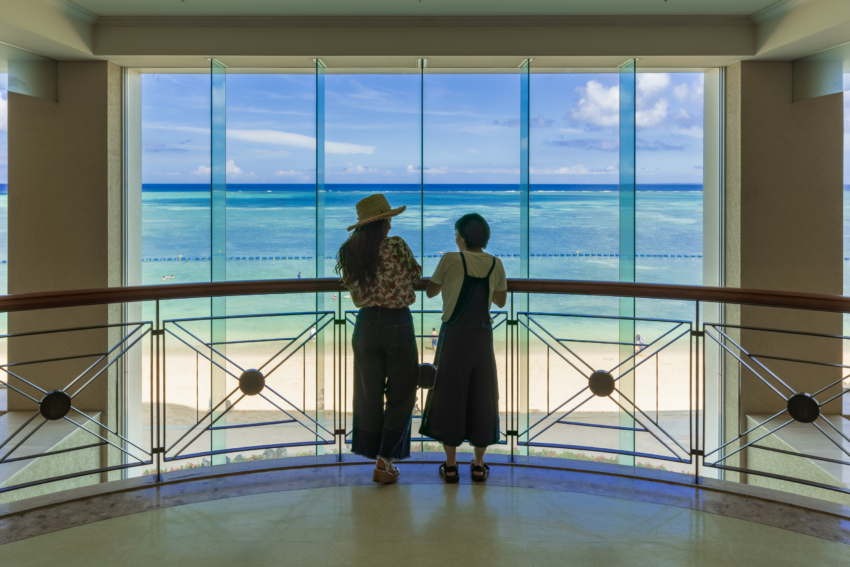 Light blue color of the shore comes inside the lounge and its also magnificent ♡
800 m long natural beach is situated right in front of you so we definitely want to go there at least once visiting Okinawa ~.*(・∀・)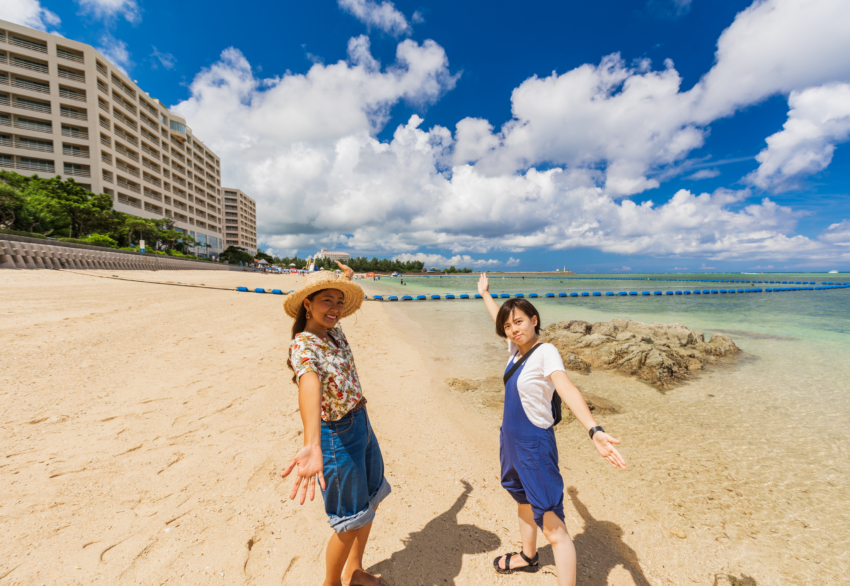 And it is really really wide & transparent! "(*゚∀゚)/"
Swimming area is supervised properly with lifeguard so you can enjoy sea bathing without worries!
In the deep area you can also find marine activities so persons who are not satisfied with only sea bathing will be happy ☆
By the way "Rizzan Sea Park Hotel Tancha Bay" has not only beach but also a pool.
We recommend to enjoy natural beach in the daytime and heal warm body in the rainbow pool in evening overlooking the shore~☆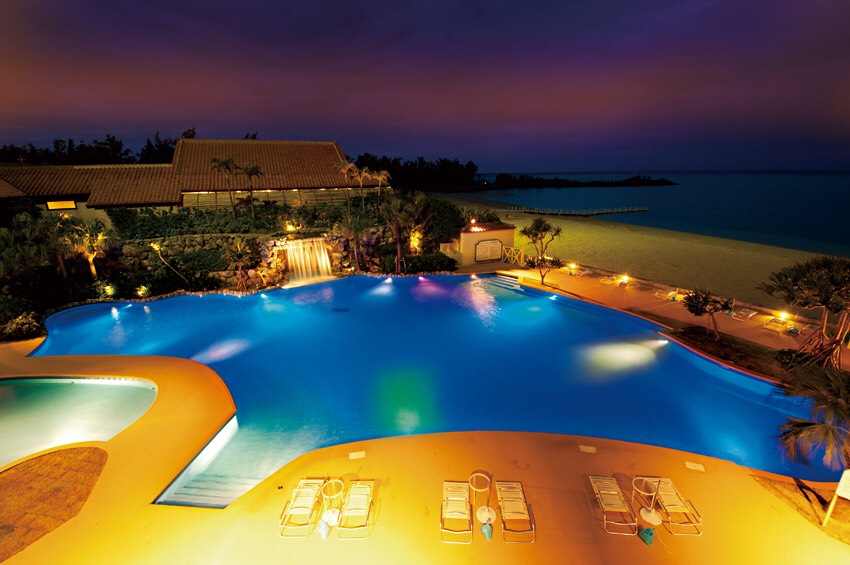 【The picture is provided by Rizzan Sea Park Hotel Tancha Bay】
Of course, you can have fun in the daytime also ☆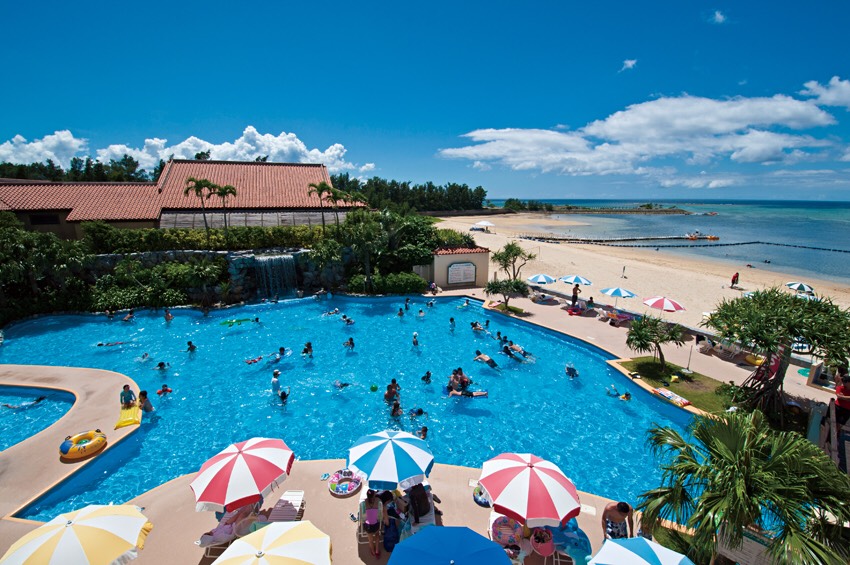 【The picture is provided by Rizzan Sea Park Hotel Tancha Bay】
And surprise for winter season! Indoor warm pool is available so you can enjoy swimming in any of the four seasons ☆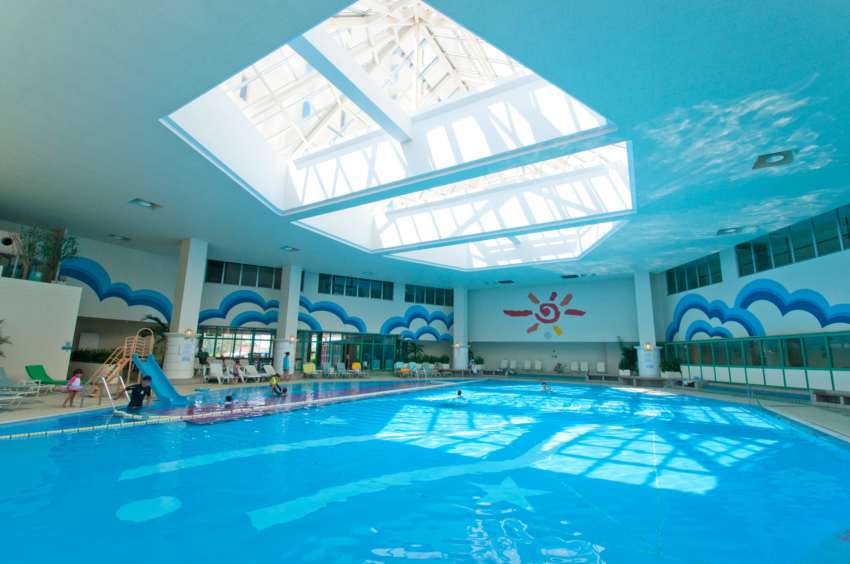 【The picture is provided by Rizzan Sea Park Hotel Tancha Bay】
Moreover, large communal bath with good view of the sea and sauna are available so another feature is that persons of all ages can enjoy it♪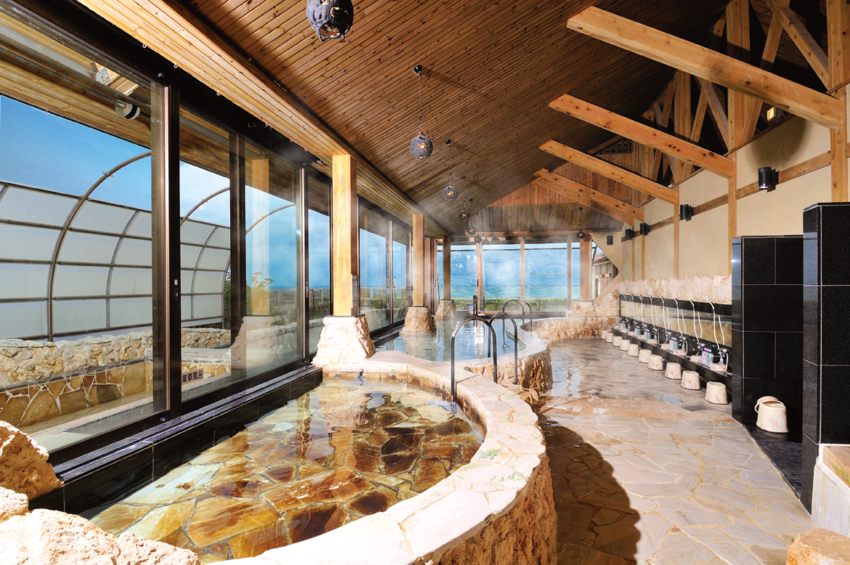 【The picture is provided by Rizzan Sea Park Hotel Tancha Bay】
Gradations of colors of the ocean visible from ocean view room are also must-see!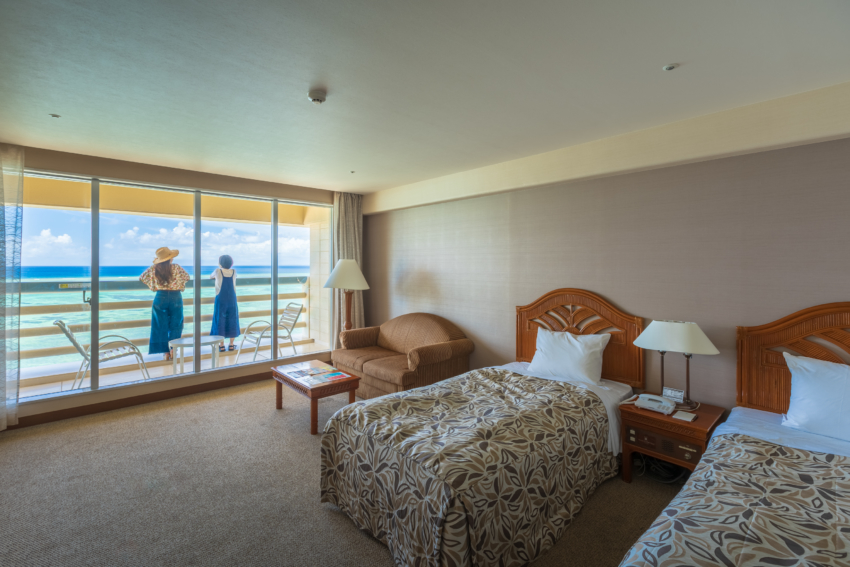 This time we stayed in the ocean view deluxe twin room♪
We were very impressed by the splendid view from this room and if we were on live coverage at that moment I felt like this:
 (Impression 1) If open the door you can see a light blue transparent sea beyond lace curtains
↓
(Impression 2) The moment when you rush to the window still holding your luggage and open the lace curtains    
↓ 
(Impression 3) Open the window and go to the terrace
So there are 3 steps of impressions that I experienced thanks to this good scene~~!ヾ(*´∀`*)ノ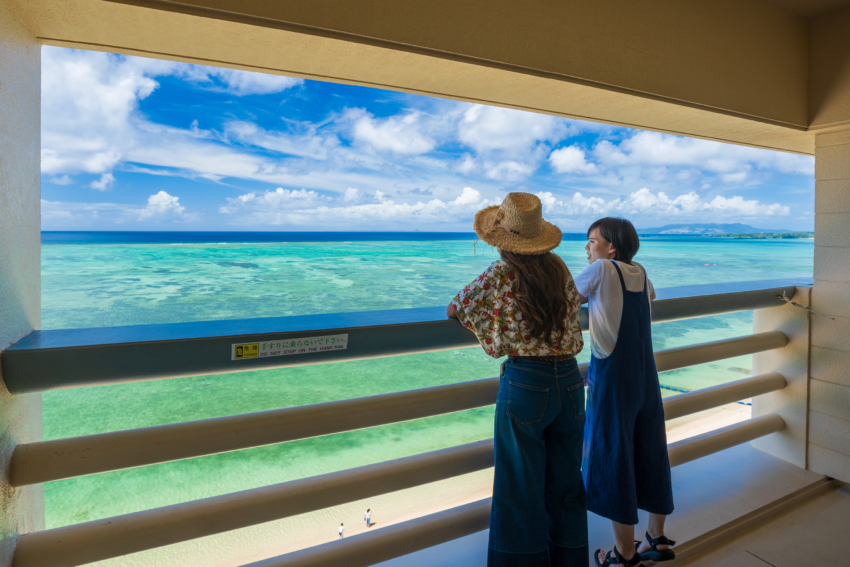 Furniture and atmosphere inside the room spacious like you can see here get the perfect score for the resort mood ☆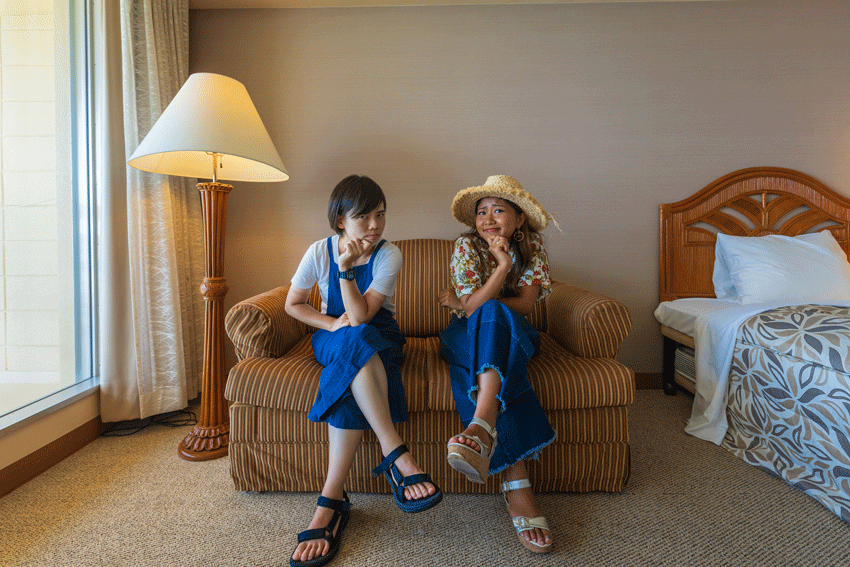 ▼ Hotel reservations and details are here!
Appetite will grow twice with this lunch buffet with large variety of meals!
About this Casual Dining Blue Lagoon, the restaurant has the same superb ocean view like in the room♪
And therefore let's enter the site!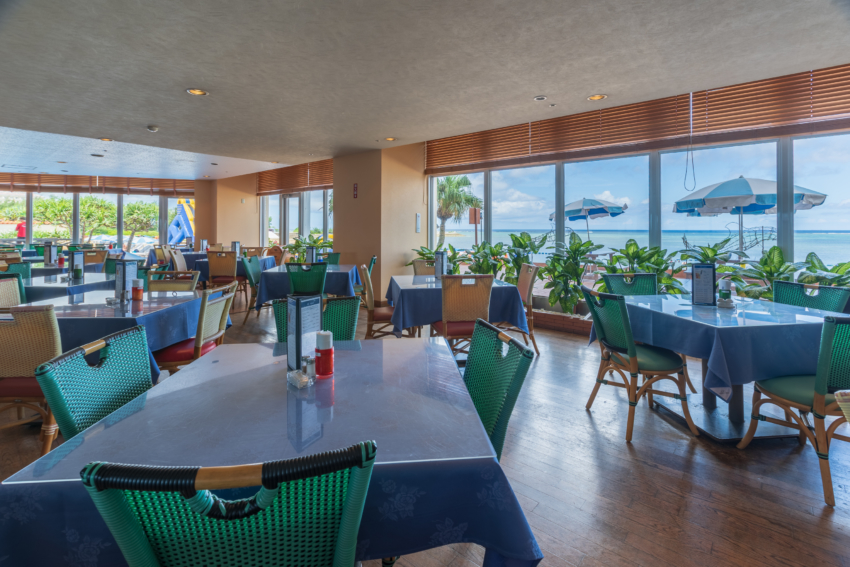 Japanese-Western-Chinese buffet lunch makes you happy but causes trouble in the same time because there are so many available options!
You cannot stop feeling excitement seeing dishes cooked from Okinawa ingredients but with slightly different from standard way of cooking ☆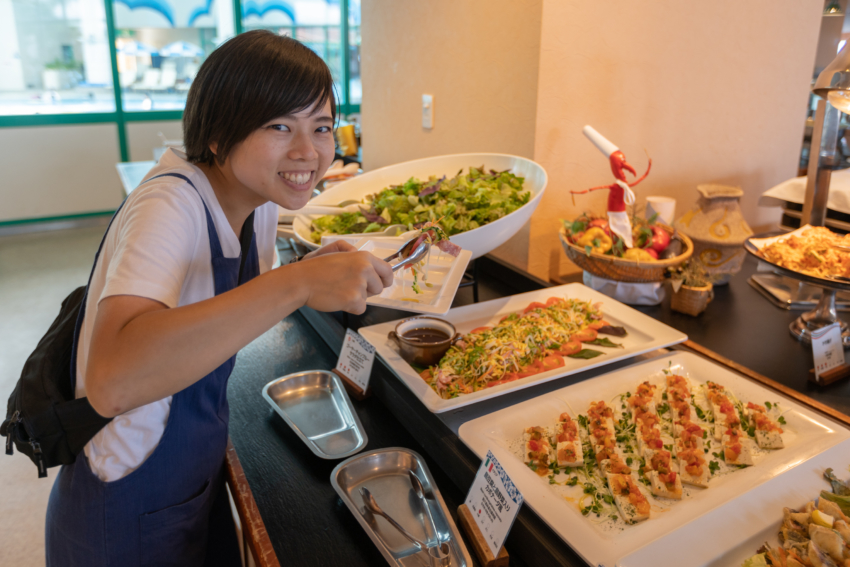 By the way this is a salad made from goya (bitter gourd) and it has refreshing taste and not bitter at all!
In addition, pleasant for children Western-style menu is also being served~☆
Of course convenient for persons with children kids' corner is also available ヾ(*´∀`*)ノ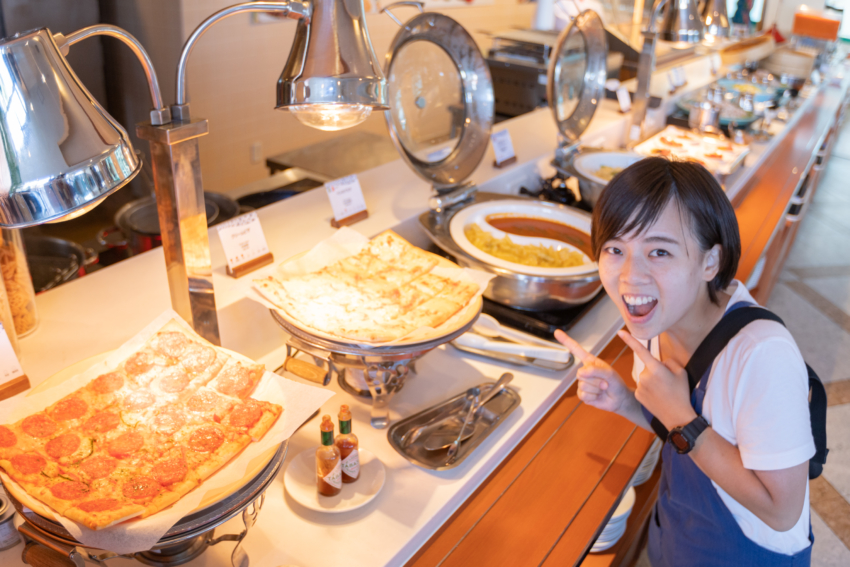 And here is original curry corner so maybe you even greet it with Namaste!
Not only curry but also doughy nan bread as well as puri (a meal like fried dough) and turmeric rice are available so you will be surprised ☆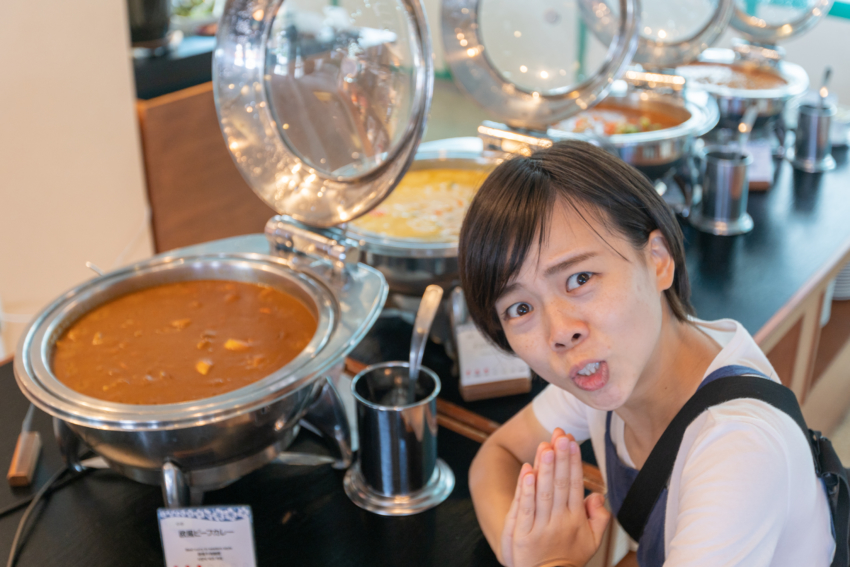 It is so tasty so I feel like I want to eat curry again if I just recall the taste!
And moreover there are a lot of another menus~~~♪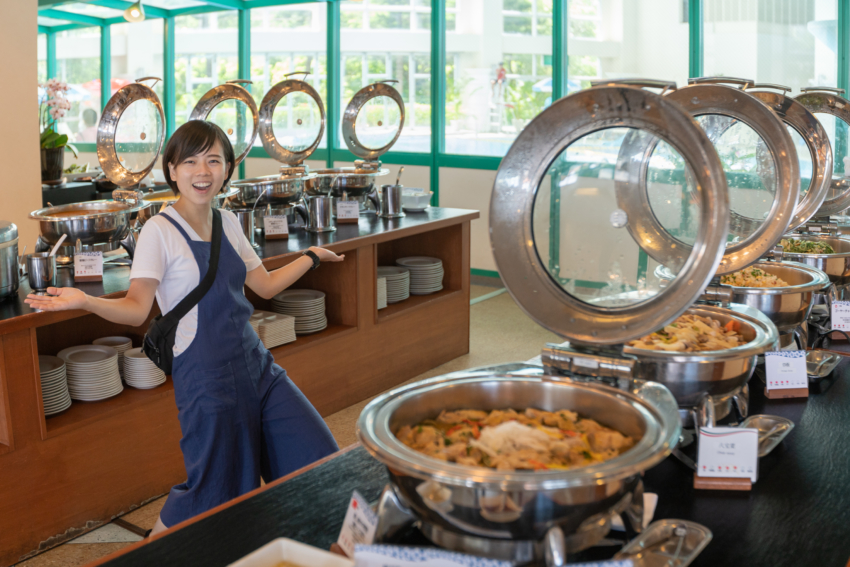 If arrange favorite meals in favorite way finally it really looks like a course meal ψ(`∇´)ψ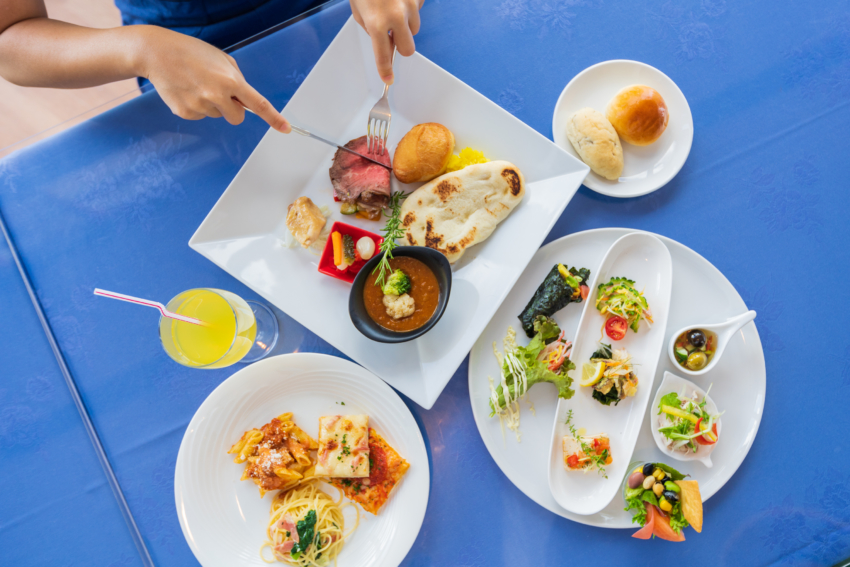 Tension is too high and I am in high spirits with roast beef~~~♪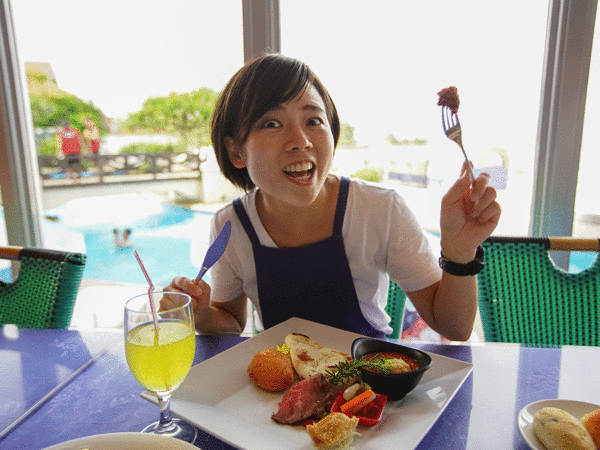 And in proper way I also enjoy the dessert in the end of the meal (人´∀`).☆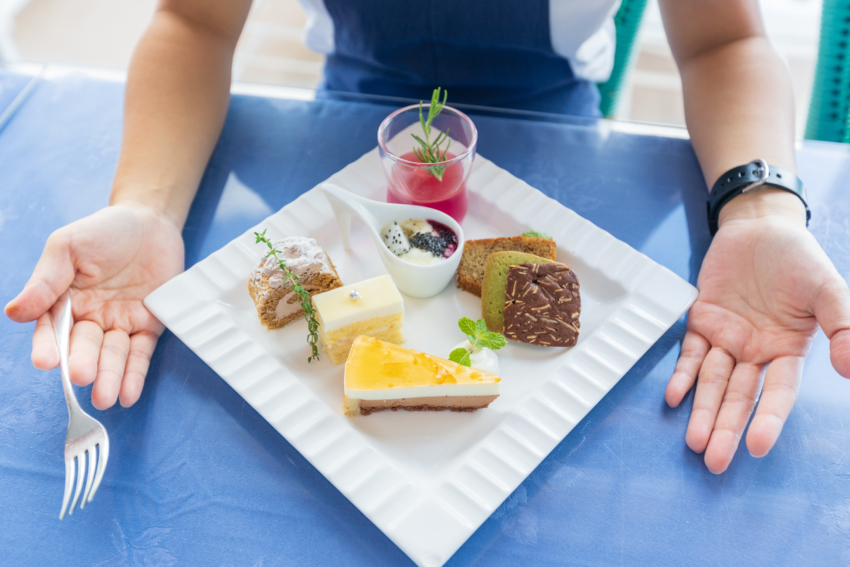 ▼ Hotel reservations and details are here!
If you like sweets you must check it! How about sweets buffet overlooking superb view?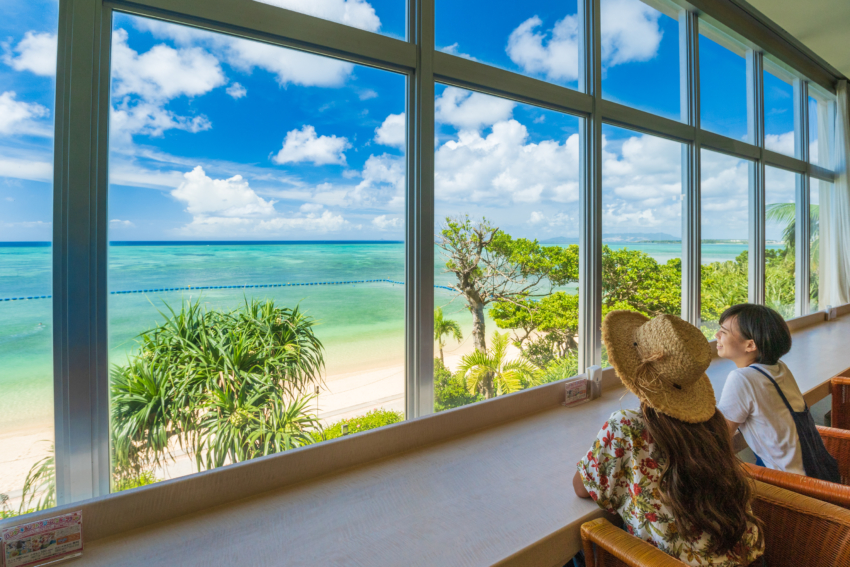 If you stay in "Rizzan Sea Park Hotel Tancha Bay" we definitely want you to visit Lounge Prashanti!
You can not only enjoy the scenery visible from the window but also enjoy sweets buffet♪
This is also must-see! And charge inside~!
This is also an exciting view♪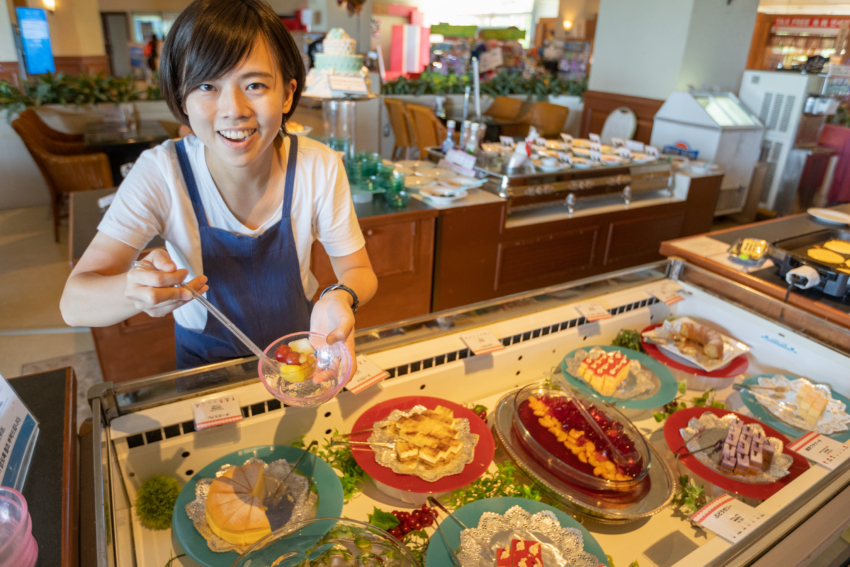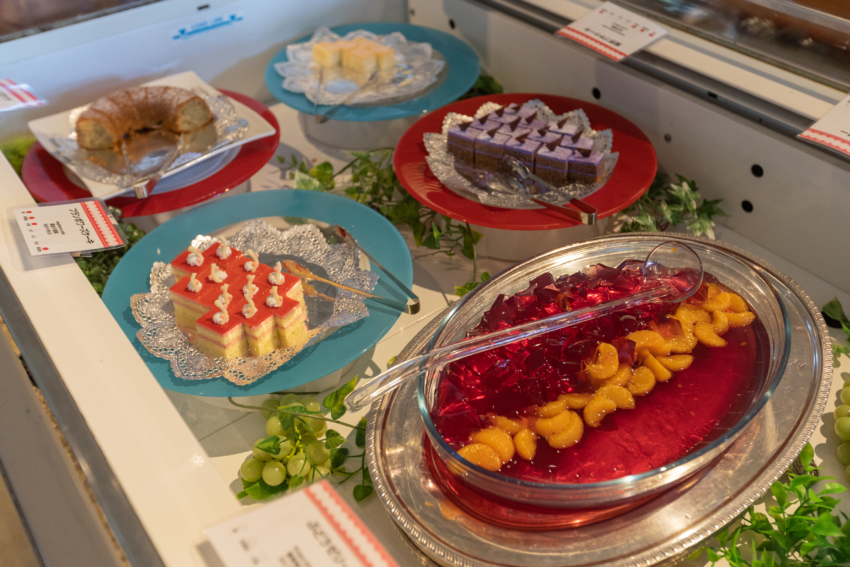 I have fun like I see soft ice cream machine the first time (*゚∀゚)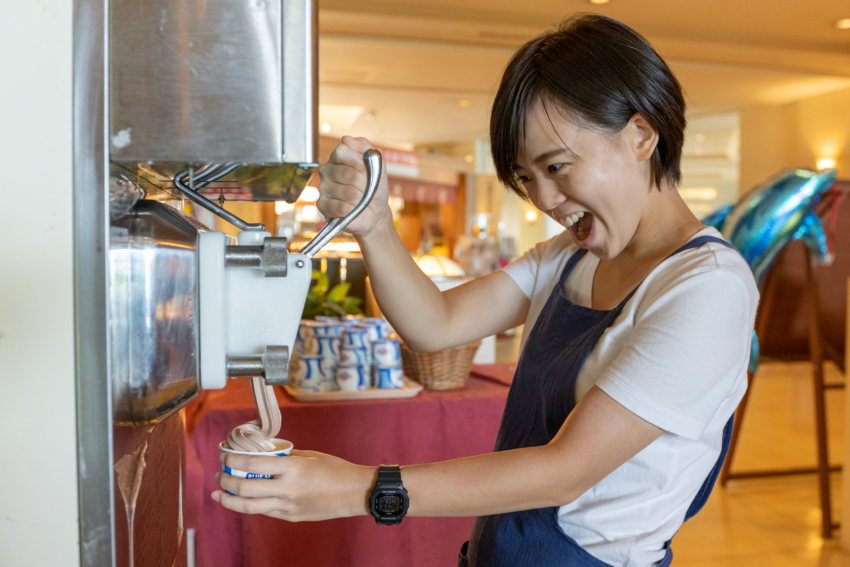 Cover it with chocolate properly in chocolate fondue!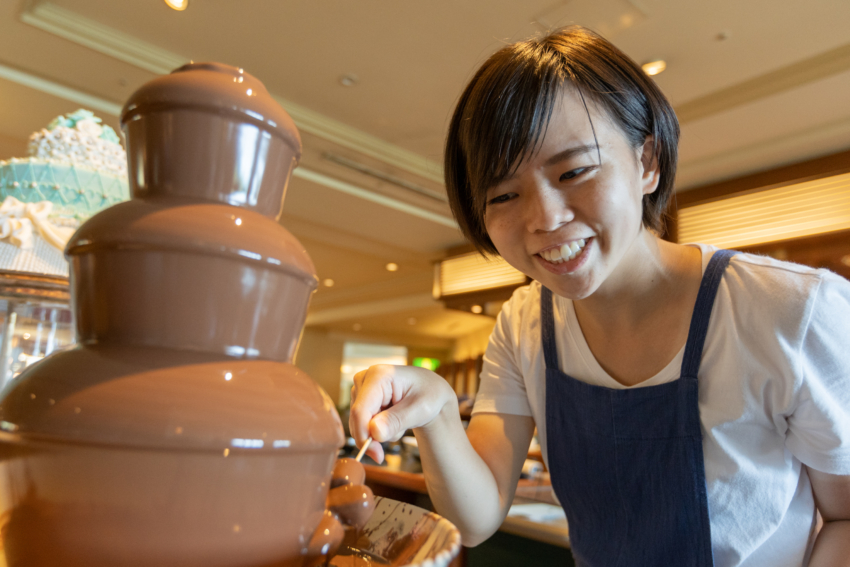 This was a quiet little-know good spot where you can slowly spend afternoon time at a table with an ocean view!
Oh, here is another advantageous accommodation plan with sweets buffet ~(人´∀`)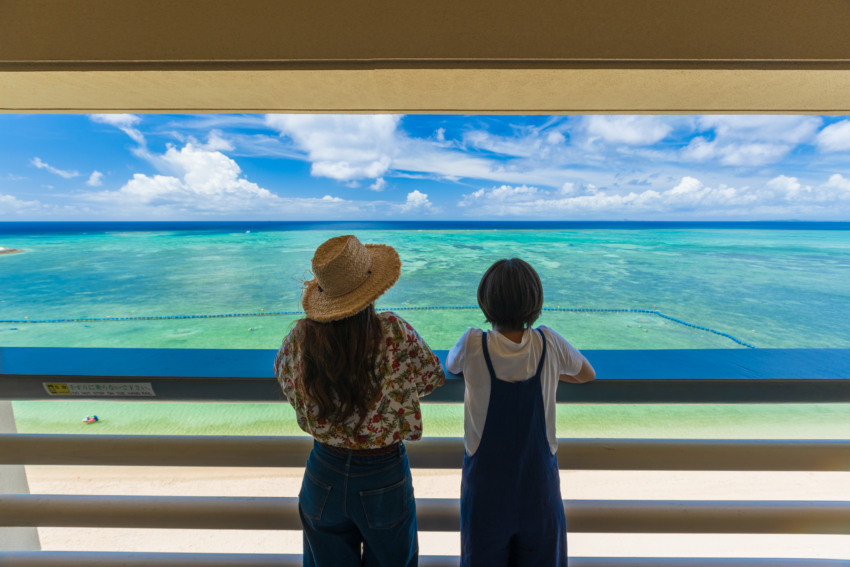 So this time in【Hotel tours vol. 5】we introduced "Rizzan Sea Park Hotel Tancha Bay", how was it~?
How about trying vacations in the way you like in the resort hotel where you can enjoy light blue beach ☆
▼ Hotel reservations and details are here!