How to 'hack' the secrets of Okinawa's beaches for 120% enjoyment (Nakijin edition)
This is a bit out of the blue, but
if you come to Okinawa, you definitely want to see gorgeous sparkling water! With so many beaches, which ones should you visit and how can you best enjoy them?
Are you someone with questions like these?
It seems like many travelers are in this situation…
Which is why we launched the Okinawa Holiday Hackers summer program
Here's the title!
Okinawa Holiday Hackers + Okinawa Likes
Summer Vacation Program
How to 'hack' the secrets of Okinawa's beaches for 120% enjoyment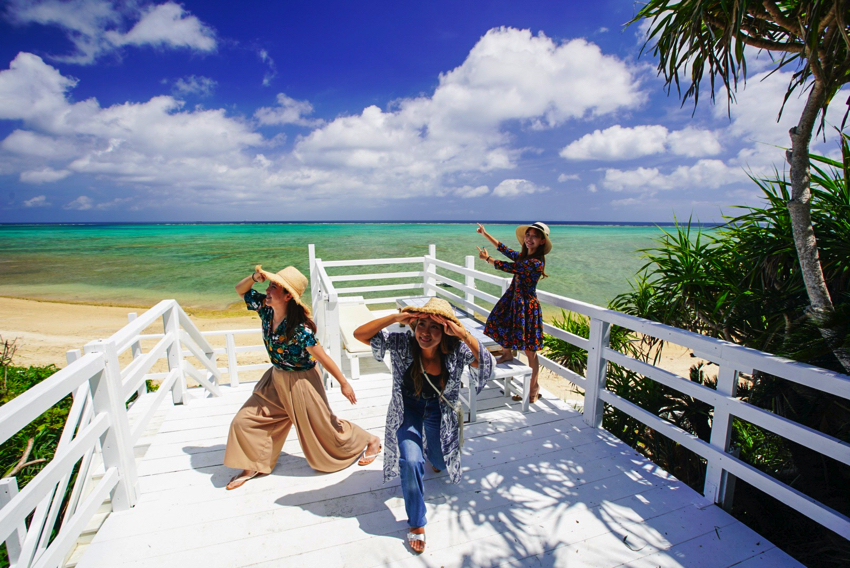 This program presents Okinawa Holiday Hackers' collaboration with the Okinawa SNS group Okinawa Likes, introducing great beaches we recommend on Okinawa's main island. Readers will find out how to enjoy these beaches and check out recommended spots near them!
We want to provide readers with 'hacks' for truly experiencing the appeal of these beaches.
So…information about these tours is best experienced in real time!
Updates will be sent out on Okinawa Holiday Hackers' Instagram stories feed, Okinawa Likes' Instagram stories feed as well as on Twitter.
*The real-time updates have concluded! But the stories are stored on Instagram highlights, so please have a look.
The 1st Beach Hack Tour kicked off with Nakijin-son, which has quite a few secret spots!
Held today! (July 23, 2018)
Definitely check out the travel guide below and enjoy the summary of today's tour
Beach Hack Tour (Nakijin-son)
Travel guide
10:00 am
Imadomari-beach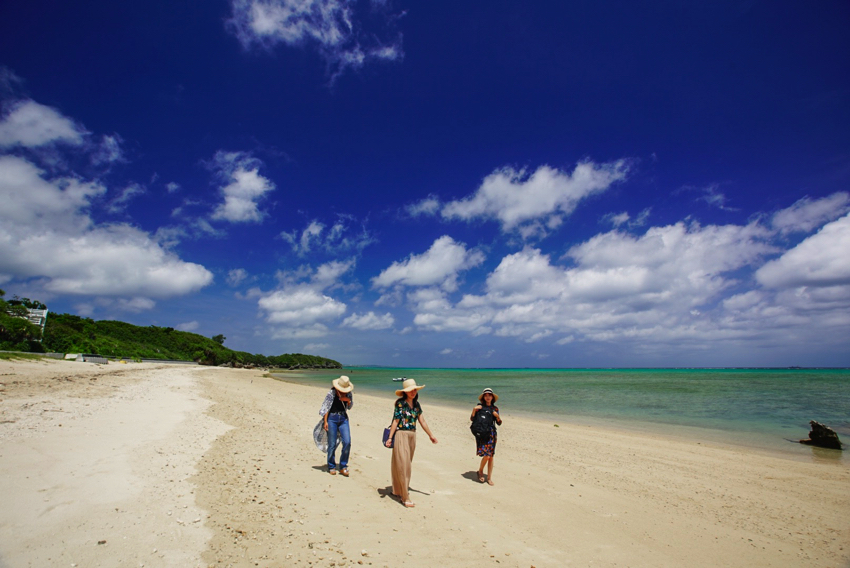 A secret beach on the way to Kouri beach from the emerald waters near Churaumi Aquarium. There are fewer people here and it is a relatively unknown beach not covered in many guidebooks.
Mighty rocks sit on the beach. When the tide is out, a walkable path appears between them.
If you make a trip to this beach, we recommend high tide on a clear day!
On the day that we visited, the tide was out and it was a little cloudy, but the water is bluer at high tide on clear days.
▼Check out everyone's posts on Instagram for more details.
<Basic info for Imadomari-beach>
showers/changing rooms
none
bathroom
none
parking lot
none
map code
553 112 889*57

*Map codes can be put into car navigation systems as the driving destination. (Only on models that allow map codes)

address
905-0428

Imadori, Nakijin-son, Kunigami-gun, Okinawa-ken
11:00 am
On the Beach CAFE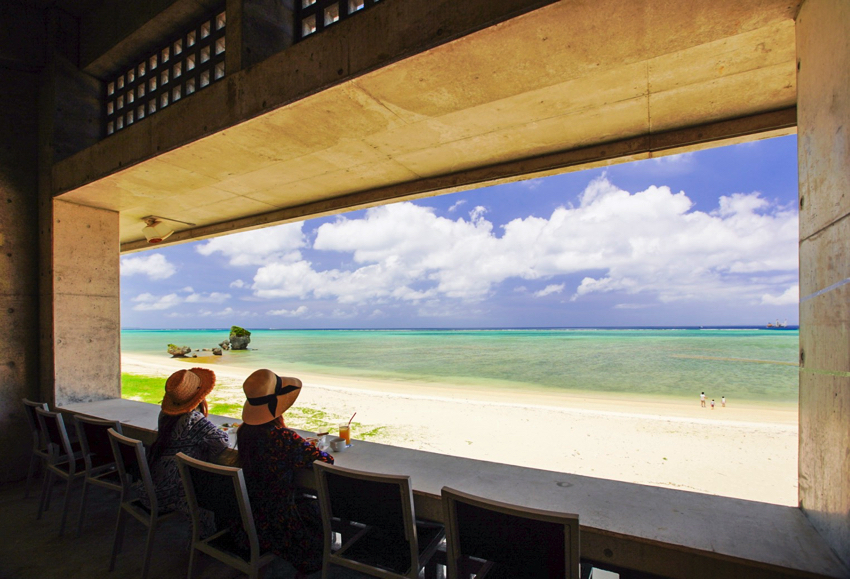 A café with a gorgeous ocean view on Imadomari-beach. You can take a short break here while gazing out on Imadomari-beach.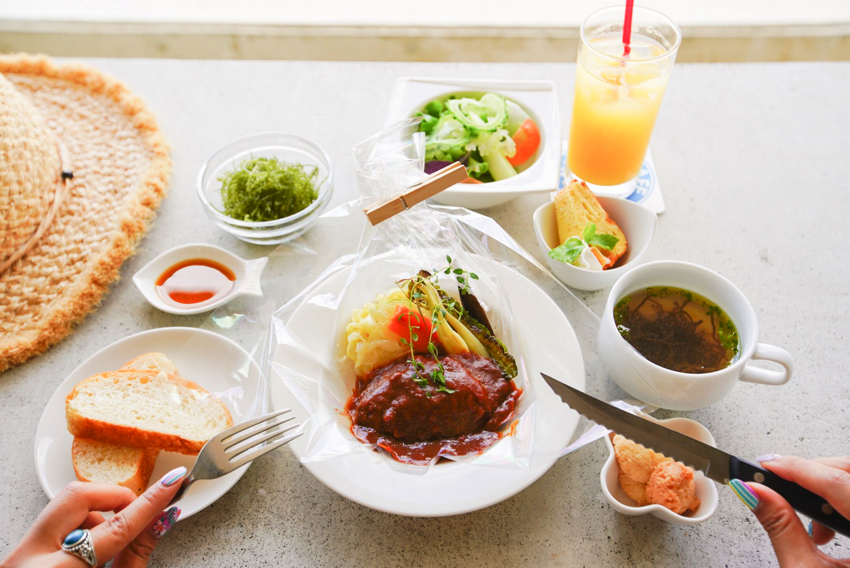 We ordered the homemade hamburger steak from the lunch menu.
It is spectacular to enjoy lunch with such amazing scenery.
We went when the café opened at 11:00, but it is popular enough that we recommend an online reservation.
▼On the Beach CAFE reservations
<Basic info for On the Beach CAFE>
Business hours

Lunchtime
11:00-6:00 pm (kitchen closes 5:00 pm)
Closed: open every day

Dinner time *Reservations only
18:00-22:00
Closed: rotating holidays

Parking lot
yes, free (20 spaces)
address
905-0428

612-2 Imadori, Nakijin-son, Kunigami-gun, Okinawa-ken
Here is a little side trip.
After the "On the Beach CAFE," our plan was to head straight to Sonmin-no Hama…
But we found an intriguing building and decided to check it out.
The name was Hokuzan Shoten.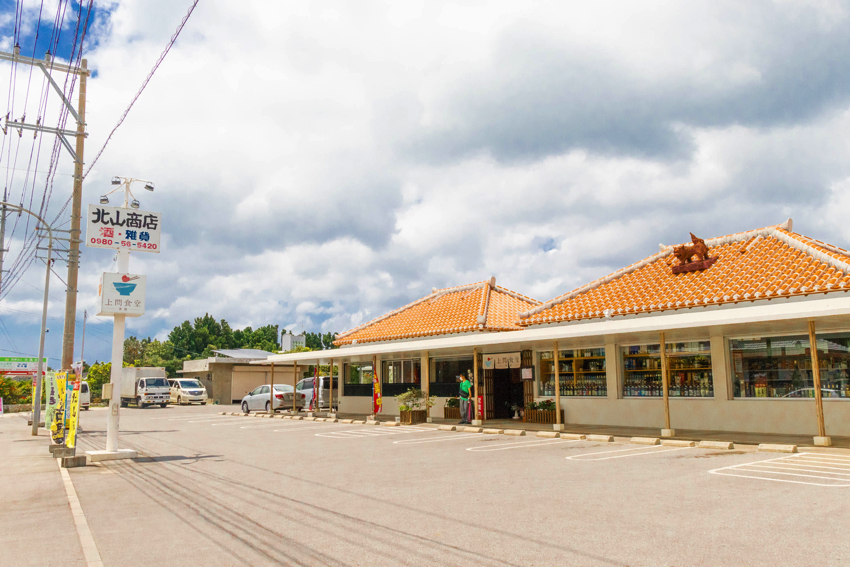 The word is that it's the remodeled version of the original Hokuzan Supermarket that had been in Nakijin-son for some time. It has the atmosphere of an old-time Okinawan business.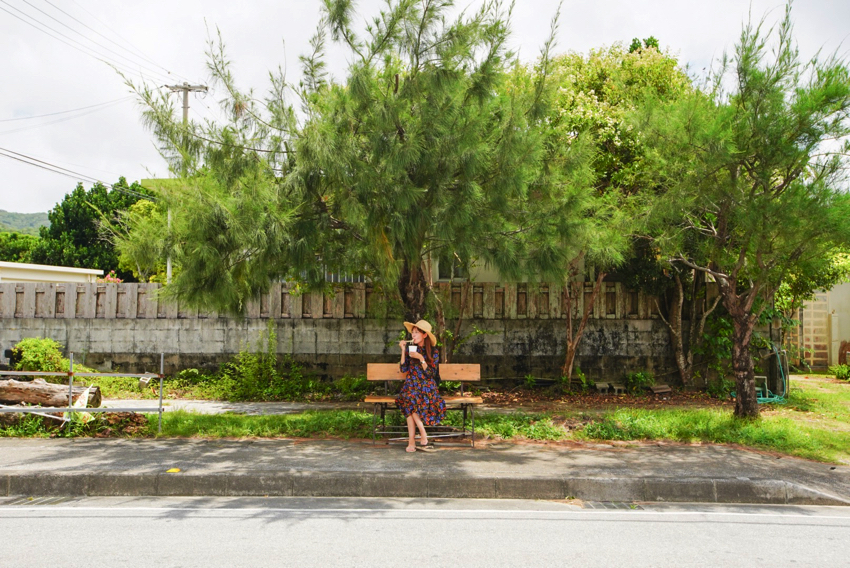 We bought a light meal and headed off again to Sonmin-no Hama.
2:00 pm
Sonmin-no Hama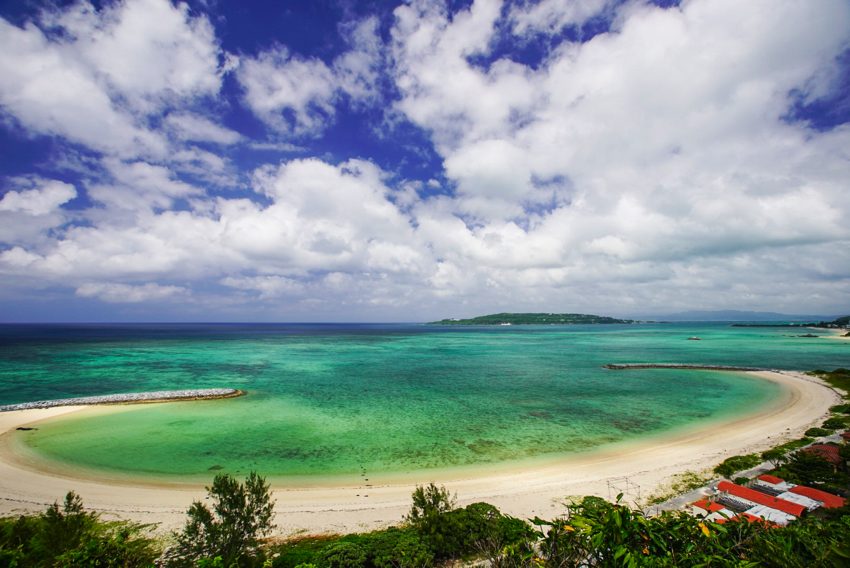 A recommended beach for Okinawa Holiday Hackers Instagram followers. Maybe because it was a holiday, there were hardly any people there, except for some local old timers.
We recommend this beach for a leisurely stroll while taking in the views of Kouri Island.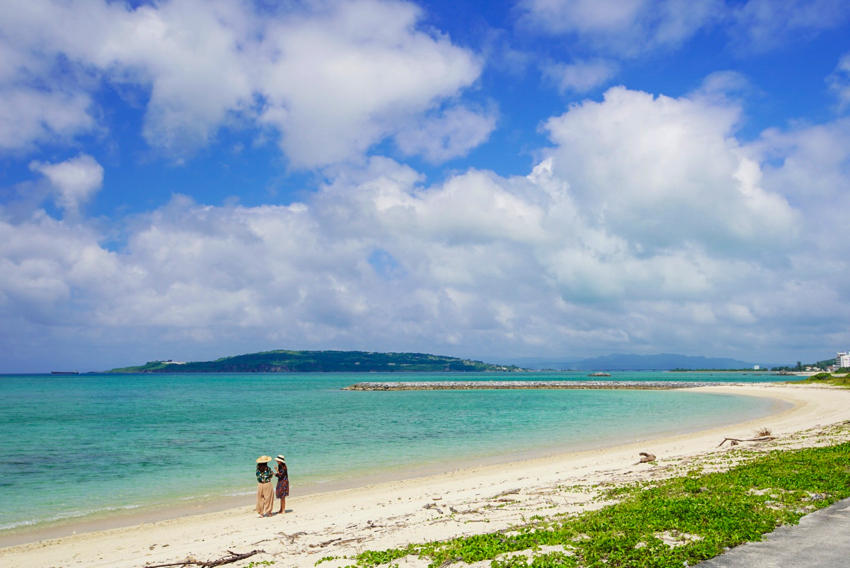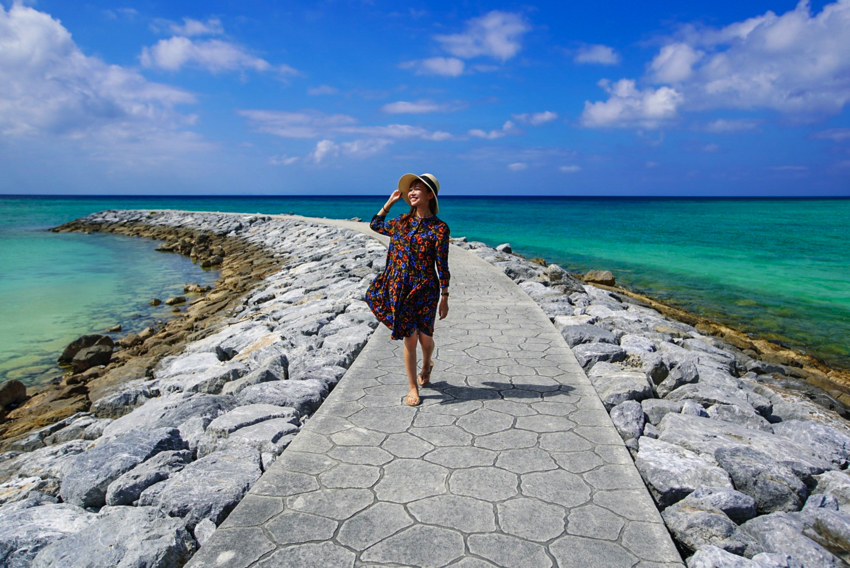 Sonmin-no Hama is closed on Mondays, so there are no staff on site and the office, showers, bathrooms, and other facilities are closed on those days.
This might be fine if you are just popping in for a quick look, but if you want to swim, we recommend visiting on a day when the staff are there and it is open for business.
<Basic info for Sonmin-no Hama>
*BBQ, fireworks, and camping are not permitted.
business hours
Gate hours 11:00〜8:00

Staff are on site: (approx.) July – August

Staff hours: 12:00〜7:00

Closed: Mondays

parking lot
yes, free
map codes
553 087 855*53

*Map codes can be put into car navigation systems as the driving destination. (Only on models that allow map codes)

address
905-0401

851 Nakasone, Nakijin-son, Okinawa-ken
3:00 pm
Nakijin-son Uppama Beach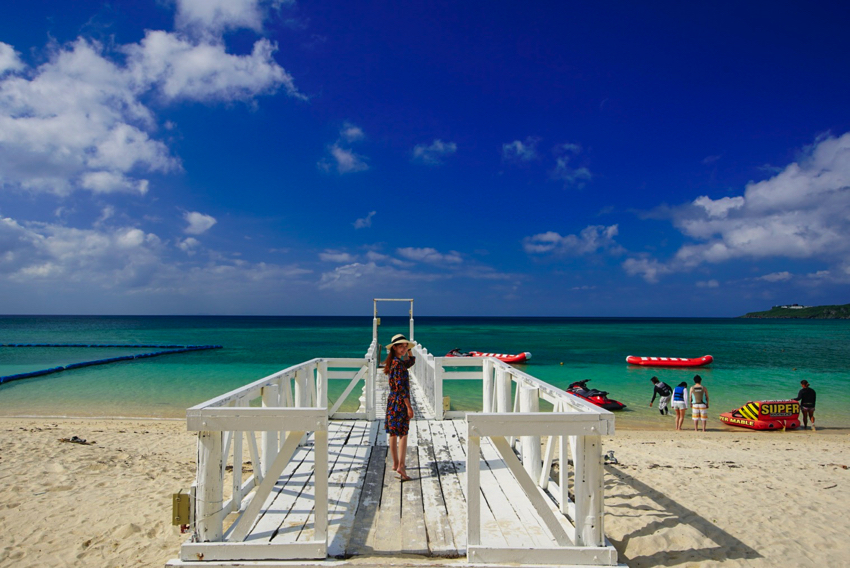 In the Okinawan dialect, "uppama" means "big beach." As the name suggests, this is a large beach that stretches on for quite a ways. It is managed by the Bel Paraiso resort hotel, so visitors can swim with peace of mind.
On the walk to the beach,we found a great spot for pictures!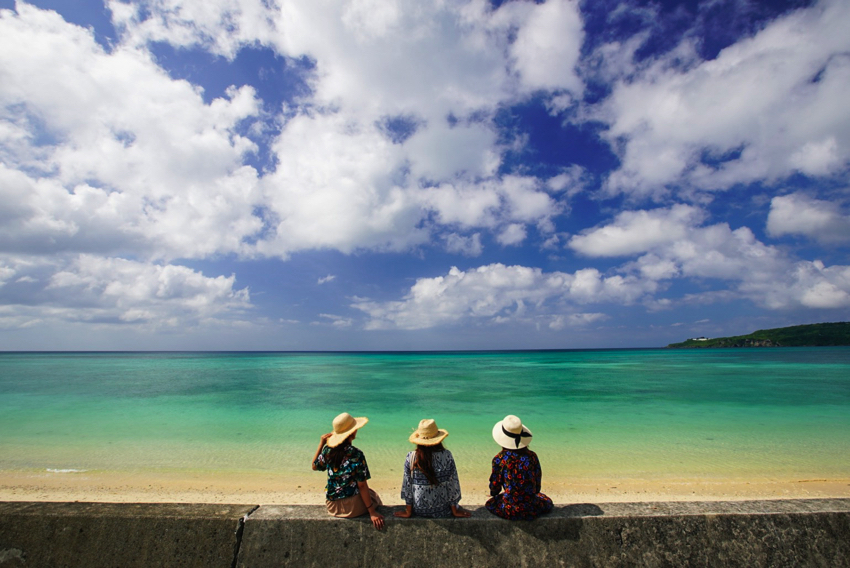 Definitely take the opportunity here to get a snapshot with your friends for your summer memory book.
<Basic info for Uppama Beach>
| | |
| --- | --- |
| Business hours | 11:00〜6:00 (closes at 7:00 pm) |
| swimming months | early April to the end of October |
| parking lot | yes, free |
4:00 pm
Unten Mori Zonochi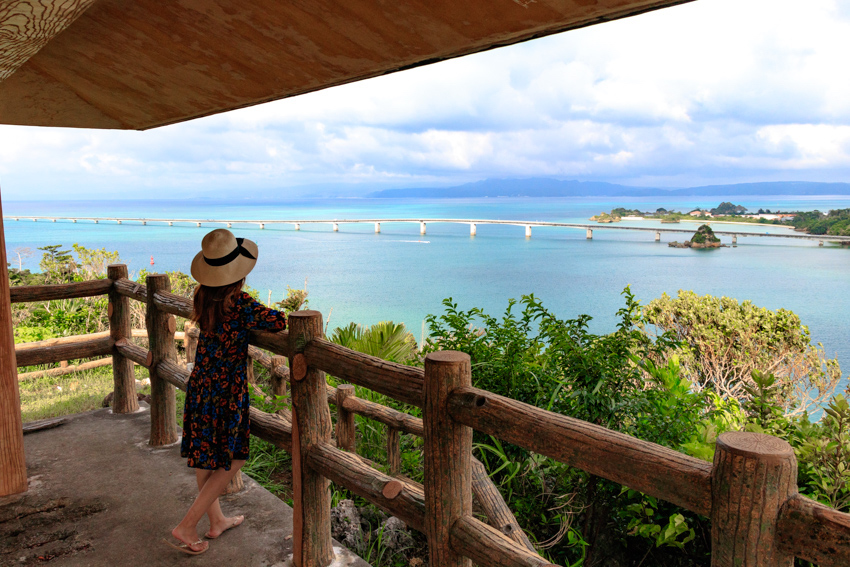 After Uppama beach, our plan was to go to Hokuzan Drive-In, but…
We got sidetracked again!
We found this lookout spot (Unten Mori Zonchi) when a follower told us about it during our live stream on Instagram
From the heights of Azumaya, you can look down on Kouri Bridge, connecting Yagajijima Island and Kouri Island.
We recommend the view of this beautiful and striking scenery.
Unfortunately, we had poor weather on the day of our visit. It is supposed to be much bluer on clear days.
Speaking of which…
Be sure to check out the pictures everyone has posted on Instagram.
| | |
| --- | --- |
| address | 36 Unten, Kunigami-gun, Nakijin-son, Okinawa-ken 905-0403 |
7:00 pm
Sunset from Nago-city
We closed out the first installment of our Beach Hack Tour with a gorgeous sunset from Kyoda Rest Area, recommended by an Instagram follower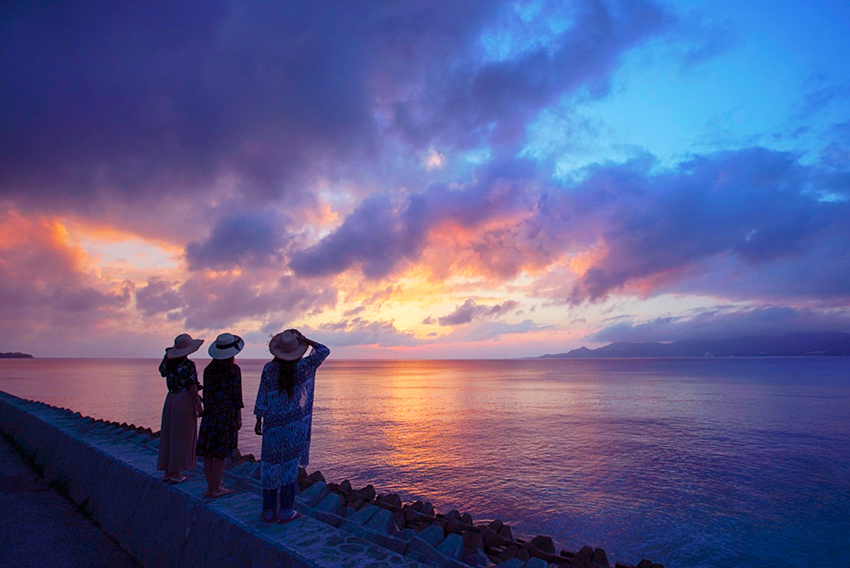 It became well known as a rest stop for drivers, but actually offers some great sunsets as well.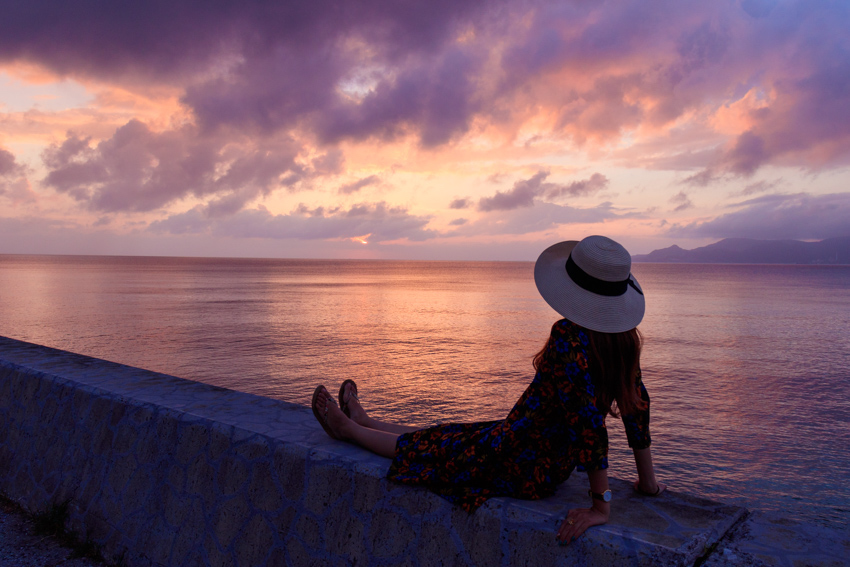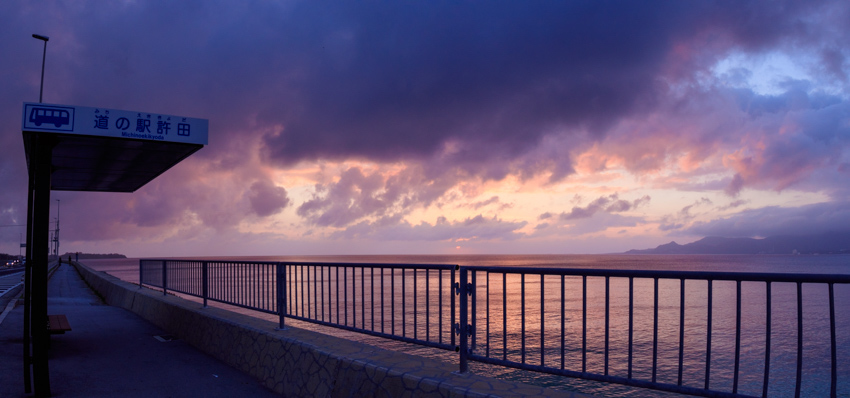 We admired the sunset from across the road, next to the bus stop. On this particular day, the clouds quickly swallowed the sun, but the afterglow was gorgeous.
Last, we were able to score a very Okinawa-esque souvenir.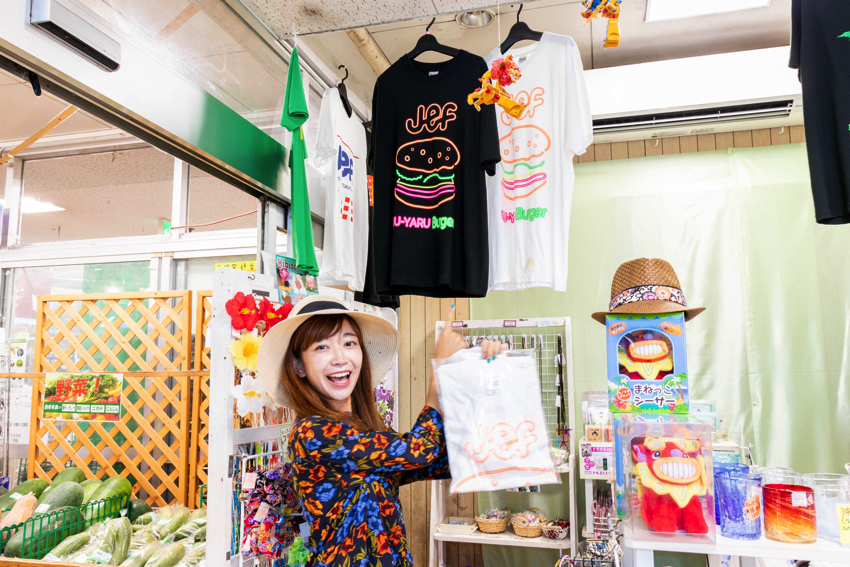 Our souvenir on this day was a T-shirt from JEF, a fast food shop only found in Okinawa.
We fell in love with the charming logo (neon on black and white fabric).
Our second installment of the Beach Hack Tour will be sent to you while wearing this new JEF T-shirt.
We'll tell you tomorrow what the itinerary will be, so please stay tuned!
*Installment 1 of the Beach Hack Tour could also be seen in real-time on the Instagram feed. Okinawa Holiday Hackers' Instagram account has a record of the highlights, so do check it out if you're interested.