Everyone who loves remote islands of Okinawa~!
Hello, this is Maeshiro from Okinawa Holiday Hackers♪
Have you already decided what remote island of Okinawa will you visit this year?
There are many magnificent remote islands, but do you think that many people challenge Zamami island, Aka island and Tokashiki island that could be reached by boat from Tomariko (Tomari port) in Naha, do you?
It is great that such beautiful beaches are located in only 1 hour sail on the boat~!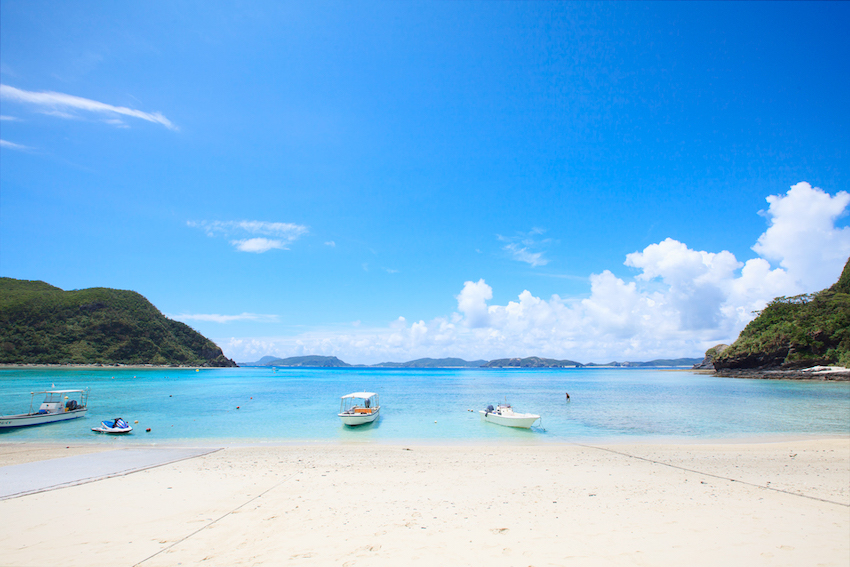 ▲ Aharen beach on Tokashiki island
Material is provided by: Okinawa Likes
Moreover since you can enjoy it as 1 day trip, another attractive point is "enjoying Kerama blue in morning and Naha at night!".
It is here!
Okinawa Holiday Hackers Hotel tours Vol. 3 this time…
Go have fun to Kerama islands!
But we also want to enjoy Okinawa Island!
So if you feel the same, I introduce a convenient hotel for you, lovers of remote island.
A hotel in Tomarifutou passenger terminal building "Tomarin"!?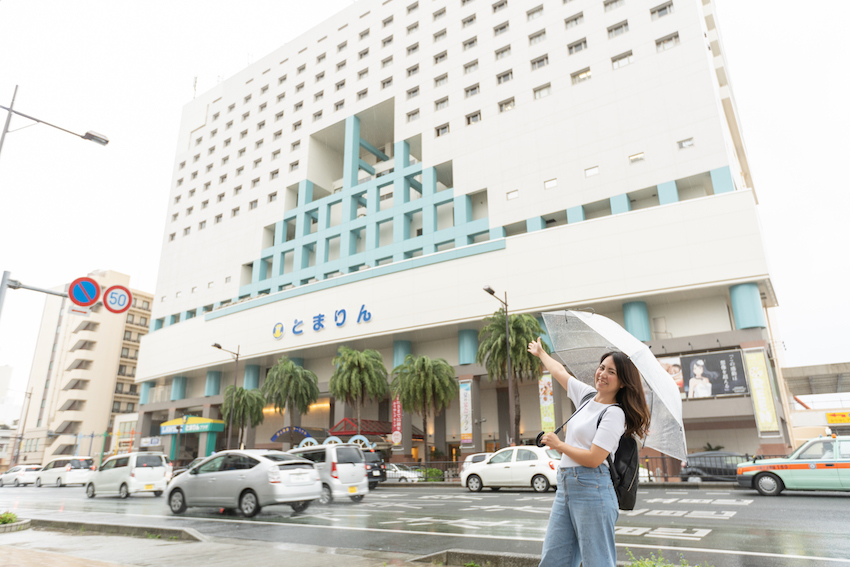 The hotel I introduce this time is there!
So if you think like "What? Tomarin?"
The hotel is "Okinawa Kariyushi Urban Resort Naha" situated on the 1st, 6~15th floors of passenger terminal building "Tomarin" in Tomari-port!
There are a lot of people who haven't mentioned it, am I right?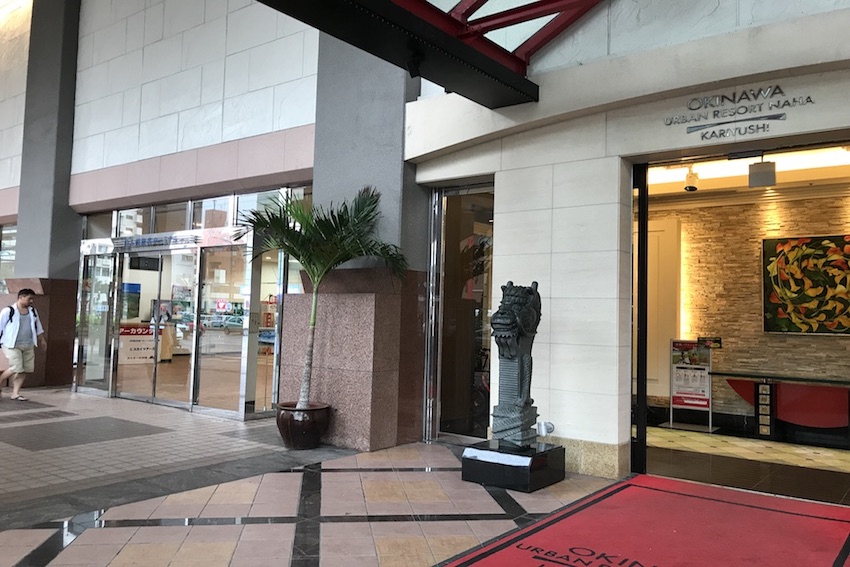 ▲ Left: Tomarin entrance, right: hotel entrance
About 1 minute walk from Tomarin. I will introduce a lot of attractive points of "Okinawa Kariyushi Urban Resort Naha" so please look forward to it!
Large standard twin room with ocean view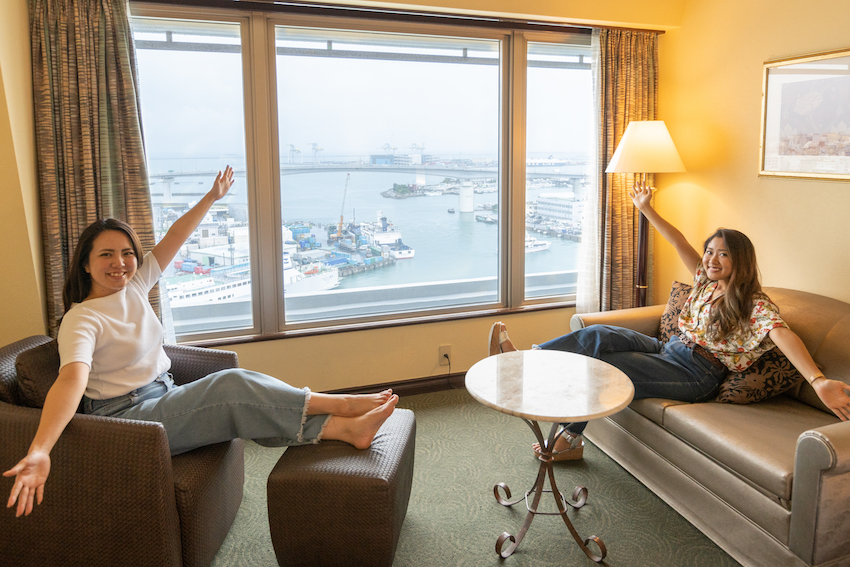 Here it is!
The majority of guests stay in standard twin room and there are ocean view and town view available. This time I take a glance at one with ocean view where the harbor can be seen♪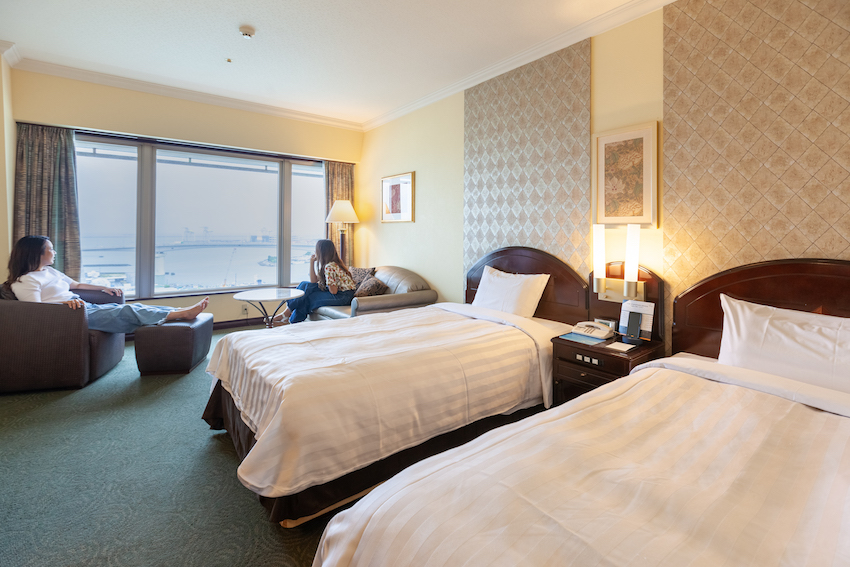 You can stay in the standard twin room easily, but the room size is quite large. With this size you can relax slowly before or after the trip to remote islands.
Free large communal bath, gym, parking space and many other privileges in the premium room.
This time I also sneak on the Premium floor with various privileges included!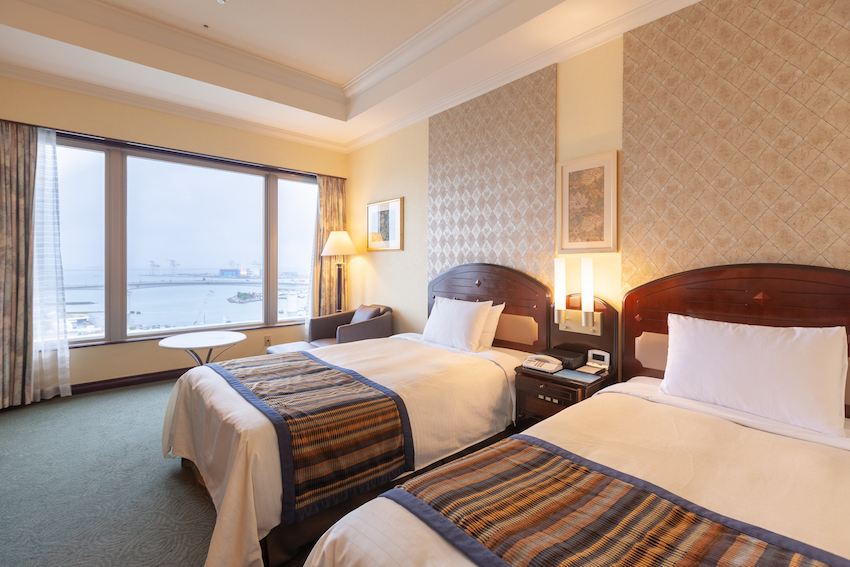 Ceilings are higher than in the standard room~!
Moreover amenities from famous French cosmetics brands "L'OCCITANE" are provided in the room.
Look forward to a bathing time a little!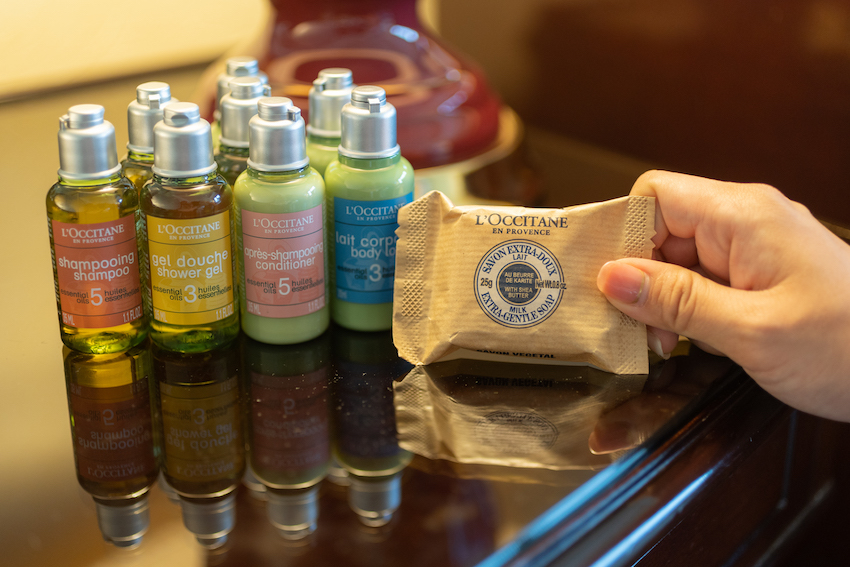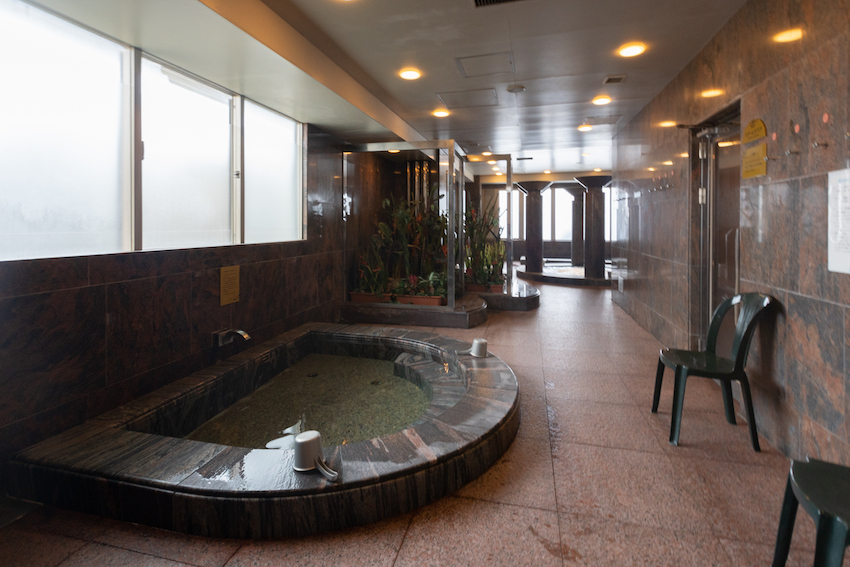 ▲ How the large communal bath looks like
In addition if you stay on the Premium floor, it is said that you can use parking area, large communal bath and gym for free♪ Anyway it was a Premium floor with a lot of privileges!
※Regular price for the large communal bath or gym is 1,080 JPY per adult for 1 time, and parking toll is 1,500 JPY per car for 1 night of stay.
Before departure! Popular morning buffet available from 6:30
Definitely there are a lot of people who go to remote islands among accommodating guests, so for the first departure in morning you can have morning meal in the hotel!
It is open from 6:30 and it is seems that the site is crowded by accommodating guests who plan to go to remote islands.
And therefore I also tried this popular morning food.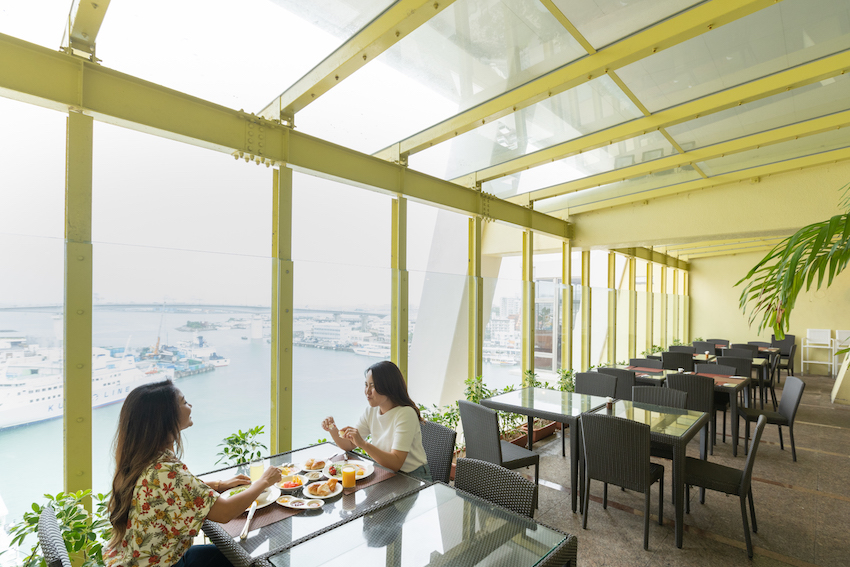 In morning you can enjoy Dining Danryu Mansai in the hotel. The terrace with a panoramic view of the port is filled with the sense of openness♪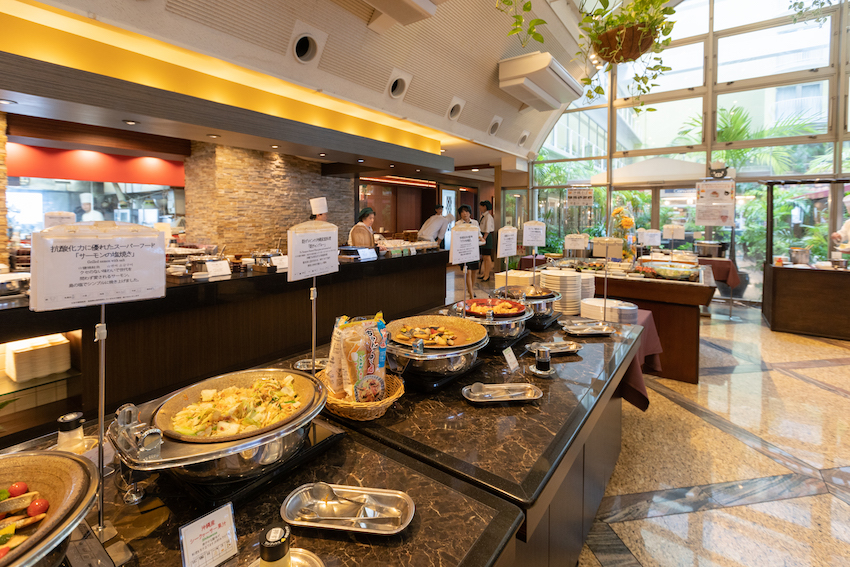 Morning buffet includes abundance of 80 dish types! Among them Hackers want you to try a recommended menu we introduce♪
Recommendation from Hackers 1. "Soft and fluffy omelette" made by the chef in front of you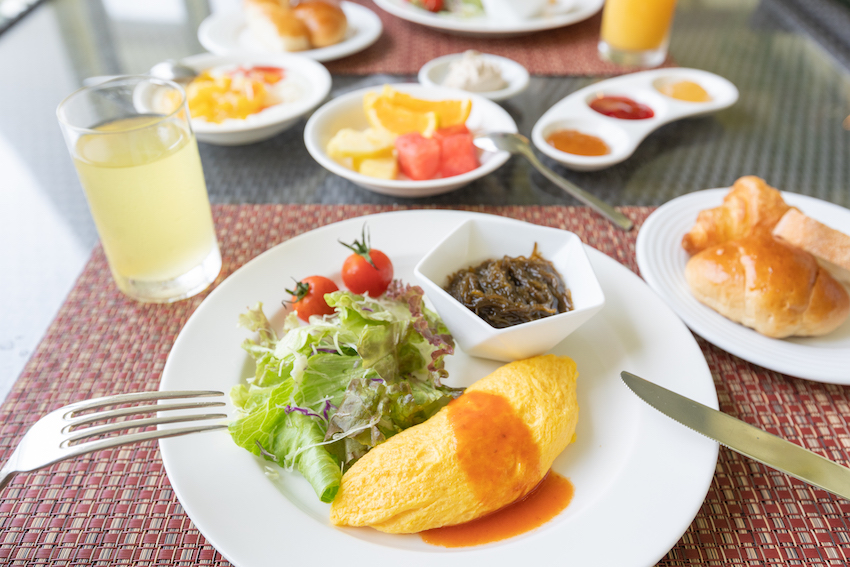 If you order an omelette here, the chef will start to cook it right in front of your eyes♪ We recommend to eat it while it is still hot!
Recommendation from Hackers 2. Hotel-made bread and "Homemade butter with brown sugar"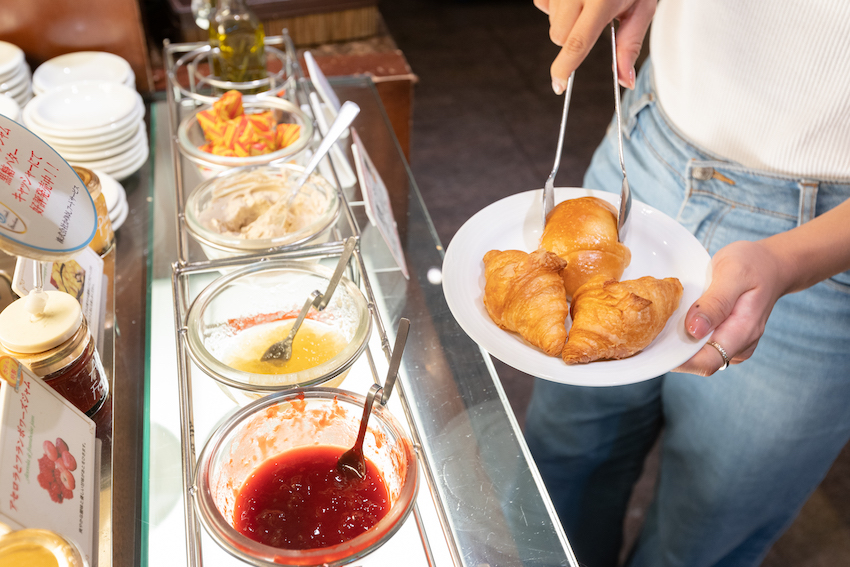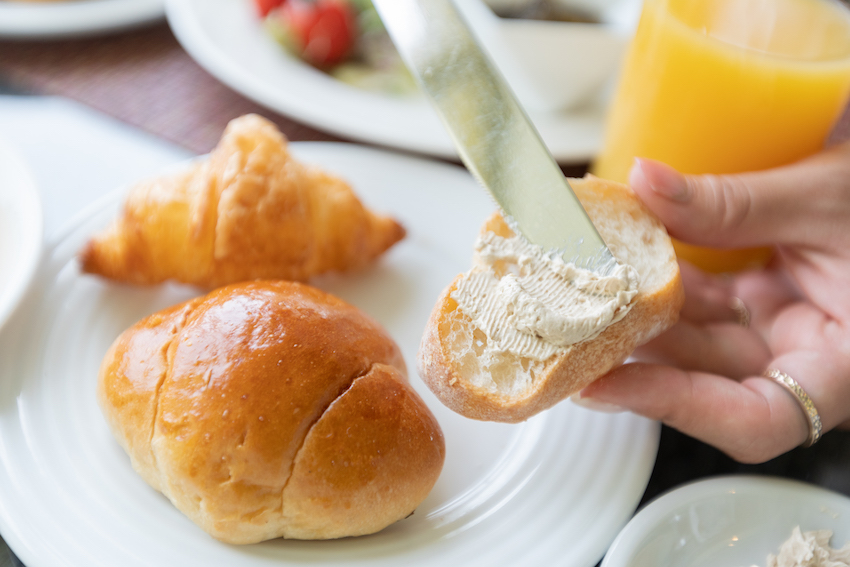 The next recommended one is steaming bread baked in the restaurant's kitchen. The most recommended way to eat it is with hotel homemade brown sugar butter.
It is a perfect match of light sweetness of brown sugar and flavor of toasted fresh bread.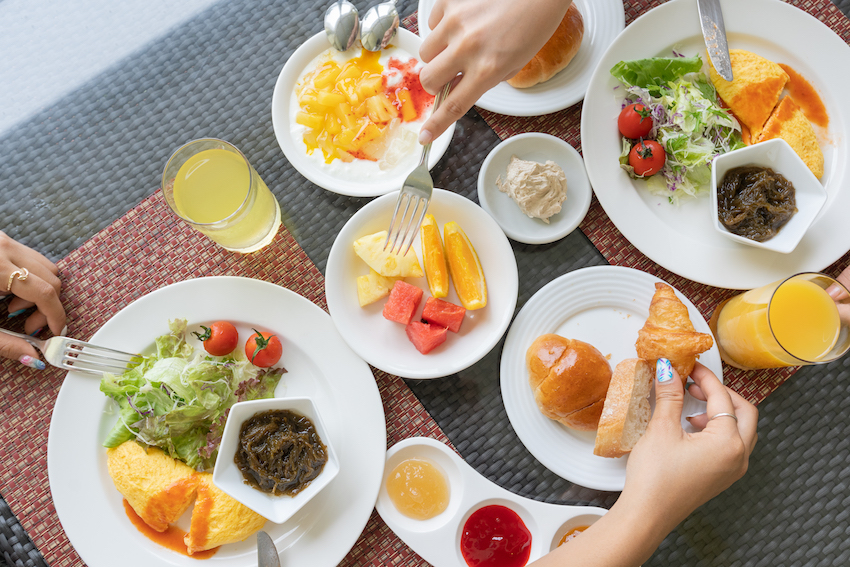 You also should get a lot of energy before departure to remote islands by eating delicious breakfast.
Access to Kerama and renting a car is also simple♪ An ideal location
An I introduce more convenient features of "Okinawa Kariyushi Urban Resort Naha"~♪
▲ Ticket sales counter on the 1st floor of Tomarin
Zamami and Tokashiki islands are popular so it is necessary to make reservation for the tickets in advance!
You can do this online or in the ticket sales counter on the 1st floor of Tomarin.
Okinawa Holiday Hackers did a research and as many as 30 people was in waiting list for the ferry to Zamami and Tokashiki islands.
And more! Rent-a-car shop is also available on the 1st floor of Tomarin♪
If you face Lawson in front of the ferry tickets counter and if you go right you will see a signboard of "OTS RENT-A-CAR"…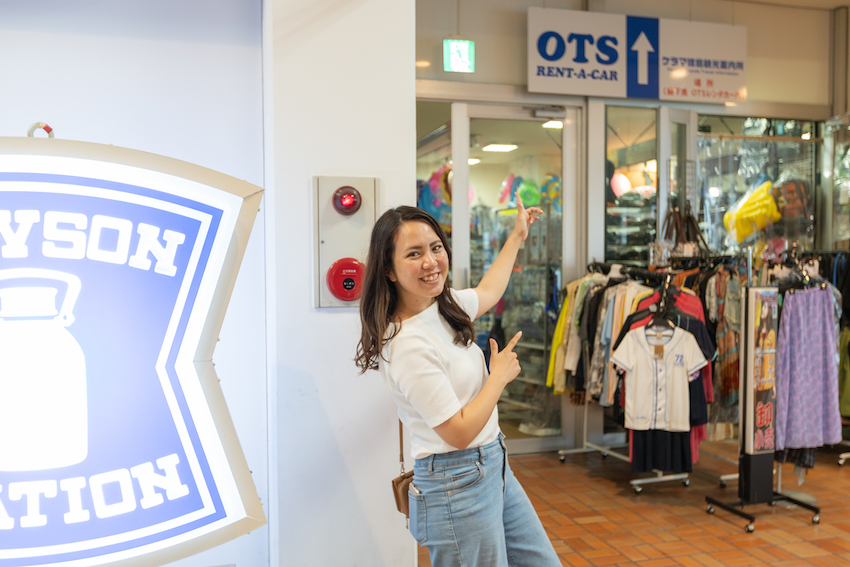 Then you just need to go in according to the information written on the signboard and you reach it!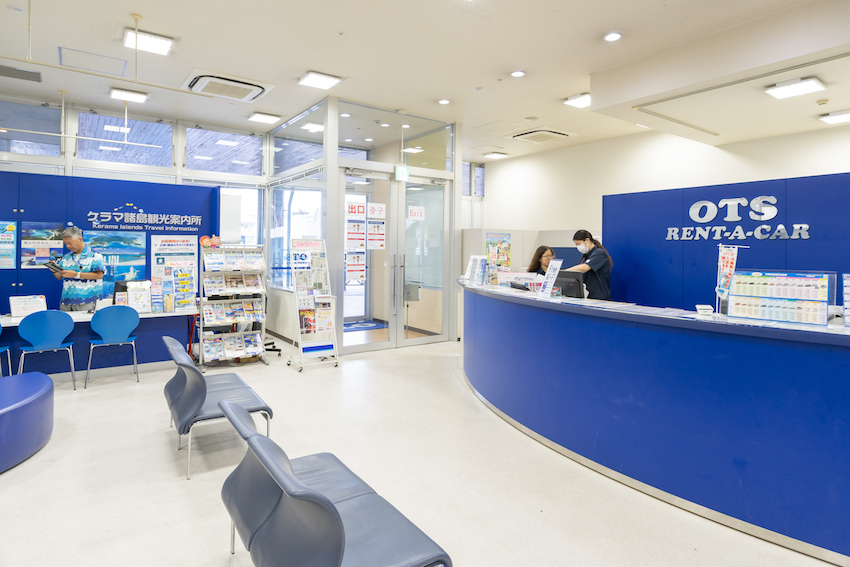 ▲ Inside OTS RENT-A-CAR shop. Kerama islands information center is also established as annex.
You can use rental car from there also!
And therefore on the first day you can arrive to the hotel by bus or taxi, starting from the 2nd day you can go sightseeing to Kerama islands, and then after coming back from remote islands you can take a rental car and go sightseeing Naha or Okinawa island. So this plan can be made easily!
By the way in the attached Kerama islands information center you can make a reservation for ferry or activities as well as get an advice about sightseeing on Kerama islands.
Remote islands lovers, this year let's go to Kerama islands to have fun!
We recommend "Okinawa Kariyushi Urban Resort Naha" that is very convenient for sightseeing on Okinawa Island and Kerama islands♪
If you are interested in another details do not hesitate to check the information on this web site for reservations.
▼ "Okinawa Kariyushi Urban Resort Naha" reservation site