Maria is back after a busy few weeks and boy did I need a break. I had the same routine of waking up, going to work, eat, sleep and repeat. FINALLY, I got some time for myself but not enough to go too far from mainland Okinawa, but after scrolling through my phone I stumbled across this small yet beautiful island ONLY 20 minutes away from Naha via boat. The "inhibited" island of Nagannu, I had heard of the island and I have passed it a few times after I went diving but I had never actually gone to the island.
One word to describe it would be
BEAUTIFUL.
It was the perfect timing, my friends were coming to visit me and they wanted to go somewhere it was not crowded so that we could relax, do some activities and catch up.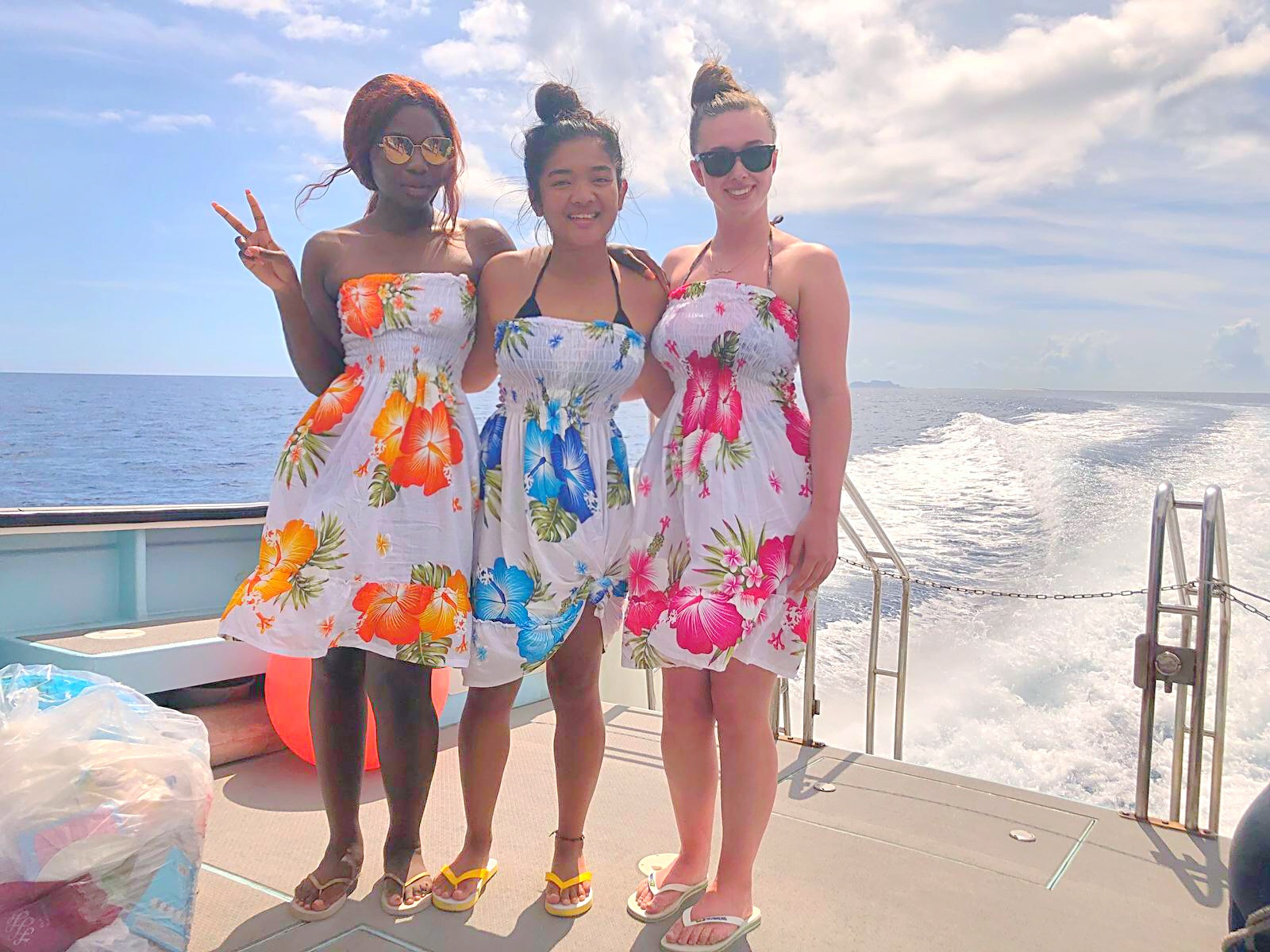 Here are my friends Dorothy and Becky who came to visit me from England .. .
We Had Our Island Girl Moana Moment On The Boat To Nagannu
PROCESS OF NAGANNU ISLAND GET AWAY
STEP 1
RESERVE, RESERVE, RESERVE 
Simply click on the link below to reserve your tickets online and pay on the day, it takes 10 minutes or less to reserve
★★★ HACKER INFO: ★★★
selection of time during reservation: 
Between
April – June &
October – November
There will only be ONE boat leaving the port to Nagannu everyday at 9:30 
Golden Week ( 4/28 – 5/6 ), 6/23 – 6/30
TWO boats 9: 30/10: 30

YOU MUST LEAVE AT YOUR DESIGNATED TIME WHICH WILL APPEAR IN YOUR TICKET. Eg If you arrive on the 9:30 boat you must leave on the 15: 00 boat – guests are welcome on the island for 5 hours unless you are staying the night 
STEP 2 Tomarin Port 
Make sure you arrive 15-20 minutes before the boat leaves as you will need to pay and get your tickets in the morning
Car 
| | |
| --- | --- |
| Tomarin Port Parking Mapcode | 33 187 308*8 |
| Price | It is \200 for the first hour and an additional \100 after every hour. You are looking to pay around \800 for the whole day depending on what time you arrive and get back |
★ ★ ★ HACKER TIP: ★ ★ ★
Be cautious with your time and leave earlier than you planned as Naha can get very congested in the morning, the boats LEAVE ON TIME , with or without you on it
Taxi 
You can simply just say "Tomari ko-u" and a majority of the cab drivers will know where to take you, just in case your pronunciation is a little off you can show show this this address
〒900-0016 Okinawa Prefecture Naha-shi Maejima 3 – chome 25-1
The taxi start their meter at \ 550 –  unless it is stated on the taxi, most drivers only accept Japanese yen in Cash
★ ★ ★ HACKER TIP: ★ ★ ★
If you have a smartphone try to download a translator app as they can become extremely useful especially if you cannot speak the native tongue. I use "Voicetra" and I have found it the most effective one yet. If you have other or better apps I would love to hear it in the comments on Instagram!  
Monorail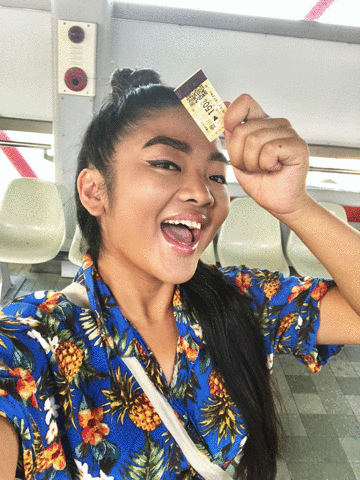 The nearest monorail station is Miebashi Station and then there is a 10 minute walk (depending on how fast or slow you walk) It is a fairly simple path
1. once you exit the ticket barrier turn left and go down the stair case
2. at the bottom of the staircase turn left and follow the road straight
3. Once you hit Richmond Hotel / the main road (route 58) follow it until you hit the bridge
4. Cross the bridge and continue walking the exact way you was walking before
5. The port is a 3-5 minute walk after the SMILE hotel
 
Unlike mainland Japan the public transport in Okinawa is much easier as there is only ONE monorail on the whole island and it only has 15 stations to and from Naha airport and Shuri.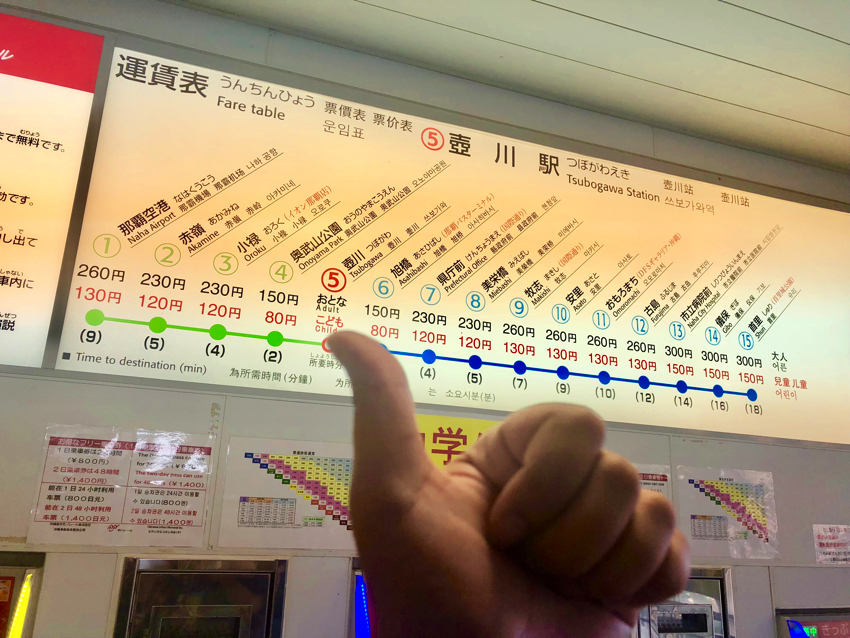 STEP 3 NAGANNU TICKET OFFICE 
With my artistic (not really) skills I have tried to lay it out simple on a map. Unfortunately the Nagannu ticket office is located at an awkward position.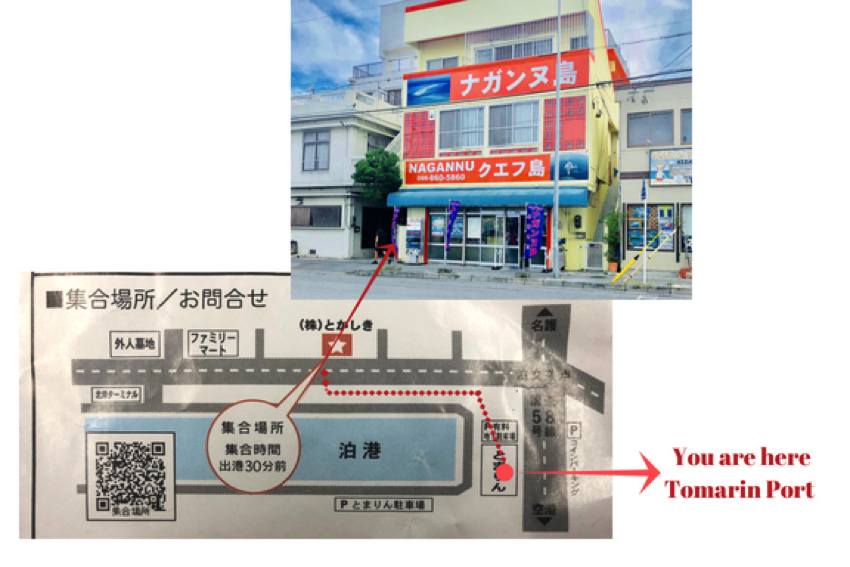 star marks the Nagannu Office, If you have a smartphone just hold your camera over the QR code and it will take you to a guide but it is only in Japanese
Once you are there then follow the red dots on the map, the path to the office will be more clear once you are physically there. 
If you go to the OTS Kerama Islands desk they are able to point you to the right direction!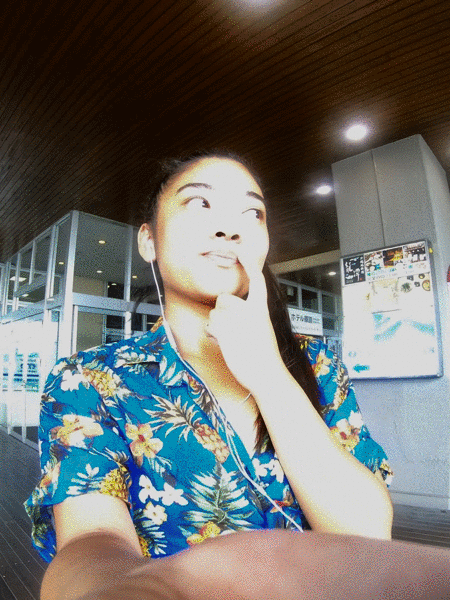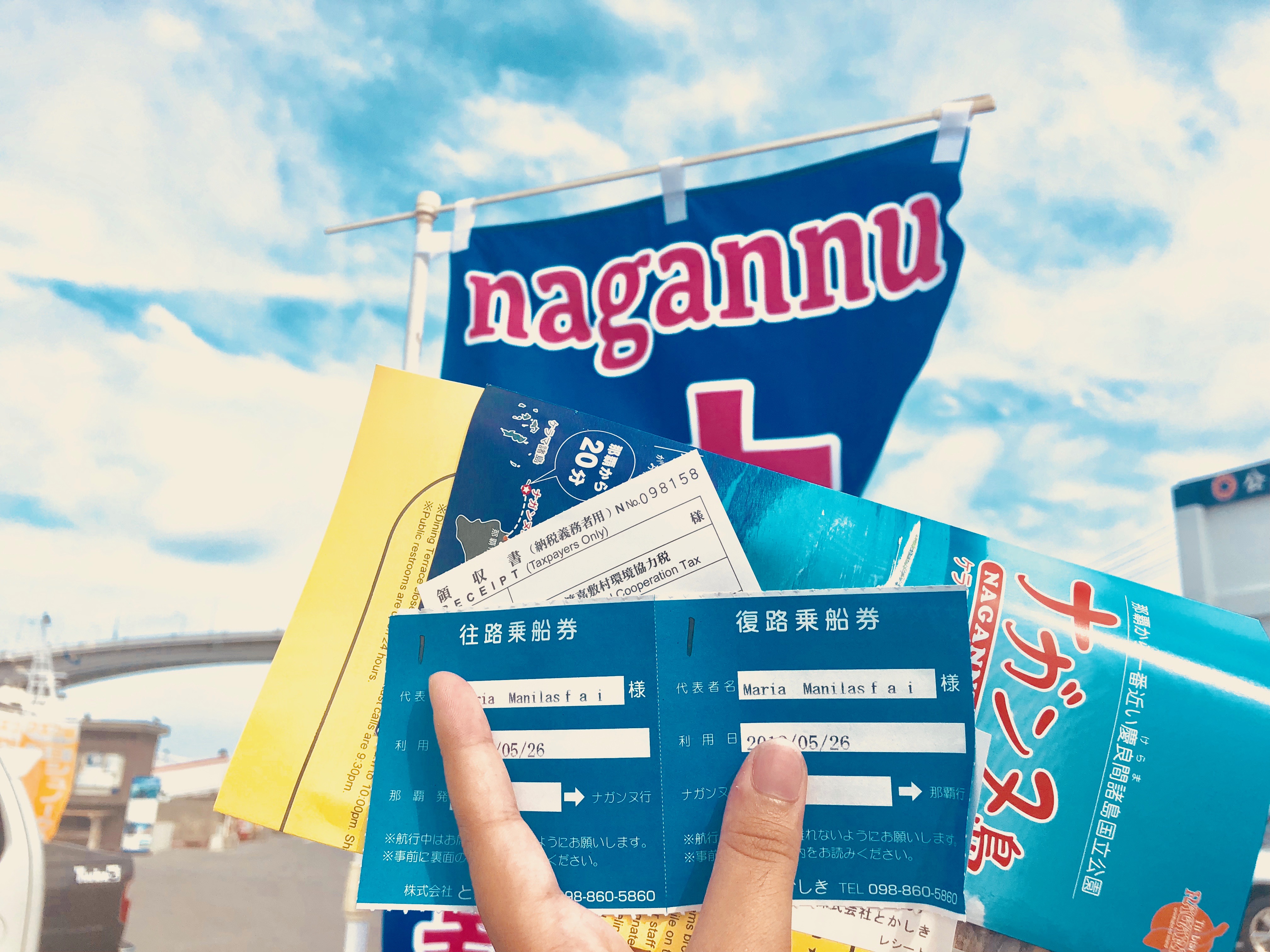 Once you arrive pay & collect your tickets and information, the staff will tell you

where to wait for the boat
!!! HACKER CAUTION !!!
the boat is sensitive to the waves if you get sea sickness please take this into consideration
but the ride is only for 20 minutes
TIME TO ENJOY NAGANNU
★ ★ ★ HACKER TIP: ★ ★ ★
If you want to be the first people to get off the boat, try getting a seat outside instead of inside the boat – this will also save you queuing time to rent or book activities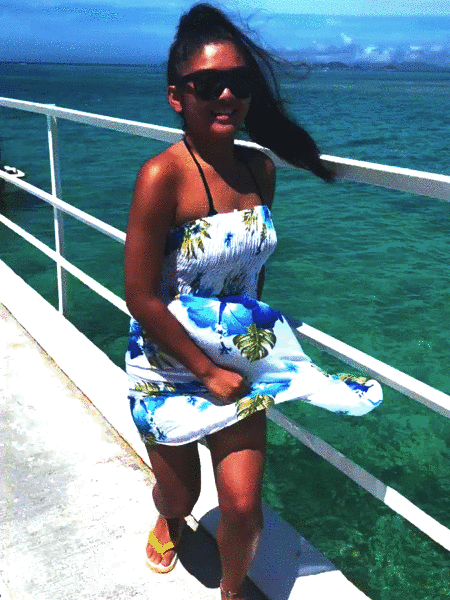 Once you get off of the boat the emerald blue sea hits your eye, later on the day we went back on this small pier to take the perfect Instagram and snapchat picture / videos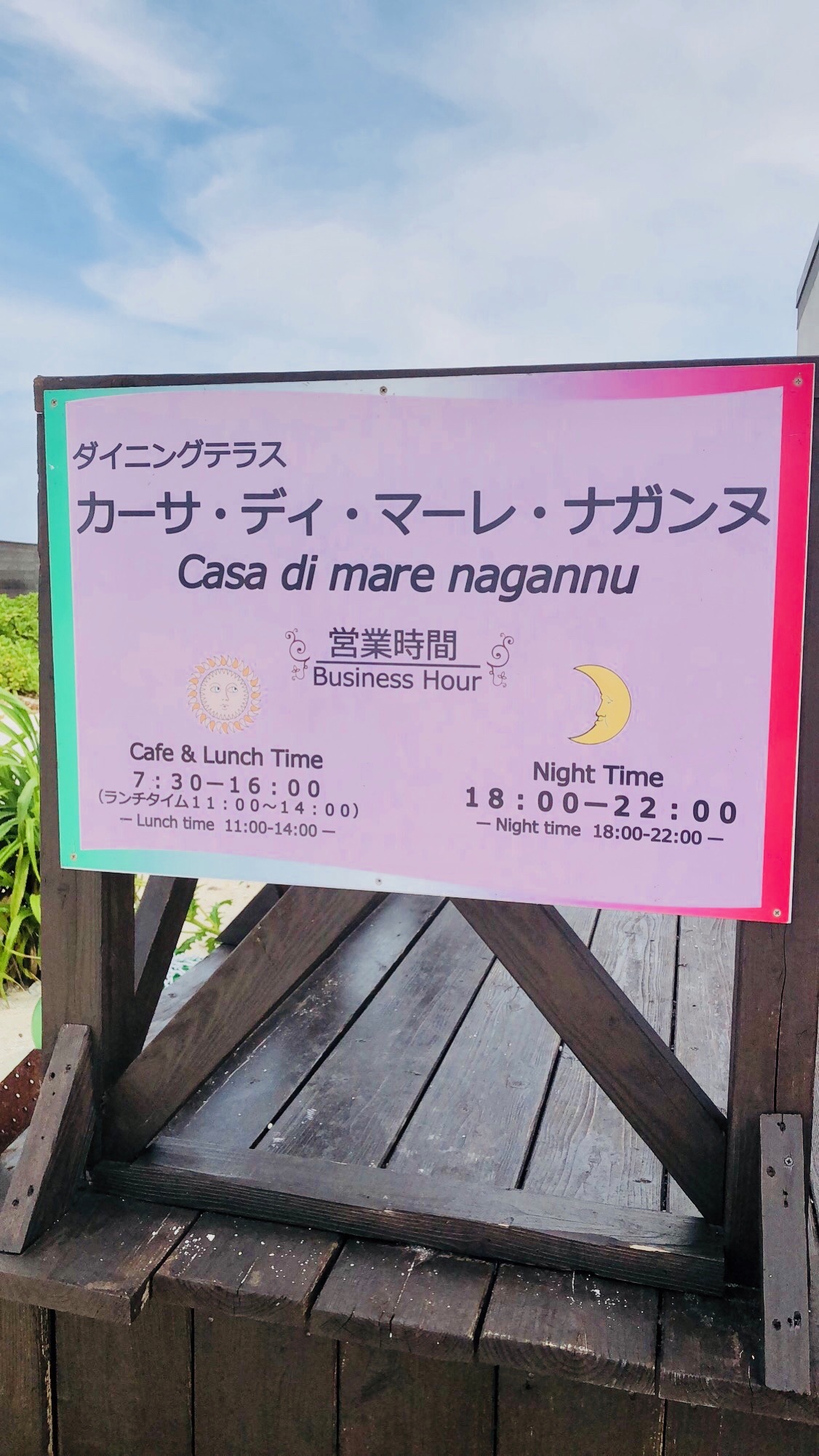 You will pass the dining terrace (it has amazing lighting for picture) here is the menu, I tried the thai curry and it was I was not expecting it to taste as good as it is on a small island and I did not think they had a lot of seasoning available but I was happily shocked.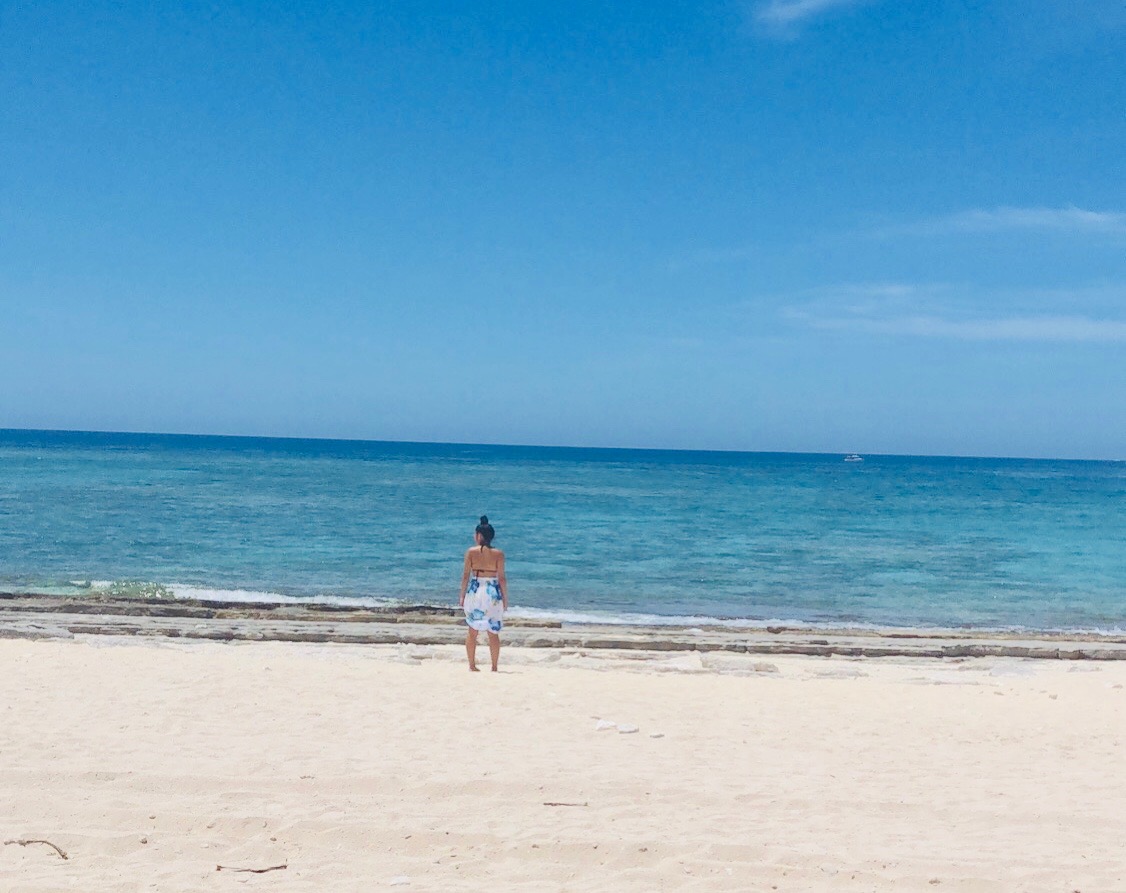 Having my Moana Solo moment
Right beside the Dining terrace are the rest houses you can rent if you want to stay the night, have the island to yourself and look at the beautiful stars.
We decided rent snorkeling gear that was discounted as we booked the snorkeling tour and took one beach package. (One Parasol and Two Beach deck)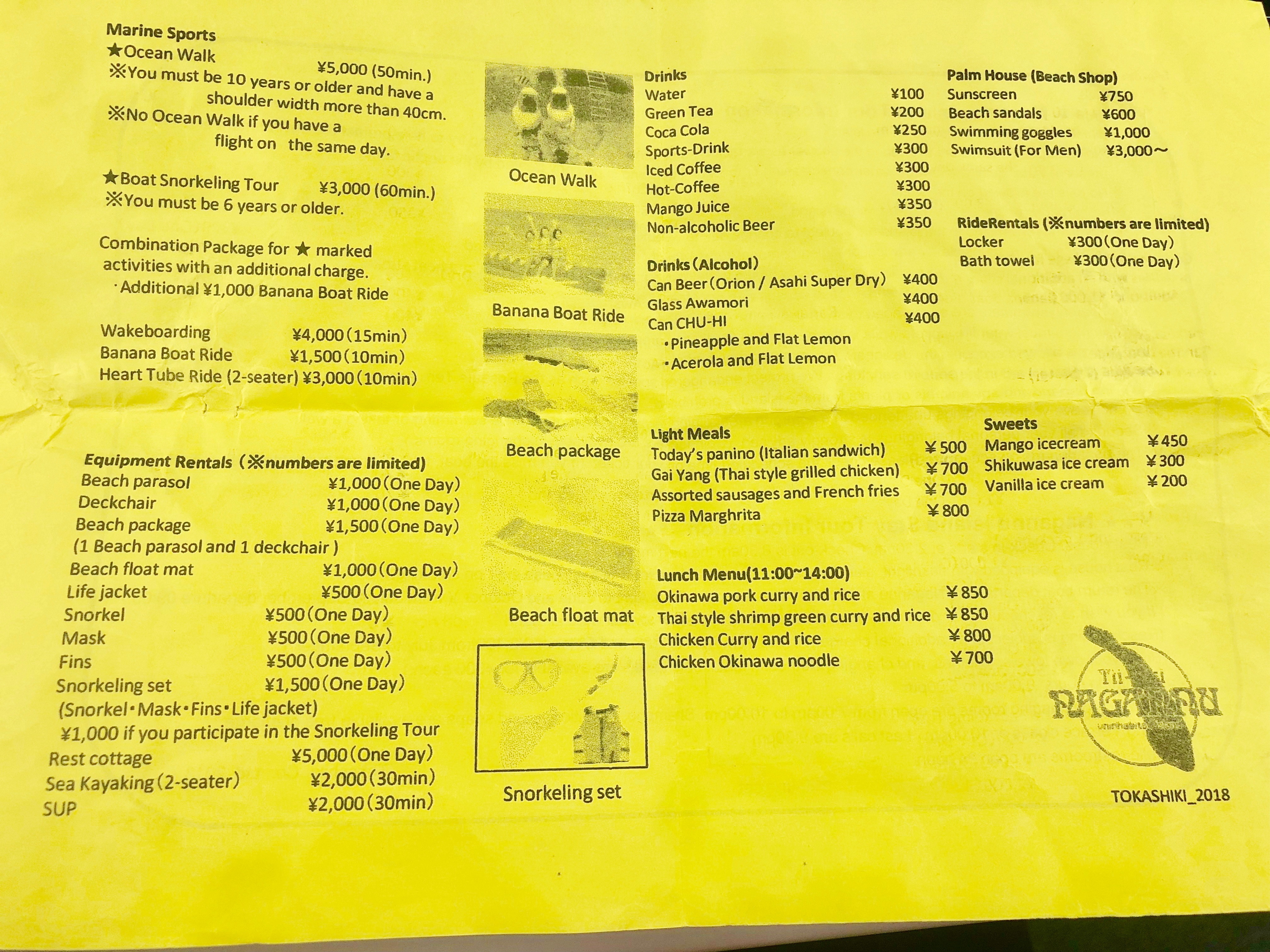 Here is what else is available on the island from drinks to activities
The color and transparency depends on how many people are on the island and if the sky is clear. We got a bit of both, early in the morning the sky was absolutely clear and the water was crystal clear, as the day went on a few clouds started to appear. The ocean did not look as clear but still very beautiful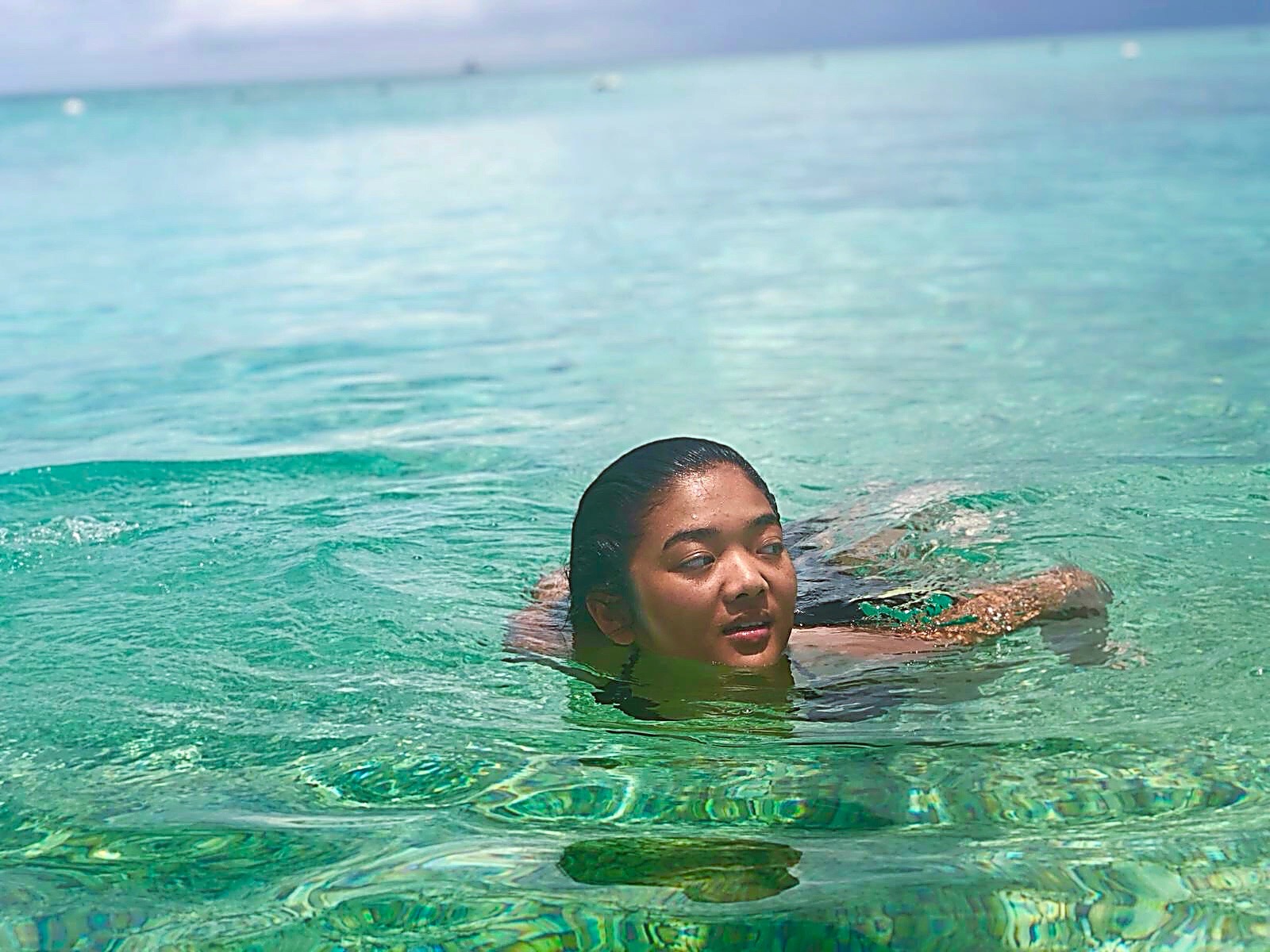 Swimming in the crystal emerald sea
There are a number of fishes you can see with or without the snorkeling dear and the water is not that deep. You can only snorkel in the designated areas but in my opinion, it was definitely big enough.
★ ★ ★ HACKER TIP: ★ ★ ★
BRING. SUN. PROTECTION. CREAM; there is little to no shade unless you rent out a small cottage and a parasol. Make sure you keep topping up on your sun protection cream throughout your stay on the island
Marine shoes; this is a big mistake that I DID NOT purchase these shoes before coming here. I saw a lot of people wearing these which could have helped a lot. Perfect for in and out of the ocean as the sand isn't that soft and there is a lot of coral in the ocean
Women – try to bring a dress or one-piece play suit to go over you as it will be easier to put it on after you get wet. There are shower rooms but there is no bench for you to rest your things on
Check out our social media to stay updated with things to do in Okinawa