Hello fellow yogi and non-yogi (yogi = someone who performing yoga) Its Maria one of the hackers from Okinawa Holiday hackers.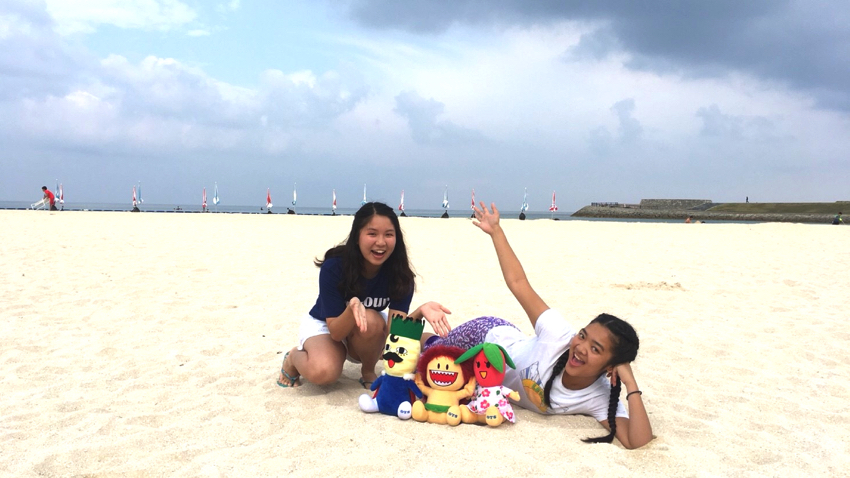 Mr Pine king, his girlfriend miss mango and their friend Mrs. Ki -ji joined me along with one of our holiday hackers miss Jessica who was my photographer for the day.
I have been living on the island for a few months now and I realised that I have the habit of planning too far ahead and thinking of tomorrow, or the next week and even the next year. Always planning but never really stopping to enjoy what was happening, I didn't get to press pause and have time for myself.
"I did not get to press pause and have time for myself"
So, I started to take a few yoga classes and I brought that home with me. When I have the time, I attend beach yoga but if I only have a few minutes I would do my home yoga before or after my day; and then came my discovery of SUP yoga.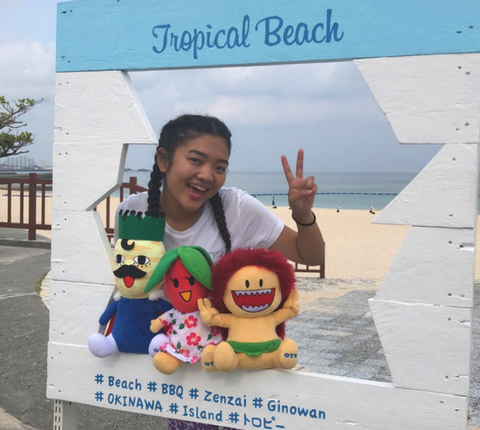 I am NOT flexible at all
I admit I am not the most flexible person in the world, but a friend of mine invited me to a event for SUP yoga and I thought why not? Whats the worst that can happen? 
It was held at tropical beach and it was the perfect weather, not too hot and not too windy. The event included a morning session for beach yoga and afterwards SUP.
Shortly after arrival we met the instructor, she has been asked me that I had had a lot of yoga experience and I explained it was basic. She assured me that I was not feel embarrassed if I fall in a couple of times at first.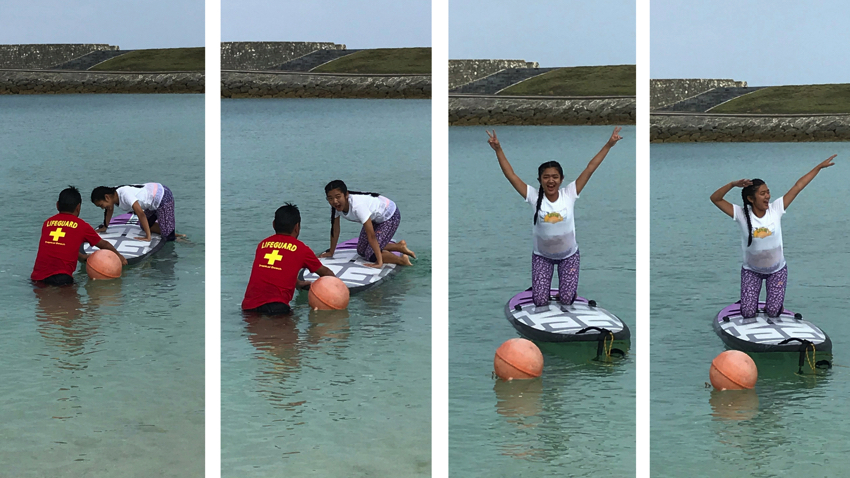 My struggle on the paddle board, it takes a little time but I DID IT!
As you can see from the picture it was a little bit of a struggle to actually get on the board but I had someone to hold the board and assist me. HORRRAH I finally got on and the session started.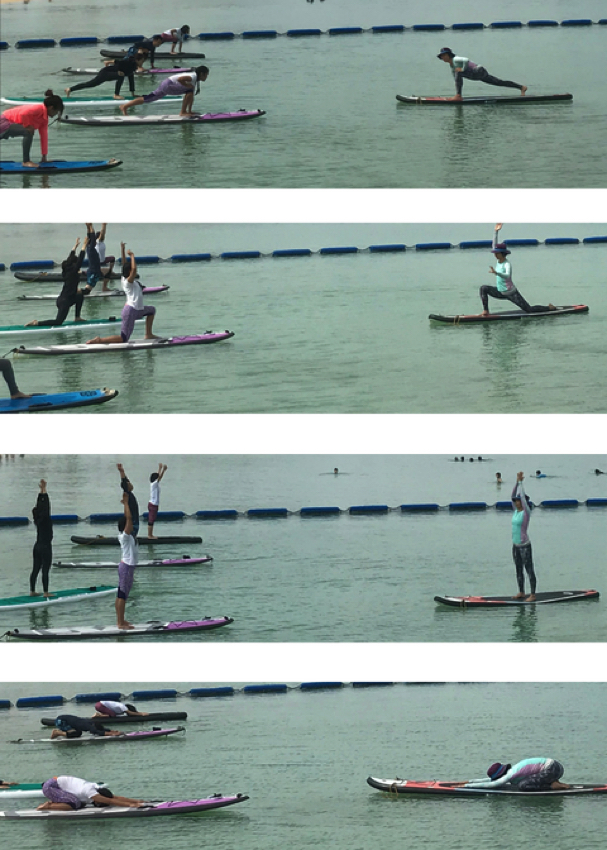 We started with the basic stretches, although my instructor was Japanese, she used simple words and always pointed out when a hand or leg was out of place.
The routine she created for us was to our capabilities, but it was still challenging but once I found my balance it was extremely relaxing. 
Towards the end we got to lay our backs fat on the board, look up at the sky and float. It was a great time to clear my mind and think about nothing – even if it was was for for a few minutes it was soothing .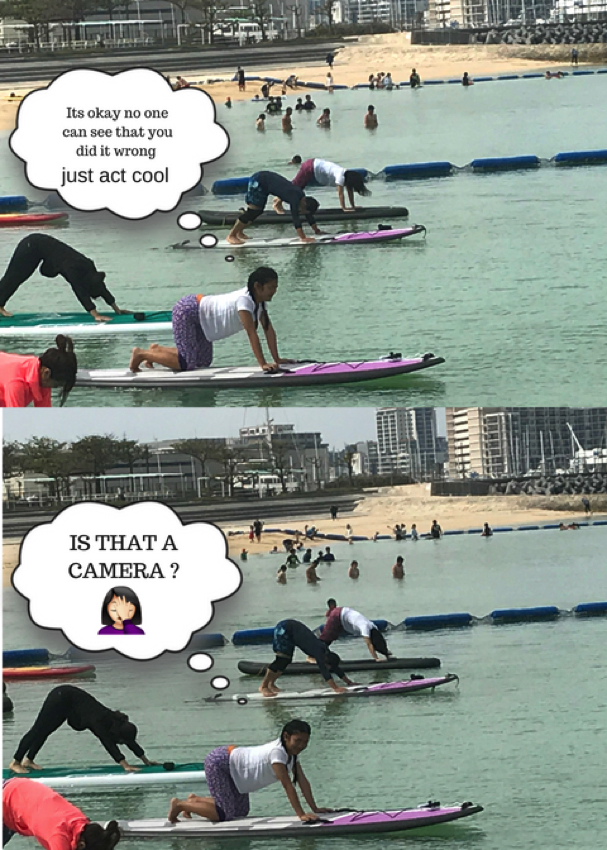 Making a mistake is OKAY! This is not the only time I got it wrong , and it was fine
What if I fall? 
It's okay to fall or get the positions wrong. At one point, I thought I was doing the right positions and when I looked up everyone was doing a completely different position from me.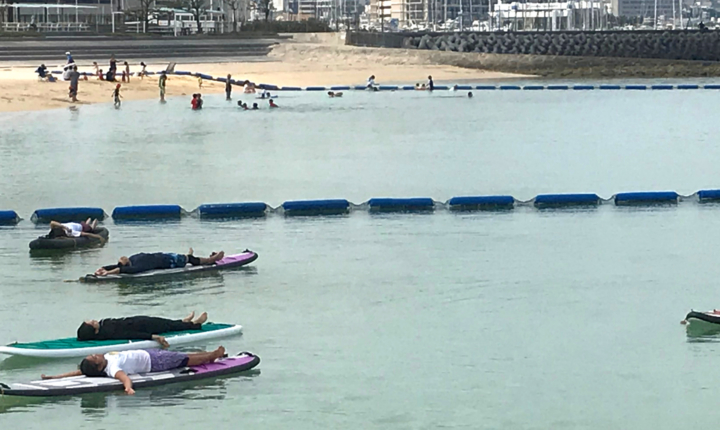 I really enjoyed this experience and will be getting out of my comfort zone to try other types of yoga, I heard that there is one where you are hanging from the ceiling! Sounds exciting – and dangerous – but mostly exciting. I will update you guys when I go ahead and try everything out. 
I highly recommend trying to incorporate some sort of relaxing activity during your time in Okinawa and take in the moments that you have on the island. 
Other SUP activities 
I have linked with One Two Smile ACTIVITIES website where you can find sunset SUP, begginners sup and MORE!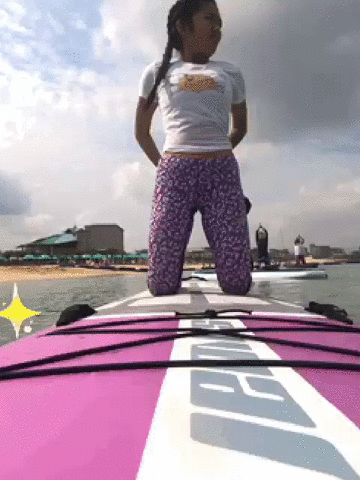 Do not forget to follow us on instagram and facebook to get a more up to date news about things to do, eat and see in Okinawa.