Hey everyone! It's your eager and energetic Okinawa Holiday Hackers reporter Inny
This time I joined Manari from Okinawa Likes for a little dress up!
Yukata and Kimono Rental Shop Near Kokusai-dori
We visited Chura Sakura, a kimono rental shop located along
National Route 58 just 5 minutes from Yui Rail Kenchomae Station. Here you can rent a kimono and they'll help you put it on.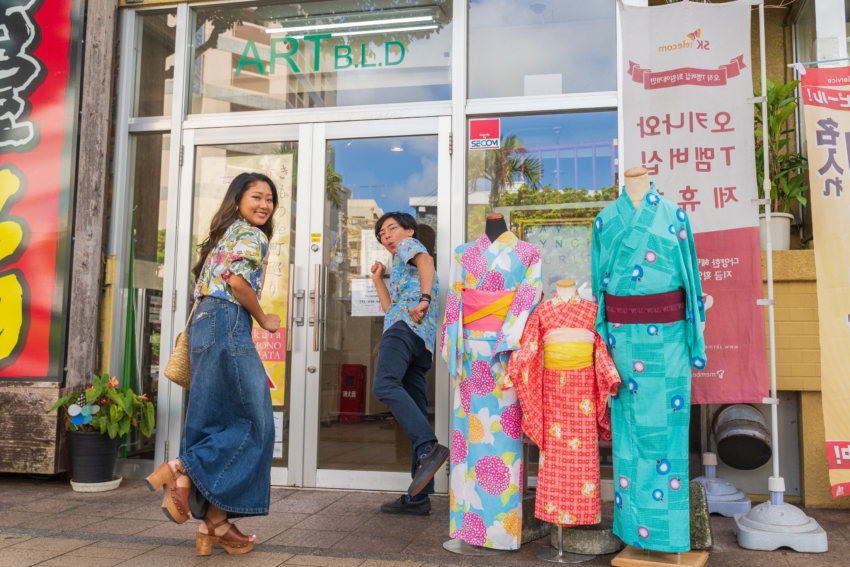 Kimonos for All Ages!
A Wide Selection for Both Men and Women!
The shop has a large selection of kimono patterns and sizes!
There are especially many options available for women – so many that it might be hard to decide!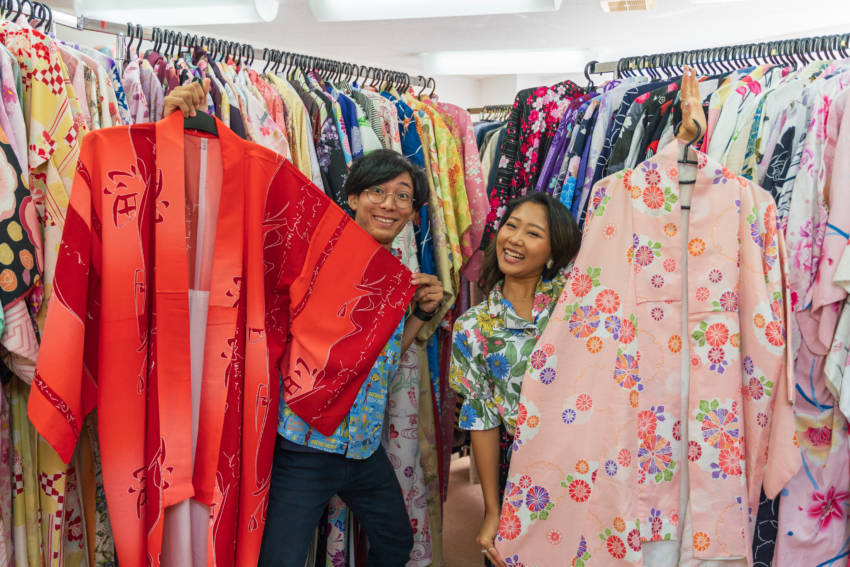 After much deliberation, I choose this one!
The color I went with is a vibrant and stylish red, which is popular with visitors from Taiwan and China.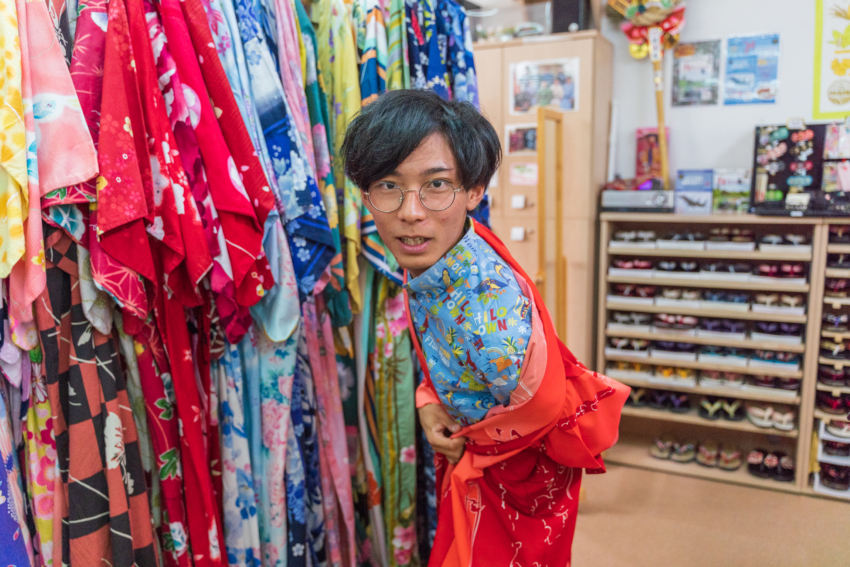 "I won't let you forget this shower of cherry blossom petals!" I say, channeling Kim.
Except it's not cherry blossoms…. but a Hawaiian shirt…
Let's Get Dressed!
First, you put on the kimono undergarments, and once you've put on the kimono itself call for one of the staff members.
And before you know it, they'll have your collar all straightened, the cords tied, and the obi in place!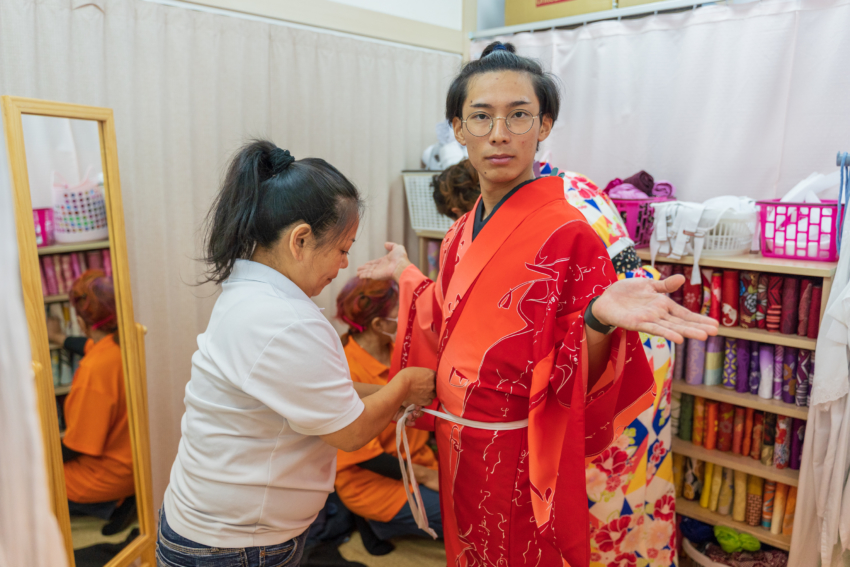 Hair Styling for Women
The staff can even help women with their hair!
They have you all dolled up and ready to go in no time!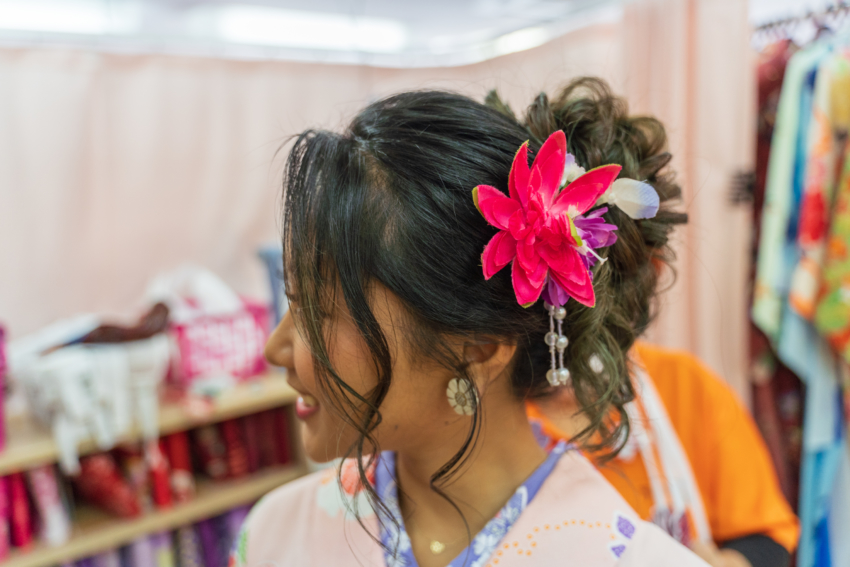 Even though they're super speedy, the style holds well and is very beautiful. The quality was really surprising!
For more details or reservations
All Finished!
Once you're dressed, you can head straight out and on your way, but there's also a place to take pictures in the shop's Japanese style room, so we decided to have a little photo shoot.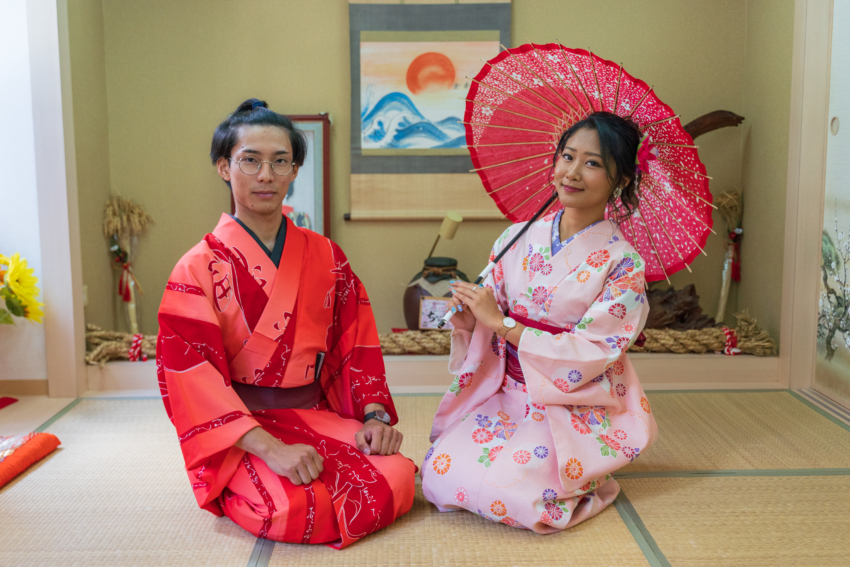 We tried to go for a serious and graceful Japanese style photo.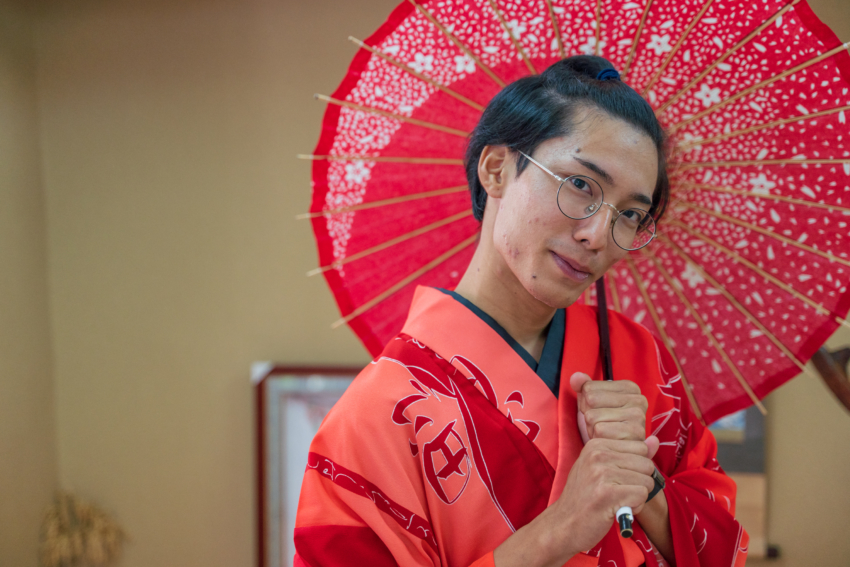 The Japanese umbrella makes for a cool prop!
There's no hair styling for men, so Inny gave himself a topknot.
Let's Head Outside!
Chura Sakura lets guests wear their rental kimonos outside the shop.
Once you're finished getting dressed, you can head out whenever you like.
Let's take a look at some of the places you can visit while wearing your kimono!
Just 5 minutes away by car is Naminoue Shrine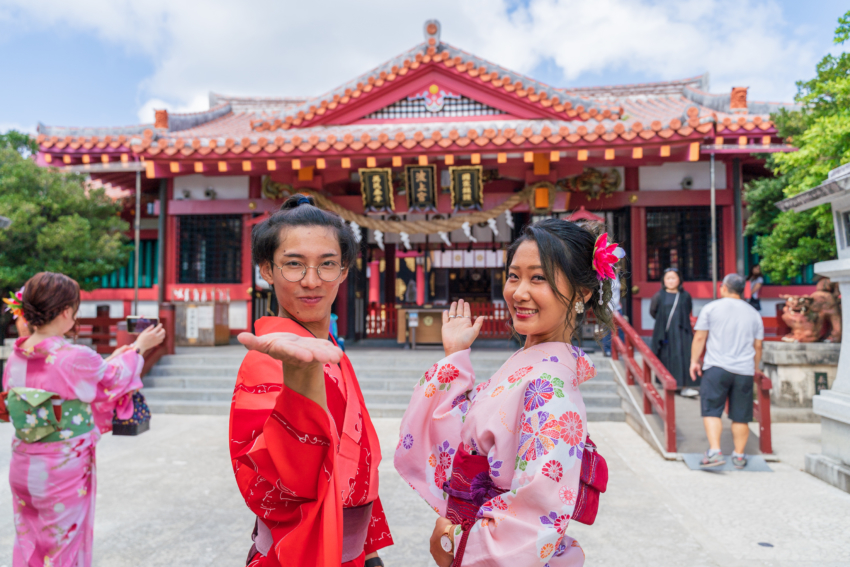 The kimonos go perfect with the shrine!
It's kind of rare even for Japanese people to wear traditional garments when visiting a shrine.
Just one minute from Naminoue Shrine! Naminoue Beach!
Located just at the base of the stairs near the shrine!
Inny tries to get a jump shot with the white sand beach and blue ocean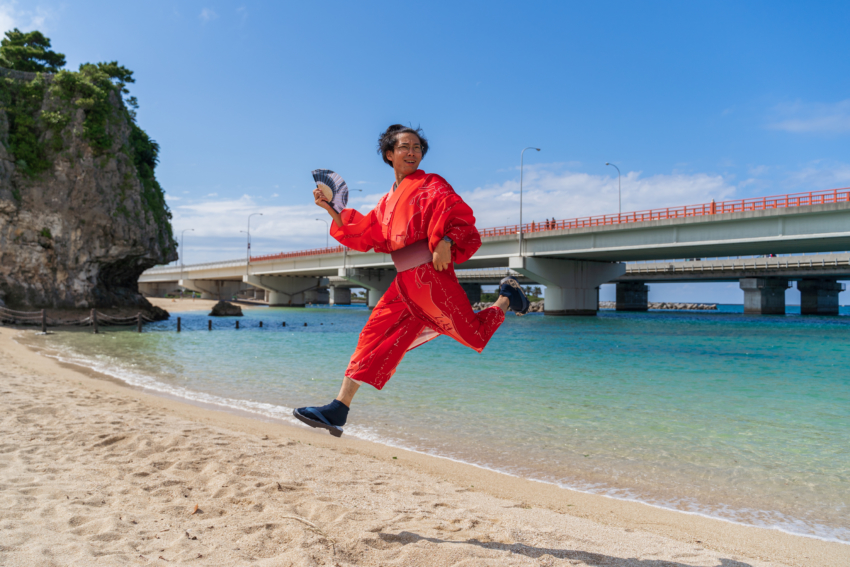 「Here's to the splendid blue ocean!」
Located just 5 minutes by car from Kokusai-dori, Naminoue Beach is the only beach in Okinawa City.
Parking is available
Let's finish up our sightseeing on Kokusai-dori!
Kokusai-dori is always bustling with tourists and students visiting on their school trip.
Since Chura Sakura is nearby, it's the perfect spot to wrap up your kimono tour!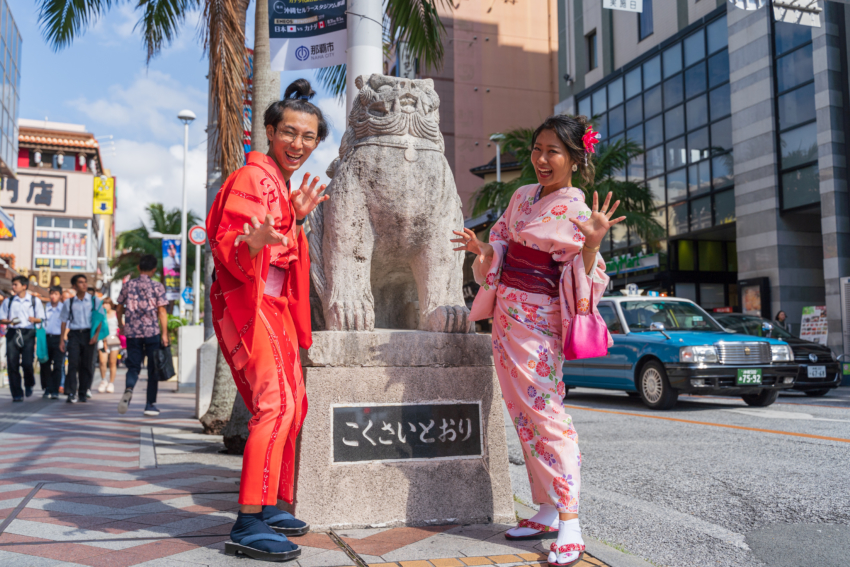 "Say Shisa!" Posing with the shisa at the entrance to Kokusai-dori.
On you next visit, why not rent a kimono and enjoy a slightly different kind of sightseeing?
Reservations
For Kimono
For Traditional Okinawan Dress
For Yukata
| | |
| --- | --- |
| Closed | December 31、January 1-3 |
| Hours | 10:00 AM – 7:00 PM (last rental – 6:00 PM) |
| Parking | None (Please use nearby pay parking) |
| Address | ART Building 2F, 1-6-1 Kumoji, Naha, Okinawa 900-0015 |