Hello, everyone. It's me, Goma from Okinawa Holiday Hackers. I've been surrounded by delicious foods recently and have started packing on the pounds!
On that note, those of you who love to eat and love strawberries will be excited to hear that today I'll be introducing Chura Ichigo (Nanjo Farm), which features an all-you-can-eat special and also sells strawberries to take home.
※Chura Ichigo are found in both Nanjo Farm and Itoman Farm.
This is the sign!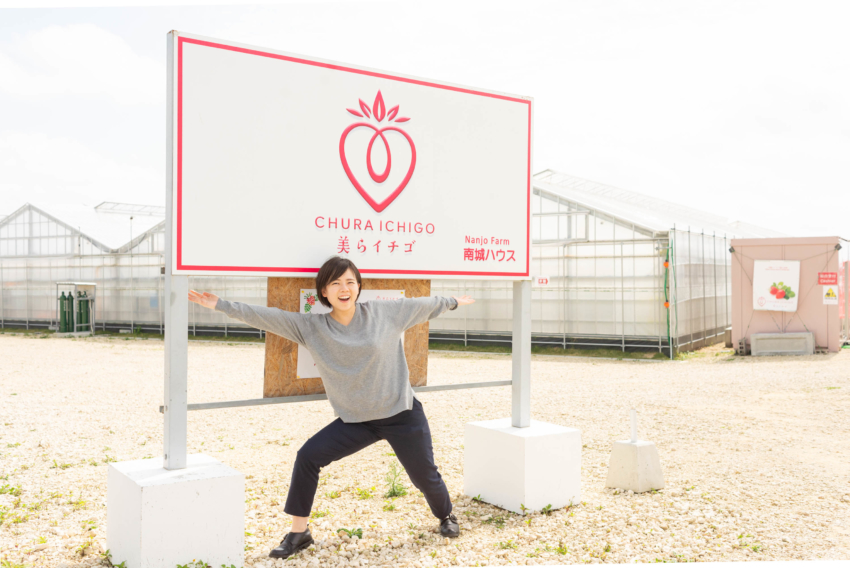 The premises are vast, so there's no problem finding parking.
Let's head straight to the reception desk! It's in this pink building.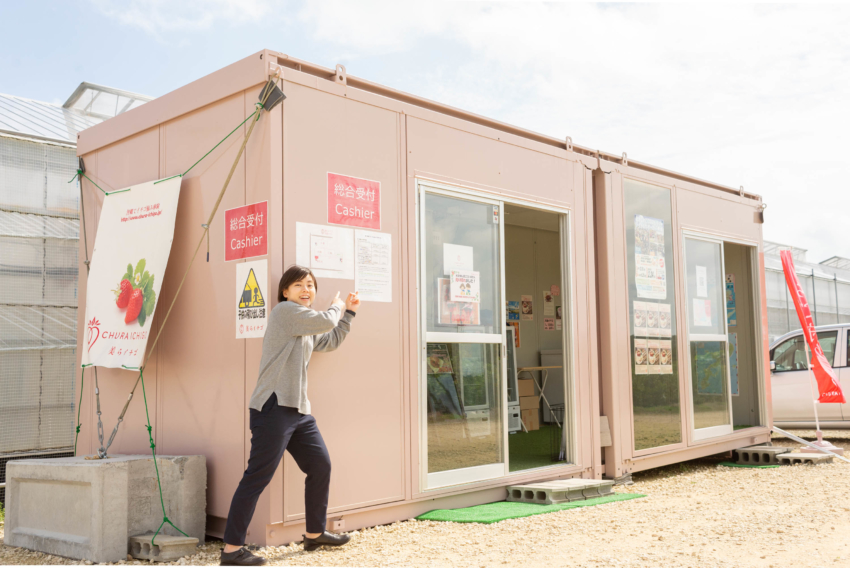 When you enter, the staff comes to greet you!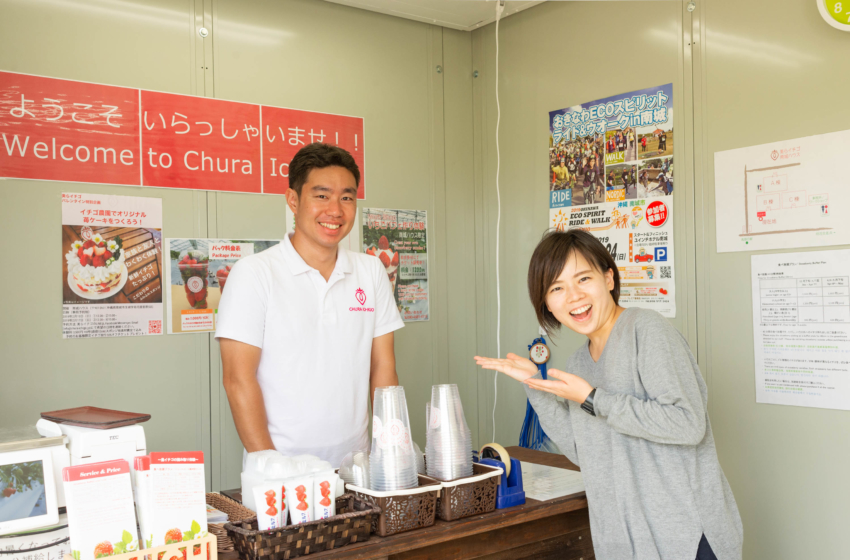 You pay here and then they tell you which of the 3 greenhouses (A, B, or C) you'll be visiting.
▼The three greenhouses (A, B and C) are all right near each other like this, so it's very easy to understand.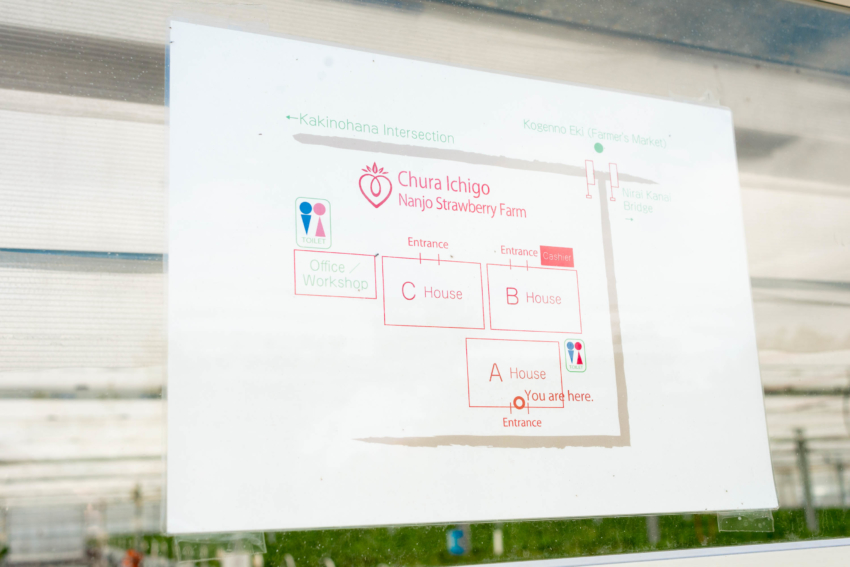 In addition to the 40-minute all-you-can-eat plan, there is also a 'bring home only' option.
You can pick as many strawberries as you can fit in this container.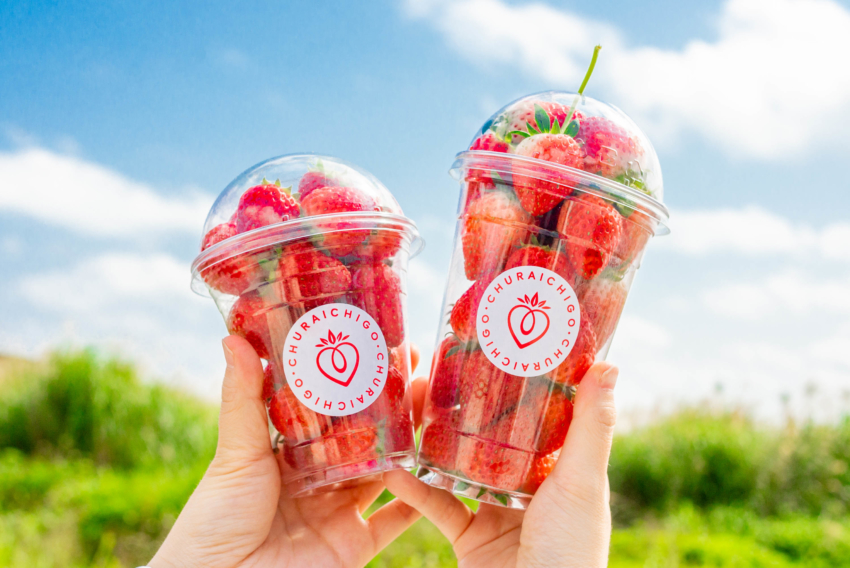 ▼Here is the price for the take-home containers.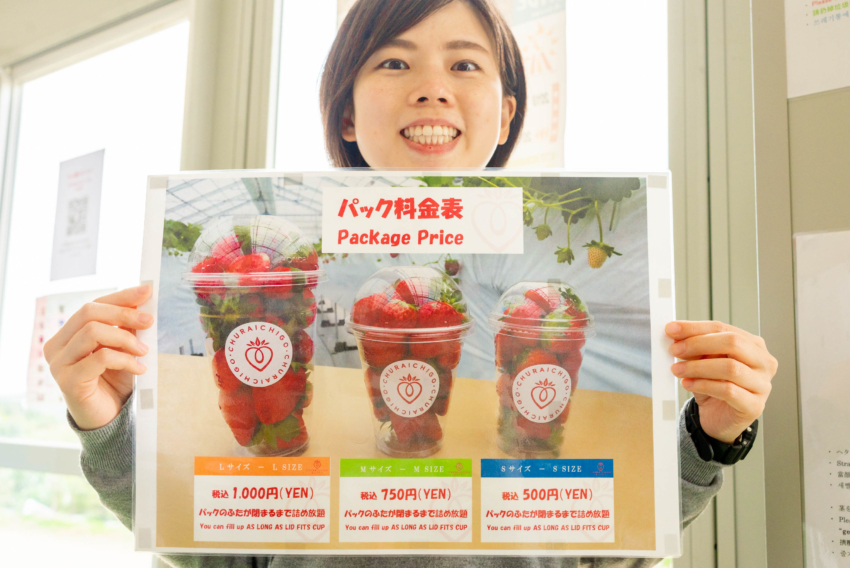 You can also purchase sweetened condensed milk for 250 yen, so those who like it please make sure to take advantage of the offer!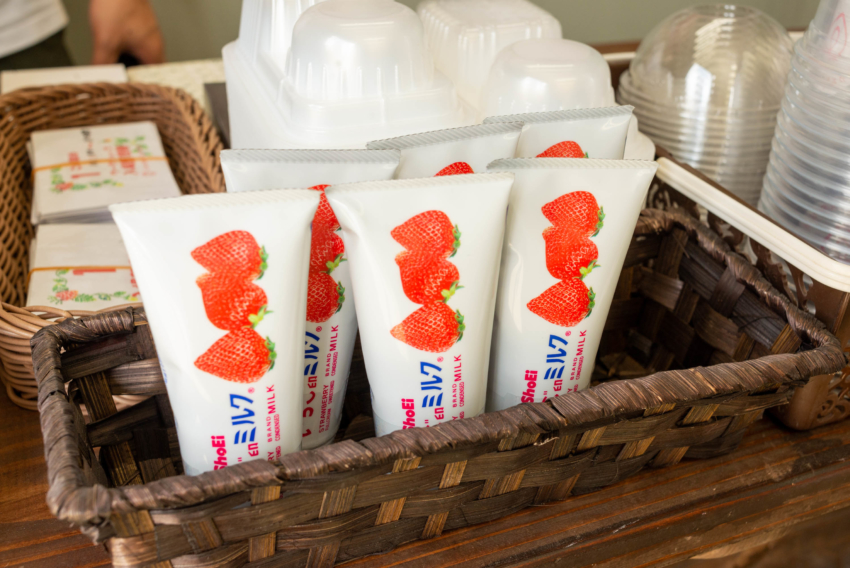 ▼Here is the link to make reservations for Nanjo Farm.
▼Here is the link to make reservations for Itoman Farm.
Now that that's out of the way, let's head to the greenhouse and pick strawberries!
All 5 varieties of strawberry are grown in each of the greenhouses, so you can try them all and see which is your favorite.♪
Personally, my favorite is the 'yotsuboshi' variety.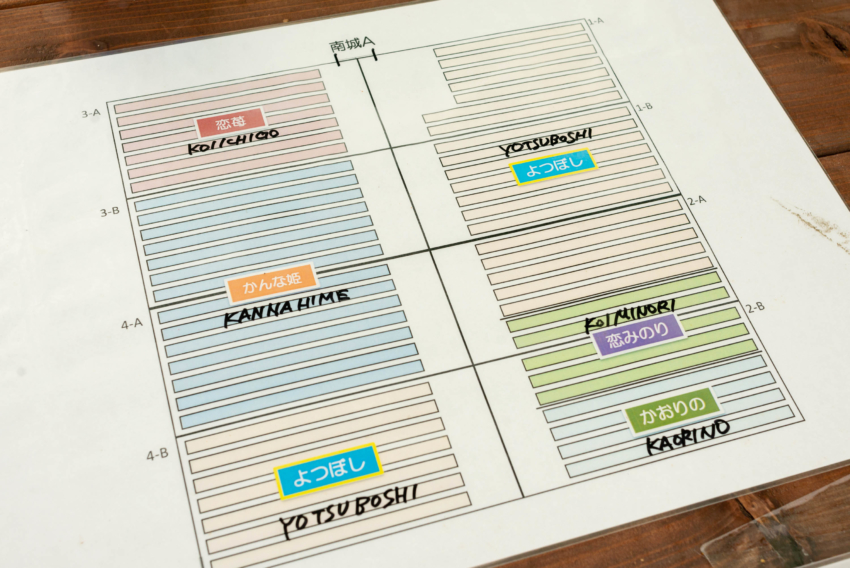 Now I'll take a minute to give you a brief overview of the characteristics of the different varieties.
[Koi Ichigo]…The hardness of the skin and softness of the interior are perfectly in balance, and the taste is just right.
[Kanna Hime]… A delicious strawberry that features the perfect blend of sweet and sour.
[Yotsuboshi]… Has a pleasant scent and as you can see from cutting it in half, it's bright red all the way through.
[Koi Minori]… The flesh is juicy and had a nice bite. This one is also strongly scented.
[Kaorino]… This strawberry gets it's name from its distinctive, high-class smell.
What do you think? It's surprising, isn't it, that different varieties of strawberries each have such distinct characteristics?
By the way, each row is labeled clearly with the name of that variety of strawberry and its characteristics.☆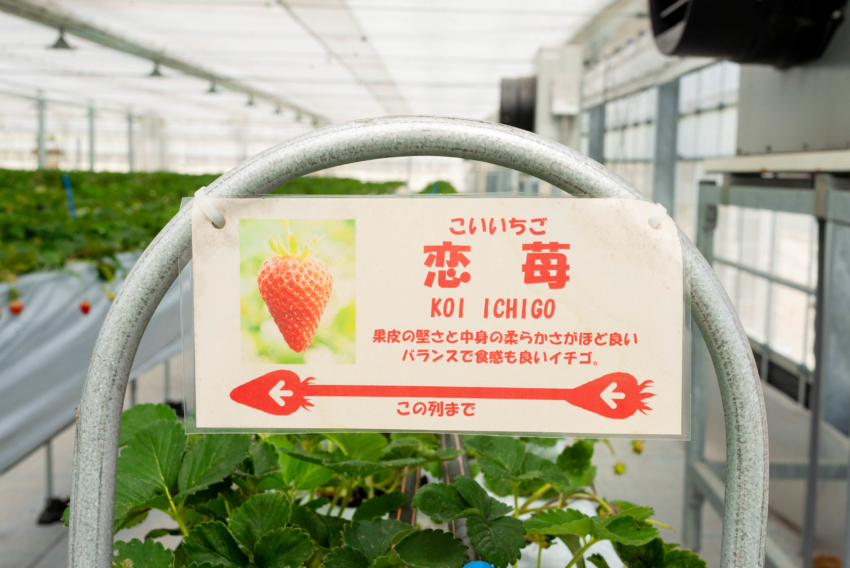 I hope you'll all try the different varieties for yourselves and discover a new and wonderful taste!
This greenhouse, which contains 5 different varieties of strawberries, is really huge!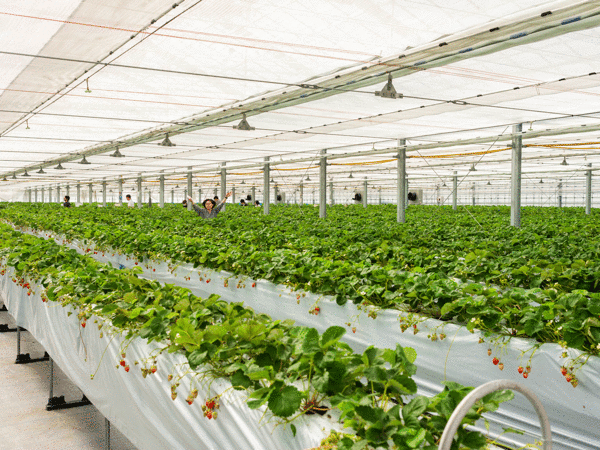 ※Be good children, and don't run!
Wow! I found it! (Like a giant)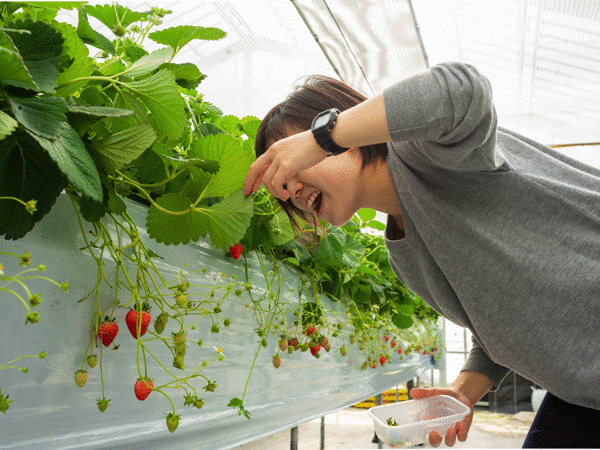 There are tons that are beautiful like this♡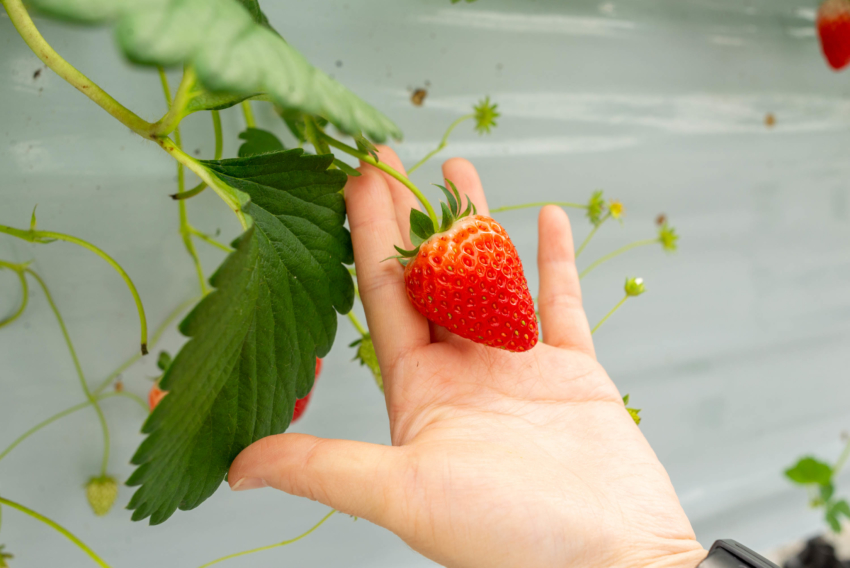 And now, self-proclaimed 'Strawberry Master Goma' will give a lecture on strawberry picking.
If you grab them like this, they're very easy to pick♪ It's fun to pick strawberries with your own two hands!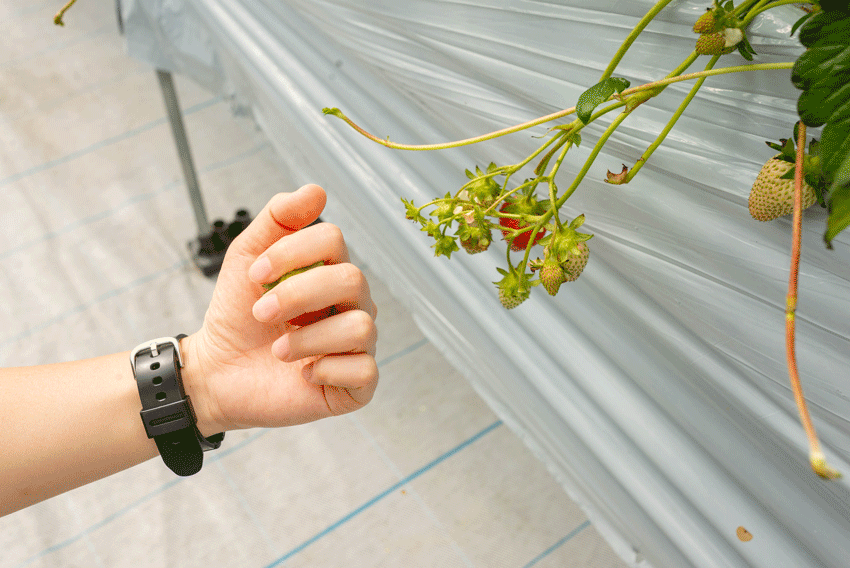 Mmm! Delicious!♡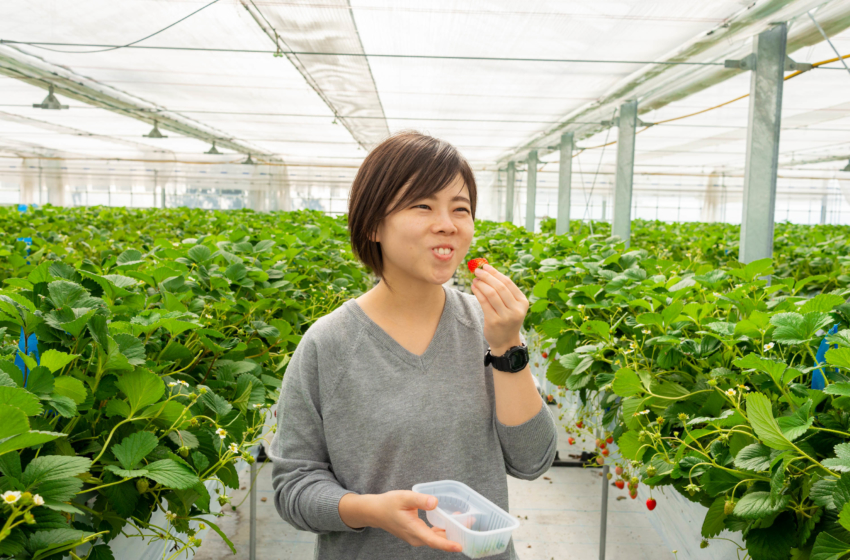 I hope you'll also enjoy strawberry picking with your friends and family!
<Chura Ichigo (Nanjo Farm)>
Open Season
Strawberry Picking: Late December to Late May

All-you-can-eat, pick for yourself, and pre-harvested packages for sale!

※Open season and operating hours subject to change due to the strawberries' state of ripeness.

Parking Lot
Available, Free
Map Code
232 559 448*65
Address
〒901-1400

沖縄県南城市玉城垣花 屋宜原555番

Remarks
For reservations CLICK HERE please
<Chura Ichigo (Itoman Farm)>
Open Season
Strawberry Picking: Late December to Late May

All-you-can-eat, pick for yourself, and pre-harvested packages for sale!

※Open season and operating hours subject to change due to the strawberries' state of ripeness.

Parking Lot
※There is no parking lot, but there is no problem if you park near the farm, provided that it does not disturb the road in front of the farm entrance.
If you are unsure, please check with the staff on the same day.
Map Code
232 308 540*18
Address
〒901-0344

沖縄県糸満市伊原352

Remarks
For reservations CLICK HERE please