Before taking a trip to Okinawa you get concerned about the climate and what to wear, right?
Okinawa's seasons particularly feel quite different from the main islands of Japan!
Throughout the year it can feel comparatively warm, but that doesn't mean you can just wear shorts and short sleeve tops the whole time!
With that said, we have compiled the characteristics of Okinawa's climate, and what clothes and belongings you will need for each period of the year.
Things to check before planning a trip to Okinawa!
Table of contents:
Get these points down and you'll be fine!

The main gist of the Okinawan climate.

(By month) The clothes and belongings we recommend you bring
Get these points down and you'll be fine!
The main gist of the Okinawan climate
Graph of the highest and lowest temperatures of Okinawa annually.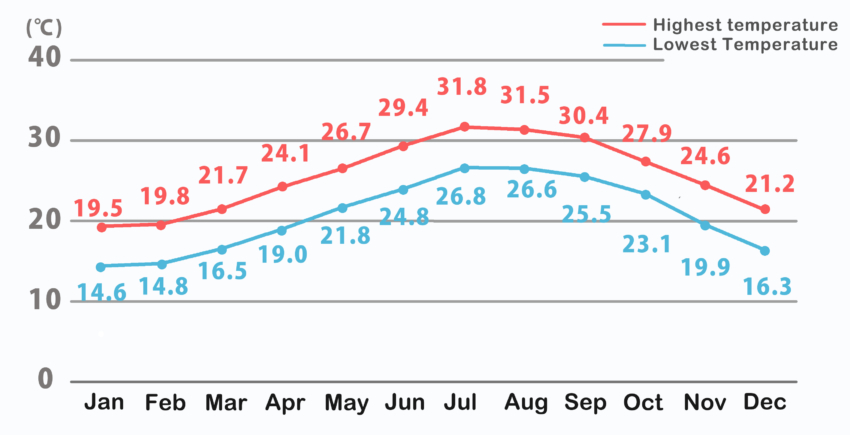 Source: Japan Meteorological Agency, past climate data (average from 1980—2010)
Okinawa is warm throughout the year, and summer days continue for roughly half that time (May—October)! Since it's a very warm climate, you can see blooming cherry blossoms there in January, earlier than anywhere else in Japan!
In addition, unlike the main islands of Japan, you cannot see autumn leaves there. In exchange for that though you can enjoy things like water sports even in the fall!
During winter (Dec—Feb), the maximum temperature even in Okinawa is around 20℃! The minimum temperature is around 14℃, so of course there is no chance of snow.
One thing you should take caution about when traveling to Okinawa is the rainy season and typhoon season.
We recommend you understand these periods before you settle on your plane ticket and accommodation, just in case!
Regarding the Okinawan rainy season
Okinawa enters the rainy season before the rest of Japan!
The rainy season starts one month early there compared to the other prefectures, so take care. Every year sometime aroundMay 9th to June 23rdOkinawa enters the rainy season!
However, it doesn't rain all day even in the rainy season in Okinawa, so you will still plenty of time for sightseeing when it clears up!
The typhoon season, from summer to fall.
Okinawa comes into contact with typhoons often, as it lays in the path of those generated off the coast of the Philippines.
By looking at the count of typhoon approaches,the months where typhoons occur the most are in August and September!
However some years there are no typhoons at all, whereas some other months multiple typhoons make landfall…so nobody can really predict them.
Also, the ocean of Okinawa is at its most blue and beautiful between July and September…For that reason, even though that period sees the most typhoons, it is still a popular season.
If you encounter a typhoon while you're traveling…
・Do not approach the ocean no matter what.
・Avoid getting close to large windows.
・Stay inside as much as possible
Keep the above in mind and have a safe trip.
The weather can change rapidly.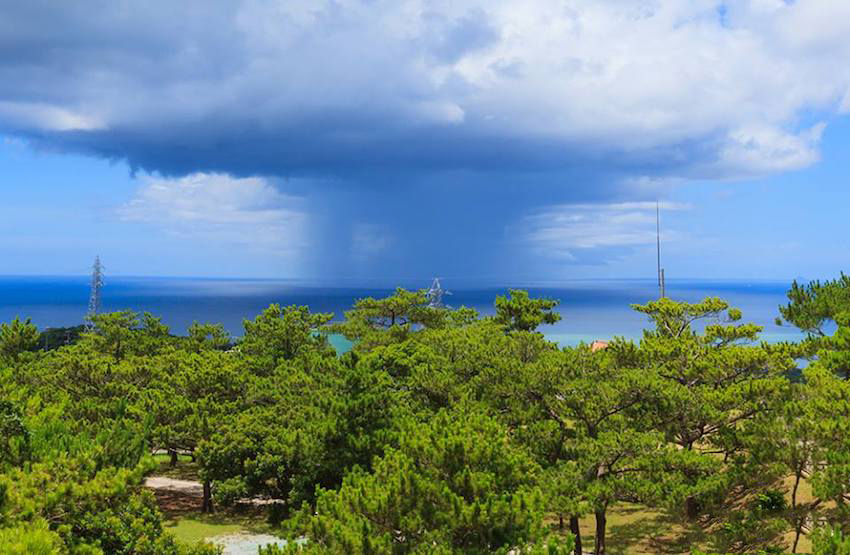 Okinawa is surrounded by warm seas, and as a result the weather changes easily and it rains often.
Often it will rain even if the weather forecast predicted clear weather a few hours before. However, this is usually only light rain that passes quickly.
Having a foldable umbrella (for rainy or sunny weather) and a hand towel for patting your body down when you get wet will be handy!