Hello everyone~
This is Fiona Ishii from Okinawa Holiday Hackers who is well-known as a lover of big butterfly(╹◡╹)♡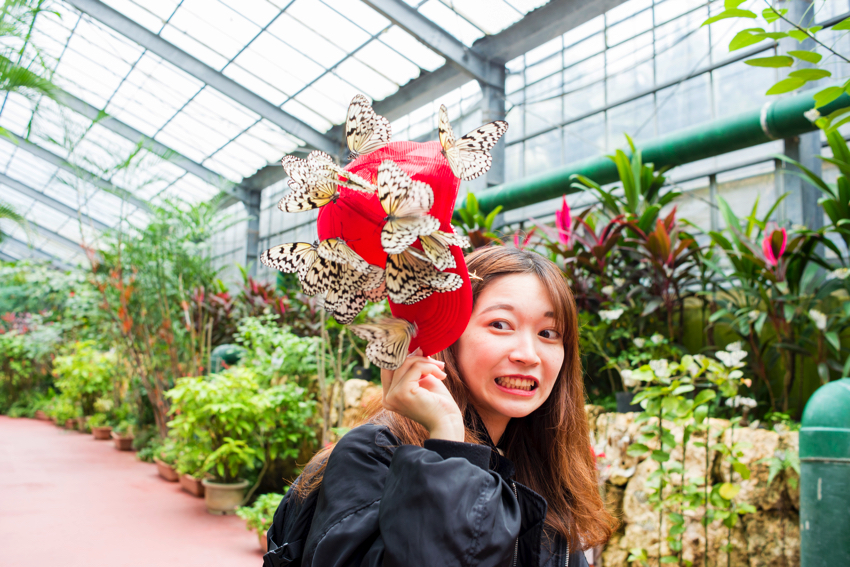 →However, it's still terrifying if they come by a large group.
The butterflies you see in the picture are called "Idea leuconoe" , and their opening length (the length from the end to the another when the wing is fully extended) is about 13 cm. It's also one of the largest butterflies in Japan. 
We search on the Wikipedia for more details of Idea leuconoe.
It is widely distributed in Southeast Asia, Kikaijima and southern Yoronjima in Nansei Islands in Japan. 
It is designated as the butterfly of Miyakojima city of Okinawa Prefecture and Ishigaki city.
Source:Idea leuconoe – Wikipedia
It turns out that it lives only in the Nansei Islands ~
By the way,
The "Guesthouse Blue Tomowru" in Ishigaki Island has a graffiti art in a pattern of Idea leuconoe as well~♪
↓ ↓ ↓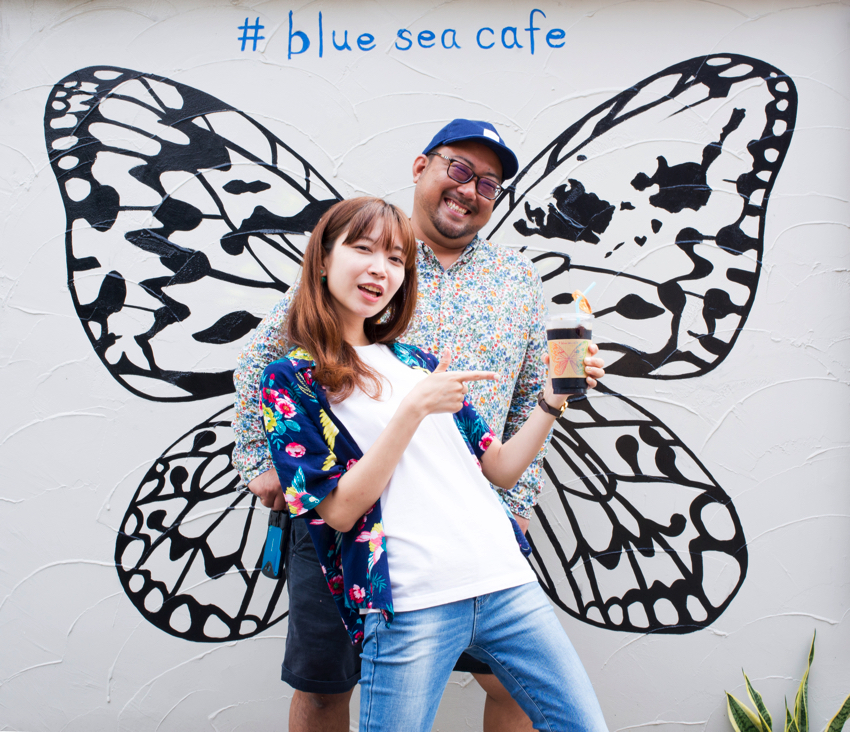 →The cool owner of this guesthouse, Mr. Tomori, (Photo・Right) is a huge fan of Idea leuconoe~ ♪
Read more about the graffiti art of "Guesthouse Blue Tomowru"  from the following article.
Well, let's get back to the subject…(╹◡╹)
This time, we want to guide you to a scenic spots "Ryugujo Butterfly Garden" in which you can interact with  Idea leuconoe~! 
Me and Roser, my colleague from Spain are going to make an introduction for you guys. 
What Is Ryugujo Butterfly Garden?
Ryugujo Butterfly Garden
 is a theme park consisted of ocean view restaurant, souvenir shop, and butterfly garden in which you can interact with Japanese biggest butterfly, "Idea leuconoe".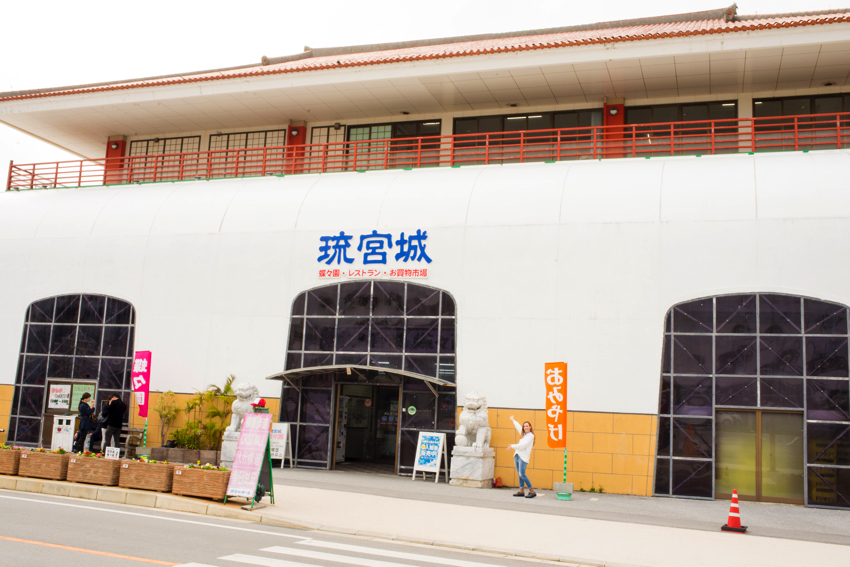 →You can see the appearance of the entrance in the picture. It's so huge and distinct.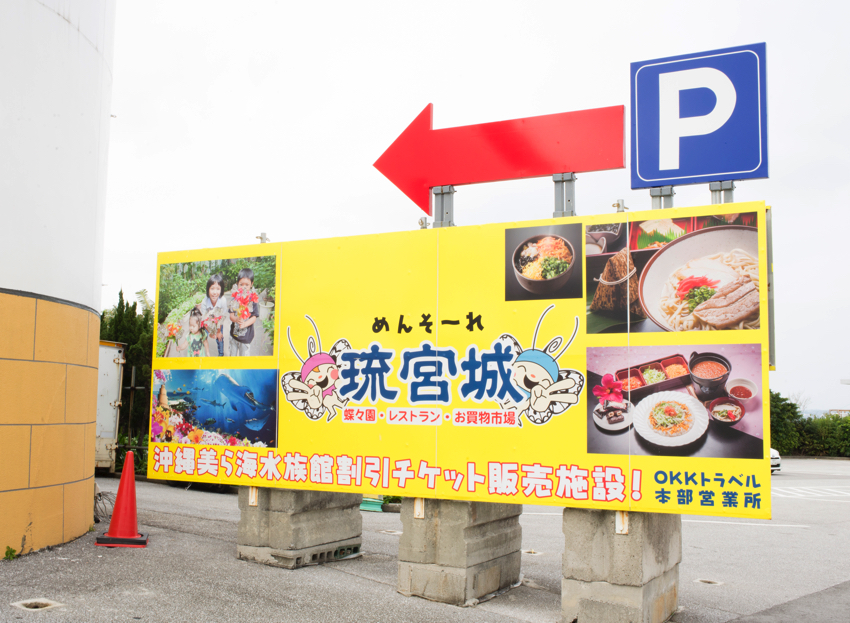 →The signboard can be recognized as mark. The parking lot is free for customers.
It takes only 3 minutes from Churaumi Aquarium by car which is really convenient to access, so many customers come here for lunch♪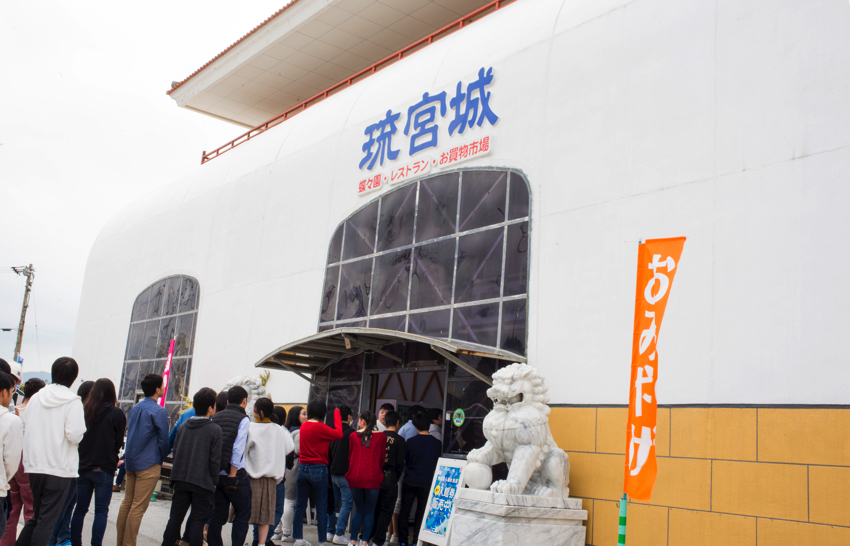 →As you can see in the picture, the day we went was so crowded…!
Let's enter the Butterfly Garden♪
You can see the entrance of Butterfly Garden when you go through the souvenir shop on the 1 floor ~
↓ ↓ ↓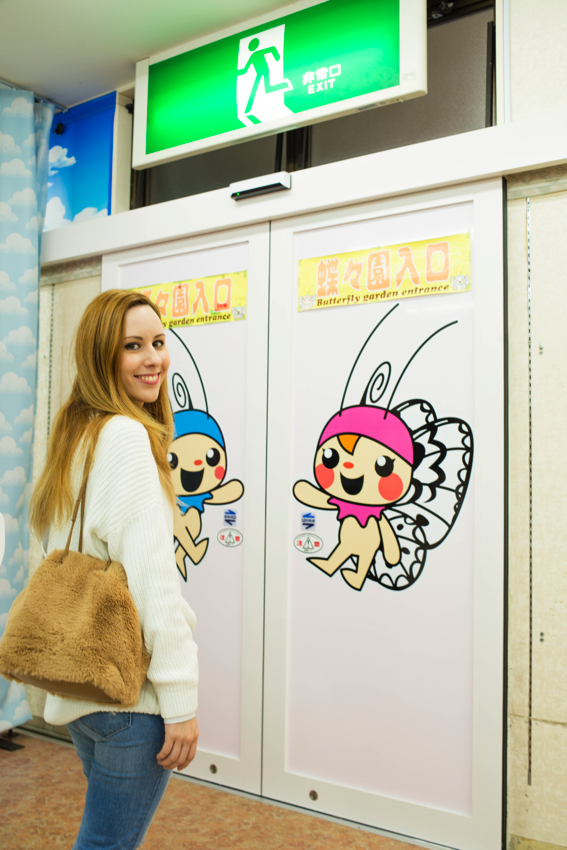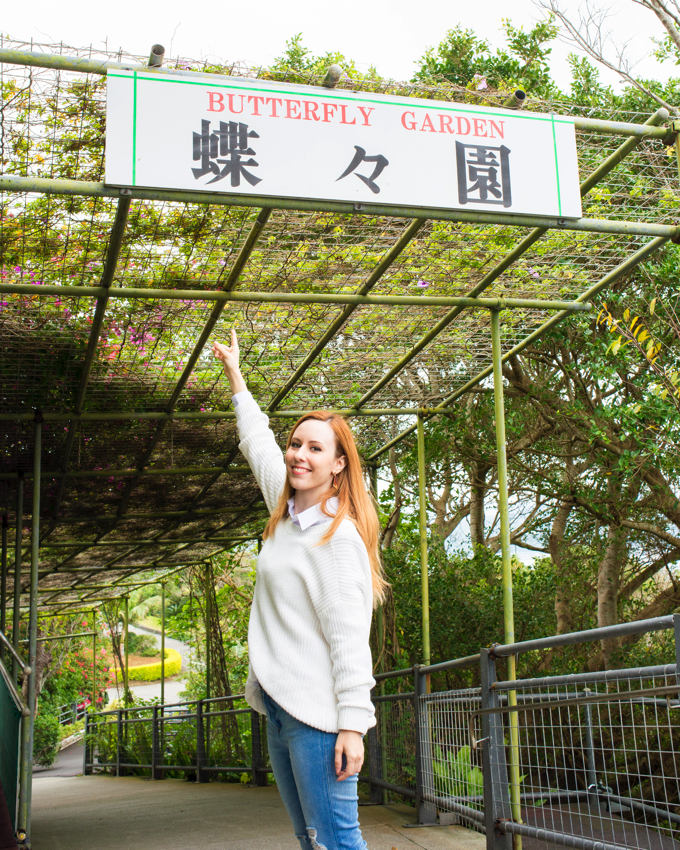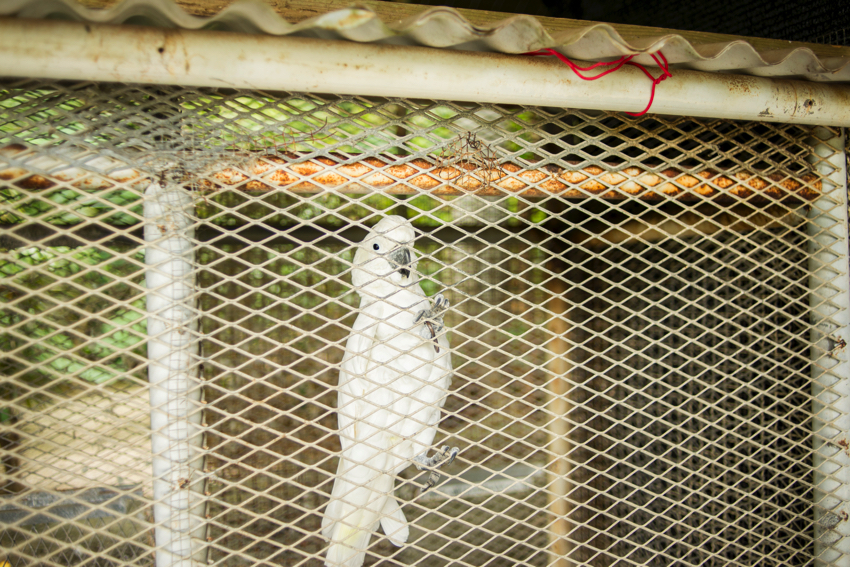 →We met Cockatoo before seeing the butterfly.
While walking around the butterfly garden with a site of approximately 2000 tsubo, you may think "Where is the butterfly~?(╹◡╹)(╹◡╹)Eh?There's a Cockatoo…"
We found a signboard of "BUTTERFLY HOUSE" when we are wondering why we haven't seen the butterfly yet.
↓ ↓ ↓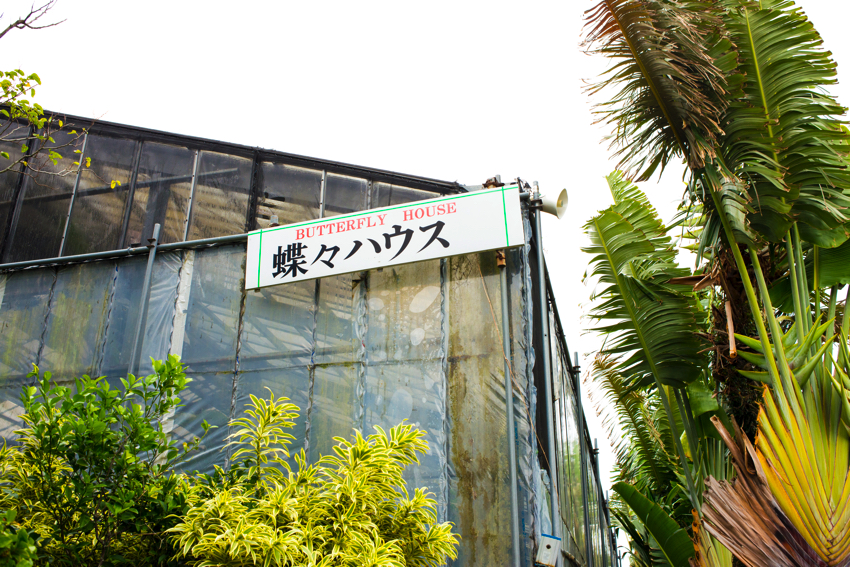 We entered and…
Immediately I (Roser) was greeted by the butterfly~♡
↓ ↓ ↓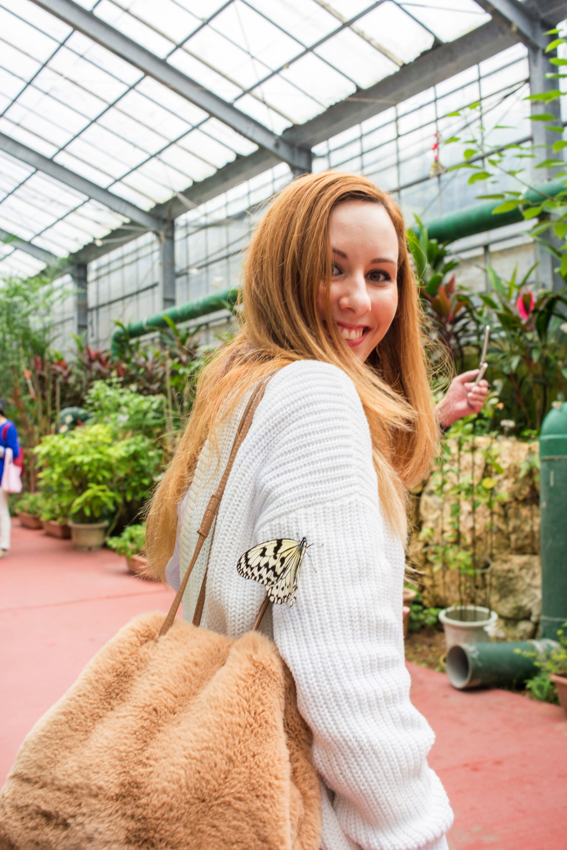 There are about 500 Idea leuconoes live inside the BUTTERFLY HOUSE which is in site of 500 tsubo. In addition, there are also about 15 kinds of butterflies such as common bluebottle, ceylon blue glassy tiger, striped blue crow, Danainae, etc. here ♪ 
Although there are some types of butterflies can only be seen in limited period, 
Idea leuconoe grows throughout the whole year regardless of the season, which means you can see the adult butterfly through out the year(╹◡╹)
〈You can visit here any time 〉
It seems that its adult period is long and it can live about few months to half a year after metamorphosis. 
Bouquet and Cap,  A Photo Spot You Won't Want To Miss in BUTTERFLY HOUSE ♪
As we keep moving inside the BUTTERFLY HOUSE, we find out a large group butterflies gathering in bouquets…!
↓ ↓ ↓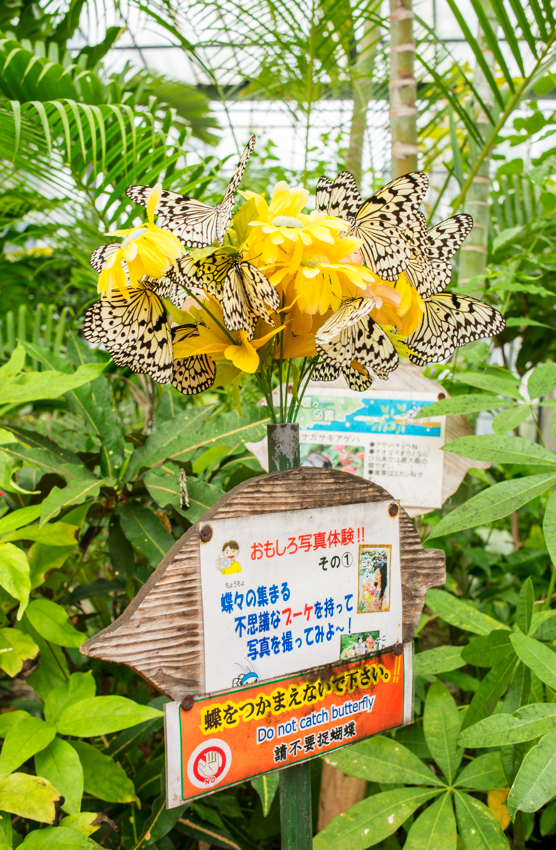 ※All butterflies are truly alive.
Since it's allowed to bring in the bouquet, we did it♪
↓ ↓ ↓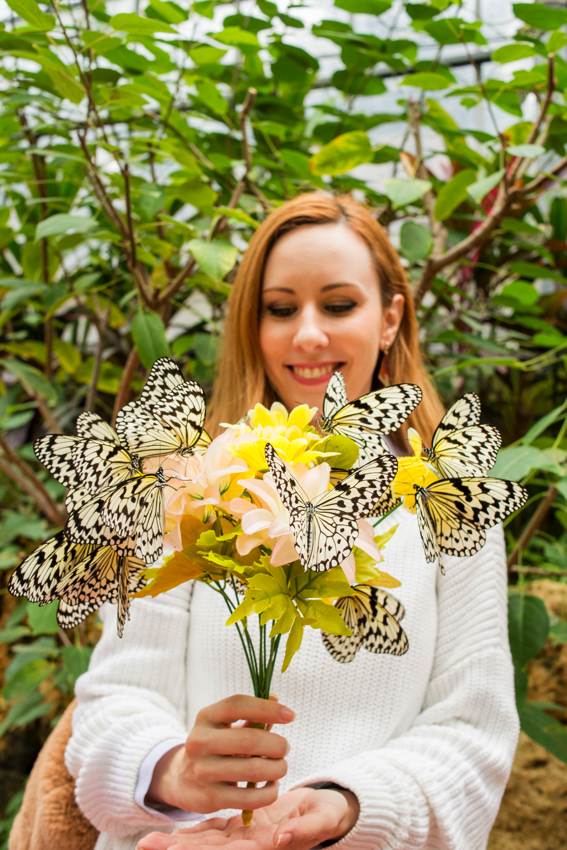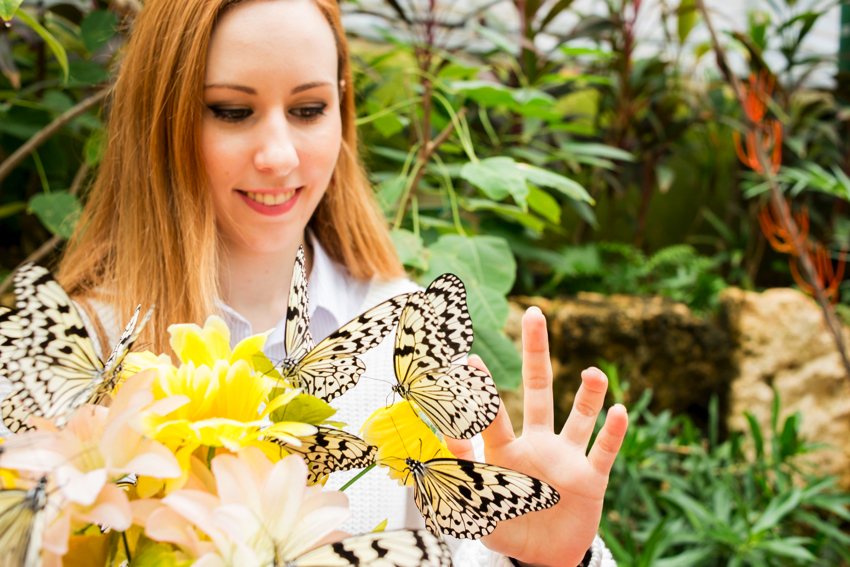 →Mucho gusto~♪("Nice to meet you" in Spanish.)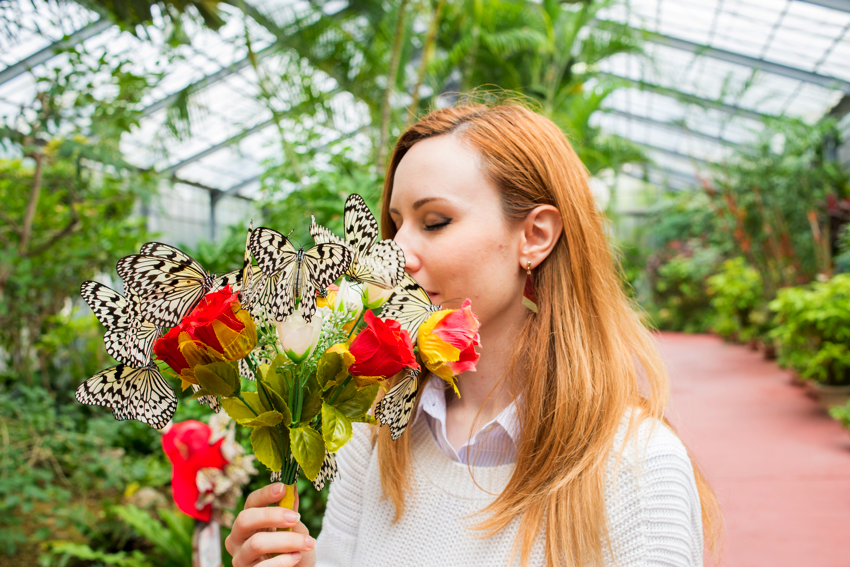 →You can also have the red bouquet.
You know what? The butterfly bouquet is not the only prop you can shoot for a beautiful photo.
The cap version is also available! 
↓ ↓ ↓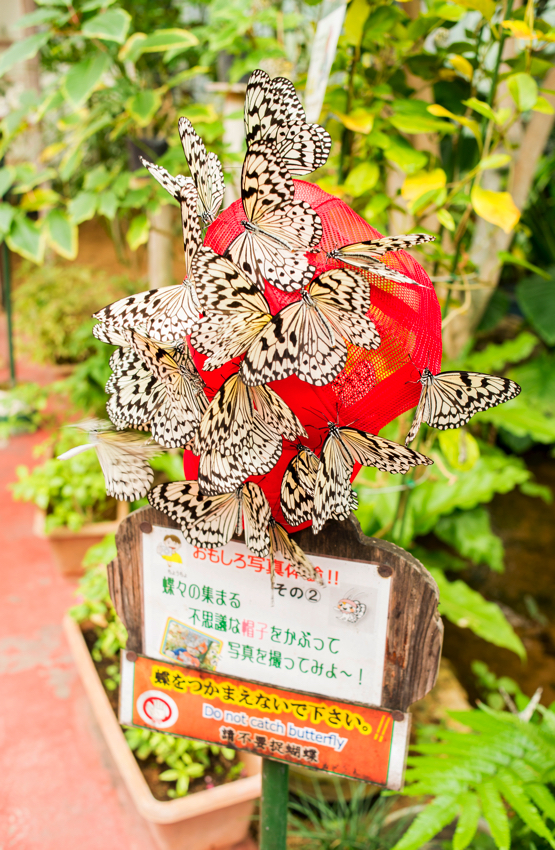 →The large amount of butterflies cover almost the whole cap, so it's hard to tell it's original shape.
This is how it actually looks like.
↓ ↓ ↓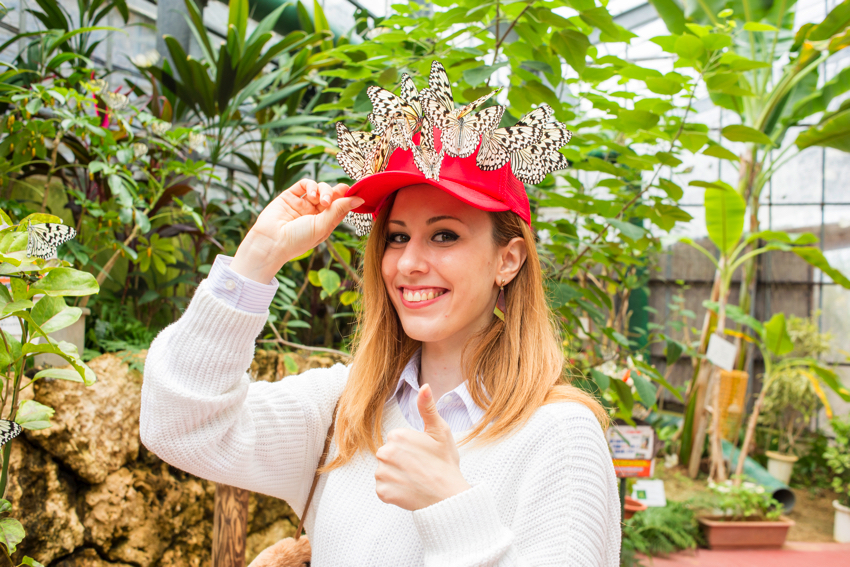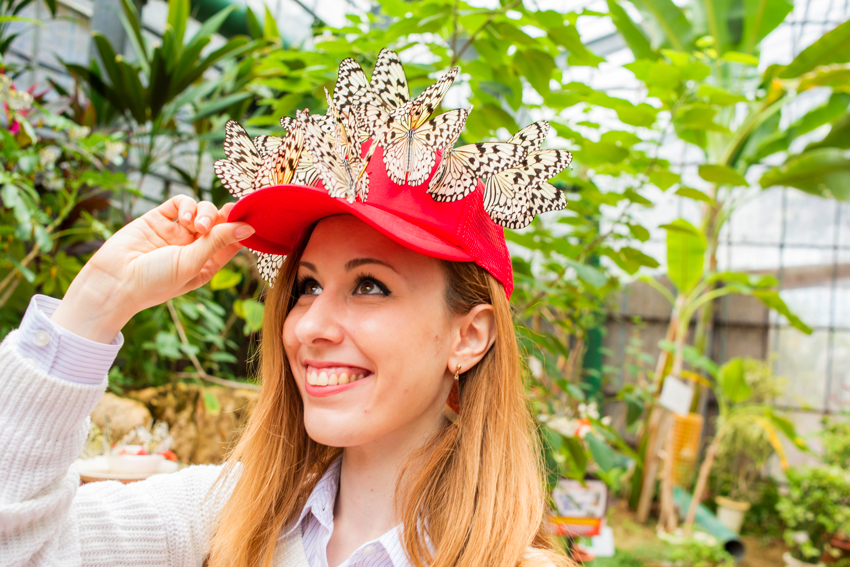 →Mucho gusto~♪(Nice to meet you in Spain)
Let me remind you again.
※All Idea leuconoes here are living creatures! 
"With such good chance, why don't you try?" I was given the cap by Roser. 
↓ ↓ ↓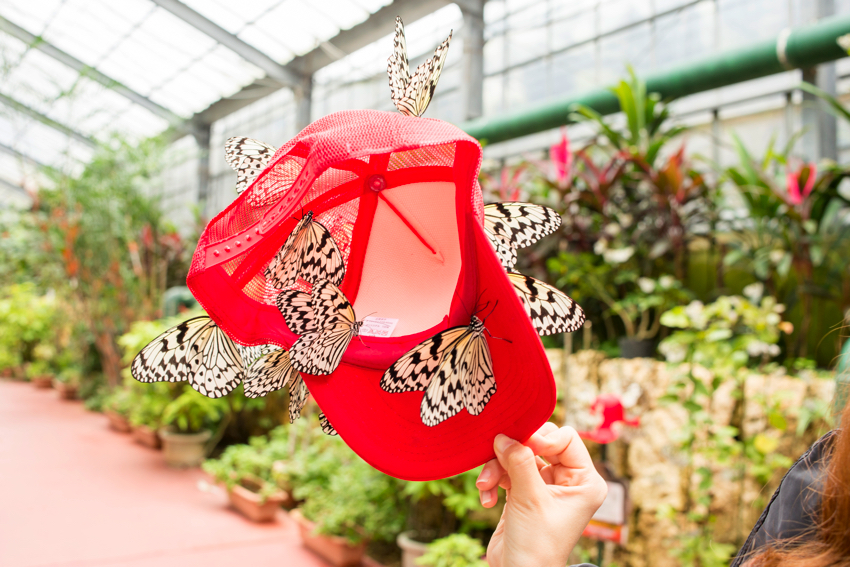 →The butterfly come inside the cap(╹◡╹) It's a little bit scary.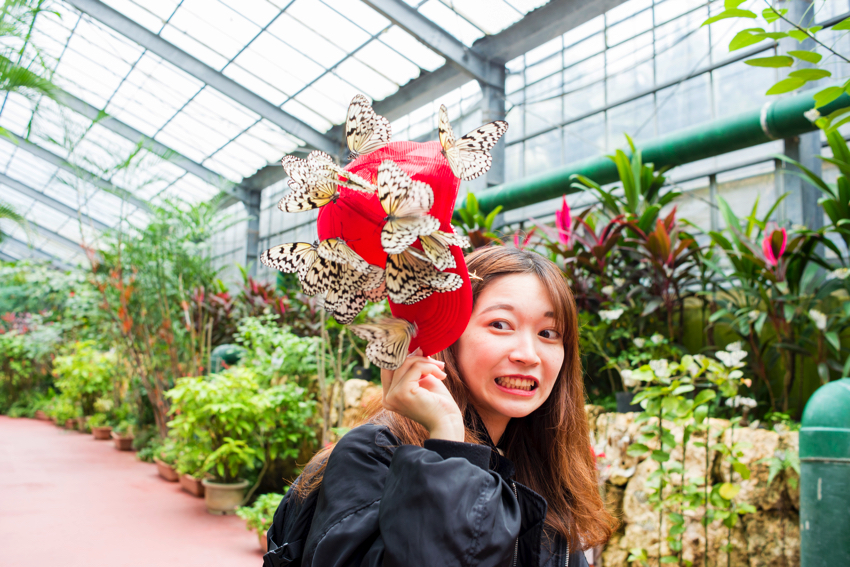 →Mucho.. gus..toooo…!("Nice to meet you" in Spain.)
It seems that Roser has some magical power because she controls them so well♪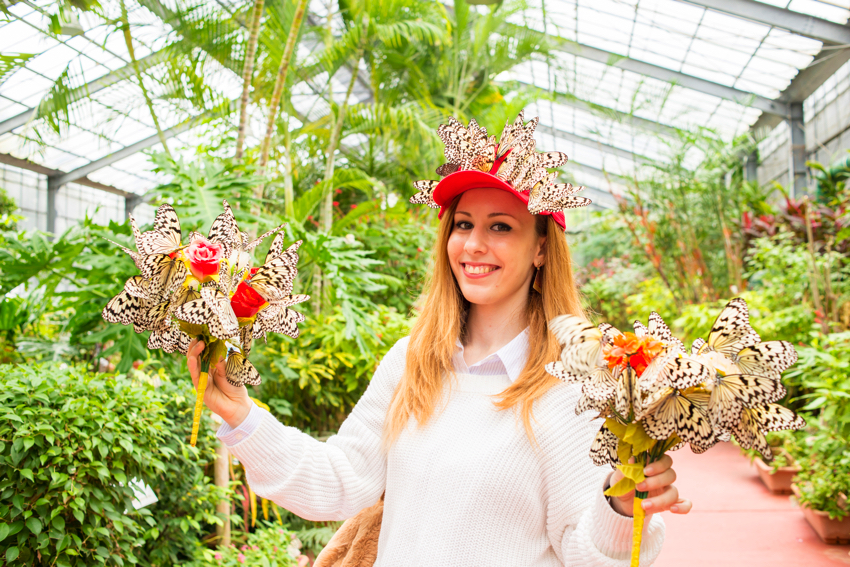 →Refreshinfg photo Part 2
The greatest attraction of Idea leuconoe♪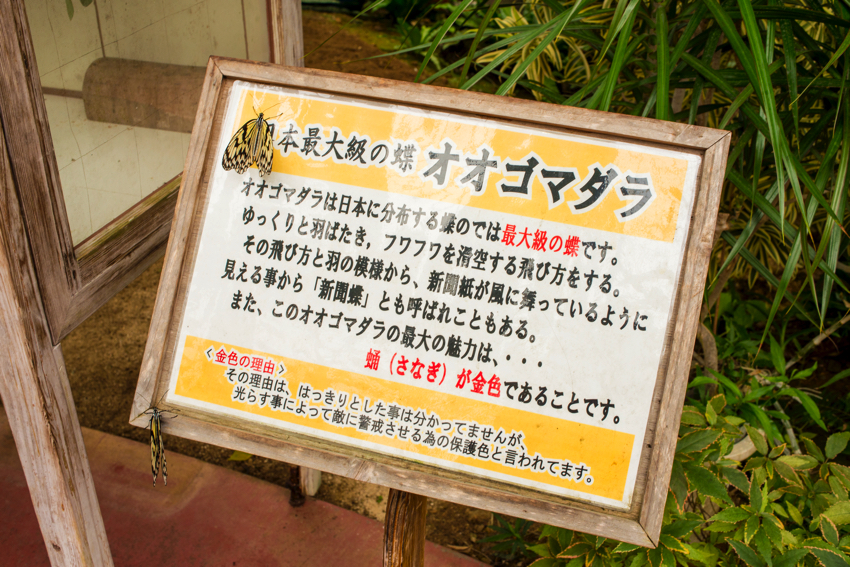 If you ask me what's the most attractive part of Idea leuconoe?
\ It must be its golden pupa!  / 
(╹o╹)OH〜(╹o╹)OH〜
Why golden pupa? According to the introduction board here inside the BUTTERFLY HOUSE, 
"Although it's not so clear, it seems that it's "a kind of protective color to warn the enemy by shining."
It is about 4 cm to 5 cm in size of such Idea leuconoe, and it takes about a week for emergence in summer; a month in winter.
The amount of the butterflies differs depending on seasons. The following picture shows the situation on the day we went.
↓ ↓ ↓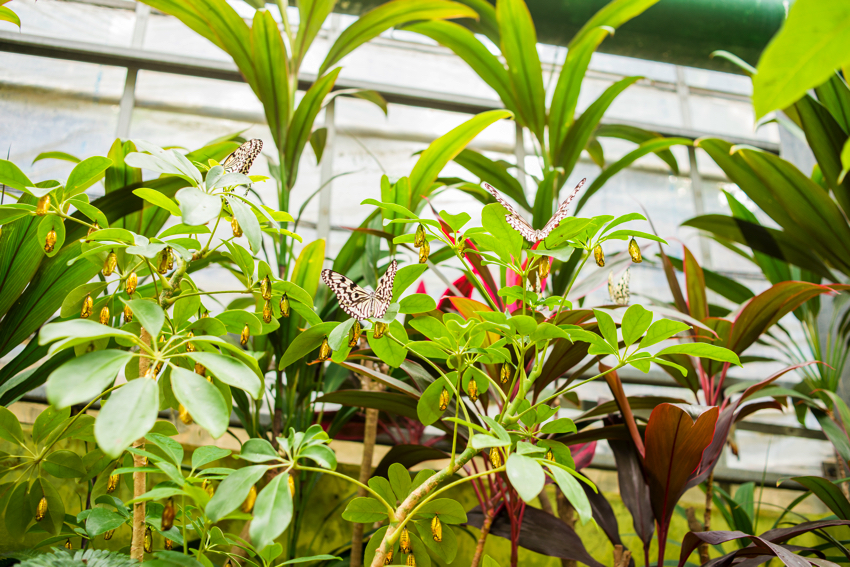 Finally, let's say good bye in a funny photo~ ☆彡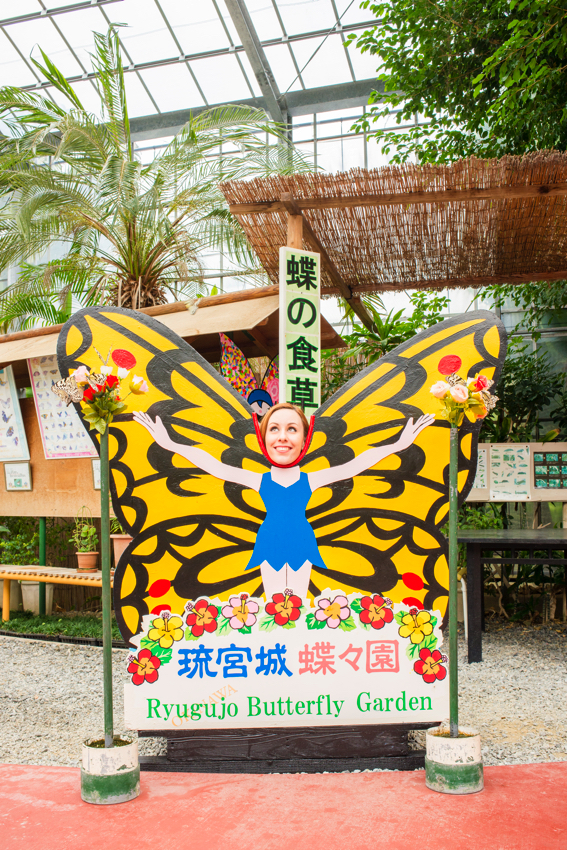 When you come to the northern area of the main island of Okinawa, don't forget to visit Idea leuconoe in Ryugujo Butterfly Garden♪
→If you look closely, you'll see a butterfly resting in Roser's left hand!
<Ryugujo Butterfly Garden>
Office Hour
9:00~17:00
Regular Holidays
No
Parking Lot
Yes・FREE
Map Codee
553 045 532*37
Address
〒905-0205

沖縄県国頭郡本部町字山川 390-1